World Gym and Gold's Gym are two of the most iconic gym franchises in bodybuilding history.
Both of them were started by Joe Gold. Gold opened the first Gold's Gym in 1965. He sold it 8 years later.
Then, in 1976, following the popularity of Muscle Beach in Venice, he decided that he wanted to open a new gym.
However, he had sold the rights to use his own name.
As a result he started World Gym. Today, both gyms have become huge international concerns.
But just because they share a founder doesn't make Gold's Gym vs World Gym a toss up. There are plenty of differences between the two that deserve scrutiny.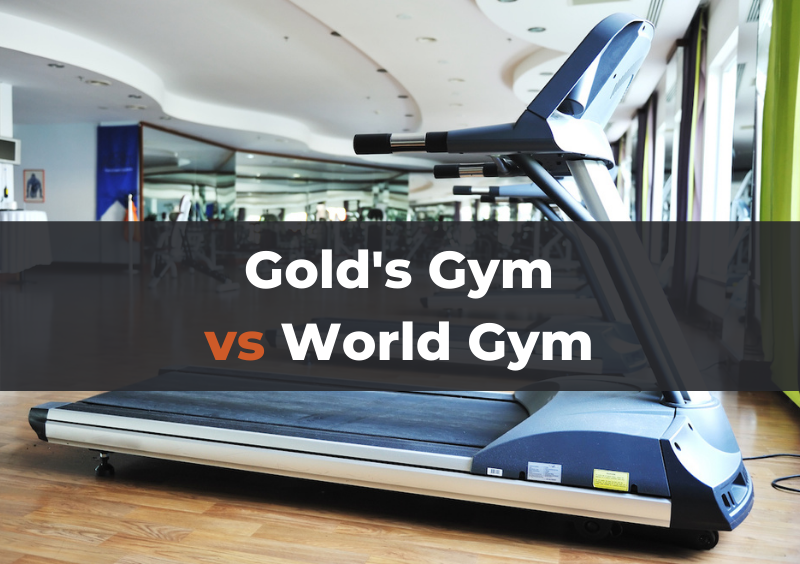 Overall, you'll get more consistency from World Gym from location to location. Most clubs offer similar amenities, and even though pricing can vary widely between different parts of the country, the World Gym experience is more consistent.
Gold's Gym has complicated pricing and different amenities at clubs based on the owner (franchise or company owned). It's a great gym, but it's a little harder to know what to expect.
Let's take a closer look.
---
What is World Gym?
World Gym is a worldwide fitness center franchise that was started in Los Angeles by Joe Gold in 1976.
In 2010, the gym franchise was acquired by the Cammilleri family.
Since then they have grown to more than 210 locations across six continents.
World Gym International sells a popular range of workout wear, nutritional products and gym accessories.
The gym facilities include gym services, fitness equipment, exercise classes, fitness and nutrition seminars and personal training services.
World Gym also holds bodybuilding and other athletic competitions. 
(For more on this chain, check out my full World Gym review.)
---
What is Gold's Gym?
Gold's Gym was started in Venice Beach, California by Joe Gold in 1965.
Over the next decade, this gym became the center of bodybuilding in the United States.
Joe Gold sold the gym in 1973 and went on to develop World Gym.
The explosion in popularity of fitness and bodybuilding saw Gold's mushroom through the 80s and 90s.
There are now 700 gyms across the world. Fifty eight gyms were opened in 2016 alone.
Gold's Gym has been hit hard by the Covid-19 lockdowns. In May, 2020 the company filed Chapter 11 bankruptcy in the US District Court for the Northern District of Texas. 
However, there are still plenty of Gold's Gym locations open for business around the country.
Read my complete Gold's Gym review for more.
---
Cost
One of the biggest deciding factors when choosing between two gyms will be how well they suit your budget.
Bargain gyms can go as low as $10 per month, while most mid-range gyms run around $30-50 per month. Elite gyms can cost well over $100 per month.
Let's take a look at the pricing for World and Gold's Gym.
World Gym
World Gym offers three tiers of membership, but monthly costs can vary wildly between different locations.
The Standard Rate requires that you pay an initiation fee of $20.
You then pay a monthly fee of $20 at many clubs, though in some locations the monthly fee can be as high as $60.
(This varies depending on where you live and what level of amenities your local World Gym offers.)
You can usually cancel your membership anytime by paying $75.
The Premier Rate, which provides you with access to all locations and includes classes, will cost you $34.95 per month to start, and higher at premium locales.
The same initiation and cancellation fees apply. 
World Gym also has a Seniors Rate of $30 per month, which provides the same benefits as the Premier Rate. Seniors do not have to pay an initiation fee.
Gold's Gym
Of all the major national gym chains, Golds Gym has one of the most confusing structures.
For a start, every facility will have a slight variation to their pricing structure.
One thing that is standard is their four tiers of membership:
Basic & Vintage
Access, Enhanced, Bootcamp, and Studio
Bronze, Silver, and Gold
VIP
Even though each location varies, an average basic membership seems to go for between $20 and $30 per month.
For a top level tier membership you will have to pay as much as $40 per month. 
Overall, pricing is similar between World Gym and Gold's Gym — depending on location — but which one gives you more for the money?
---
Hours
Let's make sure the gym will be open when you need it before we go signing any contracts.
World Gym
World Gym hours may differ from location to location.
Many of them will remain open 24 hours per day, 7 days per week.
Others will close for a period of time overnight.
This is typically from 10 pm until around 5:30 am.
You will have to check with your nearest location to find their specific operating hours. 
Gold's Gym
If there is one thing that is consistent about Gold's franchises, it is their inconsistency.
We see this once again with their hours.
While some of their gyms are open 24/7 others are not.
Some will close at 10pm and open again at 6am.
Once again, you will have to check your local facility to find the nearest location. 
Overall, expect World Gym and Gold's Gym to keep similar hours — they'll both either be 24 hours or run standard gym operating hours.
(For more, read about the busiest peak times to avoid at the gym.)
---
Equipment
What kind of workouts do you like to do?
Cardio? Strength? Functional training?
Ensure your gym has the equipment you need before signing up. Use the guide below as a starting point, but take a tour or try a free workout there to see for yourself.
World Gym
World Gym provides an outstanding selection of strength training equipment, incorporating some of the top brands in the strength industry.
They offer plenty of strength training selection both in terms of free weights, heavy dumbbells, racks, and machines, so you shouldn't find yourself waiting around to use gear. 
Their huge range of cardio equipment features elliptical machines, treadmills, rowing machines, stationary bikes and stair climbers.
Each World Gym also features a women's only workout area. 
Gold's Gym
Gold's began as a bodybuilding and powerlifting gym and it still retains a reputation as the Bodybuilding Mecca.
As a result, every location boasts a full range of strength, bodybuilding and powerlifting equipment.
You will also find plenty of cardio equipment along with such functional training gear as battle ropes, sandbags, and kettlebells.
Gold's Gym and World Gym both have a great equipment selection, especially for lifters.
You'll want to tour both to see who has the bigger campus and better maintained equipment.
---
Classes
Group fitness classes are a highly underutilized part of your gym membership (where applicable).
Luckily, both of these clubs offer a great selection for members.
World Gym
World Gym provides a full range of fitness classes across all ability levels.
These include:
Zumba
Les Mills
Yoga
and more.
Unlike many gyms, World Gym classes are available to all members, including those with basic memberships. 
If you can get a $20/month membership at your local World Gym, that's a tremendous deal!
Gold's Gym
Gold's Gym offers a huge range of fitness classes across all formats.
Each location will vary as to what classes are offered, so you'll have to check each one separately.
Expect to find classes like:
Les Mills
Bodypump
Bodyflow
Line dancing
Strength
And more
Group classes are typically included at all membership levels, however some specialty classes (like cycling) may require a higher membership level or extra fees.
Unlike many gyms, Gold's offers classes all throughout the day and up to around eight in the evening.
---
Pool/Spa
World Gym
The inclusion of pool and spa facilities is a strength at World Gym.
You will find everything from lap pools to hot tubs and spa pools at a majority (but not all) of World Gym locations.
Gold's Gym
Pools at Gold's are a little more hit and miss.
Some locations have solid (but not spectacular) pools, however most do not offer aquatic facilities.
---
Showers
World Gym facilities provide very pleasant showers and changing areas.
These are regularly cleaned and well maintained, featuring lockers and private shower stalls. 
All Gold's Gym locations also offer large, spacious shower facilities. They are clean, well decked out and equipped with lockers and hair dryers. 
You can't go wrong here if you're a commuter looking to rinse off after your workouts!
---
Childcare
World Gym
The ability to bring the kids along and know that they are being well looked after while you're exercising can be the difference between working out and staying home for many busy parents.
World Gym offers an excellent childcare service at an extra fee.
All childcare workers are fully qualified. Games and activities are offered to keep kids of all ages engaged. 
Gold's Gym
Some Gold locations offer excellent childcare facilities but, once again, there is no consistency here.
Those that do offer it, do it very well.
Gold's have high standards for staff employed as childcarers, requiring them to be certified in CPR/first aid/AED. 
(Read more about fitness classes with childcare and gyms with childcare here.)
---
The Verdict
Both Golds and World Gym are two iconic fitness empires.
They both provide excellent facilities for all exercises goals, including hardcore bodybuilding and powerlifting.
Prices are fairly comparable, though the lack of consistency with Gold's pricing throws a curve ball into the mix.
The Gold's pricing structure is more complicated, but World Gym pricing varies more frequently from location to location.
Both of these gyms will cater to the needs of fitness enthusiasts and dedicated weight trainers.
In a toss up, due to their more streamlined consistency across all of their facilities, World Gym gets the slight nod in this one on one comparison.
As always, but particularly for these two gyms, check out what your local club has to offer and only use the above as a rough guide.
Before you go, don't miss:
Hope this helps!