World Gym was founded in 1976 by Joe Gold.
If that name sounds familiar, it's because he's the same guy who founded Gold's Gym
The mission of this franchise was simple — to give people a place where they could achieve the pinnacle of fitness.
Over the last few decades, over 200 locations have popped up around the United States and Canada, giving countless people access to bodybuilding equipment like never before.
World Gym locations vary in price, with some being extraordinarily affordable and others costing well above the national average, so it's important to look into what all it offers to ensure it's the right fit for your needs.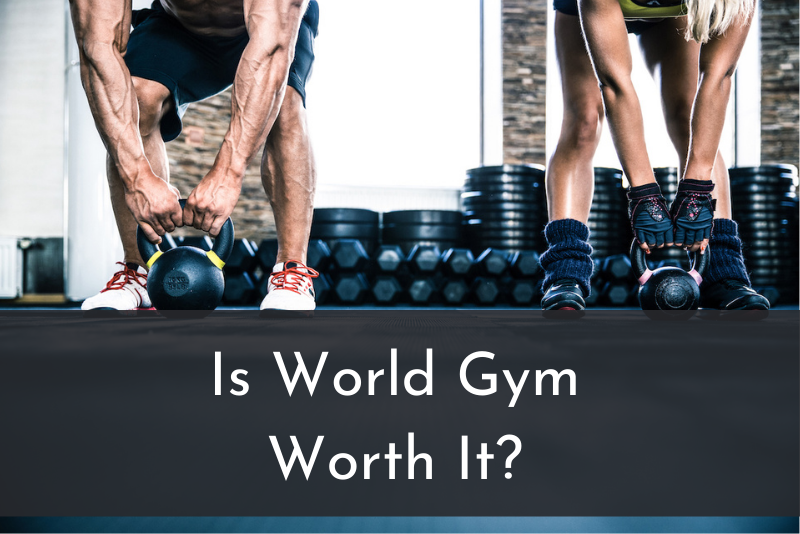 So is World Gym worth it?
You probably have utility bills that aren't as high as a World Gym membership. But if you can afford it, you get a lot for your money.
Basketball courts, pools, hot tubs, tanning beds, flat screen TVs, and even cafes are just some of the amenities you can expect to come by.
Your membership includes access to some of the best group fitness classes around, not to mention world class equipment.
If you're serious about your fitness and can afford the higher-end pricing, you'll absolutely love World Gym.
Let's take a closer look at my World Gym review.
---
How much does World Gym cost?
World Gym pricing varies quite a bit from one part of the country to the next.
General admission to just one club can start as low as $20 per month and go as high as $59.95 in some locations.
You can save a little bit by agreeing to a longer contract, usually getting about 2 months for free by committing.
Like most gyms, you can also get a free day pass to test drive World Gym before you join.
Check your local World Gym location to get the most up to date pricing information.
As always, you can attempt to negotiate your gym membership — but your mileage may vary.
World Gym definitely clocks in around the average cost of a gym membership, and a bit higher at some locations, but it's still a better deal than some high-end clubs like Equinox or Life Time.
---
World Gym equipment, features & amenities
You're spending roughly twice the cash going to World Gym compared to your average mid-range gym…
… and about 6 times what it costs to go to Planet Fitness!
So is it worth it? There's definitely some factors to consider.
Equipment
World Gym has a terrific assortment (and quantity) of equipment.
Ready to work up a sweat? All kinds of cardio gear can be found from treadmills to stationary bikes.
There's also all kinds of strength machines whether you're looking to get lean or bulk up.
And then there are the free weights. So many free weights. You'll find it all here including:
Light and heavy dumbbells
Barbells
Benches
Full power racks
The best part is that World Gyms tend to be huge. You'll likely never have to wait for a piece of equipment.
---
Group fitness classes
You can take unlimited classes as part of your membership at World Gym.
Some gyms rope you in with low monthly fees, but they charge extra if you want to take a class — not here.
This is a huge value-add and an underrated part of your membership, so take advantage!
World Gym makes it easy to sign up, too. You can download the app onto your phone to see the schedule at your nearby location.
Whether you want something light or want to push yourself to the extreme, there's something for everyone. Some of the classes you tend to find with this chain include:
Yoga
Spin
Boot camp
Zumba
Les Mills
---
Pool/Sauna
World Gyms don't just have pools. You can find heated lap pools for luxurious workouts
If you just want to relax, there's something for you as well.
Hot tubs come standard and hit the spot after a hard workout.
---
Child Care
Your little ones will be safe and sound as you exercise.
These gyms come with terrific child care services and fully trained staff.
Hours are limited, so make sure you coordinate appropriately.
Check your local World Gym club to get accurate information on pricing and services provided.
---
Other amenities
This is really just the beginning of what you can expect at World Gym.
There may be some variations based on location, but some of the more common features you'll find include:
HydroMassage beds
Aerial dance studios
Cafes
Women's only areas
---
What real people are saying (reviews, pros & cons)
World Gym looks amazing on paper, but it's always good to hear from real members.
I scoured dozens of real reviews on Google and Yelp from real members to spot some of the common themes.
Pros
Pretty much any amenity you can think of
Exceptionally clean
Friendly staff
World Gym may be expensive, but it earns its price tag.
Plenty of gym chains give you the bare minimum as far as equipment and features.
Whether you like playing ball with your friends, swimming laps, or learning a new martial art, this place has everything you need and more.
Don't expect to find a ton of outdated or broken down equipment here. Facilities are almost always state of the art and well-maintained.
The staff also gets high marks for helpfulness — a lot of other gyms, you'll find, can be really hit or miss when it comes to who's working the front desk.
---
Cons
The price tag is definitely a bummer. Obviously, not everyone can afford to join World Gym when the monthly fee is in the $50-60 range as it is in some locations.
Before signing up, you also need to consider whether you'll have the time to go often enough.
During the week, locations tend to be open between 5:00 a.m. and 11:00 p.m., but I've found numerous locations that are only open Sunday from 8:00 a.m. to 4:00 p.m.
Depending on what your work hours are like and what other responsibilities you have, it may be tough to find the time to pay it a visit.
---
Alternatives to World Gym
If you're not sure if you want to take the World Gym plunge, there are other options to consider.
Gold's Gym
Gold's Gym is definitely a bit more affordable with most people spending between $20 and $30 per month.
There's a good assortment of amenities as many locations include pools and basketball courts. The equipment here is also top notch.
Gold's was created by the same founder as World Gym, so it has a similar vibe at a lower price point.
Life Time
For those of you who don't have a problem spending the extra cash, you should consider looking into Life Time as well.
It's a premier gym that has every piece of equipment and class you can think of.
The pools also get taken up a notch with some locations even having outdoor pools with slides, which is great for families.
Expect to spend a little more at Life Time than you would at World Gym — but Life Time is pretty much the #1 or #2 gym in the entire world.
---
Wrapping Up
Is World Gym worth it?
If you're really serious about your fitness and can commit to going to the gym regularly, you'll love the equipment and amenities here.
It's a treat to workout at World Gym — not a chore. The classes and pool will keep you coming back again and again.
If, however, you just need access to a treadmill a few times per month or want to workout more casually — you can find a much better deal at budget gyms like Planet Fitness or Workout Anytime.
Before you go, don't miss these gym guides.
Hope this helps!