If you're looking for a top quality gym in Canada, GoodLife and World Gym deserve to be at the top of your list.
Both of these chains offer spacious, fully equipped facilities along with impressive extra services.
But which one is the best?
In this head to head comparison we put Canada's favorite gym chain, GoodLife, up against World Gym, the iconic American giant which has established a footprint up north.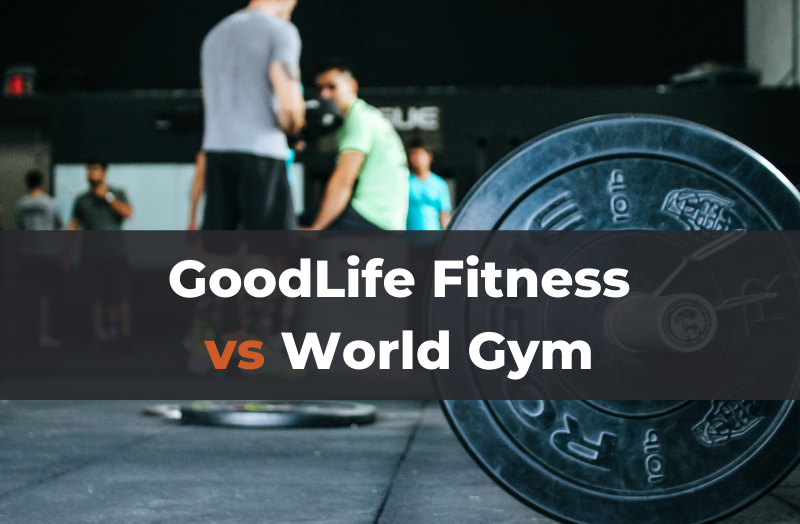 Overall, the differences between GoodLife vs World Gym are small and highly dependent upon location.
GoodLife is a more premium gym and will likely cost more (in most cases), but World Gym stacks up well with impressive amenities, as well.
Take a tour of both gyms before you choose. If you're really into pools, spas, and other high-end features, you might like GoodLife more.
If you're into lifting heavy weights and/or need childcare at the gym, World Gym will likely be the better fit.
Let's take a closer look at both of these excellent big box gyms.
---
Key Differences Between World Gym and GoodLife Fitness
GoodLife is Canadian owned / World Gym is American
World Gym is more hardcore bodybuilding oriented and has more & better strength equipment
There are more GoodLife locations throughout Canada, making it more convenient for Canadian citizens
World Gym has childcare, where GoodLife has recently cut back on this service
GoodLife is more likely to have a high-end pool, spa, and sauna
---
What is GoodLife Fitness?
GoodLife is the largest and most numerous gym in Canada, with around 300 locations.
This is one of the highest priced gyms in the country, with some of them being closer to luxury status.
Every GoodLife location is packed with high quality equipment and such extras as massage chairs and spas.
For a more detailed breakdown, check out my full GoodLife Fitness review.
---
What is World Gym?
World Gym was started in 1976 by Joe Gold five years after having sold Gold's Gym.
Initially a bodybuilding gym, World Gym has evolved into one of the most famous and iconic fitness gyms on the planet.
There are around 200 World Gym locations around the world, including several in Canada. 
For a complete breakdown, check out my World Gym review.
---
Cost
First things first. Set your budget and take a hard look at which gyms will meet your needs without breaking the bank.
You don't want to sign a contract and end up not being able to afford the gym down the road.
GoodLife
GoodLife membership is higher than the Canadian average of between $20-30 USD per month.
A basic membership will cost you between $50-60 per month; that's on top of a $50 sign up fee.
If you want access to every GoodLife gym in the country plus access to squash and sports courts and family passes, then you'll have to pay more.
When you check website prices, keep in mind that they are listed in bi-weekly amounts.
To get the monthly figure remember to multiply that figure by two.
If you are only interested in getting a workout and then leaving, I suggest paying for a 12 month basic membership.
World Gym
World Gym offers their members a few options.
It starts at $20 per month for a basic membership as well as a $20 initiation fee — although premium facilities or gyms in certain areas will cost up to $60 per month.
If you want to cancel your membership, you will have to pay a fee of $75 to get out of your contract. 
To get access to everything that World Gym offers, you'll pay $34.95 per month to start. Initiation and cancellation fees are the same as for the basic membership. 
World Gym also offers a senior membership at $30 for a premium membership, with no initiation fee. 
Again, prices vary by location so check with your local club for current rates.
GoodLife is likely the more expensive option vs World Gym (at least, at most locations) — but let's see which gym gives you the better value for your money.
---
Hours
Next up, let's make sure the gym you choose is open when you need it most!
A majority of gyms keep standard hours (and they all get busy at the same times) — but if you're a night owl or keep an unusual schedule, keep a close eye on operating hours.
GoodLife
The vast majority of GoodLife gyms across Canada are open 24 hours a day, seven day per week.
However that is not uniform through every single facility, so you will have to check your local location.
At the time of writing (March, 2021) a large number of GoodLife gyms are closed due to the Covid-19 pandemic so, again, check the conditions that apply locally. 
World Gym
There is no consistency across the board when it comes to the opening hours of World Gym.
Quite a few of them will be open all the time (24/7) while others will close for a few hours for cleaning.
If your World Gym isn't a 24 hour operation, it might be closed nightly from 10 pm until 5:30 am.
Check your local club to find out for sure.
---
Equipment
Both GoodLife and World Gym are outstanding examples of fully equipped gym franchises.
In addition to the standard, treadmills, ellipticals and strength machines, you will find an array of such specialized training gear such as:
battle ropes
kettlebells
plyo boxes
power racks
Smith machines
and a full complement of free weights.
GoodLife even provides their members with a turf zone which is designed for functional fitness training.
However, access to some areas of training are restricted to those with premium memberships. 
In terms of free weights and pure strength equipment, World Gym has the edge over GoodLife.
That's hardly surprising considering World Gym's bodybuilding roots.
You will find a full complement of barbells, dumbbells, Olympic racks, power racks, Smith machines and cable pulley machines for your every muscle training need. 
However, both of these gyms will have an abundance of high-quality equipment — likely more than you'll ever need!
---
Classes
Group classes are a highly underutilized feature of many gym memberships.
If you use them frequently you'll get a ton of value for your money.
But not every gym offers them.
GoodLife gyms offer a full complement of classes.
However, if you are signed up to the basic membership, you will have to pay extra to use them. 
World Gym offers their members a wide selection of fitness classes including Zumba, Yoga and Pilates, Spin, Bootcamp and Les Mills.
Unlike many gyms which exclude classes from their basic membership, World Gym opens all of their classes to basic membership clients. 
Both World Gym and GoodLife have a great selection of classes, but for value, World Gym is the better deal in most locations.
---
Pool/Spa
Good Life gym offers a full range of aquatic facilities, including lap pools, aquatic classes, and hot tubs.
They also provide dry saunas so you can relax and unwind after your workout.
World Gym has great spas and pools, as well, just not at every location.
You will have access to heated lap pools as well as hot pools for that luxurious post workout soak.
In addition to their premium level pools and spas, you are also likely to find basketball courts, tanning beds, aerial dance studios, cafes and women's only gyms.
However, these services may vary between locations. 
If a pool is a must on your gym checklist, you're more likely to find it at GoodLife — however, World Gym does offer aquatics at many locations, as well.
---
Showers
Both GoodLife and World Gym provide spacious, well maintained shower facilities for their members.
These include private shower stalls and hair dryers.
(Yes, believe it or not some gyms don't have showers!)
---
Childcare
As of this writing, GoodLife have recently put an end to their Jump! child minding service at many of their locations.
Some of them, however, have retained the service, so you will have to check at your specific venue.
World Gym provides a premium level of child care.
The fully trained staff will keep your kids entertained and occupied while you sweat it out on the gym floor.
However, the hours are limited and the demand high.
Also, not every location offers child care services, so you will have to check your individual gym to see what they have.
Of course, you will also have to pay extra for child minding services — either per use or by adding a regular fee to your monthly membership.
World Gym gets the edge for childcare here, since GoodLife has cut back on their program — hopefully, they bring it back in the near future.
---
The Verdict
Both GoodLife and World Gym offer premium level gym facilities to meet your every exercise need.
GoodLife is the top gym in Canada, and if you're a citizen you may want to support a homegrown brand.
It has excellent equipment, classes, and pool/spa amenities — however, they come at a premium price and parents may find the childcare cutbacks to be a dealbreaker.
World Gym is an excellent gym, and one of the best overall in the world, but it's harder to find. If you live near one and can get a good price by negotiating your membership, you'll be extremely pleased.
You might prefer GoodLife if:
You need 24/7 access
You want to support a Canadian brand
You're looking for an incredible pool and spa area
You might prefer World Gym if:
You need childcare at the gym
Weight lifting is your primary workout
You can get a better deal at World Gym
If you're still not sure, check out some advice from personal trainers on picking the right gym.
Hope this helps!