What quality matters most to you when finding a gym?
For some people, it's all about finding the right atmosphere where they feel welcome. For others, they don't care about anything else as long as the equipment is clean and machines are working.
Crunch Fitness aims to offer the complete package. Clean equipment, a welcoming vibe, and a wallet-friendly price.
But is Crunch Fitness worth it? Here's my review: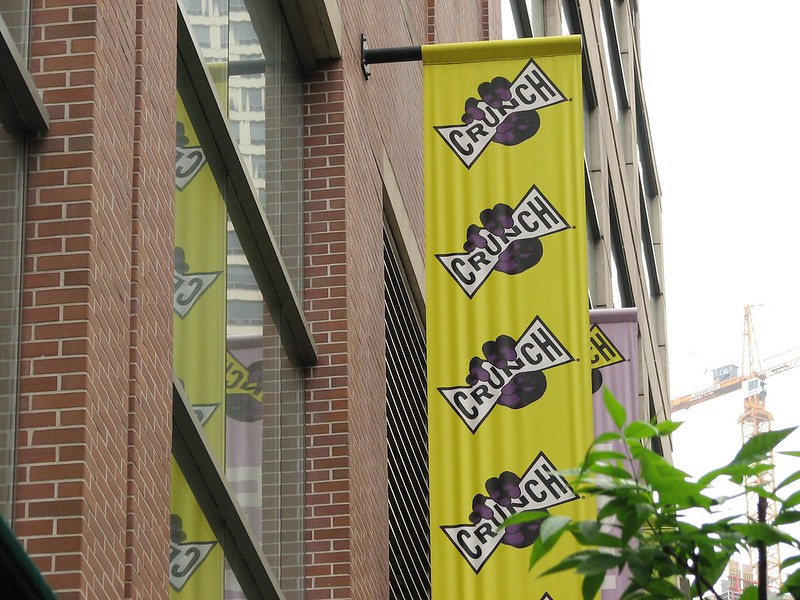 Prices for Crunch Fitness vary by location, but it's one of the most affordable gym memberships out there no matter how you slice it.
You'll pay more to access the group classes, which are a huge fan favorite, but even at the base membership level you'll find good equipment selection and decent amenities at Crunch. It's a better value than Planet Fitness for most people but doesn't quite stack up to mid-range gyms like LA Fitness, Anytime, or Gold's Gym.
| Crunch Fitness Pros | Crunch Fitness Cons |
| --- | --- |
| Memberships starting at $10/month | Pools & childcare only available at a few locations |
| Better equipment than most budget gyms | Small facilities can get crowded |
| Plenty of group fitness classes | Some amenities only included in higher membership tiers |
Let's take a closer look at what Crunch Fitness costs and how far a membership there goes.
---
How much does Crunch Fitness cost?
The price structure for Crunch Fitness can get a little wonky if you don't know what you're looking for.
Plus, prices can vary depending on location. Ultimately, there are three tiers you need to be aware of.
The base price will run you anywhere between $9.95 and $19.95 a month. This only get you access to one single location, so you need to make sure you can consistently go to that one gym if you sign up at this level.
With a base membership, you get access to cardio equipment, weights, and other machines.
You also have access to the lockers, online nutrition resources, power half hour circuit training, and a free t-shirt.
The peak membership tends to cost $21.95 a month. You get everything in the base membership plus access to group fitness classes, tanning services, HydroMassage®, and other perks. You'll also be able to attend a wider breadth of Crunch Fitness locations.
Finally, the peak results membership usually costs $29.95 a month. You get everything in the peak tier in addition to ride and advanced HIIT classes.
Prices vary by location. Make sure you go to the Crunch Fitness website first to see how much a membership will cost you in your area.
Generally speaking, Crunch Fitness is an affordable gym membership. You can really save money if you know for a fact there's only one location you'll ever attend and don't need any of the fancy add-ons.
However, if you're someone who likes working out in classes, then you may want to splurge on one of the higher tiers.
But do keep in mind there are joining fees and annual fees to consider when you first sign up, too.
---
Crunch Fitness equipment, features & amenities
You sign up, spend your hard-earned money, and are ready to head out to Crunch Fitness for the first time.
What all should you expect when you first step foot inside this gym?
Let's take a look at what Crunch Fitness has to offer.
Equipment
Crunch Fitness has pretty much everything you need to get in a great workout.
No matter which location you attend, it's guaranteed you can find a ton of cardio equipment. Whether you want to run or pedal, there's something for everyone.
Crunch Fitness is also known for its excellent selection of free weights, especially compared to other budget gyms like Planet Fitness. You'll also find machines if you prefer lifting that way.
As opposed to other gyms, Crunch Fitness doesn't really sway one way or the other when it comes to cardio versus weights.
It doesn't necessarily cater toward powerlifters or treadmill-heads, so no matter which category you fall into, you'll find something that interests you.
Classes
Crunch Fitness also has no shortage of group fitness classes.
However, you need to keep in mind that the basic plan doesn't include this. You'll need to sign up for one of the higher tiers if you want to work out in a group.
But you'll find classes for pretty much anything you can think of at Crunch. Some of the most popular include:
Pilates
Yoga
Kickboxing
HIIT
Zumba
Bodyweight circuits
Classes are offered every day of the week throughout the day, so you can definitely find something that works for your schedule.
If you want to get a sense of the class atmosphere before signing up, Crunch Fitness offers a one-day free trial.
You'll have access to pretty much everything at your local Crunch Fitness.
The only problem is that one day is pretty short. Other gyms can give you a free trial for one week. But if you have a whole day to try everything out, then it's definitely worth it.
Pool / Sauna
Anyone looking for a gym they can swim at needs to make sure there is a Crunch Signature location near them.
There are only about 30 of these located nationwide compared to over 300 regular Crunch Fitness gyms.
Crunch Signature gyms offer a lot more amenities than your average gym.
In addition to finding a pool and/or sauna, you can also find live DJs, free Wi-Fi, and towel service.
(Check out my complete guide to gyms with pools for more on this.)
Child Care
Again, you'll need to find a Crunch Signature gym if you want to utilize child care services.
In the event there's a Crunch Signature location near you, then you can take advantage of Kid's Crunch Babysitting services.
Kids up to the age of 13 years can hang out while you work up a sweat. It will cost you a little extra to drop your children off, but it can be well worth it.
It's too bad not more locations offer this service.
However, if you're a parent with a Crunch Signature near you, then you should absolutely sign up at that spot to utilize the service.
Other Amenities
Many Crunch Fitness locations offer tanning services. You can work up a sweat and then hop in a tanning booth for a little while to give yourself that extra glow.
Just because you're working out indoors doesn't mean you can't look like you've been in the sun all day.
Crunch Fitness is also known for its HydroMassage® service.
After a tough workout, you can treat your muscles to a relaxing massage. It's really the perfect way to end a rough session.
---
What real people are saying (Crunch Fitness reviews, pros & cons)
Don't just take it from me.
I scoured hundreds of real reviews from Crunch Fitness members all across the country to find out what they really think.
Here are some highlights and trends I noticed after reading about other people's experiences.
Pros
Great Class Selection
Even if you're not interested in taking classes, you may still want to sign up for one of the higher tiers so that you have access to everything Crunch Fitness has to offer.
While classes can vary depending on location, you can generally find some unique offerings.
One such class you may find at Crunch Fitness is called "Laugh Your Ass Off."
Your fitness regimen is supplemented with a comedy routine, so you're cracking up while working out those muscles.
Laughing is the best medicine, so you can benefit your health twice as fast!
Cleanliness
In general, it really seems like people appreciate how clean most Crunch Fitnesses are kept.
Staff members seem to do a good job of wiping down machines regularly and ensuring the premises are kept tidy for members.
Great App
If you're going to sign up for Crunch Fitness, then it would definitely seem to behoove you to download the app.
You can sign up for classes directly from your phone.
It's great because if you find yourself with some extra time in the day and want to work out, then you can see what classes are being held and reserve a slot.
Cons
Overwhelming Size
Crunch Fitness gyms tend to be pretty huge. After all, most locations have an abundant supply of cardio machines, weights, and class rooms.
If you're new to a gym, then it may seem a bit overwhelming at first.
Luckily, this seems to be a minor issue. Once you get used to your location and know where everything is, it will become a lot more manageable.
Crowded Facilities
There's a lot to do at any Crunch Fitness.
However, if there's one machine you want to use, then you may want to try going after peak hours.
Crunch Fitness gyms are popular. That means they can get pretty packed, especially early in the morning and right after most people get off work.
(Check out my guide to the best times to go to the gym.)
While that's true at many gyms, it becomes particularly apparent at Crunch Fitness given the immense size of most locations.
Finding any machine available can become a hassle.
---
Alternatives to Crunch Fitness
It's understandable if Crunch Fitness doesn't sound right for you.
Fortunately, there are plenty of other options available.
If you want 24-hour access to your gym, then you may want to check out Anytime Fitness.
A single membership gives you access to every Anytime Fitness around the country. This makes it easier for people on the go who may need to go to several different locations.
Additionally, you get a seven-day free trial. It's a lot more time to try out the different machines and classes, so you can be more confident the gym is right for you.
Planet Fitness is also a good choice for people who don't want to spend an arm and a leg on their gym membership.
The basic membership that costs $10 a month will give you access to a great selection of cardio equipment and some basic weights.
There aren't as many classes as what you'll find at other gyms, but if you just want to work out at your own pace, then it can be a great option.
(Check out my guide to Crunch vs Planet Fitness.)
---
Wrapping Up
Crunch Fitness is incredibly popular, and I can see why.
Some people may only be able to use Crunch Fitness if they have a Signature location nearby.
But if you don't have kids and don't care about a pool, then any one of the basic Crunch Fitness gyms around the country should give you precisely what you need.
It can be really affordable if you just want the basic plan. But even at about $30 a month to access classes, it's not a bad deal if you plan on going several times a week.
For my money, I'd go for a mid-range gym like Anytime Fitness or LA Fitness. But Crunch is a step up from Planet Fitness, in my opinion.
Are there any other questions I can answer about Crunch Fitness? Let me know below!
For more gym reviews, check out:
Hope this guide was helpful!