YouFit? Yeah — you're about to be!
If you're looking to join a gym without breaking the bank — and you're willing to give up a few amenities to do it — YouFit should definitely be on your list of big box gyms to check out.
There's a lot to like, and a few things to be wary of, but overall the big question is:
Is YouFit worth it? Here's a full review.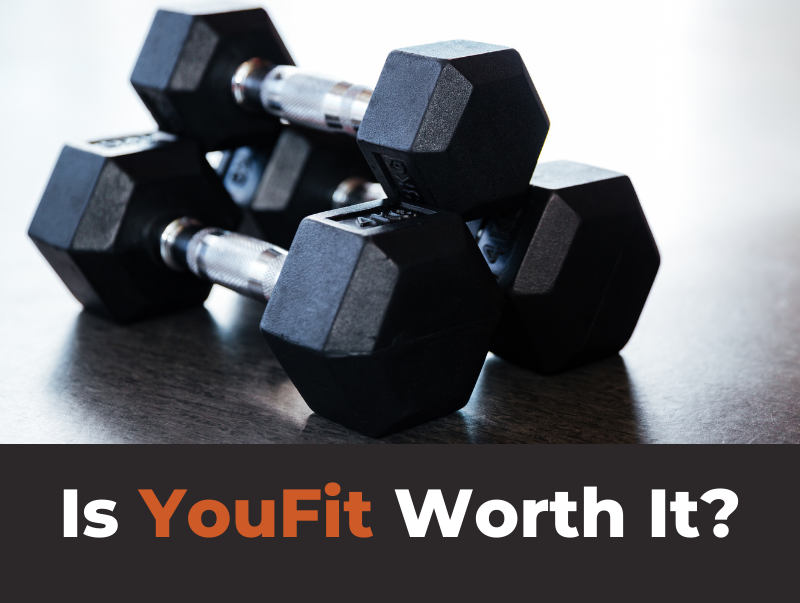 Overall, YouFit is a great budget gym choice that has a lot to offer. For a fair price, the clubs have a good selection of equipment (and even a few power racks and other weightlifting gear), plus cool extra like child care and group classes (for an extra monthly fee).
Some members have complained about unclean facilities and poor management, so make sure you tour your local YouFit before joining.
Let's learn more about YouFit's cost, amenities, and main pros and cons.
---
What Is YouFit?
YouFit is a popular convenience gym that's been around since 2008.
They currently have around 140 locations spread across 14 states in the southern and western United States.
Rather than providing full health club amenities, YouFit is what you could consider a stripped down gym.
It provides you with everything you need for an effective workout any time of the day, with 24 hour operation at most locations.
You won't find a lot of big time amenities here like pools and basketball courts, but if it's basic strength and cardio equipment you're looking for, you'll get it at a fair price.
Each YouFit location is owned and operated separately while being under the YouFit umbrella, so your mileage may vary depending on location.
Let's take a closer look.
---
How much does YouFit cost?
A basic membership to YouFit will cost you $9.99 per month.
You will also have to pay an annual fee of $39.99 plus a start up or initiation fee.
However, YouFit often runs specials in which this fee is waived. If you're savvy, you can also negotiate these fees with the manager.
This basic membership will provide you with access to one facility, or your "home club."
A premium membership costs you around $21.99 per month.
This gives you access to every YouFit location across the country.
You can also bring guests to work out with you and get half price drinks at the gym cafe.
Also, like most gyms, can try YouFit out for free with a complimentary pass.
---
YouFit Equipment, Features & Amenities
So you've got yourself a gym membership that's easy on the wallet.
Now that you're a member at YouFit, what will you find once you walk through the doors?
Equipment
YouFit provides their members with a full complement of free weights, resistance machines, and cardio training equipment.
All gyms seem to follow the same layout, with the cardio equipment on the outside, along the gym walls.
Then come the strength training machines and finally the free weights.
The free weight strength training area of the gym is a decent size.
However, YouFit is a bit lacking in the number of power and squat racks.
As a result, you may find yourself waiting around during your training session. They do, however, have an impressive selection of dumbbells and barbells.
The strength training machine selection at YouFit is impressive.
As well as having a wide selection of different machines, they also provide three or four of the most popular, such as the leg press and calf raise machines.
There are also a lot of cardio machines at YouFit, which you'd expect to see at any big box gym. You will find plenty of treadmills, steppers, cycles and ellipticals.
Group Fitness Classes
Not every YouFit gym offers fitness classes but many of them do.
Classes will differ from venue to venue but most will offer the following:
You'll usually need to be a premium members in order to access the classes — check your local club for the schedule and policies!
Pool/Sauna
There are no pools or other aquatic facilities at YouFit.
If swimming workouts or post-workout hot tub sessions are a must for you, scroll down to read about some good YouFit alternatives.
The good news?
The locker rooms are well fitted out, clean and hygienic with plenty of showers to allow you to refresh after your workout.
Child Care
One of the few extra perks and amenities that YouFit does offer is child care for members.
For an extra fee every month on top of your membership, you can bring a child age 1 through 12 to the gym with you to be looked after by qualified staff.
You can read the policies and safety guidelines for YouFit child care here.
Other Amenities
That's about where the perks and amenities at most YouFit locations end.
However, it's worth mentioning that these clubs are usually open 24 hours.
That's a pretty solid perk for night owls and night shift workers!
---
What real people are saying (Reviews, Pros & Cons)
Don't take my word for it.
We dug through hundreds of real reviews to see what actual members have to say about YouFit.
Here are the main takeaways:
Pros
Friendly staff
Fair price
Good selection of equipment
Most members claim that YouFit lives up to its basic promise.
Clubs have a good selection of equipment that's rarely in a state of disrepair, and you get access to all of it for a really good price.
Consider the average cost of a gym membership starts somewhere around $30/month and YouFit seems like a bargain!
The equipment here is basic but definitely compares favorably to other budget gyms like Planet Fitness. Members seem to really enjoy the variety of equipment and the presence of good strength training gear.
Finally, your mileage may vary, but most locations score high marks for friendly and knowledgable staff.
Cons
Unclean facilities
Unwelcoming atmosphere
Poor management
Every YouFit club is different, but most members who posted negative reviews online had issues with the facilities.
While there's plenty of equipment, some members have found locker room and other common areas in dire need of cleaning and maintenance.
There's also been lots of negative chatter about personal trainers at YouFit pressuring members into paid sessions, which can make the atmosphere a little uncomfortable at times.
Finally, while the staff themselves usually get rave reviews, lots of members have had negative run-ins with YouFit managers. Whether it's rudeness or having difficulty cancelling a membership, a bad manager can really taint the experience.
Make sure you tour your local YouFit and keep an eye out for these issues before you join up.
---
Alternatives to YouFit
Not sure if YouFit is the Right Fit?
You have PLENTY of other options.
Planet Fitness is an obvious alternative to YouFit.
They are both convenience gyms, and they both offer similar low rates.
Planet Fitness doesn't provide classes, unlike most YouFit gyms, but caters to beginners in other ways. PF specifically discourages heavy weight lifting, so if you're intimidated by "gym bros," you won't find them here.
(Read my full Planet Fitness review.)
Another great alternative to YouFit is Anytime Fitness.
You'll pay a little more at Anytime Fitness with a monthly membership costing around $40.
Like YouFit, Anytime Fitness is open 24 hours per day, seven days per week. They also offer a full range of strength, cardio, and free weight equipment — the main draw here is a bigger and better selection of equipment for serious fitness heads.
However, you won't find any pool or childcare facilities at Anytime Fitness.
For aquatic facilities, check out my guide to the best gyms with pools and hot tubs.
---
Wrapping Up
YouFit provides you with a no frills workout experience at a great price point.
They offer an impressive range of cardio, strength and free weight training equipment and are open all hours of the day and night.
When it comes to service, cleanliness and management, there are mixed reviews out there.
These things are intangible, so you'll have to check out your local YouFitness to make up your own mind.
You can do that by taking advantage of their complimentary session offer — which you should always do before you sign a contract!
Before you go, check out some other gym reviews like:
Hope this helps!