There's no shortage of gyms and health clubs through the southwestern states of the USA.
Finding ones that are welcoming, friendly, and affordable, however, is a completely different story.
Over the last decade Chuze Fitness has built a reputation on providing the sort of environment that people can't find elsewhere.
But how good are they really? Is Chuze Fitness worth it? Here's a full review.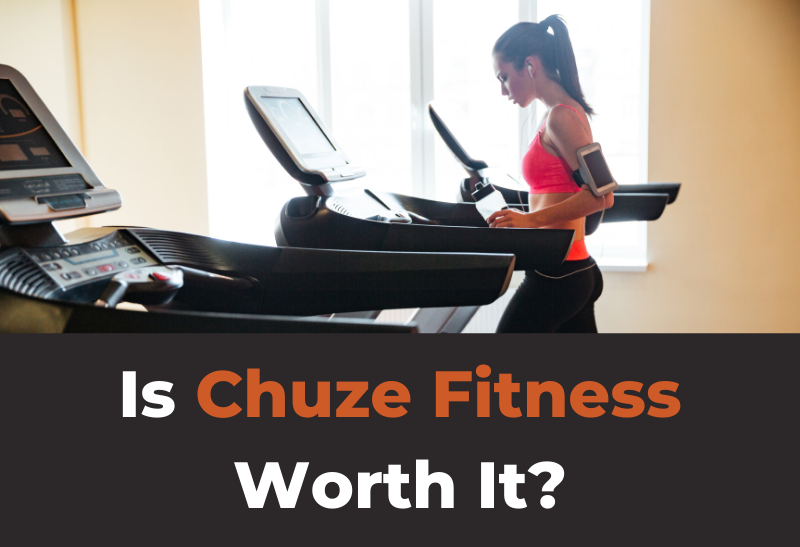 Overall, Chuze Fitness is one of the most beloved gym chains in the entire country — if you live near one, you should definitely check it out! Members love how affordable Chuze is in comparison to its excellent amenities, including childcare, pools, and state of the art equipment.
The only downside to Chuze is its limited locations and the fact that it's so popular — some locations can get a little crowded during peak hours.
Let's lift the lid on this popular gym chain and take a look at the costs, amenities, and pros and cons you need to know.
---
What Is Chuze Fitness?
The first Chuze Fitness gym opened up in Carlsbad, just north of San Diego in 2008.
They now have 30 locations across the following states:
California
Arizona
Colorado
New Mexico
Chuze has built a reputation for being affordable, friendly, and high quality.
---
How Much Does Chuze Fitness Cost?
From the outset, Chuze Fitness set out to become the most affordable high end gym in its space.
Here's roughly what membership will cost you.
Basic membership = $9.99 per month
Premium membership = $21.99 per month
VIP membership = $39.99 per month
A basic membership provides you with access to one gym facility, but no classes, hydromassage, infrared sauna, steam room, or pool access.
The premium membership provides you with access to fun classes, hydromassage, infrared sauna, a steam room, and the pool.
However, it does not include Team Training, unlimited guests, monthly body composition analysis, and free childcare.
(Team Training involves working with a personal trainer in a small group environment.)
Chuze Fitness also offers all newcomers a 7-day free pass.
These prices are extremely competitive, especially when you consider the extent and quality of the facilities offered by Chuze.
The VIP membership gets you access to Team Training, which represents excellent value for money when you think about how much you'd pay elsewhere for a single personal training session.
---
Chuze Equipment, Features & Amenities
So once you're all signed up, what will you find inside your local Chuze?
Equipment
Chuze gyms are large, spacious and well equipped.
The average facility is around 40,000 square feet. That space will be filled with an excellent selection of equipment including:
Strength training equipment
Cardio equipment
Free weights
Turf areas
In terms of equipment, Chuze provides updated strength, and cardio equipment, including lateral trainers and high end strength machines.
You won't have to wait around for your cardio session, with most facilities featuring more than a hundred pieces of cardio equipment.
On their website, Chuze state that their free weights area is barbell and dumbbell heaven.
That's a pretty good description.
Their range of barbells, dumbbells, kettlebells, bumper weights and Smith machines is truly impressive.
Not only that but the areas, along with every other part of the gym, are meticulously clean.
They've also got an impressive range of strength training machines, both of the pin and plate loaded variety.
The cardio equipment range is also impressive.
You will get access to a huge range of treadmills, cycles, ellipticals and at least a dozen other types of equipment.
Another area I really like is the spacious turf training zone, where you'll find agility ladders, plyo boxes, TRX systems, heavy balls and battle ropes.
Group Fitness Classes
If you spring for the Premium membership, starting around $21.99 per month at most locations, you'll get access to group fitness classes.
Most clubs have dedicated yoga studios, HIIT studios, and other state of the art areas where classes are held.
Most weeks, the schedule at Chuze includes:
Zumba
Yoga
Silver Sneakers
Mat Pilates
Barre
Abs
Cardio kickboxing
Piyo®
Les Mills body combat
Body pump
Aqua fit
Pool/Sauna
Does Chuze Fitness have a pool at most locations? You bet!
Sauna? Check! Steam room? Check
Hot tub? Check!
If you like aquatic fitness, or just relaxing in a hot tub or steam room after your workout, a Chuze membership is well worth it.
Child Care
Having childcare at the gym is a massive, massive plus for parents.
Chuze Fitness, fortunately, fits the bill.
Most locations have a Kids Club where children ages 6 months to 12 years can play and enjoy expert supervision while you exercise.
Other Amenities
Chuze really looks and feels like a higher-end gym than its price indicates.
You'll find some fun extras at most locations like hydro-massage, an infrared sauna, juice/smoothie bar, and 24 hour operation.
(Some of these extra amenities will require a Premium membership.)
One fun perk at Chuze is the Chuze Cinema, available at roughly half of the clubs.
Chuze Cinema allows you to watch movies on a huge screen as you are performing your 30 to 60 minute cardio session.
The audiovisual technology, video equipment and whole cinema room layout is outstanding.
---
What real people are saying (Reviews, Pros & Cons)
Don't just take it from me.
We dug through hundreds of real reviews to see what real members are saying about Chuze Fitness.
Here's what stuck out:
Pros
Friendly and knowledgable staff
Team Training is an excellent value
Equipment up to date and well-maintained
Reviewers seemed to consistently give high marks to the staff and management at Chuze.
That's great to hear, because that's one of the major complaints at other big box gyms!
Members also love the Team Training classes and atmosphere. It lets you enjoy most of the perks of working with a personal trainer but without the high expense.
Finally, the equipment at Chuze gets rave reviews across the board. Everything's up to date and machines are rarely broken down or out of order.
Of course there are some negative reviews. However, these are usually to do with a specific issue, rather than any impressions with their overall assessment of the gym.
Cons
Can be crowded
Classes fill up fast
Chuze Fitness gets pretty much rave reviews all around. It's tough to find too many people who don't love this place.
However, a few members have complained that this extremely popular gym can get a little crowded.
In particular, some folks have had trouble booking group classes due to their extreme popularity.
That's a bit of a bummer if you've paid extra for the Premium membership!
---
Alternatives to Chuze Fitness
Not convinced Chuze is the right place for you?
The obvious alternative to Chuze Fitness is Planet Fitness.
The basic membership cost is about the same if you're looking to keep the budget down, but that's about where the similarities end.
Chuze is the better option across the board for lifting weights, aquatic amenities, and friendly staff — plus childcare, group classes, and more!
But if you just want cheap access to cardio equipment, Planet Fitness is a solid option.
If you're looking for a comparable mid-range gym, check out LA Fitness or Anytime Fitness — click the links to read full breakdowns of each!
---
Wrapping Up
Chuze Fitness gyms have got a lot going for them.
They are huge, well equipped, and they feature some amenities and services that you won't find in too many other places.
These include their Chuze Cinema and the extremely affordable Team Training service.
If you live within range of a Chuze Fitness Center, do yourself a favor and take advantage of a free 7 day day membership – you may just end up making it your new workout base.
For more, check out:
Hope this helps!