If you're living in Madison, Wisconsin and you're looking for an upmarket gym that provides you with everything you need to get in a great workout, then you need to have Princeton Club on your radar.
And don't worry, you don't have to be a Princeton alumni to join this club!
But there are a lot of other great options in this area, too, so the question is:
Is Princeton Club worth it? Here's a full review.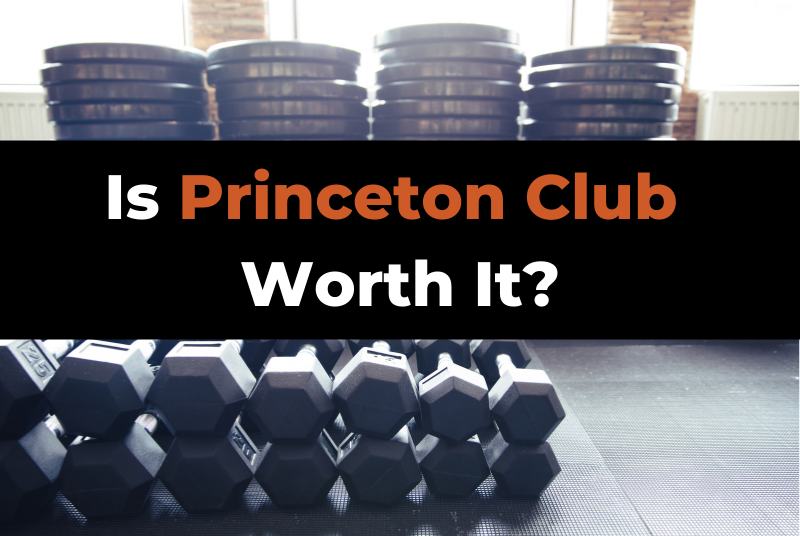 Princeton Club is worth it for beginners and fitness intermediates. The facilities are clean, feature top-notch cardio brands, and have incredible amenities included in the price like childcare, pools, and group classes.
Princeton Club is a little expensive, on average, though. And hardcore weight lifters might find the free weight selection too light for their tastes.
Let's take a closer look at the costs, equipment, amenities, pros, cons, and more!
---
What is Princeton Club?
Princeton Club is a health club located in Madison, Wisconsin.
Under the guidance of founder Dave Gerry, it has grown from a small local gym to become one of the largest and most respected health clubs in Madison.
There are eight Princeton Club locations spread around Madison, with five of them being 'Express' clubs, which apparently offered a pared down setting at a more affordable pierce point. 
Princeton Club has been named best health club in Madison for a number of years in a row.
The spread of their locations around Madison, and the fact that membership gives you access to every club, means that you will never be more than 10 minutes from your nearest workout.
Princeton Clubs are open 24 hours a day, 7 days per week.
---
How much does Princeton Club cost?
Princeton Club's membership operates on a two tier system: single adult and couples.
Here's the breakdown on average. Remember, exact prices can vary based on location, time of year, and more.
Single Adult
Monthly Fee = $65.49
Annual Cost = $779.00
There is no initiation or cancellation fee.
Couple
Monthly Fee = $130.00
Annual Cost = $1559.00
Extra Costs
It's great that Princeton Club doesn't charge initiation fees, but there are a few charges you might come up against:
If you do not carry your membership card to the gym, you will be charged a $1 lookup fee.
Towels can be rented for a dollar.
If you want to bring a guest to work out with you, he or she will have to pay $20 for a guest pass.
Racquetball courts can be reserved for $5, which is the same cost as renting a racket.
---
Princeton Club Equipment, Features & Amenities
So now that you know how much you'll pay to join the Princeton Club, let's take a look at what that gym membership gets you.
Equipment
Each Princeton Club features a cardiovascular training center, with personal TVs on cardio gear to keep you engaged while you're burning calories.
Here's a run down of the exact gear you'll find in the cardio center:
StarTrac Treadmills with Touch Screen Televisions
StarTrac spinners
Precor AMT's
StarTrac NXT Spinning Bikes
Quinton Treadmills
Woodway Treadmills
Stairmasters Step Machines
Concept II Rowing Machines
UBE (Upper Body Ergometers)
Airdynes
StarTrac Upright Bikes with Touch Screen Televisions
StarTrac Recumbent Bikes with Touch Screen Televisions
That is a very comprehensive range of cardio training gear, featuring premier brands.
So, it's a pretty safe bet that you are going to be able to meet all of your cardio training needs here.
The range of strength training equipment at Princeton Clubs is equally impressive.
They have recently spent more than $1 million on upgrading their strength machines, with the addition of the following highly respected brands:
Cybex
Magnum
Nautilus
Hammer Strength
Body Masters
(Learn more about where gyms get their equipment here.)
There is also a decent range of free weights on offer, including dumbbells, barbells, squat and power racks and kettlebells.
However, it you're a hardcore bodybuilder or powerlifter, you will probably find the poundages a little limiting.
The focus here is on the general trainer rather than the hardcore iron pumper.
Group Fitness Classes
Princeton Clubs excel in terms of the provision of fitness classes.
Classes are being held every hour from 5:30 am through until 8;30 pm weekdays, and from 8:30 to 5:45 on the weekends.
Classes are held in spacious air conditioned facilities and led by top professional trainers. Princeton Clubs offer one of the widest selection of classes I've seen in a long while.
Their line up includes:
Athletic ABS, Power Glutes
Body pump by Les Mills
Body Sculpt
Boot camp On the Roof
Bosu circuit and sculpt
Circuit training
cardio mix and strength
cardio dance
flow yoga on the roof
HIIT on the roof
Iron ABS and arms
Pilates
Power flow
Turbo kick
Zumba
You get free access to all classes as part of your membership fee.
Pool/Sauna
Princeton Clubs each feature a six lane swimming pool so you can swim laps to your heart's content.
They also have water based classes. A unique feature is the warm water resistance current training pool, which is great for rehab.
There are also steam and sauna rooms as well as whirlpools for a great hydrotherapy session.
(Learn more about other gyms with pools here.)
Childcare
Your membership entitles you to the Princeton childcare service for under 12 year-olds.
You don't have to book for this service ahead of time, either.
The childcare service is staffed by fully trained workers who do a great job of keeping the kids entertained while you exercise!
(Learn more about gyms with childcare here.)
Other Amenities
Princeton Clubs provide a professional in-house massage service.
There are also Tennis & Soccer, Basketball, Racquetball and Volleyball courts available for use by members, depending on location.
Tour your local facility. You'll be wowed with everything they have to offer!
---
What real people are saying (reviews, pros & cons)
Unlike other national clubs, Princeton Club is more of a local outfit with fewer reviews. However, most people in the Madison area seem to have nothing but great things to say about this gym.
Pros
Great range of cardio and strength machines
Excellent pool facilities
Basketball, soccer, racquetball, volleyball courts
Free childcare
In short, the amenities and equipment here are terrific for people of most fitness levels.
Having classes and childcare included in the membership is an absolute game-changer for parents and beginners who might need a little hand-holding, or a more social atmosphere.
Cons
Limited free weight gear
Quite expensive
Princeton Club has a great strength training area, but some experienced lifters were disappointed that heavier dumbbells weren't available.
It's also on the expensive side compared to the average gym membership cost, at about $65 per month per person.
---
Alternatives to Princeton Club
There is no shortage of gyms in Madison, Wisconsin.
If you're after a more budget friendly option, you'll find a local Planet Fitness that will only cost you $10 per month.
Be aware that PF has far fewer amenities and less variety of equipment, especially for strength training.
For a level of service and facilities that are more on par with what you'd get at Princeton Club, there's Supreme Health & Fitness, a local entity which has been around for more than 50 years. 
You'll also be happy at most mid-range gyms with pools, classes, and childcare like LA Fitness, for example.
---
Wrapping Up
Princeton Club is among the more expensive gyms that you'll find in Madison, Wisconsin.
When you take into account the offerings that this club provides, however, including free childcare and fantastic water based facilities, you've got to agree that it delivers in terms of value for money.
This place won't suit hardcore iron pumpers, but the majority of people looking for a full service health club to help them get in top shape will be right at home here.
For more gym reviews, check out:
Hope this helps!