Have you ever stopped to admire the equipment at the gym?
Big name clubs often have fantastic treadmills, ellipticals, and free weights to choose from.
But they're probably not the same brands and models you usually find in the store or online.
So if you've ever wondered if you could get the same treadmill from the gym for your home, it's worth asking:
Where do gyms get their equipment? And where can you buy new or refurbished commercial gym equipment?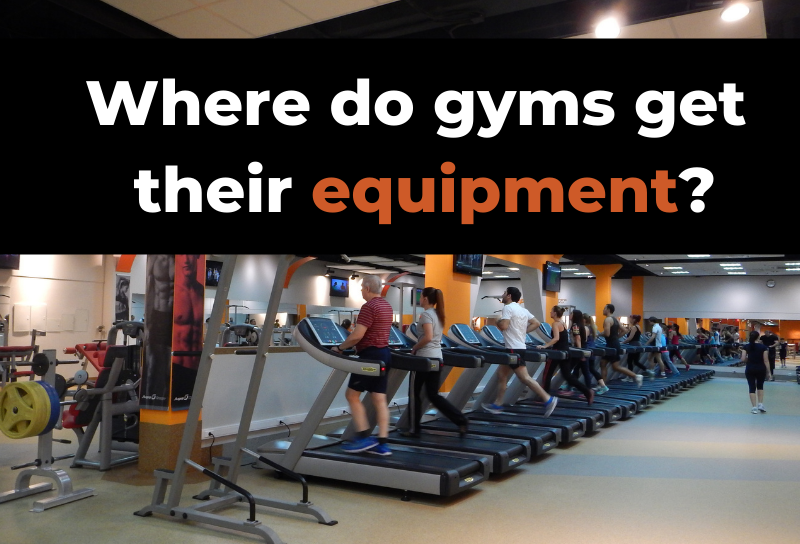 Big box fitness clubs and gyms get their equipment at discount prices by buying in bulk through commercial suppliers like Life Fitness or Nautilus. They sometimes lease the equipment instead of buying.
If you fall in love with a treadmill or elliptical you see in the gym, you probably won't be able to afford to buy it new directly from the manufacturer, but keep an eye out for used or off-lease options through local distributors, gym closings, and refurbish retailers.
Let's take a closer look!
---
Where Do Big Box Gyms Get Their Equipment?
You can probably guess, but when new gyms open up in town (especially big name clubs like LA Fitness, Planet Fitness, etc.) they don't just buy up whatever's on sale at Dick's Sporting Goods.
So where do new fitness clubs get their equipment?
Big fitness chains get their equipment straight from commercial suppliers, in most cases.
Most franchise gyms will have an exclusive long-term purchase or leasing agreement with one supplier from whom they purchase their equipment.
For gyms outfitting multiple clubs at once, they will usually purchase a package deal, gaining the benefit of wholesale pricing.
Buying their equipment in bulk reduces both the initial cost and the cost of long-term maintenance because they contract with a single distributor for both the purchase and maintenance of the equipment.
Some national franchise gyms go straight to the source and buy directly from the manufacturers, such as:
Nautilus
Life Fitness
Eleiko
Sorinex
and Technogym.
You might recognize these names from some of the equipment at your own gym.
Doing so allows them to get deals that aren't available to individual purchasers or even smaller gyms.
Some suppliers, such as Pro Gym, will not even sell to individuals. Instead, they only outfit commercial gyms.
So that begs the question: If you fall in love with a Nautilus treadmill at the gym, or a set of Eleiko plates, can you buy these for your home gym?
---
How to Buy New, Used, or Refurbished Gym Equipment
If nothing else good came out of Covid-19, significant deals on commercial-level equipment for the home gym crowd did!
When gyms were shut down and people didn't feel safe at public gyms, many manufacturers got busy targeting the at-home gym demographic — that's according to Scott Drapeau, a personal trainer and gym owner.
Under normal circumstances, certain suppliers only work directly with corporate gyms and will not sell direct to consumers. But in 2020, that changed for some brands and people looking to outfit home gyms with top notch equipment suddenly had a lot more options.
So in many cases, yes, you can buy the same equipment you see in the gym. However, it will often be extremely expensive.
For example, new treadmills from Life Fitness (a major gym supplier) start at around $3,000 for consumer-level models and can cost over $7,000 for something more like what you see in fitness clubs.
That's far above the average cost of a regular treadmill.
(Keep in mind that commercial grade equipment is extremely high-end and designed to withstand constant use over the course of several years.)
Similarly, buying the same dumbbells you see in the gym will cost significantly more than going with more consumer-friendly options.
Your other option would be to find a local distributor that can sell you off-lease or used equipment.
According to TJ Mentus, an ACE certified personal trainer, there are local wholesale gym equipment distributors that sell to individuals.
When commercial gyms shut down, they typically sell their equipment to these wholesale distributors rather than to the general public.
Also, keep your eye out for a local gym that is going out of business.
They will usually have an everything must go type event, which means you might score an expensive piece of equipment at a rock bottom price.
Another alternative to paying the high price of new commercial grade exercise machines is to go the refurbished route.
Refurbished exercise equipment from big box gyms may save you up to 75 percent off the suggested retail price.
Reputable companies like usedfitnesssales.com offer used or refurbished equipment at a fraction of the cost and the quality is often the same as that of new equipment.
Many of these companies even offer "new in opened or damaged box" options and discount codes.
Other great places to find used gym equipment include platforms such as Facebook Marketplace, eBay, and Craigslist.
While you can frequently find great deals on these sites, the downside is that they often require local, face-to-face transactions because the cost of shipping such a large and heavy item is often prohibitive, making the final cost as much as purchasing the equipment brand new.
---
Wrapping Up
The equipment at most gyms is high-end, commercial-grade, and extremely expensive. Big names gyms have large budgets, negotiating power, and the option of buying in bulk or leasing to get better deals.
Most regular people won't want to spend $10,000 on a treadmill — and even if you did, a lot of the equipment you see at gyms still isn't available for consumer purchase.
But you do have options.
Look for local suppliers who can sell you off-lease or used equipment. You can buy refurbished machines online or just wait until a local gym goes out of business and begins selling off equipment.
Otherwise, there are tons of great consumer equipment options for home gyms these days. The machines at the gym are top-notch, but it's usually not worth the hassle trying to secure one for your home.
For more, check out:
Hope this helps!