During the pandemic, there was a boom of people adopting pets since everyone had to stay at home.
As such, adoption numbers skyrocketed and there are more dog owners than ever!
All pet owners know that it's hard to leave your dog alone, especially if you're working at the office again. Leaving them alone even longer so you can work out before or after work? That's a tough sell.
Still, you shouldn't have to give up your fitness routine, either!
So a lot of pet owners are asking: Can I bring my dog to the gym? What gyms allow dogs?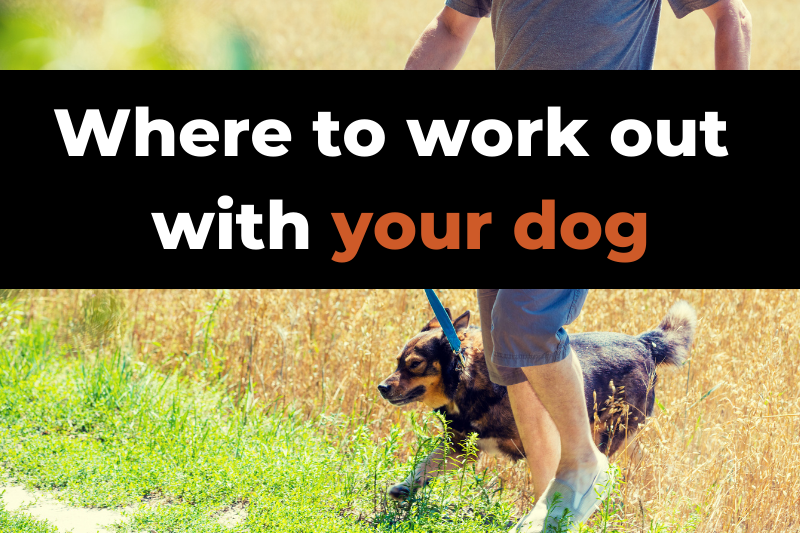 Most big name gyms like LA Fitness or Planet Fitness don't allow dogs or any other pets. However, you may be able to find smaller local gyms or fitness centers that allow or even encourage dogs!
Likewise, if you have a service animal, you're allowed to bring them anywhere with you to assist you.
Here's what you need to know about bringing your dog to the gym and why it may be best to leave your canine at home.
---
Gyms That Allow Dogs — Are There Any?
After tons of research, I have some unfortunate news:
With the exception of service animals, big box gyms don't really allow dogs into the facilities. That means you can't bring dogs to:
LA Fitness
Planet Fitness
Crunch Fitness
Life Time
Equinox
Anytime Fitness
And more
This makes sense when you consider that they have a lot of members to consider, and most people won't want dogs around while they're working out.
Many people have animal allergies, and you should be considerate of their needs before bringing your pet anywhere.
There's also the matter of how well-behaved your pooch actually is. Everyone wants to assume their dog is an angel, but if there are any concerns that it may bark incessantly or use the restroom indoors, you need to think twice. 
That's not to say you're completely out of luck when it comes to working out with your dog, but it does mean you'll have to do some extra homework.
Plenty of smaller, locally-owned gyms and fitness studios around the country allow dogs, or even encourage you to bring them!
Here are some examples:
Baltimore Area Strength Athletes takes pride in being a dog-inclusive gym. People can bring their pups, who may nap or stand off to the side, while their owners work up a sweat.
There's also The Fitness Center of Havre de Grace. The owners started letting people bring their pets as an incentive for sticking with their workout regimen.
Kim Peters, the owner of The Fitness Center, was even quoted as saying:
"So many people don't go to the gym and they don't do things after work because they worked all day and their dogs have been alone. So, they lose out on their fitness" (via Our Community Now).
You should do some research into your local area to see if there are any mom-and-pop gyms near you that allow dogs.
It's worth a phone call if nothing else, but if you want to bring your dog to somewhere like Planet Fitness or 24 Hour Fitness, you may be out of luck. 
---
Bringing Service Animals to the Gym (Rules & tips)
It's a different scenario entirely if you want to bring a service animal to the gym.
(This is any animal that's been trained to assist individuals with disabilities perform certain tasks. For example, a person suffering from blindness may rely on a dog to help them navigate certain areas.)
Service dogs, by law, are allowed almost anywhere that's open to the public unless there's a legitimate safety or health concern.
That means service animals are almost always welcome at the gym.
All big box gyms have policies in place stating how service animals will be accommodated into the facility.
For example, Planet Fitness lists the following rules for service animals on its website:
The service animal must be allowed access to all public areas
If it is not obvious that the animal is a service animal, the staff may ask (1) is the service animal required because of a disability and/or (2) what work or task has the service animal been trained to perform?
The handler is responsible for caring for and supervising the service animal, which includes toileting, feeding, grooming, veterinary care, and ensuring the animal is under control
Similar rules apply to smaller gyms, as well.
And you should be aware that different rules may be in effect for emotional support animals. 
(Emotional support animals don't have the same legal protections as service animals, as outlined here.)
Even if you have a certificate stating that the animal is necessary for mental health concerns you have, gyms and health clubs can still deny access.
When in doubt, contact your local gym to see what policies they have in place for animals.
---
Gym Alternatives for Dog-Friendly Workouts
If you absolutely must work out with your furry friend, you have plenty of options outside of a gym.
For starters, you could go for a jog with your dog.
It's all the better if you have any local hiking or jogging trails the two of you could tackle together. Just make sure you abide by any leash laws that may be in effect in your area. 
(Besides, running can get you some pretty great results!)
Many locales have even begun offering yoga outdoors. Events will be held at parks and anyone with a yoga mat can swing by to participate (perhaps with a donation).
You'll want to check ahead of time, but since these events are outside, dogs are usually welcome — as long as they're well behaved on a leash.
While you're at the park, you might be able to find a simple, outdoor gym.
A lot of public parks have pull-up bars and other bodyweight resistance machines you can use while visiting with your dog.
Finally, if you don't feel comfortable leaving your dog, but you can't find anywhere good to take him or her — you can get an amazing home workout whenever you want with no stress at all!
There are so many types of home workouts to choose from — yoga, calisthenics, HIIT, Peloton, and more.
That way you don't have to go anywhere, and your pooch can be there to give you encouragement licks along the way. 
You're really only limited by your imagination. Any exercise routine you can do at home or at the park, you can have your dog with you.
Of course, if your dog is particularly yippy, then you may appreciate some time apart. 
---
Wrapping Up
There are two main reasons why people want to bring their dogs to the gym.
The first is that the dog is a service animal. If that's the case, you can bring your pooch to any gym around. Just be prepared to answer questions related to what task the animal was trained to assist you with. 
The second reason usually has to do with not wanting to leave you pup at home. Unfortunately, most big box gyms won't allow non-service dogs, but you may be able to find some local fitness studios that do.
If all else fails, public parks are a great alternative. Plus, you'd be surprised the results you can get from only home workouts!
Before you go, check out:
Hope this helped!