Group fitness studios have continued to gain popularity worldwide, with big names like F45 Training and Barry's Bootcamp surging in recent years.
And for good reason!
These fitness classes offer an intense and short workout that people of all backgrounds can do.
If you are new to fitness studios, you may be wondering what the difference is between these classes. On the surface, they actually seem pretty similar.
So what's the difference between F45 and Barry's Bootcamp?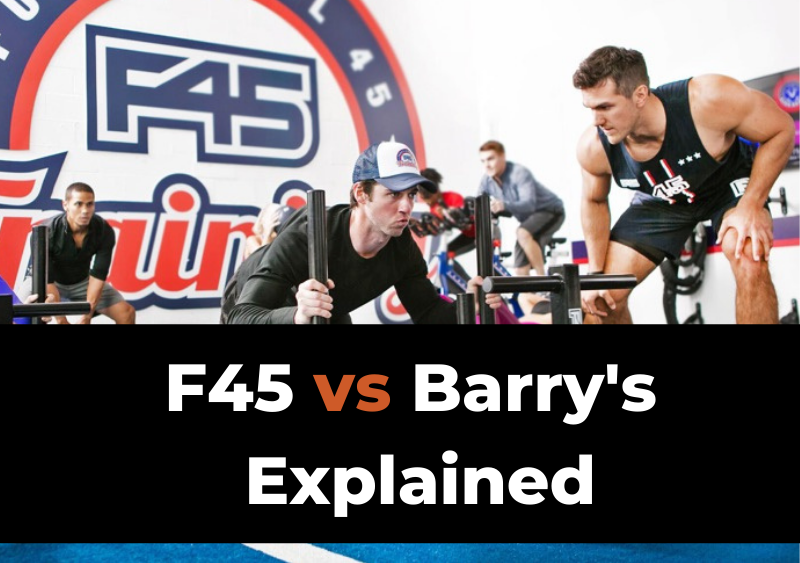 The big differences between F45 and Barry's Bootcamp are cost and workout structure. Barry's will almost always be more expensive than F45 classes, especially in smaller markets, but the extra cost buys you a more luxurious atmosphere and better amenities.
When it comes to F45 and Barry's workouts, expect more variety from day to day at F45. Barry's structures their workouts the same way at every location with only small variations from day to day.
Both workouts and studios are great! But you probably only need to join one.
Let's examine the differences between these studios, including the cost, amenities, and the workouts themselves. 
---
Cost
One of the differences between these fitness studios is their price points.
Barry's Bootcamp is well-known for being a boutique fitness studio that commands a high membership price.
However, most people believe the price is well worth the investment for their health. 
Like most fitness studios, the price will depend on the market.
If you live in an area like New York City or Chicago, you will pay more than a smaller area of the country.
For residents of NYC, your membership options at Barry's Bootcamp are: 
1 Class is $38.00
3 Classes is $114.00
5 Classes is $185.00
10 Classes is $355.00
50 Classes is $1,600.00
Barry's Bootcamp website recommends taking three classes per week minimum if you want to see results.
As you can tell, there is a substantial investment compared to other gyms or studios. 
(Here's the average cost of a gym membership explained.)
While New York is a high-end example of the pricing, most of the prices for other studios around the country are similar.
If you want to tackle Barry's Bootcamp in the comfort of your home, they also offer online classes for $20.00 per class.
These classes will be done live with a trainer, with some requiring equipment depending on the class style.
To sum up, expect to pay around $27-38 for a single Barry's Bootcamp class in most parts of the country, with classes getting cheaper the more you're willing to buy up front.
At F45 Training, the membership cost will be slightly more affordable, and you can purchase an unlimited class membership.
You can also find more F45 Training studios throughout the United States.
However, for the sake of fair comparison, let's look at the costs of an F45 studio located in New York City.
At F45, the membership is often paid biweekly at a studio.
In Boerum Hills, NY, the costs of membership are:
8 Classes is $292.60 per month
Month-to-Month Unlimited Classes is $363.63 monthly
3 Month Contract Unlimited Classes is $330.22 monthly
6 Month Contract Unlimited Classes is $296.78 monthly
On a per-class basis, F45 Training will be just below Barry's Bootcamp at $36.57 for one class in an expensive market like New York City.
However, there are studios in the United States priced as low as $66 per month for unlimited classes at F45 Training.
Pricing at F45 vary greatly. You can pay as much as $40 for a single class or as low as $60/month for unlimited classes depending on where you live.
Overall, F45 is a far more affordable option than Barry's in most markets outside of major metro areas.
These fitness studios will demand a higher price than a standard gym, but many people find them worth it. Take a free intro class at your local studio to see whether it's a good investment for you.
---
Facilities and Amenities
Whether you go to F45 or Barry's Bootcamp, the facilities at these studios are among the best in the industry.
When you open the door, you will be invited by the front desk attendant and feel a part of a team.
In an F45 studio, the red, white, and blue color scheme will be everywhere, from the weights to the walls.
The equipment at most F45 Training studios will be made up of the following categories:
Cardio Equipment: Typically stationary bikes or rowing machines, this equipment will be used during certain circuits of the workouts.
Plyometric Equipment: For training explosiveness and agility, F45 uses equipment like medicine balls and jumping platforms.
Weightlifting Equipment: To build your strength, you will use various equipment like dumbbells, barbells, and weighted sleds.
This equipment is neatly kept in the studio and placed into sections of the room during the training circuits.
If you can't remember how to do an exercise, there are also screens that demonstrate each movement during class.
These screens are unique to F45 studios, and you won't find them in Barry's Bootcamp training facilities.
F45 studios also are more varied compared to Barry's Bootcamp, with nearly all Barry's Bootcamp studios having the same design. 
You will know you are at Barry's Bootcamp when you see the red-light illuminated room with lines of treadmills and weights.
The trainers here also use plyometric platforms often when lifting weights. 
If you workout at a studio with many members, the classes will be alternated between two different groups.
One group will use the treadmills while the others will do the weightlifting portion of the class.
Along with the fitness rooms, the locker rooms are also an important part of your choice between these two.
Barry's Bootcamp puts a lot of emphasis on their locker rooms, with a luxurious layout. 
These locker rooms include showers and have lockers you can reserve for your belongings.
At F45 Training studios, the amenities aren't the same in each location. Some locations will have showers, while others will only have a small area to put your items. 
If you want to workout before going to your job, having a shower at the studio will add convenience.
Many Barry's Bootcamps also have smoothie bars at their locations, allowing for a quick refreshment before or after class.
Overall, if amenities and great locker rooms are important to you, Barry's Bootcamp may be worth the extra cost.
---
The Workout
Now, for the most important component of this comparison: the workout.
F45 and Barry's Bootcamp both do HIIT-style workouts, but their approaches are done differently.
At Barry's Bootcamp, the workouts are much more predictable. 
All workouts will follow the same two-phase approach, with equal parts of weightlifting and treadmill work.
You will do interval training on the treadmill that includes intense bursts of sprinting followed by slower recovery periods. 
The treadmill portion will improve your cardiovascular health and endurance.
Once it's finished, you will move on to the weightlifting section. Using functional movements, you will improve your strength and athleticism. 
(This is similar to how Orangetheory structures its workouts.)
Depending on the day you go, there will be different focuses during the weightlifting portion.
Some days will focus solely on your abs and arm, while others will target your lower body or total body. 
If you don't like running, Barry's Bootcamp offers a workout that is only focused on the weight lifting part of the class.
You will get a full 45-minute to 1-hour class to improve your strength and build muscle. 
The workouts at an F45 Training studio are less predictable and structured than a Barry's Bootcamp workout.
F45 states they have a selection of 1,500 exercises that they use in their workouts. 
The weightlifting and cardio exercises are mixed in training circuits that you will do with a group of other members.
You will do as many reps as you can during a set time limit before moving to the next exercise circuit. 
Most experts recommend that you take classes 4-5 times per week to achieve the optimal results.
Whether you want to lose extra weight or build a more toned body, F45 will help you achieve it. 
Both Barry's Bootcamp and F45 offer HIIT-style circuit training classes. However, you'll find more variety from day to day and location to location at F45. Barry's, on the other hand, allows you to master the same workout format through repetition and steady improvement.
---
Community & Vibe
What draws so many people to fitness studios is the community and atmosphere that comes along with it.
At Barry's Bootcamp, there is a community of like-minded members, all intending to improve themselves and reach their goals. 
When you enter the "Red Room," the music will be pumping, and the atmosphere will be energizing.
These classes are a lot of fun, and you can feel the energy in the room as the instructor motivates you. 
Along with the workout room itself, the atmosphere outside the training areas feels like a lively cafe. Everyone is looking forward to the workout and is socializing before bringing the intensity.
Once the workout starts, people stay focused and push themselves in the workout. 
At F45 Training, there typically isn't an outside waiting area or snack bar that you can relax at before class.
When you walk in, the training equipment will be in the area, and people will be warming up before class. 
Due to the short and intense workouts, many people at F45 are looking to get in and out of the studio quickly.
There will still be a community atmosphere, but it's not as apparent as Barry's Bootcamp. 
However, unlike Barry's Bootcamp, you will be grouped with other members in F45 for the exercise circuits.
You can give your fellow members words of encouragement and help them get the most out of their workout.
---
Wrapping Up
Barry's Bootcamp and F45 are both established fitness studios that offer quick and efficient workouts for its members.
They're great for beginners just looking to get started. But even if you're a fitness veteran, you'll get a great workout at either studio.
Barry's Bootcamp has a more boutique polished feeling, with a greater social aspect and a predictable workout structure.
F45 Training focuses more on speed and efficiency, delivering an incredible workout in 45-minutes that varies every single time.
Depending on your personality and goals, each of these studios can be a great option. It's up to you to see which is right for you, and you can start by taking a free intro class at both.
For more, check out:
Hope this helps!