Among fitness class studios, Orangetheory and Barry's Bootcamp are some of the most popular options.
These multinational chains offer short yet intense fitness classes that burn calories, build muscle, and improve endurance.
While the fitness chains have similar results, their approaches are slightly different.
So what's the difference between Orangetheory vs Barry's Bootcamp and which one is right for you?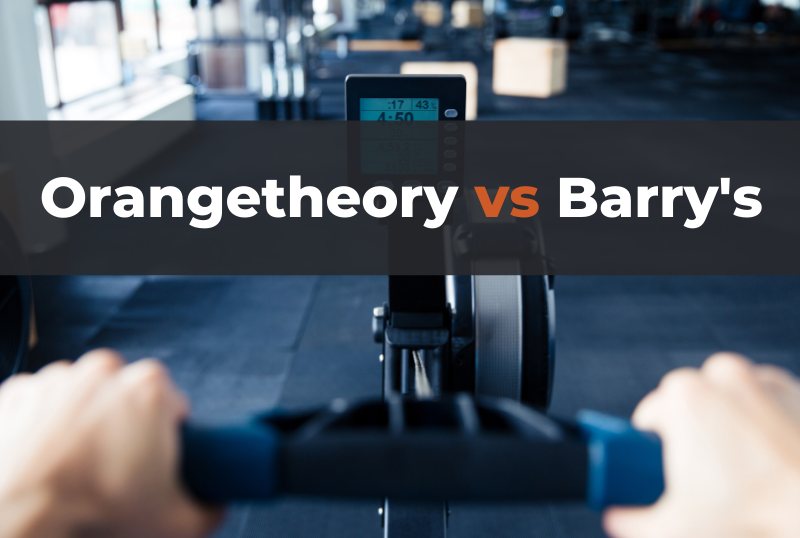 The main difference between Orangetheory and Barry's Bootcamp is the workout itself. OTF follows a similar structure every class with treadmills, rowing machines, and dumbbell strength work. Classes at Barry's Bootcamp involve a different focus every time, like core or lower body.
Orangetheory is the better choice for people who want a more predictable workout routine they can master over time — often it makes a lot of sense for beginners. Barry's is the better choice for people who crave variety and like to challenge their body in different ways — often, but not always, this is a great fit for more advanced fitness folks.
| | | |
| --- | --- | --- |
| | Orangetheory | Barry's Bootcamp |
| Cost | About equal | About equal |
| Workout | Consistent | Changes every day |
| Vibe | "Red lights" and intense | Modern and inviting |
| Best For | Improving performance over time | A fresh challenge |
These studios also have slightly different costs and amenities, so let's take a closer look!
---
Cost
The costs of attending Orangetheory and Barry's Bootcamp are relatively similar.
On a per-class basis, Orangetheory will cost between $20-$35 to attend a single class.
At Barry's Bootcamp, the costs are around the same, with a single class costing $27-$38.
However, for first-time students at these studios, you will receive a different introductory offer for your first class.
At any Orangetheory studio, the first class will be free for you to test out.
This introductory class will give you a taste of what an Orangetheory class is like for members.
When attending Barry's Bootcamp as a first-timer, they will offer a two-class opportunity for $20.
Once you take a couple of classes, you should know if you would like to return as a member.
While these single-class prices are relatively high, the monthly class plans at both studios will be the most cost-effective option.
The average costs of a monthly membership at both of these studios break down like this:
Orangetheory Costs
At most fitness studios, the more classes you attend, the lower the average cost of a class will be for members.
The Basic membership at OTF includes four classes per month.
Orangetheory offers a variety of membership packages:
Basic Package (includes 4 classes) for $59 per month.
Elite Package (includes 8 classes) for $99 per month.
Premier Package (unlimited classes) for $159 per month.
10 class package for $199
20 class package for $359
30 class package for $499
The highest class package offers 30 classes, available at any time.
Barry's Bootcamp Costs
When comparing the two studios, Barry's Bootcamp will be the more expensive option.
Like Orangetheory, you can choose between purchasing a monthly membership or buying a class package.
But, the membership option is the better bargain of the two, considering that the Star membership comes out to roughly $20 per class, as opposed to the cheapest Class package, which compares at roughly $29 per class.
The monthly membership is less expensive because you must attend the classes all in the same month.
However, when purchasing a class package, you can spread the classes throughout several months.
5 Class Package for $145
10 Class Package for $280
25 Class Package for $675
50 Class Package for $1,200
Barry's Star Membership (includes 12 classes) for $250 per month
Barry's Icon Membership (includes 16 classes) for $300 per month
Barry's Legend Membership (includes 30 classes) for $400 per month
Orangetheory is slightly less expensive than Barry's Bootcamp (depending on the package), but not by much. In both cases, your smartest bet is to try an introductory class or two and then join with one of the higher-end packages for the best deal.
---
Facilities and Amenities
At Orangetheory and Barry's Bootcamp, they do a great job of getting you in the mood for an intense workout.
Both of the workout facilities are illuminated with a red light that creates a very focused atmosphere.
At the facilities, Orangetheory studios have locker rooms, showers, and an apparel store at the front desk.
With the locker room and showers, you can easily take a class before work and change into your professional clothing.
Barry's Bootcamp has the same amenities with a locker room, showers, and an apparel store for members.
However, Barry's Bootcamp also has its 'Fuel Bar' with healthy beverages you can have before or after your class.
Included with Barry's Bootcamp are complimentary small towels for class and larger towels for the showers.
In some locations, they even include complimentary toiletries that you can use to freshen up after class.
The hospitality at these studios is much better than what you would expect at a traditional corporate gym. Plus, you'll get individual attention from the instructor which can help beginners learn proper form.
(See more about boot camp studios vs gyms here.)
They put in the extra effort to make you feel comfortable and offer convenient amenities.
---
The Workout
Now, for the essential part of attending these studios.
The workouts you do at Orangetheory will differ from what you can expect at Barry's Bootcamp.
The better choice? It depend on your style and specific fitness goals.
Orangetheory Workouts
If you like to know what you can expect at each class, Orangetheory is the perfect choice for you.
All Orangetheory classes will follow the same full-body workout structure that you do throughout each class.
The classes are split up into three sections that you will switch through with other class members.
Starting at the rowing machines, you will push yourself through circuits that the instructor will take you through.
The great thing about Orangetheory workout is they are designed for everyone. How hard you push yourself through the rowing portion will be customized for you, based on your own heart-rate.
The resistance and speed will both be ideal for you.
After going through the rowing section, you will have strength training circuits that build lean functional muscle. By targeting the entire body, you can develop an athletic body that translates to all areas of your life.
To finish out the workout, you will hit the treadmills and go through the circuits that the trainer will instruct you to do.
While you attack the workout, the upbeat music playing in the studio will keep you motivated throughout the class.
At Orangetheory, you can expect to burn between 500-1,000 calories in a single 1-hour class.
If you want to lose weight, attending an Orangetheory class is a great way to meet your goals since it offers a terrific combo of cardio and calorie burn with lean-muscle building strength work.
Barry's Bootcamp Workouts
Like Orangetheory, the studio's atmosphere will be intense with red lights and upbeat music.
Inside the workout space, you will see treadmills lined up down the studio with dumbbells and step platforms on the other side.
Following the HIIT bootcamp style of workout, you will go through different exercises often during class which keeps things interesting.
One group of people will start on the treadmills and follow the pace instructed by the trainers.
The other group will do calisthenics and dumbbell exercise movements that will help build an athletic physique.
Unlike Orangetheory, the workouts at Barry's Bootcamp will have different themes for the class.
One class might focus on working on your abdominals, and another may target your lower body. The workouts are typically listed on the studio's website, so you can choose a class that best fits your goals.
In total, a Barry's Bootcamp class will be for 50-minutes, with the treadmill and strength training being split evenly for 25-minutes.
If you want to focus more on building muscle, you can opt to spend the full 50-minutes on strength training movements.
According to Barry's Bootcamp, members can expect to burn between 700-1,000 calories in a single class.
However, they do stress the importance of pushing yourself during class to see these results.
The main difference in the workouts at Orangetheory vs Barry's is that the OTF workout is more predictable each time. Sessions at Barry's rotate between different focus areas, which can be great for variety!
Orangetheory also uses rowing machines, whereas Barry's only uses treadmills and dumbbells, along with calisthenics.
---
Community & Vibe
Both of these studios encourage beginners and help them reach their fitness goals.
However, the vibe inside the 'Red Rooms' can be intimidating for many first-time students looking to join the studios.
Fortunately, after you attend a class or two, you will get familiar with the atmosphere and feel more at home.
These studios attract people of all backgrounds. You'll find total beginners and fitness veterans in each and every class.
The workouts can be done at any fitness level and still be effective for people no matter how far along they are in their journey.
The vibe inside an Orangetheory feels very corporate-like with a clean, polished interior.
The interior of many Barry's Bootcamps looks modern and inviting to guests. The Fuel Bar at the front serves delicious and healthy meals while members wait at the front door to open for the workout room.
After getting your endorphins going after class, making friends with people from these classes is very easy.
Giving high fives after it's over, you can feel the community aspect of these studios!
If you are not interested in the social part of these studios, that is fine as well. You can attend a class and follow along with the instructor's commands during class.
Everyone is welcome here!
One drawback worth mentioning is that Orangetheory can be a bit salesy. Expect lots and lots of phone calls urging you to sign up once they receive your contact information.
---
Wrapping Up
Barry's Bootcamp and Orangetheory are often compared to each other because of their similar red workout rooms.
However, there are some small differences in the costs, amenities, and workouts at these studios.
If you enjoy routine and knowing what to expect, Orangetheory classes would be the better choice for you. Your workouts will follow a similar structure with predictable intensity each and every time.
At Barry's Bootcamp, they mix things up often (like a CrossFit gym) offering a different workout each time you attend class. If you like to mix things up, you can't go wrong with Barry's Bootcamp.
Before you go, don't miss:
Hope this helps!