Can home workout equipment stack up against a fitness studio?
As the high-tech home fitness platform (it's a bit more than just a bike) Peloton becomes more popular, many people wonder if it can replace in-person class instruction. 
One of the best fitness studios for comparison is Orangetheory. This studio offers unique and challenging classes that use heart rate monitors to check your intensity.
Let's take a look at how Peloton vs Orangetheory compares, from the workouts, to the cost, to the overall experience.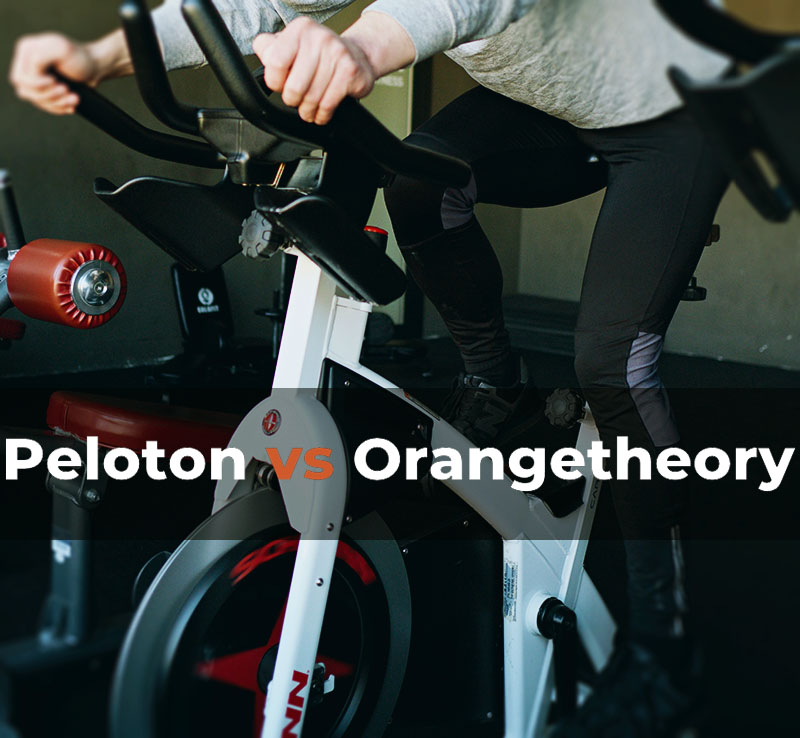 The big differences between Peloton vs Orangetheory are the upfront costs, the convenience factor, and the workouts themselves. Go with Peloton if you can afford a big initial investment that pays off over time, and if you really enjoy cycling workouts and the convenience of working out at home.
For a stronger community and in-person connections, plus a balanced (if predictable and repetitive) workout, Orangetheory might be more up your alley.
Let's take a closer look.
---
Cost
Orangetheory and Peloton have wildly different costs and pricing structures.
When working out at Orangetheory, you need to pay a membership fee to attend classes each month.
Depending on your dedication level, you can take four classes to unlimited classes each month. 
When you are working out with the Peloton, you can choose between working out with the bike or just the fitness app.
The Peloton bike's upfront costs will be significantly more than an Orangetheory membership. 
However, the digital Peloton app is an inexpensive option to access thousands of fitness classes at your fingertips.
Here are the costs to give you an idea of what you can expect for both of these options.
Orangetheory Costs
When you first decide to workout at Orangetheory, the studio will offer you a chance to take a free introductory class.
This free class will allow you to try the classes to see if you like them. In many cases, this introductory class will have you excited to go back.
After you have made up your mind about Orangetheory, the average costs of attending these studios will be:
The single class drop-in rate is $28 per class
Basic Package (includes four classes) for $59 per month.
Elite Package (includes eight classes) for $99 per month.
Premier Package (unlimited classes) for $159 per month.
Ten class package for $199
Twenty class package for $359
Thirty class package for $499
So you're looking at somewhere between $12-28 per class depending on your package.
(These prices vary depending on the studio and where you live. Expect to pay more in big cities or less in more isolated areas.)
For the monthly fees, you will not be locked into an annual contract—giving you the chance to cancel anytime afterward.
The only additional charge you may need to make is for the heart rate monitors used during class. 
While not mandatory, the classes at Orangetheory have a strong focus on these heart rate monitors.
The costs of these heart rate monitors are $99-$115, or you can rent them during class for $5-$10. 
If you are a frequent member at Orangetheory, it will be a good idea to buy a heart rate monitor to keep. 
Peloton Costs
There are two main tiers that you will have when working out on the Peloton platform.
The most notable is the Peloton Bike or Bike+.
This bike is equipped with a large monitor that connects you with fantastic spin classes either live or on-demand. 
If you don't want to purchase the Peloton bike, you can also subscribe to the Peloton digital app with access to thousands of different fitness classes.
Some of the classes are yoga, strength training, and running. 
Regarding the membership fees, if you have a Peloton bike, you will need to pay $39 per month for a Peloton All-Access Membership.
On the Peloton app, you can choose from thousands of different pre-recorded classes while also having access to fourteen daily live spin classes.
If you do not own a Peloton bike, the Peloton Digital Membership will be $12.99 per month for other fitness classes.
Many of these classes will require fitness equipment like dumbbells and mats, so keep that into consideration. 
As for the price of the Peloton bike, the base package is $1,895 for the standard bike and screen display.
If you want a Peloton Bike+ package with additional features, it will cost $2,495.
Included in the larger package are resistance bands, cycling shoes, bike weights, and a bike mat. 
The overall upfront cost of a Peloton bike is staggering, but if you use it frequently instead of going to fitness studios like Orangetheory (which cost at least $12+ per class), it saves you money in a year or two in most cases.
---
Convenience and Ease
The "convenience award" can be given to either of these options.
However, it will depend on what your preferences are for your setup.
Orangetheory is convenient because they have all of the equipment set up for you. 
All you need to bring to an Orangetheory class is yourself (and water.)
You don't need a plan or any equipment. Just show up and the instructor will put you to work.
When you workout with a Peloton, you will need to purchase and set up the bike somewhere in your home.
If you are not looking forward to the setup process, Orangetheory will be more convenient. 
However, you can't beat the convenience of working out at home with Peloton.
Instead of driving to your nearest Orangetheory, you can take a stroll into your bedroom and hop on the Peloton bike.
One of the biggest pros of buying a Peloton is the ability to take classes any time you want, on-demand — at Orangetheory or any other fitness studio, you'll have to work your schedule around specific class times.
If you are using the Peloton digital app, you can also workout anywhere with your phone, tablet, or laptop. Digital apps can help you maintain or improve your exercise habits, experts say.
When it comes to pure convenience, the Peloton is the clear winner — but this isn't for everyone. 
Many of us need a community around us to stay motivated!
---
Community
One of the main selling points of the Peloton is their innovative live classes that connect you with other members.
During the live classes, you can see stats in real-time that show your ranking among the other members. 
This live ranking system is a great way to boost motivation, and you can even send virtual high-fives to those in class.
(Plus, you might get a shout out from an instructor!)
While this is a fun way to workout at home, is this enough to replace in-person classes?
At Orangetheory, you will meet people of all backgrounds during class.
You can speak directly to the instructors and hear their recommendations for your fitness routines, plus get form tips and motivation to keep going.
During class, you can also speak with your fellow members and build friendships.
Group fitness classes that meet in-person like Orangetheory and Burn Boot Camp are a great way to meet people.
You will be sweating together and motivating each other to keep going when the classes get challenging. 
This in-person connection is hard to replace over a live online class.
If you are not interested in the social aspect of group fitness classes, Peloton may be the better choice for you.
---
The Workout
What matters most between these two options is the workouts.
You want to choose an option that best aligns with your fitness goals.
At Orangetheory, all workouts will follow the same basic outline.
You will be following the instructions of your trainer, who will take you through circuits that involve:
Treadmills
Rowing Machines
Weights
One of the main goals of these classes is to burn as many calories as possible within the 1-hour class.
Orangetheory claims that during their classes, you will be burning between 500 to 1,000 calories. 
These classes will be very challenging, but you must also make sure that you are pushing yourself.
Orangetheory workouts are personalized, meaning you need to be the one to push yourself further to achieve results. 
If you don't put in the extra effort, you could limit the potential calories you burn during class.
The primary workout on the Peloton Bike or Bike+ will be cycling or spin classes.
It's a lot like a spin class at studio like Flywheel, CycleBar, or SoulCycle — see how Peloton vs Spin Class compares here.
These classes are usually 30 to 45 minutes long.
However, some of the classes will extend to 90 minutes, or be as short as 10-15 minutes, depending on the instructor. 
Classes on the Peloton bike range from beginner rides to low impact recovery rides to brutal HIIT or Tabata workouts.
According to Peloton, you can expect to burn between 400 to 700 calories during a typical 45-minute spin class.
If you do not use the bike and follow the digital app, you can choose between thousands of what are called "floor classes." 
Floor classes on the Peloton include:
Bodyweight strength
HIIT
Cardio
Yoga
Meditation
Barre
And more
(Of course, you can stream these on the touchscreen monitor on your bike, as well, or on your phone/tablet.)
Whatever your preferences, you will be able to find a class that matches your fitness goals.
Peloton and Orangetheory can both give you a tremendous workout, it just depends on your goals and style.
Peloton is mostly about the bike and building amazing cycling performance and results while burning tons of calories. You can supplement with floor classes for a well-rounded workout.
Orangetheory involves treadmills, rowing machines, and dumbbells for a balanced (if repetitive) workout each and every time.
---
Wrapping Up
A Peloton bike can be an excellent choice for anyone who enjoys working out at home and attending spin classes.
The convenience and flexibility you get with the app are unrivaled.
However, the upfront costs of a Peloton bike can be steep for many first-timers looking to get into fitness.
If you want all of the equipment set up for you and want a more well-rounded routine without having to plan or choose your own classes, Orangetheory would be the better choice.
The experienced instructors and intense workouts will help you reach your fitness goals. 
Whatever your choice, if you give your full effort during classes and stick with it, you will start to see fantastic results! 
For more, check out:
Hope this helps!