Founded in 2010, Orangetheory started as a small boutique studio and has grown into a massive franchise.
Located in all 50 states and in over 23 countries, Orangetheory has taken the fitness world by storm.
If you're curious about trying Orangetheory, or looking for some more structure and motivation in your workouts, you might be wondering how Orangetheory compares to the regular gym experience.
Let's take a detailed look at the differences between Orangetheory vs gym membership.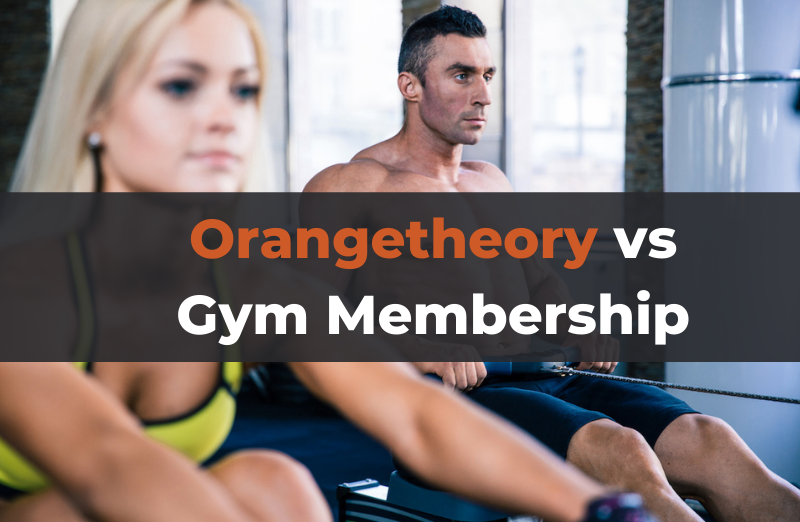 Overall, the difference between Orangetheory and the gym comes down to what keeps you motivated. Orangetheory will cost a lot more than the gym, but is great for community — plus you're guaranteed an intense workout each and every time. Once you sign up, there's not much to think about.
The gym gives you a lot more freedom and flexibility, plus a lower price tag. But if you don't know what you're doing or have trouble staying motivated, you might end up quitting.
| | | |
| --- | --- | --- |
| | Orangetheory | Big Box Gym |
| Cost | $59-159/month | $10-50/month |
| Convenience | Scheduled classes keep you accountable | Go whenever you're free |
| Workouts | Guided HIIT (treadmill, rowing, dumbbells) | Self-guided |
| Best for | Community, beginners who need instruction, anyone who prefers group work | Workout variety, experienced exercisers |
Now let's dive in a little deeper and compare these two on cost, convenience, and the workouts themselves.
---
Cost
One of the significant differences between Orangetheory and a standard gym is the membership costs.
With such specialized classes and facilities, an Orangetheory membership will be pricier than attending a standard corporate gym.
But, as we will discuss in future sections, these costs may be worth it if your fitness goals align with how Orangetheory operates.
So, what are the membership costs?
Orangetheory Membership Costs
Several factors will change the costs of an Orangetheory membership.
Your location is a big factor, with major cities having the highest membership costs.
The costs of an Orangetheory membership in premium locations like Los Angeles, Manhattan, or Chicago will be significantly higher.
Another component of the costs is the type of membership.
Orangetheory offers three different membership levels: Basic, Elite, and Premier.
Each of these memberships offer more classes per month.
The lowest membership is the Basic membership package, offering four classes for $59 per month.
Next is the Elite membership level, which offers you eight classes for $99 per month.
And lastly, the Premier membership. This membership grants you unlimited access to Orangetheory classes for $159 per month.
Premier memberships are also backed by the Orangetheory 30 Day Quit-Free Guarantee for members who complete 12 sessions.
If you are looking to pay the membership fees upfront, Orangetheory also offers annual prepaid plans for members.
While an Elite membership costs $99 per month, the annual plan of $1300 can be paid once a year.
These membership costs are the average of all Orangetheory memberships throughout the country.
As previously mentioned, your location will make a big difference in how much you will pay.
Along with memberships, Orangetheory also offers deals to purchase classes in bulk.
You can buy these classes in groups of 10, 20, and 30 classes. When purchasing a class package, you can expect to pay:
10 sessions for $199.00
20 sessions for $359.00
30 sessions for $499.00
If you are a first-time visitor to Orangetheory, you will get a free trial to see if you like the class style.
In some cases, Orangetheory will also have occasional promotions to attend 7-days free of charge while you first attend classes.
(You can often use your Orangetheory membership or classes at locations around the country, making OTF one of the best gyms for travelers around.)
Gym Membership Costs
A standard membership to a big box gym will be a lot less expensive than going to Orangetheory.
If you are interested in attending group fitness classes, most mid-tier gyms will offer group fitness classes included in the membership — offering tremendous value.
While high-end gyms like Equinox will have a membership price more than Orangetheroy, you can expect to pay between $10-$50 per month at most gym chains.
Some examples of memberships at popular gym chains are:
Planet Fitness / $10-$20 per month
Gold's Gym / $20-$30 per month
LA Fitness / $30-$40 per month
24-Hour Fitness / $30-$40 per month
YMCA / $50 per month
These gym membership costs include group fitness classes (where applicable) and all of the other equipment and amenities at a standard gym.
If you are someone who wants access to the weight rooms, sauna, childcare, and cardio equipment—you can all of that and more for, often, $50 or less per month.
(For more on gym membership costs, click to read an in-depth guide.)
It's clear that joining a standard mid-range gym like LA Fitness is a better value than Orangetheory. You can access to group classes, any equipment you want to use, and extra amenities like pools and childcare.
However, the extra cost of Orangetheory might just be worth it, depending on your workout style and fitness goals.
---
Convenience
Many of us have hectic schedules, giving us only a short window of time to workout each day.
At Orangetheory, the group fitness classes are scheduled at specific times day, and you will need to attend classes within the scheduled times.
There are typically 8-10 classes each day that you can attend during the week, starting from early morning until the evening.
On weekends, the amount of classes is typically cut in half and in the morning and afternoon.
Weekend classes fill up very quickly, and you will need to reserve your spot as soon as possible for those class spots.
If you have trouble staying motivated going to the gym, having classes that keep you accountable at Orangetheory can be a benefit.
Orangetheory puts a significant emphasis on their cancellation policies, and you need to cancel at least 8-hours before class.
If you don't cancel your spot in class, you will have to pay a cancellation fee.
There is limited space in every Orangetheory class, and they do not want absent people taking spots of other studio members.
With this financial incentive to attend class always there, once you reserve your spot in class—you need to go.
For the most convenient option, going to a standard gym gives you the freedom to go whenever you want.
If you do not want to attend classes, some gyms are open 24/7 and will give you plenty of opportunities to workout.
If you want to attend classes at the gym, the setup will be similar to Orangetheory, and you will need to reserve a spot in class online.
These classes are usually in the mornings and after work, with larger class sizes than Orangetheory.
However, one of the big differences of a gym class is the difference in fitness styles. At a gym, you have the option to attend Yoga, Pilates, or HIIT classes all at one facility.
Orangetheory mainly focuses on HIIT (high-intensity interval training) workouts, utilizing rowing machines and treadmills.
A big box gym wins in pure convenience — you can attend any time you're free, and some gyms even offer 24/7 access.
However, don't underestimate the power of scheduling a group class at OTF. Registering for a specific class time keeps you accountable and eliminates excuses or procrastination that can often derail your fitness progress.
---
Workouts & Effectiveness
At Orangetheory, they will put you through intense HIIT workouts that will burn a ton of calories within the 1-hour class.
According to Orangetheory, their members burn an average of 500-1,000 calories per session.
During these sessions, you will be instructed through exercises that focus on cardiovascular endurance and strength training.
From weightlifting, to the rowing machine, to treadmill work, your body will be put to the test at OTF.
(Sound like Crossfit? Not quite — read more about Orangetheory vs Crossfit here.)
You'll get an incredible full body workout at OTF, with in-person expert instructors pushing you to your limit each and every class.
While the classes may seem intimidating for beginners, attending an Orangetheory class is beginner-friendly, and you can go at your own pace.
The heart rate monitors used during these classes will allow you to track your intensity.
The instructors will ask you to check your heart rate throughout the classes, giving you signals to slow down or push harder.
This unique approach to fitness classes is what makes Orangetheory such a popular option.
Gym Workouts vs Orangetheory
In comparison, attending a gym puts the workout entirely in your hands.
You don't have anyone instructing you what to do, which can be a benefit or disadvantage.
Many people can't get the same level of motivation or intensity of workout when exercising alone.
Additionally, Orangetheory is also more beneficial for complete beginners, as they will teach you the workout form and guide you step by step through the workout.
Many beginners at a gym will not learn the proper exercise form, leading to a higher risk of injury.
You can take group classes at most gyms, but the quality of these classes can be hit or miss.
The experience level of Orangetheory instructors is usually way higher. You will be learning from the best of the best.
It will be up to you if you want a balanced workout regime when you are a gym member, but the tools are all there for you.
However, this choice is ultimately up to you, as you know your motivation style and fitness goals. 
(See more results from Orangetheory and results from the gym.)
---
Wrapping Up
There is a good reason why Orangetheory studios have grown so rapidly over the years.
The unique approach to fitness classes that are short and intense make for a convenient option for many people.
However, with the specialized classes comes a higher price than a standard gym membership. If you enjoy designing your own workouts, or just have a tighter budget, a gym membership may be the better choice.
If you are looking for a motivational, quick, and social workout, Orangetheory classes are for you! Plus, you can always try them for free before you commit.
Before you go, check out:
Hope this helps!