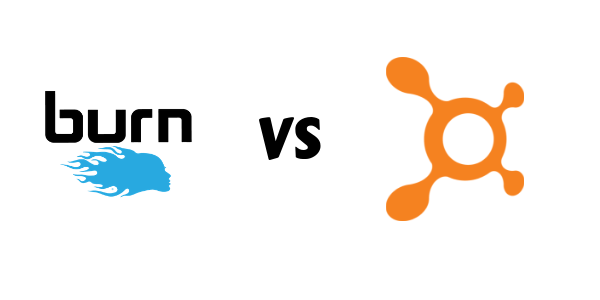 If you're looking for an ass-kicking, calorie-scorching group fitness class, Burn Boot Camp and Orangetheory are two of the best.
Working out at the gym is great, and cost-effective, but there's something about a high-intensity group class that really takes things to the next level. It's fun, incredibly challenging, and will help hold you accountable to your fitness goals.
Chances are, you have both of these fitness franchises pretty close to your house, which begs the question:
When it comes to Burn Boot Camp vs Orangetheory Fitness, which workout class is right for you?
Overall, Burn Boot Camp and Orangetheory are wildly different workouts. Burn uses bootcamp style fitness classes that change every day; one day focusing on cardio, the next day core, and strength the next.
Orangetheory uses the same basic workout formula every day: high-intensity workouts alternating between running, rowing, and dumbbell work to burn a ton of calories.
For my money, the variety at Burn and some of the other amenities make it a better choice and value; but read on to decide for yourself!
(P.S. – You can get a killer high-intensity HIIT or boot camp style workout at home using Beachbody on Demand. Use my link to try it free from your living room for 14 days.)
---
Amenities
We'll get into how the workout experiences differ below, but let's quickly walk through what you'll typically find when you walk in the door at these two places.
Orangetheory is polished and corporate.
You'll walk into a crisp lobby with a welcome desk, find sparkling locker rooms and shower areas, and generally find everything to be clean and in top condition.
Burn Boot Camp, at least in my experience, is a little more stripped down.
It's a big open room with a giant workout mat studio and tons of equipment. There are a few basic cubbies you can keep your stuff in, and a bathroom to use and change clothes in.
(The location I visited did not have a proper locker room or showers.)
But the one thing Burn Boot Camp has going for it is in-house childcare.
In the class I took, there were tons of moms who had dropped the kids off in the daycare center so they could squeeze in a workout; which is a convenience that's nearly impossibly to put a price on!
Edge: Your local studio will probably vary greatly, but based on what I've seen, I have to give the edge to Orangetheory.
The clean locker rooms and shower areas are a big plus for commuters or anyone who doesn't want to stay drenched in sweat after their workout.
However, I LOVE that Burn Boot Camp offers childcare (Orangetheory does not), so that's a huge selling point for parents.
(For more on the amenities and experience, check out my full Burn Boot Camp review.)
---
Price
Pricing for both Orangetheory and Burn Boot Camp is toward the high end of the scale, but you'll typically get a lot for your money.
Below are some estimates based on the most current information I could find in my area. Your local franchise locations might do things a little differently, so always check with them before you make a decision!
At Orangetheory:
First introductory class is free
4 classes per month costs about $59/month
8 classes per month costs about $99/month
Unlimited classes per month costs about $159/month
You'll also need OTF's special heart rate monitor: About $75 to buy or $5-10 to rent for a day
At Burn Boot Camp:
Get a 2-week free trial to try it out!
Memberships run between $100-200 per month depending on length of your contract
Memberships include unlimited workouts, and one-on-one meetings with a trainer to focus on fitness and nutrition goals
You can also load up Fit Cards for a la carte access
Edge: These are both expensive but high-value fitness experiences.
They seem pricey, but think of it this way: Adding a $2000 treadmill to your garage could buy you over a year's worth of these classes!
I'm going to give the slight edge to Burn Boot Camp here for the one-on-one trainer time, nutrition help, childcare, and workout variety. It's just a better overall value in my opinion.
And psst, Burn Boot Camp (and a few select OTF locations) is on ClassPass. Give it a try to hop around and experiment with different types of fitness classes.
---
The Workout
Orangetheory and Burn Boot Camp feature completely different styles of workout.
This will probably be your main consideration when you're figuring out which one, if either, you should join.
Let me break down what to expect:
At Orangetheory:
You'll rent or buy a special heart rate monitor. The goal of the class is to follow your coach's instruction and stay within designated heart rate zones (blue or orange), which correspond to your level of effort.
What's cool about this approach is that it makes the class approachable for people of all fitness levels.
You're not so much competing with others in the class as you are making sure you're giving the best effort YOU can give.
In the hour-long classes, you'll rotate through three stations:
Treadmill
Rowing machine
Dumbbell circuit
You'll be at each station for about 20 minutes, working up a crazy sweat, burning insane calories (some say you can burn over 500 calories during an OTF class), and challenging your cardio endurance like you never have before.
At Burn Boot Camp:
The workout varies from day to day, and is led by an instructor who designs the routine and has a lot of freedom in the construction.
(Think more like a yoga class.)
You might go on a cardio day, a core day, a strength day, an explosiveness day, etc.
During the roughly 45-minute class, you'll go through warm-ups and then rotate through different stations, like:
Jump rope
Broad jumps
Box step-ups
Partner crunches
Etc (depending on the day)
The workout is extremely high-intensity, fast-paced, and you'll probably burn upwards of 400-500 calories during your session.
(For more, check out my full Burn Boot Camp review.)
Edge: No clear winner here.
These are just two different styles of workout.
Orangetheory puts you through the same basic rotation every time, so you can push for continual improvement and compete against yourself.
Burn Boot Camp works over time to challenge all elements of your fitness: cardio, strength, endurance, core, explosiveness, and more.
For my money, I like the variety of Burn, but you might prefer the consistent improvement you can see from going to Orangetheory.
---
The Community & Vibe
Orangetheory definitely puts off a corporate vibe.
Everything's super polished, and there's a lot of consistency from location to location.
(This can be a good thing!)
But one thing I don't like about Orangetheory is how much they emphasize sales.
If you call or inquire about taking an OTF class, expect them to call you relentlessly for months on end.
In fact, for your first class, they want you to show up early and stay after class so they can be sure to put you through the whole membership pitch.
It's understandable, but I've found them to be a little pushy.
Burn Boot Camp has a way more low key vibe.
I signed up online for a 2-week free trial, walked in off the street to my first class without calling ahead, and left afterwards with no hassle.
No salespeople ever bothered me or even followed up to see if I wanted to join. They left the ball in my court, which I really appreciated.
Edge: Burn Boot Camp.
Orangetheory's sales team is too pushy for my liking, but some people might prefer the heavy hands-on approach to getting you set up with a membership.
---
Final Thoughts
These are both great workouts and an amazing way to stay accountable on your fitness journey.
But each is better suited to different types of people.
Overall, you might prefer Burn Boot Camp if:
You want or need childcare during your workouts
You'll get use out of one-on-one time with a trainer every month
You like to mix up your workouts
You can't deal with pushy salespeople
Overall, you might prefer Orangetheory if:
You like doing the same basic workout over and over so you can get better every time
The clean locker rooms and shower areas are a must for you
The high-tech heart rate monitoring appeals to you
You just want to buy a smaller class-package and not an unlimited membership
---
Wrapping Up
For my money, I think Burn Boot Camp is the superior option to Orangetheory. Here's why:
Childcare for busy parents who want to workout
More variety in the workouts
More low-key and relaxed vibe
But that's just me!
You should make up your own mind, and I can't think of a better way to do it than by trying both classes and seeing which you like more.
You can get a free introductory class by calling your local Orangetheory, or sign-up with Burn Boot Camp online and get a whole 2-week trial.
And I definitely recommend trying HIIT or bootcamp style workouts at home using Beachbody on Demand.
Try BOD free from home for 14 days using my link.
Hope this helps, and let me know in the comments if you have any more questions!