Cycling is a terrific form of cardio. It boosts your heart rate and develops excellent strength, endurance, and muscle tone in your legs.
Pretty much any gym you go to will have stationary bikes among the cardio equipment.
But if you need some extra motivation, you should consider signing up for a cycling class.
Almost every gym offers group classes, but cycling requires a specific studio setup — so these classes aren't available at every gym.
What are the best gyms with cycling classes?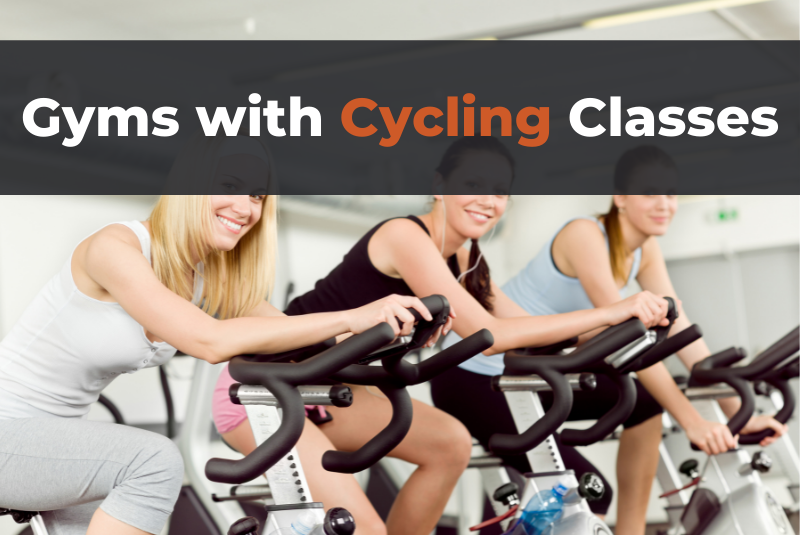 Amenities and equipment vary by location, but you can often find spin or cycling classes at:
24 Hour Fitness
LA Fitness
Gold's Gym
Equinox
Life Time
Let's take a closer look at what each of these clubs has to offer.
---
Why take spin/cycling class at the gym?
Cycling is advantageous for several reasons.
For starters, it's a low impact exercise, so it's not as rough on your knees.
Cycling also tones all of the major muscle groups in your legs.
That's in tandem with burning a ton of calories in a short amount of time — making it a great choice if weight loss is your goal.
On top of that, cycling has also been linked with a reduced risk of developing a litany of health problems, including:
That's not even mentioning all of the benefits it brings to your mental health!
As is the case with any exercise, you release endorphins through cycling, allowing you to feel great after you work up a sweat.
Financial benefits
If you're looking to save some money as you get in shape, then you should really consider taking a cycling class at a standard gym rather than a boutique studio.
There are pros and cons with gyms vs spin studios. But if you look at it from a purely financial perspective, you tend to save money with a gym.
At a place like 24 Hour Fitness, your monthly membership covers all (or at least some) of the cost. That means you can take as many cycling classes as you want without spending extra.
At a studio, you pay per class — usually at least $10 per session but often much more.
To reap any benefits from exercise, you want to work out at least three or four times a week, so that can add up quickly.
Plus, at the gym, you can enjoy the pool and other amenities, or do other workouts on your non-cycling days for no extra cost.
Now let's take a look at some awesome national gyms with cycling classes for members.
---
24 Hour Fitness
24 Hour Fitness memberships start at around $30/month.
There are also annual and initiation fees to watch out for, so make sure you know exactly how much you have to put down when you first sign up.
There are two types of cycling classes at this gym — both of which are included for members at most locations.
You have your standard regimen where you cycle at your own pace with music and supportive coaches.
Then you have Cycle24. This incorporates hills, drills, and sprints into the mix, allowing you to push your leg muscles even further.
24 Hour Fitness usually has free studio passes available, so you can try out a cycling class before putting down any cash.
Read more: 24 Hour Fitness review
---
LA Fitness
LA Fitness' prices tend to be comparable with 24 Hour Fitness.
You can expect to spend roughly $30 a month — and you might be able to get an even cheaper rate for a longer commitment.
This gym's cycling classes involve 55-minute sessions. You can go at whatever pace you feel most comfortable with, so these classes are great for beginners.
If your first spin class seems intimidating, you can always pop into the LA Fitness cycling studio when there's not a class going on and get familiar with the bike.
Read more: Is LA Fitness a good gym?
---
Gold's Gym
A basic Gold's Gym membership may only cost you as low as $10.
However, if you want to take classes, then you're going to need at least a premium membership, which tends to be twice as much.
When you can take cycling classes, you get to engage in high-intensity regimens set to music — just like at a big cycling studio.
Before committing to anything, you can also get a free seven-day pass to take as many classes as you want.
In the event cycling isn't your speed, then you can try others (like cardio, strength, Pilates, and more) to see if there's anything else up your alley.
Read more: Is Gold's Gym good?
---
Equinox
Equinox is one of the most elite gyms around.
If you happen to have one near you, then you should expect to pay in the triple digits monthly to work out there — around $200 per month or so!
Luckily, the gym earns its price tag by offering luxurious amenities. In addition to pools and saunas, there's also an assortment of classes.
That includes cycling services, like Pursuit. This is a specialized cycling class where each session lasts for 45 minutes.
Of course, with it being Equinox, you can expect top-of-the-line features for the class.
You receive personalized data, so you know exactly how many calories you burn in a single workout.
The room the classes take place in are also high-end, featuring mood lighting and outstanding acoustics.
Just remember to ask your local Equinox if they have one of these specialized rooms available.
Read more: Is Equinox worth it?
---
Life Time Fitness
Life Time is another prestige gym where you can expect to spend a pretty penny.
Memberships usually cost between $60 and $70 a month to start.
That membership includes the cost of classes, and in addition to yoga, bootcamp, and barbell strength, you can also partake in cycling.
More specifically, you can go to an EDG cycling class that specifically targets your cardiorespiratory system.
It's best to have a heart-rate monitor handy so that you can pace yourself and see how you improve over time. 
Life Time has some of the best amenities and facilities around (it compares nicely to the ultra-elite Equinox) so the spin classes are about as high-end as you'd get from a major studio.
Read more: Is Life Time worth it?
---
Alternatives to cycling at the gym
Seeing as how cycling is fantastic exercise people of all fitness levels can utilize, it should come as no surprise there are several national studio chains that can help you get into fantastic shape.
Here are some of the most common ones out there.
If you really want to exercise outside of the box, then you should try to find an Aqua Studio.
Stationary bikes are placed in a pool, and you cycle in the water!
It's actually pretty fun if you've never tried it before, and it offers some extra resistance for you to power through to build muscle.
Spin or cycling studios like these will cost a lot more than taking classes at the gym, but they have a lot to offer.
You'll find a better community, higher-end bikes, better decor and vibes, and more individual instruction at a specialized studio.
---
Wrapping Up
Cycling classes are great investments for people of all fitness levels.
Whether you're just starting out or are a seasoned athlete, you can get amazing results from spin class.
Taking cycling class at the gym is a great choice for your budget, especially if you want to do other workouts, too. But watch out, because not every gym has a fully outfitted spin studio on campus.
Take a tour or call your local club from the list above, and there's a good chance you'll find what you need!
Here are some other gym guides that may interest you.
Hope this helps!