Have you always dreamed of one day competing in a marathon?
If so, it's going to take a LOT of training.
Whether you want to run around the block, a 5k, or the whole 26+ miles, you'll need plenty of workouts running outside.
But you can improve your results and speed up your improvement by incorporating gym workouts.
(Plus running at the gym sure comes in handy during bad weather.)
But what are the best gyms for runners?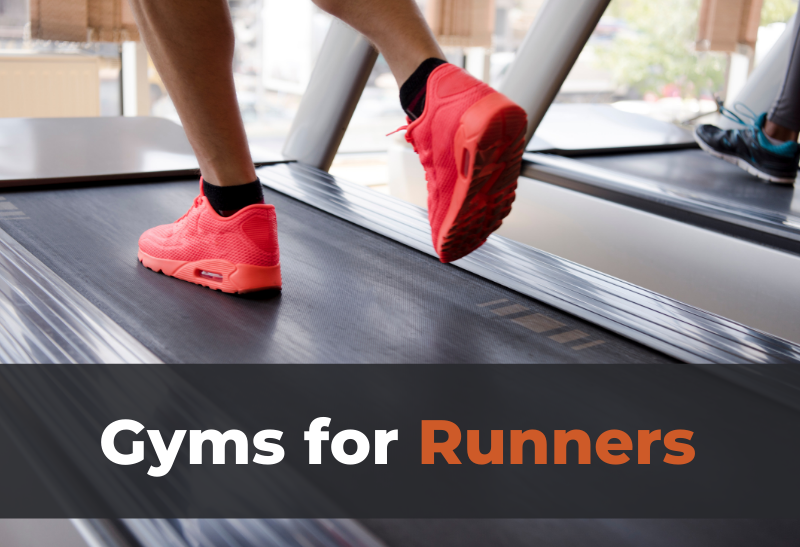 5 of the best gym memberships for runners (in no particular order) are:
Planet Fitness
YMCA
Gold's Gym
Workout Anytime
24 Hour Fitness
You can find treadmills at any gym under the sun, but there are a few other key amenities you should look for before signing up.
Let's take a closer look.
---
What runners should look for in a gym
When you want to run competitively — even if it's just yourself — there's more to look for in a gym than just treadmills.
You'll want to eventually supplement your workouts with strength training. 
Ideally, your gym will have equipment where you can focus on the lower body, like different types of power racks for squats.
You want to target your hamstrings, glutes, calves, and quadriceps, so your legs are as strong as possible for the big race.
Isolation resistance machines are extremely useful for targeting specific muscles like this.
Other factors to consider before joining a gym are:
Selection of Treadmills: Treadmills are popular with gym goers of all stripes. You should find a gym that at least has a couple dozen on-hand so that you can be confident there's always one for you — if they have specialty treadmills like AirRunners, that's a bonus.
Indoor Track: In the event you want to mimic the sensation of actually running in a race, an indoor track makes for a nice amenity. And there are plenty of great gyms that offer indoor tracks.
Cost: For competitive runners, you don't need much at the gym. Between cardio gear and some strength machines, you can get a lot done with a little. As such, you probably don't want to spend a whole ton just to use treadmills.
---
Planet Fitness
When you don't want to break the bank going to the gym, you really can't do much better than Planet Fitness.
A basic membership will only set you back $10/month, and that gives you access to pretty much everything you need. 
You can splurge on the $20/month membership to gain access to tanning beds, but runners won't need that — you'll get plenty of sun running outside!
The standard tier gives you access to all the equipment on the main floor, including treadmills. 
Planet Fitness also has an array of strength training machines you can use to target your lower-body.
(If you like lifting barbells and heavy weights, though, stay away from Planet Fitness.)
The best part is that it's open 24/7. No matter what your schedule's like, you should have no problem finding a time to swing by.
See my full Planet Fitness review here.
---
YMCA
The YMCA can also be an affordable option depending on where you live.
Prices can be as low as $30/month. If you can prove you have low income, some locations are willing to work with you on a custom discount.
On top of that, you gain access to all of the accompanying gym amenities.
Most YMCAs have excellent pools and saunas, which are great for your post-workout.
The Y has plenty of treadmills and other cardio equipment, plus a surprisingly good selection of strength equipment.
You'll also find excellent childcare here if you need someone to watch the kiddos while you run.
See more about the YMCA gym right here.
---
Gold's Gym
The pricing tiers at Gold's Gym can be a tad difficult to discern.
Rest assured, if you're looking to run, you can stick with whatever's the lowest price option, which usually comes out to $20/month.
What I've found to be really nice at Gold's Gym locations is the presence of an indoor track.
That means if you want to get off the treadmill for a while, or just want to wait until one opens up, you can still get in a solid workout.
Several Gold's Gyms also have smoothie bars. Nothing beats a refreshing treat after a long run, but be warned, the smoothies aren't covered by your membership price.
Best of all, the strength training equipment at Gold's simply can't be beat. If you want strong legs for running, you can't go wrong here!
See more about what you get at Gold's Gym here.
---
Workout Anytime
Workout Anytime gyms are usually smaller than what you might be used to.
As such, don't go in expecting all of the bells and whistles.
However, you shouldn't have a problem finding the basics, like plenty of treadmills.
As you can surmise from the name, this is one gym that's open 24 hours a day.
If you can manage to go early in the morning or late at night, then you shouldn't have a problem finding a treadmill to use.
In the event they are full, you still have all the usual weightlifting equipment at your disposal.
The 24 hour option can really come in handy for runners with odd schedules, where it may not be safe to run outside alone late at night.
See my full review of Workout Anytime here.
---
24 Hour Fitness
24 Hour Fitness can get pricey.
Monthly fees tend to fall between $30 and $50 depending on the location.
There are also initiation and annual costs to consider, so you need to watch out for those.
Needless to say, it has all the equipment you'd need to get in shape for a race.
However, when considering the cost, it would make the most sense to only sign up if you plan on using the other amenities, too.
24 Hour Fitness gyms are known to have:
basketball courts
racquetball courts
and an excellent array of group classes.
You get all that included with your membership, so if you're looking to do more than run every so often, then the higher price tag may be worth it!
Check out my full 24 Hour Fitness review here.
---
Wrapping Up
You can run almost anywhere, but when you want to do it under the comfort of a roof, a gym membership is just the ticket.
All the major gyms have treadmills.
When deciding which one to sign up for, it really comes down to what else you want to use it for.
Need a pool? Like to strength train? Want to play pick up basketball?
Take it all into consideration before you sign any contracts, but you should be more than satisfied with any of the 5 clubs listed above.
Here are some other gym guides to help you make a decision.
Hope this helps!