Running is a great form of cardiovascular exercise.
Even walking at a brisk pace can have tremendous health benefits.
But it can be tough to get a good workout in when there aren't really any trails near you, and you don't particularly care for the experience offered by a treadmill. 
One good solution is to find a track near you, and an indoor track if possible.
The perks of an indoor track should be obvious. No matter what the weather is like outside, you'll always be able to get in a good run.
You won't even have to bring a jacket!
But what gyms have indoor tracks near you?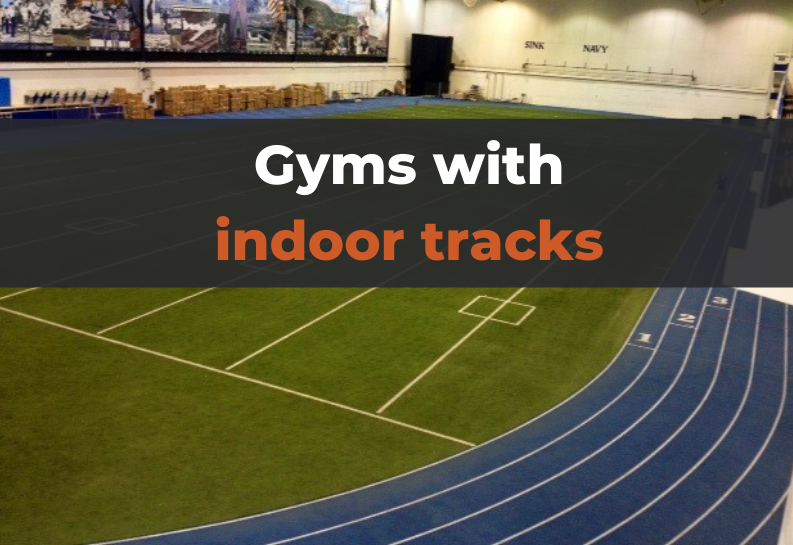 Indoor tracks are a bit of a specialty item you won't find at most gyms, in part because they take up a lot of room.
But here are 5 of the best gyms with indoor tracks at some or most of their locations:
24 Hour Fitness
LA Fitness
In-Shape
Gold's Gym
Your local college campus
It should go without saying, but not all gyms in a franchise are the same. Some may have certain amenities while others don't. 
Before signing up for any gym, you should call ahead of time (and preferably tour the facilities) to make sure it has an indoor track and anything else you might need.
With that out of the way, here's what you should know about each of these clubs. 
---
24 Hour Fitness
To use most of the amenities at a nearby 24 Hour Fitness, you'll likely pay in the area between $30 and $50 a month.
Not only does that mean you can use the indoor track, but it also gives you access to all of the equipment, weights, and classes.
Some of those classes even take place on the track, so you may even get a chance to run a relay with other fitness enthusiasts. 
You'll only find an indoor track at a 24 Hour Fitness at some of the more premier locations.
Any gym is going to have to be huge to accommodate such a large amenity, so the smaller clubs won't have one.
While an "Ultra" location of 24 Hour Fitness will likely cost you closer to $50/month, you can expect a ton of other superb features.
You can really get everything you need to exercise and unwind at a single place, like
Plus, if you're not a 24 Hour Fitness member but still want to use an indoor track, you can typically pay a small fee at the front desk to get access to the gym for the day. 
Read my full breakdown here: Is 24 Hour Fitness Worth It?
---
LA Fitness
At LA Fitness, you can expect to spend between $25 to $35 a month (not including any additional fees) to become a member.
The good thing LA Fitness has over something like 24 Hour Fitness is that its pricing structure is a lot more straightforward.
There's pretty much one tier that gives you access to everything in the building, including weights, classes, and an indoor track. 
Most LA Fitness locations won't have an indoor track, but several do — call your local club or browse online reviews to find out for sure.
Just remember, the indoor track at gyms like this is rarely a high-end running surface.
One Yelp reviewer wrote:
"The track (at LA Fitness) isn't even a track. You can't even put your spikes on to run because it is not turf. There are no lanes."
Indoor tracks at big box gyms are usually just marked off areas around a hardwood floor like you might find on a basketball court, good for walking and jogging but not for sprint training.
This is your reminder to always see what kind of track you're dealing with when touring gyms in the first place.
Read my full breakdown here: Is LA Fitness worth it?
---
In-Shape
In-Shape is a health club located entirely in California.
There are dozens of locations, so whether you're SoCal or NorCal, there should be one close to you if you live in the Golden State.
Depending on the location and whether you want a basic or premier membership, you can expect to pay between $25 and $40 a month.
Keep an eye out for special offers. There are frequent deals and discount codes where you pay $0 in set-up fees, so if you don't mind waiting a little bit, it's a great life hack. 
Not all In-Shapes have indoor tracks, but the ones that do are perfect for athletes.
You can use it with just the basic membership, which also gives you access to a good assortment of equipment. 
However, if you're interested in using the pool or racquetball court, then you're going to have to upgrade.
---
Gold's Gym
There are a lot more Gold's Gym locations than In-Shape, and it's roughly in the same price range.
There are various levels ranging from "Basic" to "VIP," and it'll usually cost you between $25 and $40 per month. 
You can run, walk, or jog on the indoor track at Gold's Gym — where available.
Again, and as with every gym on this list, every location is different and indoor tracks are a specialty item not found at every single club.
Gold's Gyms have a ton of other amenities to keep you invested in your regimen like group classes and excellent strength training equipment.
Some locations have pools, and some even offer childcare if you want to make sure your youngster is looked after while you work up a sweat. 
Read my full breakdown here: Is Gold's Gym Worth It?
---
Your local college campus
Here's a bit of a pro tip you can take with you no matter where you live.
If you're interested in utilizing an indoor track, then you should see if the university nearest you has one available. 
Many colleges have outdoor tracks, which you may be able to use depending on the time and day, but some have tracks inside the fitness centers as well.
This is definitely worth checking out.
It should be free to use for students and faculty members, but sometimes, colleges allow members of the public to use them, too. 
You may have to pay a small fee or get someone who attends classes to sign you in, but it's worth a phone call at least.
---
Wrapping Up
Unless you get really lucky, most indoor tracks aren't as nice as the outdoor ones.
There will be fewer lanes, and they generally won't be as big. 
Indoor tracks often aren't made of turf or other high-end running surfaces, but are usually simple hardwood.
However, your mileage may vary depending on what clubs you find near your home or office.
The gyms above (24 Hour Fitness, LA Fitness, In-Shape, and Gold's) are good bets as you start your search.
Call each of them and take a tour, if possible, to see the facilities for yourself before you begin negotiating a contract.
Before you go, check out these other gym guides:
Hope this helps!