No matter what gym you go to, you know you're going to find cardio equipment.
Even people who primarily lift weights still need to run or bike every so often.
(Yes, even if you're bulking.)
Every major big box gym will have rows and rows of treadmills, ellipticals, and stationary bikes.
What you might have a little more trouble finding is a StairMaster, or a stair exercise machine.
These are incredibly popular cardio machines with tons of health benefits — they scorch calories and strengthen your lower body far better than the treadmill.
But what gyms have StairMasters near you?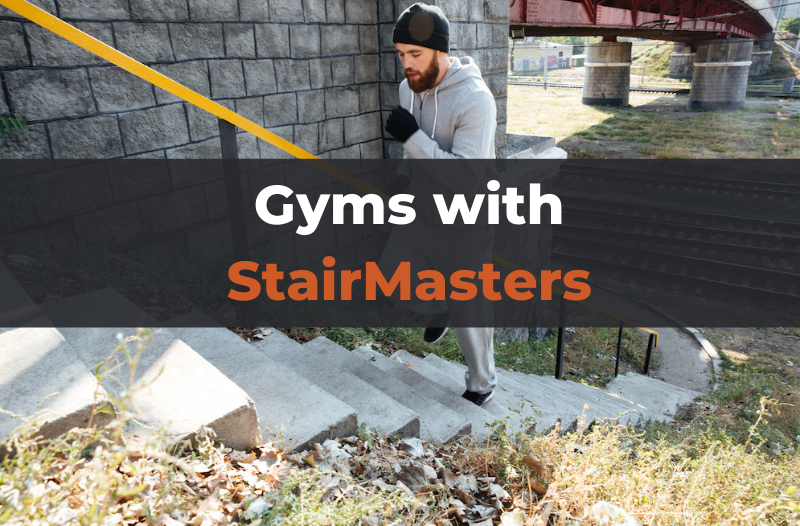 Equipment and amenities at every gym vary by location, but here are 6 of the best gyms with StairMasters at most of their clubs:
Planet Fitness
LA Fitness
Gold's Gym
YMCA
Snap Fitness
Equinox
If you're ready to burn a ton of calories climbing stairs, build powerful glutes, and enjoy some variety in your cardio, let's take a look at some of the best clubs for you to join.
(And P.S. – This list is just a starting point! You'll also usually find stair steppers at clubs like Life Time, Anytime, Crunch, and more.
Call the local clubs in your area or take a tour to see for yourself.)
---
Planet Fitness
Planet Fitness is among the most affordable gym options out there.
For just $10/month, you get access to all of the cardio and resistance training gear you need. 
From what I've found, most Planet Fitness locations have between two and four StairMasters available.
That pales in comparison to the number of treadmills, ellipticals, and bikes you'll find here — but you should be able to grab a stair machine if you avoid peak gym times.
If you're mostly interested in doing cardio and you don't need a lot of bells and whistles with your gym membership, you can't go wrong with a Planet Fitness membership.
---
LA Fitness
LA Fitness is a good value gym and represents a big step up from Planet Fitness.
However, it does cost a bit more at around $25-35 per month.
On top of the usual equipment, these gyms can have pools, basketball courts, and more, but the exact amenities will vary by location.
Due to the fact LA Fitness tends to take up larger buildings, you can generally find more StairMasters available compared to something like Planet Fitness.
Expect to find somewhere between 4-10 StairMaster machines at your typical LA Fitness.
If you ever need a break from climbing stairs, then you can sign up for one of the gym's group classes to break the rhythm. 
---
Gold's Gym
Gold's Gym is generally known as a haven for bodybuilders and one of the best gyms for lifting, but it's also an excellent place to get your cardio on.
Memberships generally cost between $20 and $30 a month and come with access to tons of equipment along with cool amenities like pools and group classes.
Gold's might not have the size and quantity of equipment that LA Fitness has, but the facilities here are generally well-maintained.
Machine breakdowns happen, but for the most part, you can be confident the StairMasters at Gold's will always be operational. 
Nothing's worse than when a gym only has two stair steppers and one of them is busted.
---
YMCA
Many people tend to overlook the local Y, but it's actually a terrific gym option.
Prices can go as high as $70 per month, so it's a little pricey for individuals — but if you want to join with the family and take advantage of the Y's excellent childcare, it's a great deal.
YMCA gyms have everything you need, including a great selection of cardio equipment, including a handful of stair steppers.
I've even seen some locations that offer StairMaster challenges. 
You sign up, and the goal is to climb as many stairs as possible within the given time frame, sometimes lasting as long as a month!
The goal is to get you to keep coming back so that you don't let up on your regimen.
Plus, at the end of the timeframe, there's usually a prize!
You may not need that kind of motivation to go to the gym, but it's nice to see a place try to make exercising fun.
---
Snap Fitness
Snap Fitness is another one of your mid-range gyms with memberships usually costing between $30 and $40 per month. 
There aren't a whole lot of bells and whistles at Snap, but that's kind of the point.
Snap gyms tend to be on the smaller side, mostly focusing on weights and cardio equipment, but you can generally find a StairMaster or two. 
What Snap lacks in amenities, it more than makes up for in simplicity.
You aren't going to find any hidden fees, and Snap locations tend to be hyper-convenient in business districts.
So if you want a simple and affordable 24 hour gym near your office, Snap is a great choice.
---
Equinox
Equinox is among the most elite gyms in the world.
Most memberships cost between $150 and $200 per month, but it can even go higher than that in certain locations!
That's not even including all of the fees they'll likely hit you with.
You can try your luck by negotiating your rate, but don't hold your breath. 
However, if you can swing the steep membership rates, Equinox has everything you could ever need.
StairMasters are really just the tip of the iceberg as pools, saunas, and luxury classes are also included in your membership. 
If the StairMaster is your main (or only) workout, you can find a better deal.
But if you want going to the gym to feel like a luxury experience, Equinox will win you over.
---
Wrapping Up
StairMasters aren't exactly tough to come by — the list above should get you started, but you'll probably find StairMasters at every major big name gym in your area, plus local boutique clubs.
So I wouldn't use the presence of a StairMaster as your main deciding factor when choosing a gym.
You have to weigh the total amenities package at each club versus what you're willing to pay.
It's great to have access to group classes and a hot tub for after-workout soaks, but if you aren't going to use those features, don't pay for them.
For some more helping in picking the right gym, check out these guides:
Hope this helps!