If you are a serious bodybuilder and you're eating out, it can be a real challenge to meet your calories and your macros.
That's the case whether you're in a bulking or a cutting phase.
When it comes to fast food restaurants, some are better than others — but one that has earned a solid reputation among lifters is Chipotle.
Recently, well known fitness personality and model Steve Cook raised eyebrows by stating that he was able to maintain his cover page ready physique by eating at Chipotle four times per week.
Cook swears by the Double Chicken Burrito Bowl, which can be customized to hit whatever macros he's aiming for at the time.
But what are the best meals for cutting and bulking at Chipotle?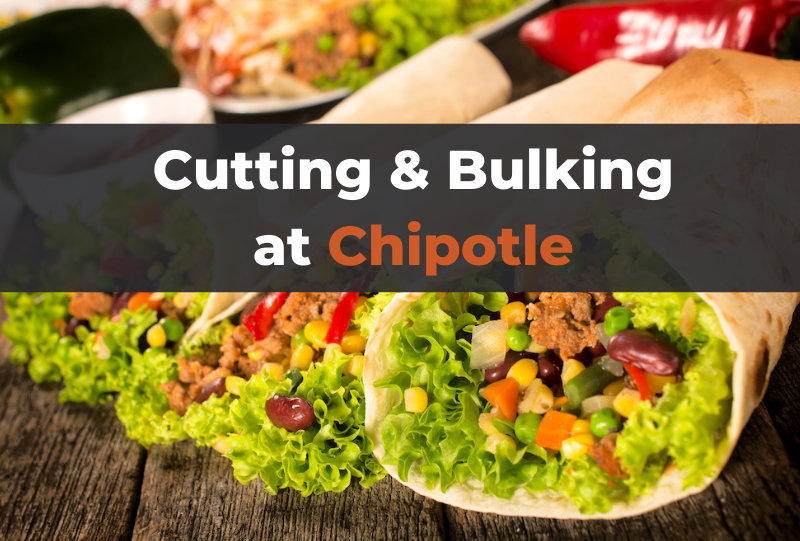 The best cutting meal at Chipotle is the Supergreens salad with chicken for your protein. This dish starts at just 195 calories and 33 grams of protein before extra toppings and flavors.
For a bulking meal at Chipotle, go with the Carne Asada burrito which starts off at 570 calories for 37 grams of protein — feel free to add in plenty of yummy toppings to hit that calorie surplus!
Let's take a closer look at these orders and some other good cutting and bulking meals at Chipotle.
---
The Best Cutting Meal at Chipotle: Supergreens salad with chicken
When you walk into a fast food restaurant while you are in the middle of a cutting phase, you need to bring your A-game in terms of discipline and discernment.
You need to zero in on menu items that are:
low in carbs
low in saturated fat
low in calories
and high in protein and healthy fats.
(It's not that carbs and fat are "bad," it's just that you need to keep protein high and calories low… so something has to give!)
So, what can you find on the Chipotle menu that meets those requirements?
If you are on a cutting diet, then you need to avoid the burritos.
The tortilla alone packs in over 300 calories, 600 mg of sodium and a whole lot of carbs — a lot of Chipotle burritos come in at over 1250 calories.
As a result you need to stick to the bowl or salad.
When it comes to the salad, opt for the Supergreens Lettuce Blend as your base and add the chicken for your protein.
This will start you off with 195 calories, with a huge 33 grams of protein, with only 3 grams of carbs and 7 grams of fat.
Layer in some black beans and salsa for extra flavor and you'll wind up with a salad bowl that clocks in at around 500 calories and just under 50g of protein — perfect macros and proportions for cutting.
If you feel like going for a bowl, I suggest the steak option with brown rice.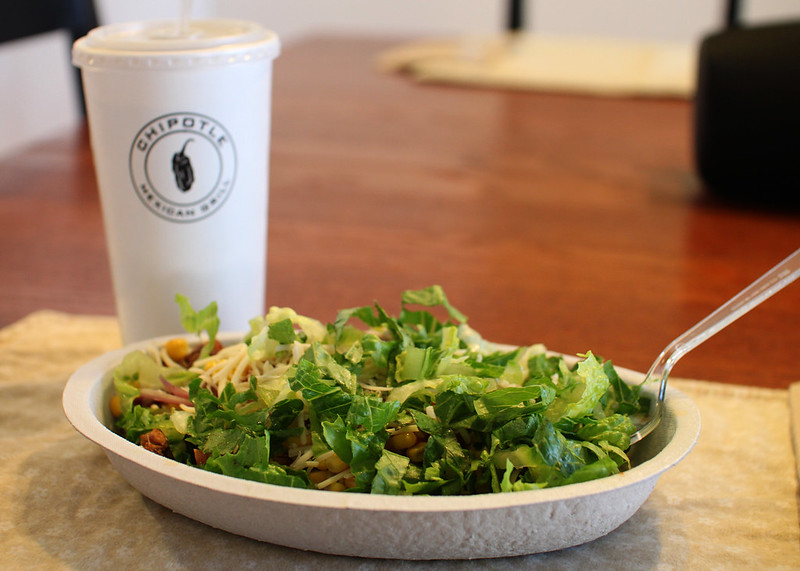 That will load you up with 360 calories and 25 grams of protein.
It's higher on carbs but extremely filling and satisfying.
Remember that each topping you add (like beans, corn, salsa, sour cream, and cheese) will contribute to the total calorie count.
You can use Chipotle's nutrition calculator to create your perfect cutting meal right here.
---
The Best Bulking Meal at Chipotle: Carne Asada burrito
You can eat a pretty delicious meal at Chipotle while cutting, but let's face it, walking in to this restaurant on a bulk is going to be a lot more fun.
During this part of your training, your focus is on packing on as much lean mass as possible.
To do that, your primary interest should be to get a lot of protein and calories with each meal.
However, you also need plenty of complex carbs to resupply glycogen and fill your muscles.
The fact that you can eat more carbs on a bulking diet means that the burritos at Chipotle are no longer off the menu.
The standout menu item for bulking at Chipotle is the Carne Asada burrito.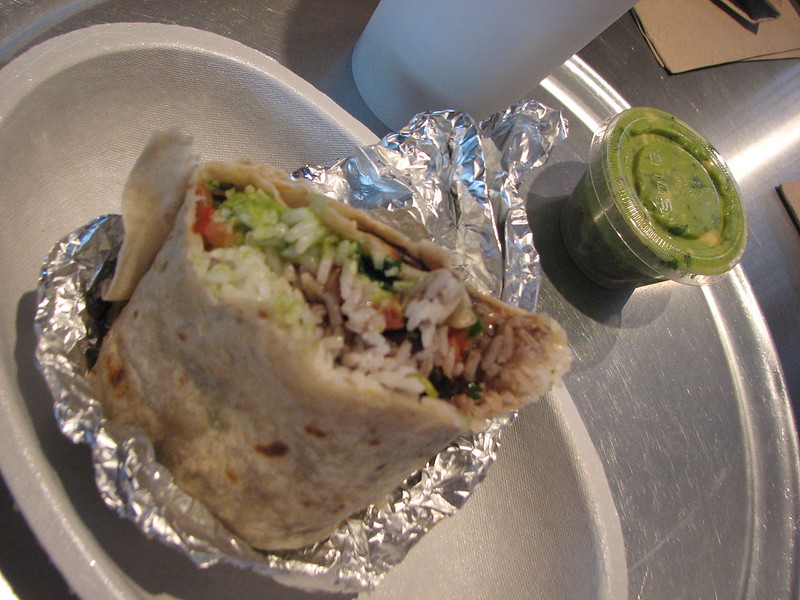 That will provide you with a total of 570 calories, 37 grams of protein, 51 grams of carbs and 23 grams of fat, 5.5 grams of which are saturated fat.
(Again, that's before you start to add in extra toppings…
Use the calculator above to figure out the values for your favorite order.)
In terms of bowl meals, my favorite for bodybuilders on a bulking diet is the Double Protein Salad Bowl.
Bringing the carbs down a bit allows you to double up on protein without going sky high in calories.
Here's what the numbers look like:
Calories = 820
Protein = 68 grams
Carbohydrates = 71 grams
Fats = 27.5 grams (13 grams of saturated fat)
If you are a vegan bodybuilder who is on a bulking phase, Chipotle caters to you, too.
They offer a Vegan bowl that provides you with 820 calories and 26.5 grams of protein.
Order your bowl with sofritas, brown rice, pinto beans, fajita vegetables, roasted chili corn salsa, and guacamole.
Even though you're bulking, try not to go overboard — a massive calorie surplus (especially one packed with unhealthy foods) isn't required for a bulk and can actually have a lot of negative consequences.
---
Wrapping Up
Chipotle offers one of the most balanced menus on the fast food restaurant landscape.
However, you still need to be discerning, especially if you are in the middle of your cutting or bulking cycle.
(Yes, you need to be disciplined on a bulk, too!)
To support your cut, I recommend the Supergreens Lettuce Salad with added chicken. When it comes to bulking, go for the Carne Asada Burrito.
Alternatively, you can use Chipotle's excellent Nutrition Calculator to create a meal with perfect macros for your goals.
Before you go, check out:
Hope this helps!