When it comes to finding a healthy option when you're eating out, Subway is the 'go to' fast food restaurant for many of us.
That's hardly surprising. Most of the options on their menu are from their Fresh Fit range and the majority of them have earned Heart Check certification from the American Heart Association.
They're also largely high in protein and low in fat. That's all music to the ears of bodybuilders!
But what are the best bulking and cutting meals at Subway? What specifically should you order to reach your goals?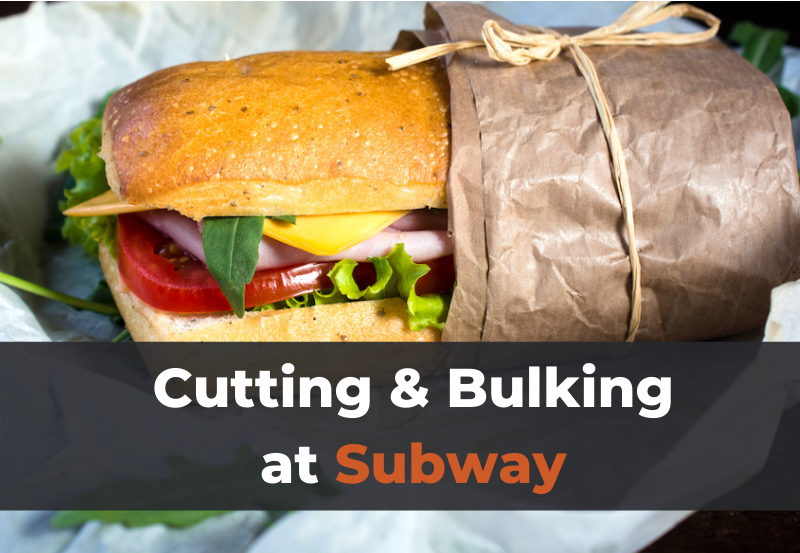 The best cutting meal for weight loss at Subway is the Oven Roasted Chicken Breast salad — you can get a fantastic serving of protein for just 130 calories before toppings.
Eating at Subway on a bulk? Get the oven roasted chicken breast, but get a double protein, footlong sub! It's delicious, filling, and packed with muscle-building nutrients — without going overboard on calories.
Let's take a closer look at the perfect bulking and cutting orders at Subway.
---
Best Cutting Meal at Subway: Oven roasted chicken salad
When you're cutting, you're going to want to keep your carbs down.
Not because carbs are evil, but because you'll need to lower carb intake to keep protein high and calories low.
If you're doing a Keto cut, you'll be virtually cutting your carbs completely.
When it comes to Subway, you know what that means – you are going to have to nix the bread part of the deal.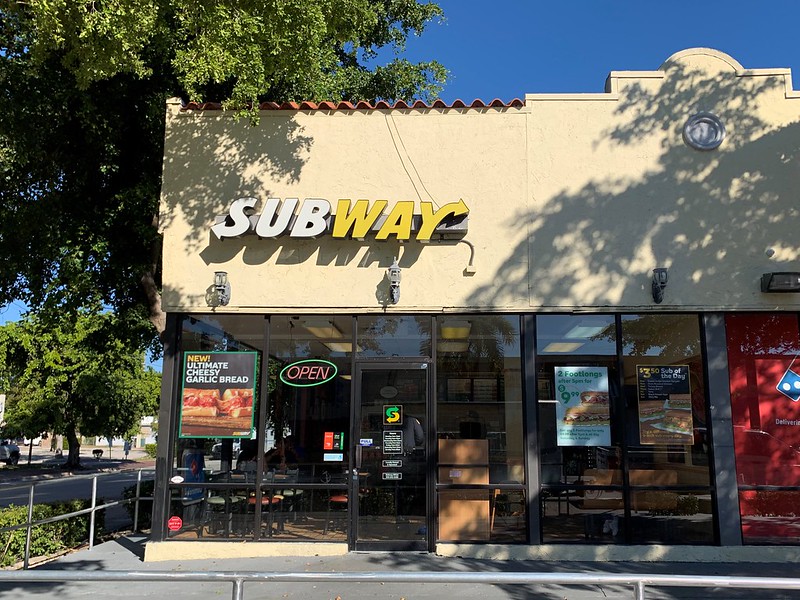 Instead, you will have to opt for one of their salads.
Fortunately, Subway offers some of the best salad options around.
All of them provide you with between 10-12 grams of carbs per serving.
With the addition of chicken or meat, you'll get another 12-15 grams of protein.
Every salad at Subway will provide you with fewer than 140 calories before toppings and extras.
My favorite Subway salad when on a cutting cycle is the Oven Roasted Chicken salad.
It provides you with 130 calories, 19 grams of protein, 2.5 grams of fat, 10 grams of carbs and 4 grams of sugar to start — before any toppings, sauces, or dressings.
You'll also do great with the Buffalo Chicken or Sweet Onion Teriyaki Chicken salads.
Any chicken-based bowl without too much fatty or sugary sauce will get you a great protein to calorie balance.
I also love the Subway protein bowls for cutting.
Try the delicious and filling Steak and Cheese bowl for 370 calories and 36 grams of protein.
If you're really craving a sandwich, you can still put together a good cutting meal at Subway.
Just stick with regular Italian or 9 Grain Wheat bread for the lowest calorie counts — the wraps are actually more caloric on average.
And avoid too many sauces and condiments on your sandwich, which can really skyrocket the calories.
---
Best Bulking Meal at Subway: Footlong oven-roasted chicken breast
Unlike on a cutting cycle, bulking requires carbs, especially if you're hitting Subway after a workout.
Of course, you also want as much protein as you can get — without going too crazy on calories.
There are plenty of good options at Subway but, before we get into them, let's check off what not to add to your Sub.
Firstly, avoid the sauces. They will add very little besides fat and sugar.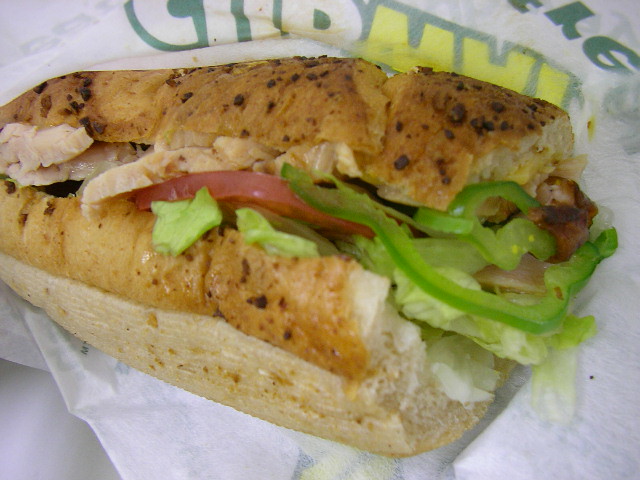 It is worth losing out on a little bit of flavor in order to keep your Subway bulk clean.
You should also discipline yourself not to have any sides when you are ordering at Subway.
Those cookies, crisps, and sodas will add bulk, but definitely not the kind you're after!
Now, let's think about what you should be eating to get a clean bulk meal at Subway.
First, off, stick with the brown breads.
Whole wheat breads will give you the important insoluble fiber which you need for adequate digestion.
Ask for double the meat content of whatever you are ordering.
Yes you can do that (of course you'll have to pay a little extra!).
That will quickly double the protein content of your sandwich.
My personal favorite bulking sandwich at Subway is the footlong Oven Roasted Chicken Breast Sandwich on 9-Grain Whole Wheat.
Remember to ask for double chicken!
Even if you load this sandwich up with non-sauce condiments, it will clock in at around 700 calories and a whopping 40+ grams of protein.
---
Wrapping Up
If you are out and about and need a healthy meal, Subway offers one of the best options that are out there.
Whether you're on a cutting or a bulking phase, you can find some pretty good menu options.
My favorite cutting meal is the Oven Roasted Chicken salad.
When it comes to bulking, I suggest going for same chicken breast but treating myself to a delicious footlong 9 grain bread, plus double the meat!
You can also use Subway's online nutrition grid to find your perfect meal.
Before you go, don't miss:
Hope this helps!