A lot of people don't work your standard 9-to-5.
Whether you're a college student on an odd schedule or you work the night shift, sometimes it's just not feasible to go to the gym during the day.
That's why it's incredibly handy to know what gyms nearby are open 24 hours a day.
Whether you need to go in right when you wake up at 5 a.m. or need to pump iron at midnight, many gyms have recognized the importance of being accessible any time of day.
Another perk? Some gyms are absolutely crazy first thing in the morning or in the late afternoon.
You may want to beat the crowds, and if your schedule allows for it, you can do precisely that by going off-hours when things aren't as busy.
So what are the best 24 hour gyms?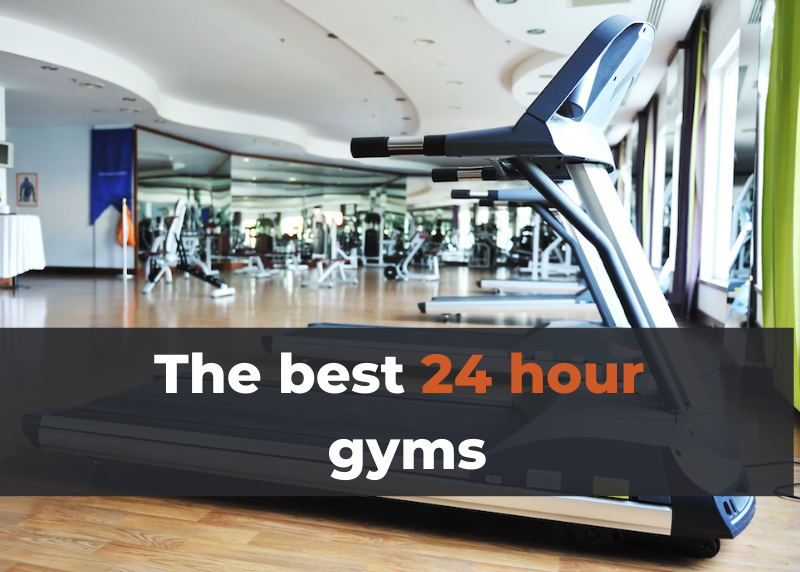 Here are 6 of the best 24 hour gyms you'll probably be able to find nearby:
Planet Fitness
Anytime Fitness
24 Hour Fitness
GoodLife Fitness
Workout Anytime
Snap Fitness
Night owls and early risers alike have plenty of options.
But which one is ideal for your situation? Let's take a look at each of these clubs and weigh costs, amenities, equipment, and more.
---
Planet Fitness
Planet Fitness is a go-to option out there for people on a budget.
For $10/month (or $20/month if you want the more elite Black Card), you get access to pretty much all the equipment you need.
Treadmills, ellipticals, weights, and more are waiting for you.
There's a decent array of machinery, and since Planet Fitness locations don't tend to have more substantial amenities like basketball courts and pools, they cram in as much of everything else as they can.
24-hour access is waiting for you at every Planet Fitness location. Over 2,000 locations are out there, so there should be one relatively close by to you.
It's a big reason why a lot of people choose this brand.
Combined with the laid-back atmosphere and relaxation options like HydroMassage and tanning beds, Planet Fitness should have everything you need if you're interested in losing some weight and improving your overall health.
As for drawbacks, you'll probably outgrow Planet Fitness quickly if you're serious about getting in shape.
The limited amenities and lack of heavy weightlifting equipment at PF are major drawbacks.
(Read more: Complete Planet Fitness review)
---
Anytime Fitness
Over 4,000 Anytime Fitness gyms are open around the world, and as the name suggests, they're open 24 hours a day.
It's certainly not as cheap as Planet Fitness, but you shouldn't have to spend an arm and a leg either to join up here.
Most locations will cost you between $30 and $40 a month. There are also sign-up fees that can be as high as $100, so be aware of that before you walk in. 
The perk of this is that you do get access to some nice amenities at Anytime.
You can participate in yoga, pilates, and other group classes — just double check if they're included with your membership at your home club.
And remember, there probably won't be any group classes available at 2am!
Anytime also has a better selection of equipment than Planet Fitness, though this gym doesn't offer a pool or childcare.
Still, if you're solely interested in cardio and weightlifting, then Anytime is a solid option for a 24/7 gym.
That 24/7 guarantee also tends to apply on major holidays, so you can work off that Thanksgiving turkey in style.
(Read more: Complete Anytime Fitness review)
---
24 Hour Fitness
Any guesses as to why this club makes the list?
It's right there in the name! Yes, 24 Hour Fitness is open 24 hours per day, 7 days per week.
With over 400 locations, these gyms allow you to get in solid workouts whenever it's most convenient for you.
It's another mid-range option that runs most members between $30 and $50 a month.
Again, that doesn't include additional sign-up fees — and as always, pricing will vary by location.
At this level of gym, you start to find some of the higher-end amenities, such as pools, racquetball courts, and basketball courts.
You'll have to check your local club to see what exactly they have because it can vary by location.
You'll also want to double-check to see which amenities (if any) are available 24/7. Sometimes they block off certain areas during a given time.
(Read more: Complete 24 Hour Fitness review)
---
GoodLife Fitness
If you're in Canada and looking for a 24 hour gym, you can't go wrong by checking out GoodLife.
You can expect to spend between $30 and $50 a month depending on which membership tier you opt for. There's also a $99.99 initiation fee, so keep that in mind as well. 
It has all the amenities you would expect for a mid-range gym from group classes, to pools, to childcare (at some locations).
However, the access level from one location to the next. 
Unlike Planet Fitness where all locations are open 24/7, only certain GoodLife gyms have the same accessibility.
You'll want to research the one nearest you to see precisely what hours you could go visit. 
(Read more: Complete GoodLife Fitness review)
---
Workout Anytime
Workout Anytime is closer to Planet Fitness in terms of the range of amenities it has available.
The most basic level will have you spending roughly $15/month, and that gives you access to cardio and weightlifting equipment. 
That "Anytime" in the name isn't just for show either. You can go 24 hours a day at a majority of locations.
You'll get better equipment here than most Planet Fitness locations, plus a few basic group fitness classes.
But otherwise this place is short on amenities — no pool or childcare, here.
(Read more: Complete Workout Anytime review)
---
Snap Fitness
With nearly 2,000 locations, Snap fitness is a reputable brand for night owls.
The gyms are open 24/7, and the memberships costing between $30 and $40 a month give you access to a wide range of gear. 
You won't find higher-end amenities like pools and spas, but Snap is a solid option when you just want to run on the treadmill and lift weights.
Plus, there aren't any hidden fees, so what you see is what you get. 
A downside? A lot of Snap Fitness locations save space by not offering showers or locker rooms.
You'll have to decide what you truly need out of a workout before signing any paperwork.
(Read more: Complete Snap Fitness review)
---
Wrapping Up
The busiest times of day for gyms tend to be first thing in the morning between 7:00 and 9:00 a.m. and right after when most people get off work between 4:00 and 7:00 p.m.
If you can find a good 24 hour gym near you, you can avoid a lot of these peak times and still get in a great workout at your own pace.
24 hour gyms are ideal for students and night shift workers, but joining one can make sense for anyone who's busy and needs a little flexibility.
The 6 gyms listed above are sure bets worth checking out in your area — but you may be able to find other clubs nearby that offer 24/7 memberships depending on the location.
Here are some other gym guides to help you get the most out of your workouts.
Hope this helps!