When it comes to knowing what Workout Anytime is all about, it's right there in the name.
Similar to 24 Hour Fitness or Planet Fitness, this gym offers amenities that are available 24 hours a day, seven days a week. You can work up a sweat on a schedule that's convenient for you.
Best of all, you can do so without breaking the bank as this is one of the more affordable gym memberships around.
There are fewer than 200 locations around the country, but it's growing all the time as more people discover the benefits.
So let's get into it: Is Workout Anytime worth it?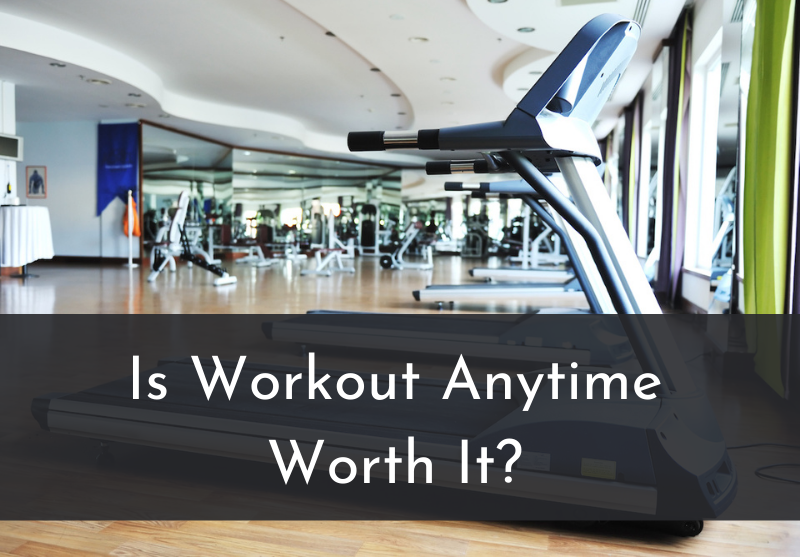 Quick reminder: Workout Anytime is different from Anytime Fitness, and you can check out the differences here to see which one is ideal for you.
So is a Workout Anytime membership worth the price?
Workout Anytime is one of the most affordable gym chains out there. There are various tiers, but with the Basic plan, you only pay about $19/month to get access to a wide range of equipment — without extra amenities like pools that drive up the price.
The only problem is that you may have trouble finding a Workout Anytime that's anywhere near you. With only 180 locations around the U.S., these gyms are few and far between.
But if you happen to live near one, it's a great investment.
Let's take a look at my full Workout Anytime gym review.
---
How much does Workout Anytime cost?
There are three main tiers to be aware of with Workout Anytime.
$19/month for a Basic Plan, which gives you 24/7 access to the gym's standard amenities, lockers, and showers
$30/month for the Premium Plan, which allows you to bring a friend and gives you 24/7 access to the basic amenities as well as hydro massage beds and tanning beds
$35+/month for a package deal, which essentially gives two people a Premium membership plan
There are also enrollment fees you need to watch out for, but these tend to be manageable.
You can expect to pay around $65-$99 when you first sign up as well as an annual $29 fee for maintenance.
The only time you need to worry about signing for a contract is when you do the friends and family plan.
You'll have to agree to sign up for 12 months. Fortunately, no such contracts are needed with the Basic and Premium plans.
If it's still too much for you, then you can always try speaking with a manager to try to negotiate your membership price, or at least some of the fees.
Workout Anytime compares nicely on price to most other big box gyms — the only less expensive option you'll find is the bare bones Planet Fitness.
As always, prices may vary in different locations and parts of the country, so call your local club to confirm their rates.
This is just a starting point to help you price out your membership
---
Workout Anytime equipment, features & amenities
Price is just one factor when considering any gym.
There's no sense in joining a budget gym if they won't have everything you need to get in your preferred workout.
---
Equipment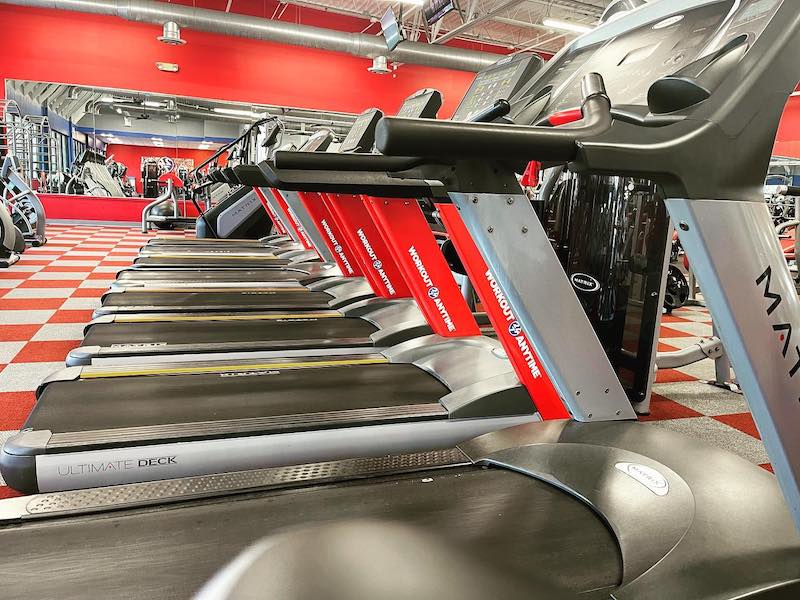 Due to the low price, you shouldn't expect every single piece of equipment under the sun at Workout Anytime, but for some people, there should be just enough.
You can find an array of cardio equipment, including:
StairMasters
Treadmills
Stationary bikes
There also tends to be an array of weightlifting gear, including bench press stations, free weights, dumbbell racks, squat racks, and single power racks.
The exact equipment you can expect may vary by location, so do a tour before signing up.
Workout Anytime clubs tend to be on the small side, so don't expect an endless sea of equipment.
Try to avoid peak gym times so you don't get stuck waiting for a machine.
---
Group Fitness Classes
You also shouldn't expect a ton of group classes with Workout Anytime.
It has the basics, such as yoga and BootCamp, but they tend to be few and far between.
Another downside to this is that classes often aren't included in your standard membership price.
You're going to have to spend extra to engage with these classes, so you need to consider that when budgeting.
(For better options, check out our list of the best gyms with classes.)
---
Pool/Sauna
There are no pools, saunas, or hot tubs at any Workout Anytime locations.
---
Childcare
You need to make other accommodations if you need someone to watch your kids while exercising.
Workout Anytime doesn't have any kind of daycare.
(Here are the best gyms with childcare and daycare.)
---
Other Amenities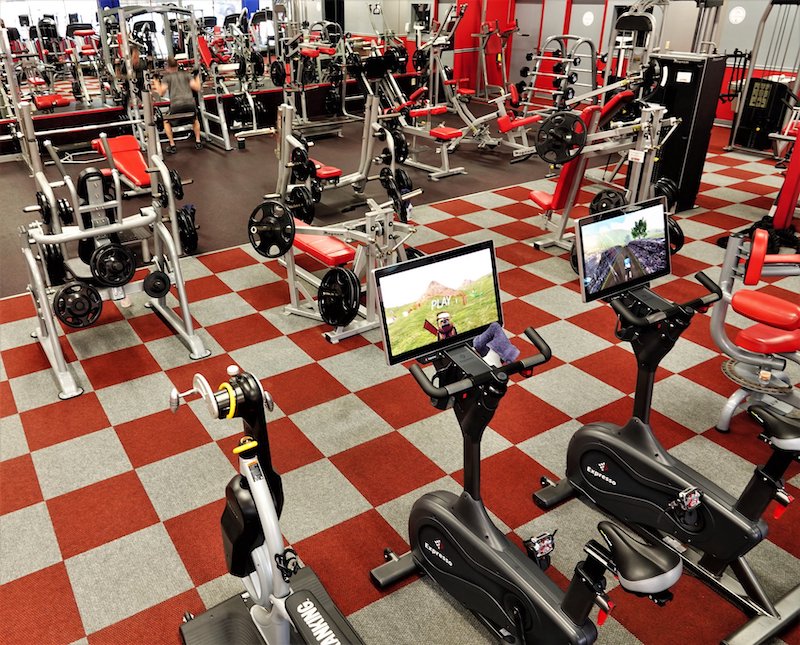 Workout Anytime may cost a fraction of the price of some of the more elite gyms out there, but it doesn't skimp on features.
With the Premium membership, you gain access to such amenities as the tanning beds and HydroMassage beds, allowing you to lay down and relax before or after your workouts.
However, this franchise really stands apart with the Personal Coach Advantage.
Every single member receives a complimentary session with a personal coach where you go over your fitness goals, so you know what workouts to engage in.
With a Premium membership, you also get monthly evaluations where you speak with an experienced personal coach once a month to see how you've done and whether there's any room for improvement.
You can also see a coach on a more regular basis albeit with an additional cost.
(For more options, here are the best gyms with personal trainers and nutritionists.)
---
What real people are saying (reviews, pros & cons)
You can get a good idea of whether a gym is right for you by reading over its cost, equipment, and amenities.
But I always like to see what real members have to say about the facilities.
Below, I've read through dozens of reviews on Yelp and Google to see what other people think of Workout Anytime.
Here are the common themes I found:
Pros
Affordable
Good selection of features
24/7 access
There are many different kinds of gyms out there.
But if all you need is a budget option with a decent assortment of machines, then there's no need to spend a ton of money on your membership.
The main selling point of Workout Anytime is the price. At the end of the day, you can spend about $19 a month to work out at any hour.
That $19 goes a long way as you gain access to a variety of cardio and weightlifting equipment.
In general, Workout Anytime members are happy with the facilities compared to more expensive gyms.
It's also a huge plus that every location is open 24/7. If you work the night shift or otherwise keep unusual hours, this might be the place for you.
---
Cons
Fewer locations
Minimal classes
There are over 2,000 Planet Fitness locations in the United States.
Regardless of where you live, that means you shouldn't really have a problem finding one.
180 Workout Anytime locations pale in comparison, so you may not have one within a reasonable driving distance.
In a lot of people's opinions, that's the biggest drawback of all — if you want to use the gym while traveling, for example, Workout Anytime probably won't work for you.
It's also a bit of a bummer that Workout Anytime doesn't include classes as a part of their membership — but that's how they keep the monthly rates down.
---
Alternatives to Workout Anytime
If you just can't find a Workout Anytime gym near you, then here are some other options to consider.
Planet Fitness
When it comes to budget gyms, Planet Fitness is Workout Anytime's main competition.
You get more or less the same equipment with a membership that costs $10 a month with the basic plan.
You can also spend $20 monthly to gain access to tanning beds and HydroMassage beds.
You can expect similar vibes at either gym. They're both designed for people trying to save money, and they're both open 24/7.
It pretty much comes down to which one is nearest you.
(Check out Planet Fitness vs Workout Anytime here.)
Anytime Fitness
Anytime Fitness may cost a little more than Workout Anytime, but you do end up with a bit more.
For starters, Anytime Fitness locations tend to have a better assortment of classes. You can find Zumba, yoga, and so much more.
Some locations even allow you to take classes with the price of your membership.
Aside from that, Anytime is fairly similar. It's open 24/7, and most locations will have a good shower and tanning bed area for you to utilize along with a top notch equipment selection.
---
Wrapping Up
Workout Anytime offers one of the most affordable gym memberships around.
For a Basic plan, you only have to spend around roughly $19 a month, and if you're really just interested in lifting some weights or running every so often, it's a great deal.
On top of that, you get 24/7 access as well as meetings with professional personal trainers to help guide you along your fitness journey.
Unfortunately, that low price doesn't get you access to childcare, a pool, or much in the way of group fitness classes. For better amenities, you'll have to spend more at a mid-range gym like Anytime Fitness or LA Fitness.
Before you go, don't miss these gym guides.
Hope this helps!