A lot of gyms out there, especially the big chains, require you to sign up for a one-year membership (at least) to get in the door.
While it can save you money on your membership, it may not be a good idea if your circumstances change.
If you need to cancel your membership for any reason (like to join a more convenient club), you'll be on the hook for all of your dues owed until the end of your contract.
That can really hurt your wallet!
There are lots of great reasons to go with a no contract or no commitment gym membership instead, even if it costs a little more.
So what are the best month to month and no contract gyms around?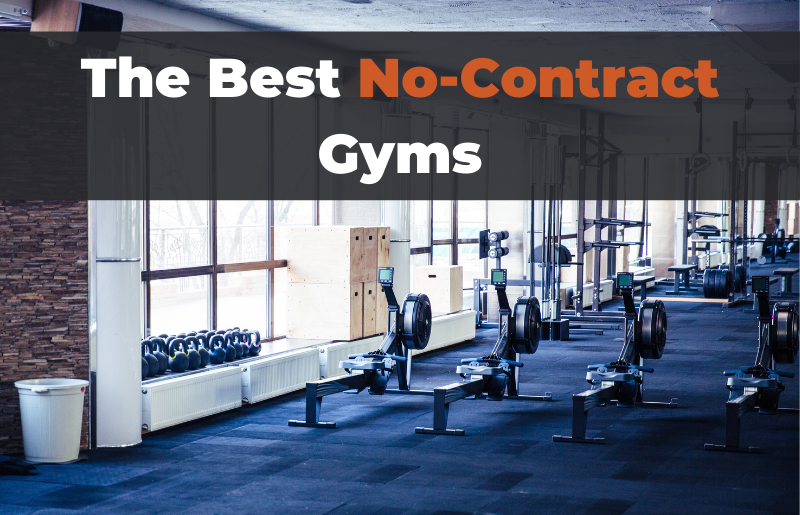 The best month to month gyms (in no particular order) are:
Planet Fitness
Crunch Fitness
Workout Anytime
Gold's Gym
24 Hour Fitness
These are great short term options and some of the easiest gyms to cancel around!
Rule of Thumb: Many gyms offer both yearly and monthly membership options, and they usually come with different price tags.
It's almost always cheaper long-term to commit to a contract, but you can usually negotiate a good monthly rate at most big box gyms.
And as always, the prices below are just rough guidelines — pricing varies depending on location, time of year, and more.
---
1. Planet Fitness
Planet Fitness often has its members sign a 12-month commitment, but there's a workaround if you know when and where to look.
Planet Fitness is arguably the most affordable gym chain around with memberships starting at just $10/month.
You also need to pay initiation and yearly or annual fees, but you want to keep an eye out for special promotions that are frequently held throughout the year. 
Frequently, Planet Fitness runs "No Commitment" promotions where you can get a new pay as you go membership without having to agree to pay for a year.
In the event one of these promotions isn't presently taking place, try talking to the manager. You may be able to negotiate a month-to-month contract if you're persistent enough.
Once you have your card in-hand, you're ready to take advantage of all that Planet Fitness has to offer, including cardio machines, free weights, tanning beds, and HydroMassage beds.
Planet Fitness isn't my favorite gym, but it's extremely popular because it's so budget friendly and if you can get in without a contract, that's even better!
---
2. Crunch Fitness
When it comes to Crunch Fitness vs. Planet Fitness, the pricing starts off in the same ballpark.
The most basic Crunch contract membership starts at $10/month, and it goes up to $30/month if you want more luxurious amenities.
In addition to the standard cardio gear you find everywhere, some Crunch locations have a pool and sauna for you to utilize.
Crunch also has a better selection of strength training equipment than Planet Fitness typically does.
Crunch Fitness has monthly no commitment plans available, but you want to watch out for the initiation fees or annual fees.
For a yearly membership, you only pay this fee once every 12 months. But for a monthly membership, you pay it monthly.
That means the lowest membership doesn't start at $9.95. It starts at $29.95 per month — that's 3 times the contract cost!
It may work for a short-term solution, but make sure to speak with someone working at Crunch Fitness to know exactly how much you're paying every month.
---
3. Workout Anytime
Workout Anytime is another solid gym option open 24/7.
It also happens to have one of the more straightforward membership plans out there when it comes to paying monthly, or pay as you go.
Workout Anytime prides itself on offering low rates with no-strings-attached monthly memberships.
You pay only $15/month for a month to month no commitment membership at Workout Anytime.
For $25 monthly, you'll get a premium membership — which allows you to bring a guest with each visit. It also gives you access to HydroMassage and tanning beds.
The one catch is that there aren't a ton of amenities at Workout Anytime.
However, you still get a great assortment of cardio and weightlifting gear. If that's all you're interested in and don't want to deal with contracts, then it may be a good choice for you.
---
4. Gold's Gym
Gold's Gym has various price tiers depending on what amenities you want access to.
(It's pretty complicated and varies a lot in different parts of the country.)
You can even go month-to-month for as low as $24.99/month at some locations.
There's an enrollment fee upon signing up, but otherwise, you can work out to your heart's content without committing for a full year.
In addition to the basic equipment, many Gold's Gym locations offer extra bonuses, such as:
a pool
and group classes.
You'll want to contact the location nearest you to see what they have to offer.
Just keep in mind, some amenities, like classes, may cost extra.
---
5. 24 Hour Fitness
24 Hour Fitness is a mid-range gym, so you should expect to pay more compared to something like Planet Fitness.
In exchange, you can expect a lot more amenities, such as basketball courts, racquetball courts, and turf zone — depending on location, of course.
Prices vary by location, but in general, monthly fees range from $30 to $50.
You should expect to pay around $5 more per month if you don't want to sign a contract for a full year.
That's a pretty good deal for having the flexibility to change gyms or cancel anytime you want.
---
Wrapping Up
No contract, or month to month, or short term gym memberships are a lot more expensive than contract memberships — but the extra flexibility can save you a lot of hassle.
If you've ever asked "Can I join a gym for a month?" You bet! It's a great idea for some people.
If you've never tried to get out of a yearly gym contract, then consider yourself lucky.
I've seen places where you need to either provide a doctor's note stating how you can't exercise for the foreseeable future or proof that you've moved to a city where that brand of gyms isn't available.
Outside of that, most gyms are going to hold you to your contract — no matter what.
Not only that, but many gyms won't allow you to cancel online or over the phone. You have to do it in-person.
It's a genuine hassle for a reason.
You may be able to pause or freeze your membership for a short period of time (three months max in many cases), but you still need to cough up the dough sooner or later.
If you're not sure you can commit to going to the same gym for a year or more, consider a no contract membership at one of the clubs above to give yourself some wiggle room down the road.
Before you go, check out some more money-saving guides like:
Hope this helps!