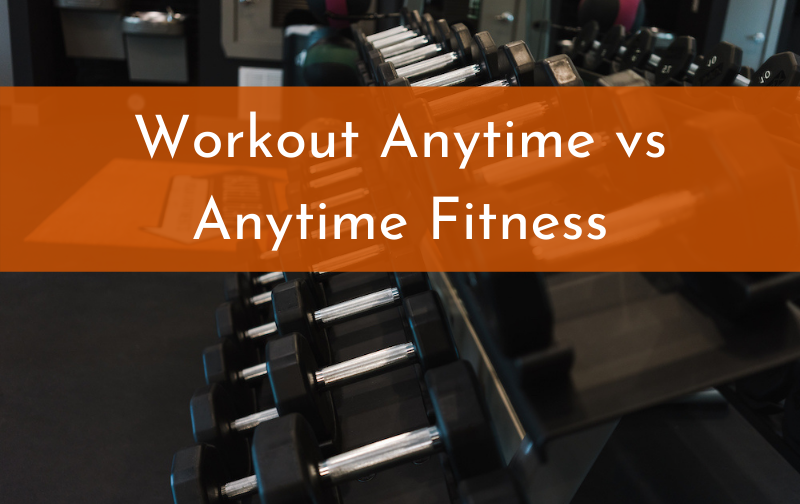 When it comes time to pick a new gym and get your fitness on track, there's one big question you're bound to have:
Are Workout Anytime and Anytime Fitness the same thing?!
Despite sounding remarkably similar, these are two different fitness brands with various pros and cons.
However, they're both solid gyms for anyone looking to get in better shape this year.
Let's take a close look at Workout Anytime vs Anytime Fitness.
Overall, the difference between Workout Anytime and Anytime Fitness is all about price. The two gyms are pretty similar (and primarily known for 24/7 access), only Workout Anytime costs somewhere around half as much to join.
However, Anytime Fitness members will get a few more perks and enjoy more quantity and variety of equipment in exchange for a pricier membership.
Now let's dive deeper into this comparison.
---
What is Anytime Fitness?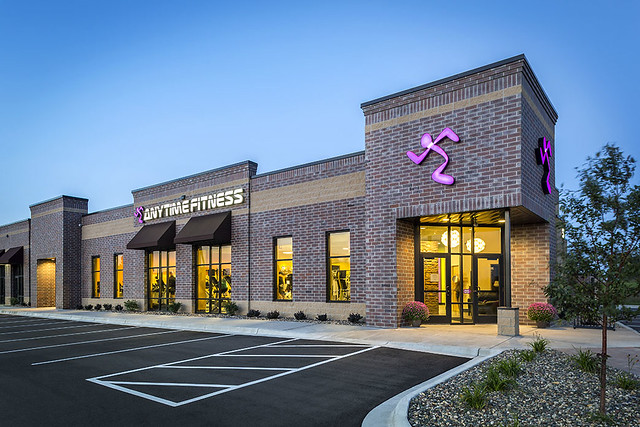 Anytime Fitness is a 24/7 convenience gym that you can find, well, almost anywhere.
As of this writing, there are over 3,000 locations in the United States alone.
If you're looking for a pretty straightforward gym for a fair price, you'll do well here.
The 24/7 access is awesome for night owls and early birds, the spaces are generally clean, you'll get access to group fitness classes, and more.
You could do a lot worse.
---
What is Workout Anytime?
Workout Anytime is similar in the sense that it's consider a convenience or budget gym.
It's open all night (hence the Anytime theme) and quite affordable.
Workout Anytime is a little harder to find nationally, however, with only about 100 locations as of this writing.
But it's a growing brand looking to cut into the box gym space by challenging places like Planet Fitness and Anytime Fitness.
If you don't recognize the name, you might recognize this gym by the bright red and white checkered floor!
---
Cost
Your budget will likely be one of the biggest factors in your choice of gym.
Especially if you're not looking for a ton of amenities, you may just want to go for the cheapest option. You certainly don't want to be stuck with a gym membership you can't afford anymore.
Let's take a look at how Anytime and Workout Anytime compare on price:
Anytime Fitness cost:
Anytime also features really competitive and straightforward pricing.
You should expect to pay about $40 per month to join Anytime Fitness in addition to sign up or initiation fees and an annual fee.
You'll often have the option of paying in full for the whole year up front to save a bit of money, and Anytime Fitness offers cool 2-person memberships which are perfect for fit couples.
These are just estimates, I encourage you to check your local club for the most accurate pricing and, as always, negotiate!
Workout Anytime Cost:
There are a few different membership and pricing options at Workout Anytime.
Remember, again, that prices will vary by club depending on where you live. Some of these prices and fees may also be negotiable.
In general, expect to pay $15-30 per month for a Workout Anytime membership.
You can pay as little as $9.99 per month if you're willing to go with the fewest amenities and perks, lock in for a year , and pay a larger initiation fee (around $75 or so in some areas).
You can save a few bucks on that same plan by paying for the full year up front.
From there, you'll pay a little more per month if you want:
Access to more than just your "home club"
Personal training
Family member add-ons
Tanning & HydroMassage
All of these packages can be paid in full for a better price, or go month-to-month and pay more without the commitment.
---
Hours
In some not-so-surprising news, both Workout Anytime and Anytime Fitness have one major thing in common:
They're both open 24/7!
It's built into the name after all, so you can expect to be able to access either of these clubs anytime, anywhere.
Usually, 24 hour gyms give you a key card or fob so you can get into the building during non-staffed hours.
---
Equipment
The next question should be:
What kind of workout do I want to do, and can this gym accommodate me?
Let's take a look at the equipment selection at these two dueling brands.
Anytime Fitness equipment:
Anytime Fitness is not a huge gym by any means, but their facilities are typically larger than Workout Anytime.
Anytime has all the usual stuff (cardio, free weights, barbells) but also boast fun extras like battle ropes, resistance bands, kettlebells, plyometric boxes, and more.
Anytime Fitness begins to separate itself from other convenience or budget gyms when you look at the weightlifting equipment, which is usually quite nice and diverse.
Workout Anytime equipment:
Workout Anytime has solid variety in its equipment, but is limited a little bit by the often-small size of its clubs.
You'll find cardio equipment here like treadmills, StairMasters, and bikes — of course.
You'll also usually find a dumbbell rack, free weights, bench press stations, and probably just one single power rack or squat rack.
They have almost everything, but they might not have as much quantity as bigger clubs.
If you're really into lifting weights, there's a chance the limited lifting equipment may be occupied when you show up to Workout Anytime.
But if you work out during off hours, that might be just fine!
You'll usually be able to grab a treadmill without a problem.
Anytime Fitness will probably have more quantity, quality, and variety of equipment. But I recommend taking a tour before signing up to make sure they have exactly what you need.
---
Classes
Taking group classes at the gym is an amazing under-utilized resource.
You can try lots of different workouts this way, stay motivated and accountable, and make some friends along the way!
Let's see what these two have to offer:
Anytime Fitness classes:
Anytime has a great selection of group classes for members to choose from.
Most clubs offer a mix of classes like:
Spin
Cardio
Boot camp
Pilates
Yoga
Zumba
And more
You'll probably find what you need here, however, you MAY have to pay extra to access these classes.
This varies by location so check with your local club to see what's included and what extra costs might be incurred.
Workout Anytime classes:
Workout Anytime has small clubs and a relatively cheap membership price, so it's no surprise that it's not well-known for its group classes.
However, most clubs do offer a few basic classes each day — usually just yoga and bootcamp-style workouts.
Beware though, these classes are often not included in your membership. You'll have to pay a drop-in rate to join in, though members may get a better price than non-members.
If you're looking to try lots of different group workouts and make friends at your gym, Anytime Fitness gets the edge here. However, neither is an amazing choice for fitness classes as they often cost extra at both chains.
Fore more here, check out the best gyms that include classes.
---
Pool/Spa Area
No pools or spas to be found at either of these clubs.
Both are excellent places to workout and work up a sweat, but you won't find aquatic facilities at Workout Anytime or Anytime Fitness.
If that's a deal breaker for you, check out my guide to gyms with pools.
---
Showers
Believe it or not, there are some budget-friendly gyms out there that cut out locker rooms and showers to save space.
However, you're in luck at either Anytime Fitness or Workout Anytime — both have locker rooms and private showers at most locations.
Don't expect anything fancy like eucalyptus-scented towels or high-end bath products, but you'll have no trouble cleaning up and getting ready for work at either club.
---
Childcare
Again, neither of these clubs is known for big campuses or a lot of extra amenities.
For that reason, you won't find any childcare services at Anytime Fitness or Workout Anytime.
If that's a problem (as a parent, I get it), check out which gyms have childcare here.
---
The Verdict
Workout Anytime and Anytime Fitness are both solid gyms, but they're designed for different kinds of people.
They're both affordable overall, but Workout Anytime is the better budget option by a good margin.
However, if you want a little more for your money, Anytime Fitness will have more and better equipment, plus more classes to choose from (even if you have to pay extra for them).
It all comes down to this…
You might prefer Anytime Fitness if:
You want to partake in group classes (and pay more to join because of it)
You value more space and quantity of equipment
You might prefer Workout Anytime if:
You're budget conscious and looking to stay around $15-30 per month
You're not interested group fitness classes
As always, I encourage you to take a tour and ask plenty of questions at both gyms before signing any contracts.
Before you go, click here for all of my gym comparisons, reviews, and guides.
Hope this helps!