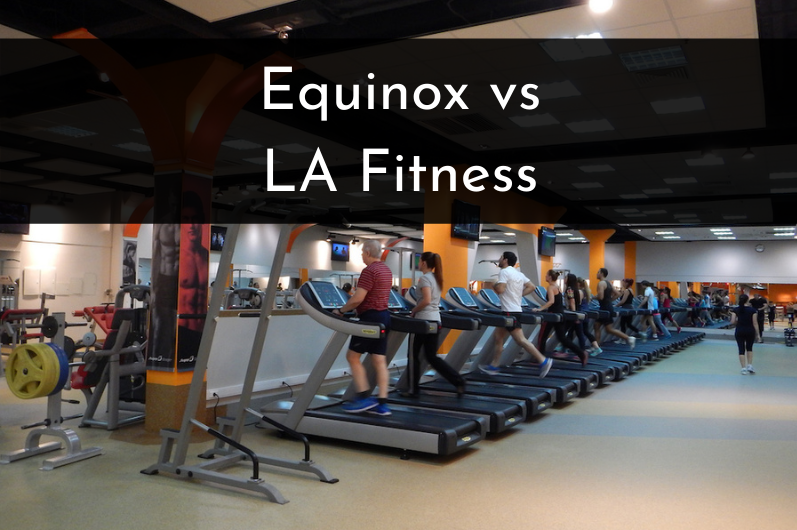 Looking to join a gym in your area?
Chances are, you have plenty of choices at every budget level. You more than likely have a few Planet Fitness locations nearby, a few high-end clubs, and everything in between.
If you're looking to choose between Equinox vs LA Fitness, you've come to the right place.
The difference between Equinox and LA Fitness mostly comes down to price. You'll pay $185 per month, more or less, to be a member at the ultra-exclusive Equinox while LA Fitness should only run you about $40 per month or so.
Of course, the amenities and member benefits at Equinox are out of this world and pretty much unrivaled by any other national gym brand. LA Fitness is an excellent mid-range gym that will save you a fortune compared to Equinox, but it can't compete on amenities.
Let's take a closer look at these two popular gyms.
---
What is Equinox?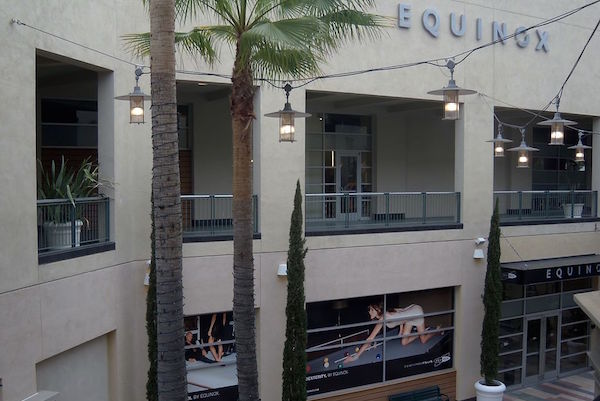 Equinox is one of the best high-end health clubs in the entire world.
You'll only find about 106 locations worldwide, usually in major cities like New York, Boston, and LA. However, Equinox is starting to pop up in other areas as well.
It's known as an exclusive, elite club. The equipment, amenities, and classes are top notch.
There are pools, saunas, steam rooms, and luxurious touches sprinkled throughout the facilities.
For all of this, you can expect to pay a premium (we'll get into exactly how much below).
It's also worth noting that Equinox owns some other recognizable fitness brands like SoulCycle, PURE Yoga, Blink Fitness, and more.
---
What is LA Fitness?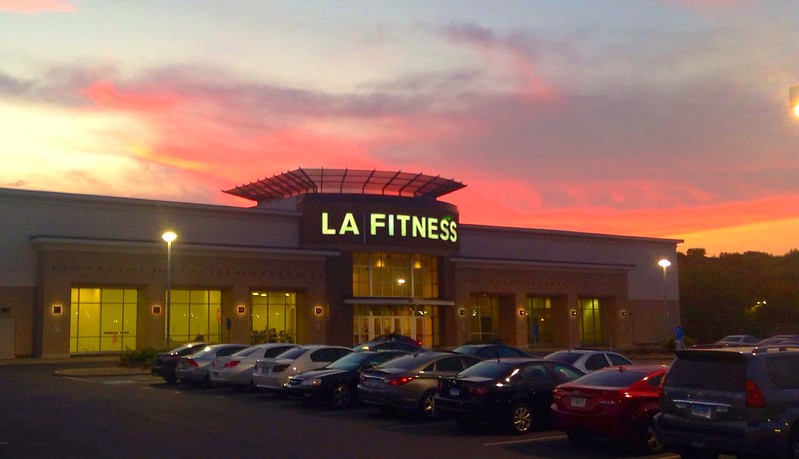 LA Fitness is my favorite mid-range gym. It's on par with (and superior to, in my opinion) places like Anytime Fitness, 24 Hour Fitness, Gold's Gym, and more.
It's the complete box gym experience, with plenty of equipment including power racks and free weights, group classes, childcare, personal training, and (at most locations) a pool.
You can't really ask for much more considering the price.
We'll get into LA Fitness pricing below, but just know that it's far more affordable than Equinox!
---
Cost
Let's start with one of the main deciding factors in your quest to pick the right gym:
How much does each one cost?
It can be tough to find accurate prices online, and pricing will almost always vary by location, but here are some rough estimates.
Equinox cost:
Equinox is sometimes affectionately (or not) known as "the $200 gym."
That's because, depending on location and what membership package you choose, you can expect to pay around $185 per month on the low end to join Equinox.
For more elite packages (and in certain cities) you might pay close to $500 per month!
You'll also usually have to pay a hefty initiation fee of around $500 or so.
To put it in perspective, this is somewhere around 4-5x as expensive as your average gym membership cost.
LA Fitness cost:
Speaking of the average cost of a gym membership, LA Fitness pretty much falls right in the middle.
I usually call it a "mid-range" gym because it has better equipment and amenities than budget gyms like Planet Fitness, but it still won't break the bank.
Pricing at the different locations will vary but expect to pay $25-40 per month at LA Fitness. 
You can sometimes get a better deal by signing up for a longer contract, or you might pay more for a shorter one.
(Plus joining fees and annual fees, where applicable.)
Generally, LA Fitness only has one membership tier — none of that Gold, Silver, Bronze nonsense — which makes joining simple.
It's clear that on price alone, LA Fitness is the better deal. But that hefty Equinox price tag comes with a lot of benefits, so stay tuned.
---
Hours
Another big factor to consider when choosing a gym is when you'll usually be going.
Most gyms can fit your schedule if you plan of working out during the day, in the early evening, or even before work.
But if you might need to workout at odd times, you should pay close attention to your local club's hours.
Equinox hours:
Equinox tends to keep "standard" gym hours.
Most Equinox clubs open around 5-530am during the week and around 7am on weekends.
They'll typically close up around 11pm most evenings, or a little earlier on the weekends.
Check your local club, because each location is different.
LA Fitness hours:
More standard hours here.
LA Fitness will usually open around 5am and close around 11pm during the week
On the weekends, expect the gym to be open from 8am to 8pm at most locations.
Neither LA Fitness nor Equinox offer 24 hour access, at least at a majority of locations. Otherwise, their hours are quite similar and neither gets a huge edge.
---
Equipment
When it comes to equipment, Equinox has everything.
What else would you expect at a $200 per month gym?
On the other hand, you'll also be impressed by most LA Fitness locations. When it comes to mid-budget gyms, LA Fitness has one of the best equipment set ups around.
Both gyms will feature almost everything you could possibly need:
Dozens and dozens of cardio machines (treadmills, ellipticals, StairMasters, bikes, and more)
Dumbbells up to and over 100 pounds
Free weights, barbells, full power racks, and Smith machines
Resistance machines
Specialty equipment like kettlebells, balance balls, etc.
Ultimately, for the price, Equinox will likely give you more quantity of equipment than LA Fitness (more available weights and cardio machines) and higher quality equipment (better brands, better maintenance).
However, if you avoid peak hours at the gym, most LA Fitness clubs will have more than enough for you.
---
Classes
Both Equinox and LA Fitness are excellent gyms to join if you're interested in taking group classes.
Classes at the gym are an amazing way to try lots of different workouts, stay motivated, and make friends — so if they're included with your membership, take advantage!
Here's what's on the schedule at Equinox:
Cycle Power
Barre Bootcamp
Above the Belt (upper body strength)
Below the Belt (lower body strength)
Elevate (treadmill class)
True Barre
Precision Run
METCON3
Pilates
Yoga
And tons more
Here's what's on the schedule at LA Fitness
Zumba
Aqua Fit
Mat Pilates
Yoga
Bootcamps/Abs
Spin & cycling
Again, Equinox will usually have more variety in their classes and more classes on the schedule overall. But LA FItness is a great choice, as well, and is a lot cheaper.
(For more on this, check out the best gyms with classes.)
---
Pool/Spa Area
A pool may or may not be on your list of gym must-haves, but there are some great benefits to joining a gym with aquatic facilities:
Recreational swim
Aquatic workouts or free lap swimming
Steam rooms, hot tubs, and saunas make for great post-workout recovery
Let's see what Equinox and LA Fitness have to offer:
Equinox pool:
Many, though not all, Equinox clubs have gorgeous indoor or outdoor pools.
The locations that do have pools will stun you — the facilities sometimes rival high-end resorts!
The pools typically paired with outrageously luxurious hot tubs, steam rooms, and full-service spas. Yes, spas as in day spas.
Of course, you'll have to pay extra for that hour-long full-body massage, but you get a discount on your birthday (hooray!) and there's no better way to unwind from a workout.
LA Fitness pool:
LA Fitness usually (but not always) has a pool and some basic sauna amenities.
The pool is typically nothing to write home about, but it works well for lap swimming workouts and any aquatic classes the gym might offer.
LA Fitness will usually have a hot tub, sauna, steam room, or some combination thereof — but not every location is the same, so check your local club to find out for sure.
(For more, check out the best gyms with pools.)
---
Showers
Believe it or not, there are some gyms that don't have showers.
No such worries here, as both LA Fitness and Equinox have well-kept locker rooms and private showers.
Equinox gets bonus points here for having huge, absolutely gorgeous showers that are stocked with high-end Kiehls bath products.
---
Childcare
For some of us, having childcare at the gym or our workout classes is an absolute must-have.
It might mean the difference between being able to work out at all, ever, or not!
Thankfully, both of these clubs offer childcare.
Equinox childcare:
Expect to pay around $7-14 per child per session for child care at Equinox.
Note that child care isn't available at every single location (a little more than half of Equinoxes have it).
You can sometimes cut this cost down by buying child care sessions in packs of 10, 20, or more.
LA Fitness childcare:
LA Fitness is known as one of the best gyms with childcare around.
You can add recurring care to your monthly membership for around $10-15 per child per month (varies by location), or pay per visit.
Certified childcare experts will entertain your kiddos at the Kids Club for up to 2 hours at a time, as long as you stay on campus. (No leaving to take a snooze in your car!)
---
The Verdict
Equinox and LA Fitness are both great gyms.
Equinox, obviously, is known as one of the best gyms in the entire world — and comes with a price tag to prove it.
But I think LA Fitness actually compares quite well considering its about 4-5 times cheaper.
Ultimately, it comes down to this:
You might prefer Equinox if:
You want access to spa services, eucalyptus towels, and other high-end luxuries
You need access to the best equipment in the world (and plenty of it)
The classes or personal training services at Equinox suit you
You might prefer LA Fitness if:
You want to join a great gym, but want to keep things on-budget
You need regular childcare built into your membership
You're not interested in paying extra for luxuries like spa services and scented towels
And before you go, check out my full guide to the best gyms and a few of these guides for gym-goers:
Hope this helps, everyone!