Between homework assignments, pledging, and parties — it's hard for college students to find the time to stay fit.
(You've heard of the "freshman 15", right?)
However, it's critical that you establish a fitness routine early in your college career.
There are a ton of benefits to exercising as a student, from managing depression to increasing brain function. 
There's just one problem — college students don't have a lot of free time or extra cash. So what are the best gyms for college students to join given these constraints?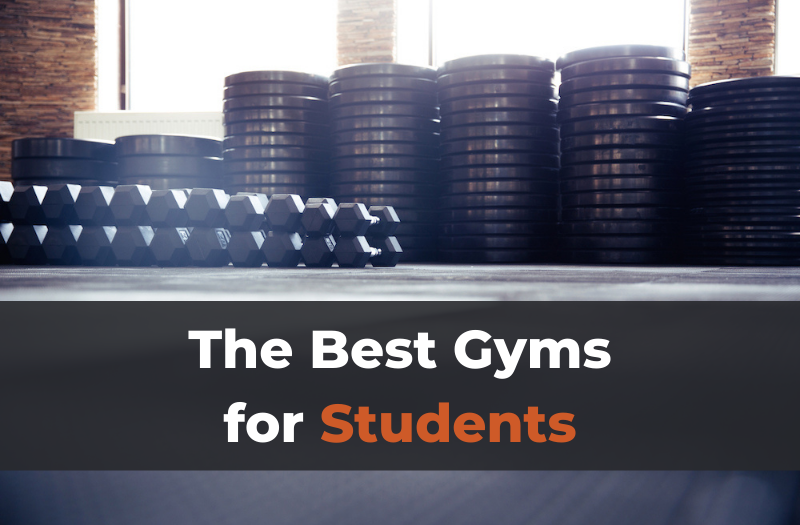 College students should look for gyms near campus (and there will be plenty) that offer 24 hour access for a low monthly fee.
You can skimp on high-end amenities for now in favor of keeping your budget in tact. So a few of the best gyms for college students are:
Planet Fitness
Gold's Gym
24 Hour Fitness
Snap Fitness
Crunch
Going to the gym is the perfect way to unwind after completing that 20-page essay, so here's what all you college students need to know about signing up for the best gym for you.
---
What college students should look for in a gym
College students may not have a ton of money handy.
Even if you work while going to school, that money may need to go toward other expenses, so it's beneficial to sign up for a membership that's manageable for your wallet.
There are several options out there where you can at least get a basic membership for as low as $10 a month.
You may even be able to pay less than that if the gym you sign up for offers student discounts (many of which do). 
Aside from that, it may work out well for you to find a 24-hour gym to frequent — it'll come in handy during all-nighters or if you find yourself working odd hours.
In between burning the midnight oil, you may need to run on a treadmill for a little bit to jumpstart your mind as you try to figure out what to write for your next essay about 19th-century literature.
Of course, most colleges and universities have some kind of campus gym — though your mileage may vary there.
If your school has an amazing campus gym, you might find it completely packed most of the time.
(Check my guide to avoiding peak gym times and crowds here.)
Smaller schools might offer gyms that are more on par with what you'd find at a hotel — and that just won't cut it for most folks who are serious about fitness.
Joining a convenient and affordable big box gym gives you a lot more flexibility when it comes to your workouts.
Look out for these big names near your campus.
---
Planet Fitness
Planet Fitness has garnered a reputation for being one of the most affordable gym chains around.
And it's not a lie. 
On the low end of the scale, you pay $10 a month to get access to cardio equipment, free weights, machines, and so much more.
You could also upgrade to the $20/month plan where you gain access to tanning beds and HydroMassage amenities. 
Still a great deal!
Not only is it incredibly affordable for college students, but Planet Fitness is also open 24 hours a day.
Even if you can only go late at night, the gym will be there for you.
On top of that, Planet Fitness is known to offer certain days of the month where members can go for free pizza for dinner and free bagels for breakfast.
As starving college students know all too well, free food is always a good thing, especially if you've already moved off-campus and no longer have a meal plan handy. 
Just watch out — Planet Fitness is a notoriously terrible place to lift weights or do strength training. They also don't have much in the way of group classes or other amenities.
But if affordable cardio is your main goal, you can't find a better deal than Planet Fitness.
(Read my full Planet Fitness review here.)
---
Gold's Gym
Gold's Gym locations tend to have more amenities than Planet Fitness and other budget gyms.
You'll get almost everything Planet Fitness has to offer, but with way more strength training equipment, and sometimes even pools and group classes.
These extra features come at a price with most memberships being around $40/month.
However, it's still worth considering for college students because a lot of these places offer student discounts, sometimes for as much as 50% off.
The exact amount varies by location, but you may be able to save a ton of money while getting access to more exercise options when compared to Planet Fitness.
This chain also stays open 24 hours a day at some locations —check your local club to ensure it works with whatever your class schedule may be.
(Read more here: Is Gold's Gym worth it?)
---
24 Hour Fitness
As the name suggests, 24 Hour Fitness is available every hour of the day and offers a good assortment of equipment.
You'll typically find a greater number of machines and weights available compared to something like Planet Fitness, so you rarely have to wait your turn.
It's a bit pricier for college students trying to save some money, but again, student discounts are available.
(They don't advertise it publicly, so you'll have to negotiate a bit.)
But all you have to do is walk into a location with your student ID card and talk to someone at the front desk about how much of a discount is available.
It varies by location (and some may not have it at all), but it's worth looking into. 
Outside of the discount, memberships usually cost between $30 and $40 a month.
That gives you access to an array of group classes and fitness consultations to examine how much you've progressed. 
(Read my full 24 Hour Fitness review here.)
---
Snap Fitness
Snap Fitness gyms are open 24/7.
Plus, you can receive a free personalized fitness assessment to determine what kind of regimen will help you attain your goals.
Memberships cost around $35/month depending on location.
Student discounts don't seem to be available here, but the one thing I did find is that a lot of deals and special rates often come into the picture.
For starters, the chain offers a 30-day trial membership where you only pay $8.95 for the month.
This allows you to make sure the gym is a good fit for you before committing. 
There are also occasionally deals where the company waives the $149 enrollment fee.
However, keep in mind you'll pretty much always have to pay the access card fee ($30) and program fee ($59). 
Snap is a smaller gym that's not usually considered the best deal around, but if you can get a good introductory price or a student discount, you'll find it less crowded than bigger names like Planet Fitness.
(Read my Snap Fitness review here.)
---
Crunch Fitness
Crunch, like Planet Fitness, is a great gym for most college students.
For just $10/month, you gain access to world-class equipment and personal trainers.
Crunch gyms aren't usually open 24/7, but they make up for limited hours with a low monthly rate. 
On top of that, there's always a ton of group fitness classes to choose from in case you want to jazz up your routine a little bit. 
A big rival of Planet Fitness, Crunch is usually considered the better choice (read more about Planet Fitness vs Crunch here) with classes and a better selection of equipment.
However, Crunch is harder to find and may not be available in your area.
(Read more: Is Crunch Fitness worth it?)
---
Wrapping Up
A lot of college campuses have their own gyms for students to use.
But even if you have one available, it may not be to your liking. 
Gym franchises give you access to classes and other amenities to make your workouts more enjoyable.
Plus, if you go to a particularly large university, then that gym may be packed pretty often.
Remember to look for budget gyms for the time being — you don't want to end up not being able to afford your membership down the road.
24 hour gyms are also a great fit for college students that keep late hours and want to avoid crowds.
Here are some other gym guides to check out before you go:
Hope this helps!