It's critical for all of us to remain active into old age, and luckily, the SilverSneakers program can make it a lot easier.
SilverSneakers is a fitness and health program covered by some Medicare plans. Note the use of the word "some."
The program has received complaints over the years as a result of eligibility issues. As such, it's important for you to check with your individual plan before canceling any current gym memberships you have.
SilverSneakers has said they are looking to rectify any discrepancies, but it's unclear if that's actually happened yet.
In the event you qualify for SilverSneakers, you'll need to find a nearby gym where you can access all of the benefits — in addition to using the app from home.
So what are the best gyms with SilverSneakers?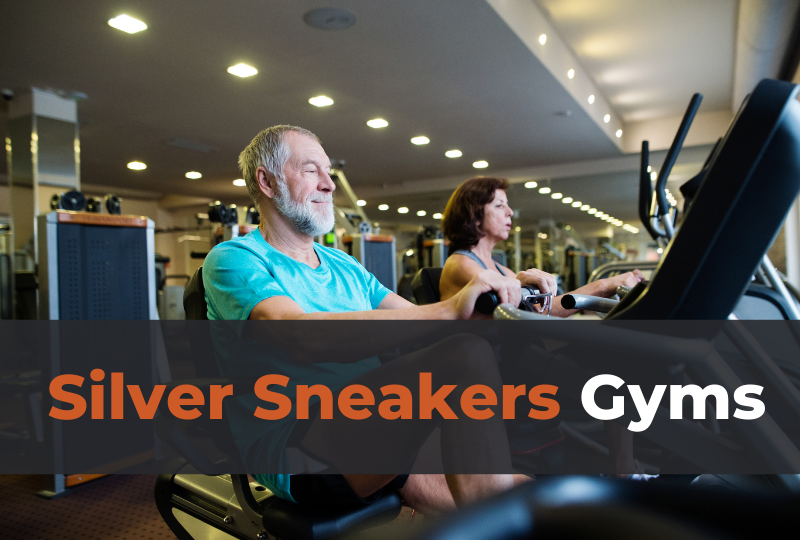 Here are the 5 best gym memberships to get if you're looking to enroll in SilverSneakers.
24 Hour Fitness
Gold's Gym
Anytime Fitness
Planet Fitness
YMCA
Staying active in old age has a host of benefits like improving fitness and balance to reduce falls. It helps ward off a host of diseases, like cardiovascular problems and diabetes.
And the benefits go on and on.
Let's take a closer look at how SilverSneakers can help seniors stay active and what gyms are your best bet for taking full advantage of the program.
---
Benefits to using SilverSneakers
At participating gyms, of which there are over 17,000 locations nationwide, you typically gain access to all of the gym's amenities via SilverSneakers.
Here are some other reasons why you should keep it in mind.
Price
SilverSneakers is completely free through the person's Medicare or health insurance policy.
However, the amenities and classes vary by gym.
Some may give you access to basic equipment and classes while others allow you to use everything under the roof.
You'll need to check with the gym you want first to see what all you can use.
Keeping active with the app
The COVID-19 pandemic showed the importance of staying active even when you can't make it to the gym.
Fortunately, you can work out anywhere you want now with the SilverSneakers Go app.
You gain access to workouts you can do at home and schedule classes at the gym of your choosing.
Very gentle workouts especially for rehabbing after surgery
SilverSneakers group classes are designed for individuals over 65 in mind.
They're designed to go easy on your muscles and joints, making them the perfect option for people who are recovering from surgery.
Gym services and amenities always vary by location, but here are 5 gyms worth looking into to see if you can enjoy your SilverSneakers benefits there.
---
24 Hour Fitness
Many 24 Hour Fitness locations offer services specifically designed for senior citizens.
This includes a wide variety of SilverSneakers classes.
The classic class allows you to move at your own speed while enhancing your overall range of motion.
Seniors can also access Zumba, yoga, and circuit training. Chairs can be provided for anyone who has trouble standing and moving for an extended period of time.
24 Hour Fitness gyms also typically have a ton of additional amenities, like pools and saunas, to help you unwind after working up a sweat.
Again, you'll want to make sure you can access those features with your SilverSneakers membership.
Your best bet is always to take a tour or call and speak to a human to find out for sure.
(Read more: Is 24 Hour Fitness Worth It?)
---
Gold's Gym
Gold's Gym also has SilverSneakers classic sessions available.
Trainees can utilize resistance balls, elastic tubing with handles, and handheld weights to further improve their muscular strength.
There's also circuit training available to seniors where you'll improve both your endurance and muscle strength.
The exact amenities will be different depending on the exact Gold's Gym you go to.
Some have pools, but you'll want to call ahead of time to ensure you can use it through SilverSneakers.
Some Gold's Gyms even have smoothie bars! After an intense workout, you can indulge in a healthy treat to boost your energy for the rest of the day.
(Read more: Is Gold's Gym Worth It?)
---
Anytime Fitness
Anytime Fitness now accepts members of the SilverSneakers program.
In the event you're a member of the Prime Fitness program, instead, you can also take advantage of a wide variety of services the gym has to offer.
Classes tend to cost extra at Anytime Fitness, but with SilverSneakers, all of the senior programs come free of charge.
On top of classes, Anytime Fitness also has personal training available, which can be a great asset for seniors.
If you haven't done any exercise in a while it's recommended to have someone guide you so that you don't overexert yourself and potentially get injured.
Anytime Fitness gyms are also known for their exceptionally clean showers and locker rooms.
(Read More: Is Anytime Fitness Worth It?)
---
Planet Fitness
Various Planet Fitness locations around the United States accept SilverSneakers.
If the one nearest you doesn't accept the program's benefits, then you'll at least be happy to hear that Planet Fitness is one of the most senior-friendly gyms around.
A basic membership only costs $10/month, and that gives you access to all of the basic amenities.
(You'll find tons of cardio equipment like treadmills and stationary bikes here.)
If you really want to splurge, then you can get a Black Card, allowing you to use HydroMassage and tanning beds.
Planet Fitness has a really great selection of resistance machines and circuits, which are terrific for helping seniors build strength and rehab injuries.
It's not a great place to lift heavy weights, but this shouldn't be a huge problem for most people age 65+.
(Read More: Is Planet Fitness Worth It?)
---
YMCA
SilverSneakers classes are also available through the YMCA — known as one of the best gyms for families and older adults.
This gym has a strong dedication to welcoming people of all ages, so you can be confident you'll meet others in your age group who want to stay healthy into their golden years.
The YMCA has also gone all-in on virtual classes via SilverSneakers, and there's an impressive breadth of equipment and amenities, including pools, you can typically access as well.
The Y offers lowered monthly rates for people who are at least 62 years of age.
While the exact cost varies by location, you can expect to spend $10 to $20 less per month compared to the regular adult membership.
(Read More: Is the YMCA Worth It?)
---
Wrapping Up
Anyone on Medicare owes it to themselves to look into SilverSneakers.
You've been paying into it your entire life anyway, so you might as well get something out of it!
It's worth mentioning again that you should contact a representative to see if your plan does, in fact, cover SilverSneakers before signing up at any gym.
Even if you want to use services that aren't included in SilverSneakers, you can still typically find discounted rates for seniors at most big box gyms.
Before you go, check out other worthwhile gym guides like:
Hope this helps!