Most Peloton riders either love Shout Outs…
… or they hate them entirely.
On the one hand, a Shout Out from your instructor during a Live Ride is thrilling, surprising, and can give you a big boost of motivation.
But if you're not interested in Shout Outs, it can be a huge distraction listening to your trainer go on and on about So and So's 100th ride!
So who are the best Peloton instructors for Shout Outs, and which instructors' classes should you take if you don't like Shout Outs?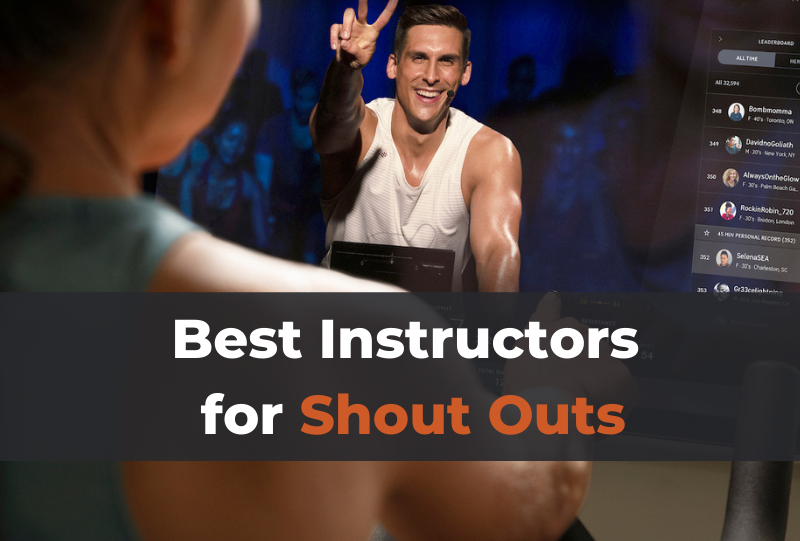 Take this list of the best Peloton instructors for Shout Outs with a grain of salt – it all depends on the ride, the day, your instructor's mood, and the circumstances — but here are a few good bets:
Hannah Frankson
Kendall Toole
Alex Toussaint
Olivia Amato
Read on for more, plus tips for getting more Shout Outs, and which instructors to take if you want to avoid Shout Outs.
---
Which Peloton instructors give the most shout outs?
Getting a Shout Out on Peloton can be really hit or miss — there's no guarantee you'll get one even if you're riding Live for your 1000th ride.
But it helps to stick with instructors who enjoy giving Shout Outs during class.
Based on my own experience and that of fellow Peloton riders, look for these instructors for your best chance of getting a Shout Out:
Hannah Frankson
Hannah is a really fun instructor, best known for her fantastic and eclectic playlists.
That makes her a great choice if you're looking for a Shout Out to celebrate a milestone ride, since she's guaranteed to have an interesting music offering queued up that day.
She's not known as one of the hardest instructors on the app, but her rides are challenging and well-designed, which sets up perfectly for PRs.
Kendall Toole
Kendall, on the other hand, is a brutally difficult instructor.
Her playlists are less eclectic than Hannah's, but she's your girl if you grew up on 2000's pop-punk like I did.
She's really entertaining and energetic, making her one of the funniest Peloton instructors around.
She loves to give Shout Outs during Live Rides so give her a try if you're celebrating a big milestone.
Alex Toussaint
Alex is a master motivator, part drill sergeant, part motivational speaker.
Frequent Shout Outs are just one way he gets everyone on the ride engaged and ready to go.
He'll push you hard, and he'll make sure you're staying grateful and positive even as your legs melt off of your body.
Give him a try for your 50th, 100th, or 500th ride.
Olivia Amato
Olivia is the most challenging instructor on this list and one of the hardest Peloton instructors overall.
She's extremely petite but she packs a wallop, with her average class clocking in at 8.35/10 difficulty.
Olivia is a little less chatty and funny than some of her peers, but she does occasionally like to include a lengthy Shout Out phase during her rides — usually while you're dying during a long effort or climb.
Take Olivia for a milestone Shout Out — if you dare to try to keep up with her.
---
Tips for How to Get a Peloton Shoutout
There's no guarantee you'll get a Shout Out from your instructor (and please don't send them angry messages if they overlook you!).
But there are a few things you can do to improve your odds.
Take one of the instructors above
Every instructor has rides where they give a lot of Shout Outs, and rides they don't — but the four above are pretty good bets most days.
Take live rides
Don't forget — you can't get a Shout Out if you don't ride live!
Pre-recorded classes will include Shout Outs from people who were digitally "there" while the ride was recorded.
Ride on your birthday and key milestones (50, 100, 200, etc.)
The better the milestone, the more likely you are to get noticed.
I hear a lot of Shout Outs for folks hitting their 1000th ride!
Show up early to class
Show up before the class starts to fill up.
Often, instructors will fill time by Shouting Out people waiting in the lobby for the ride to begin.
Just be aware, if you get there too early, your Shout Out might not be recorded for later.
Take less crowded rides
Riding at peak times means more people will join you during the Live Ride — which means it'll be harder to get noticed for a Shout Out.
If you can, ride at off-hours (during the day or later in the evening), or try some lesser known instructors whose classes don't get quite as full.
---
Which Peloton instructors give the least shout outs?
If you hate Peloton Shout Outs (and hey, I don't blame you — they can get annoying after a while!)…
… check out these instructors, who tend to give fewer Shout Outs overall:
Tunde Oyeneyin
Denis Morton
Christine D'Ercole
Instructors in this bunch will often either bunch their Shout Outs together ("Hey, congratulations if you're celebrating a milestone today")…
… or they'll do Shout Outs on Instagram Live/Stories as they get ready to start their class, or immediately after.
If you like to stay in the flow of your workout and don't want to hear about Joe Pelotoner's 1000th ride, try Christine, Denis, or Tunde.
(But again, they do give Shout Outs sometimes — it's impossible to completely avoid them on this app!).
For more, check out what to do if you think Peloton instructors talk too much.
---
Wrapping Up
Peloton Shout Outs are a fun little motivational tool.
If you like to ride Live, it can be an awesome jolt of energy and surprise when you hear your name called out by the instructor.
But don't worry so much about getting that recognition. Instructors usually have thousands of live riders to scroll through, so it's not personal if they overlook you.
Be proud of your own milestones and use that as your Peloton motivation to keep going!
Before you go, check out:
Hope this helps!