One of the best things about spin and cycling workouts is the way you can get lost in the workout — and lost in the music.
And if you ride at home with Peloton, you can choose from hundreds and hundreds of rides to find the perfect playlist for your style or mood.
While it all comes down to your own individual tastes, some Peloton instructors are known for better playlists than others.
Who are the best Peloton instructors for music and playlists?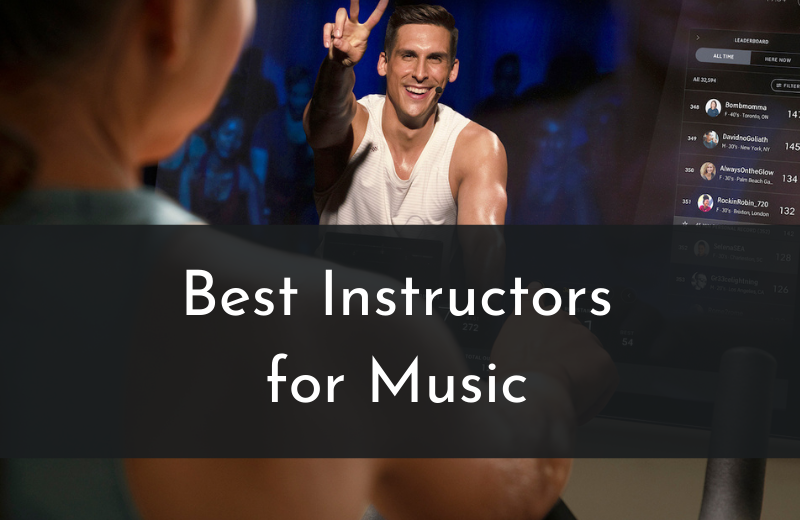 Some of the best Peloton instructors for music are:
Hannah Frankson
Cody Rigsby
Denis Morton 
Emma Lovewell 
Alex Toussaint 
Let's take a look at each of them, break down their musical stylings, and help you figure out which instructor might be the best fit for you.
---
Hannah Frankson
Playlist style:
Eclectic and expertly crafted
Tons and tons of variety
Hannah is a really popular Peloton instructor in extremely large part due to her amazing playlists.
If you have eclectic musical taste and like to mix things up a lot, you'll really appreciate Hannah's vibe.
Just a few of her recent rides as of this writing include:
2010s
Rock
Country
Hip hop
Funk
And more
Every Peloton instructor hops around between genres, but few do it as often or as well as Hannah. No matter what style she's rocking that day, she's known to make it work extremely well and adapts perfectly to each genre.
Stick with Hannah if you want to try out some different tunes — you'll be in very capable hands.
---
Cody Rigsby
Playlist style:
Pop and decades
Fun, fun, fun (and themes!)
Cody Rigsby is so insanely popular on Peloton that it almost approaches cult status.
Once you've taken a few of his rides, you'll see why.
Cody is a ton of fun. He's not the most challenging instructor on the block, but riders often PR in his class because they're so engrossed in the workout and they're enjoying themselves.
His unique brand of humor pairs perfectly with his playlists, which are often pop heavy or decade based (2000s, 90s, 2010s, etc.)
Expect fun themed rides from Cody like "Basic B*tch Bangers" and other playlists that'll have you bumping (and laughing).
---
Denis Morton
Playlist style:
Rock and country
All about the beat
Denis is famous for being one of the more low-key instructors.
He's not a drill sergeant and won't scream at you to pick up the pace, but when you're in the mood for a calming but challenging ride, he's your dude.
His music style is all about the beat, meaning, he's known for tightly matching the phases of his ride to specific songs.
You'll almost always be pedaling exactly to the beat of a Denis playlist, which makes his classes easy and fun to follow along with.
Most of his playlists are rock or country-based, but he branches out every now and then.
---
Emma Lovewell
Playlist style:
Eclectic
Pro DJ expertise
It's right there in Emma's Peloton bio — she used to be a DJ!
So if it's tight playlists you're after, you should definitely check out an Emma ride.
She also has a background as a dancer and loves to incorporate specific beats and rhythms into her classes.
As for her music choices, you'll get a lot of variety from Emma. She'll go from hip hop, to rock, to EDM and back again.
All of her playlists are expertly crafted, as you'd expect from a former DJ.
---
Alex Toussaint
Playlist style:
Hip hop & club
Beat-centric
Peloton riders love Alex Toussaint workouts.
He's got just enough military drill sergeant in him to bring out your best, but with plenty of warmth and encouragement along the way.
His playlists aren't to shabby either if you're into hip hop and club music, in particular, though occasionally he'll dabble in pop or decades playlists.
Alex is also known, as a few other instructors are, for tailoring his classes to the beat of his songs.
Most instructors strive for this, but some are better than others at it, and you should expect Alex's classes to be extremely tightly programmed.
It's why they're so engaging and conducive to new PRs!
---
Wrapping Up
Some Peloton instructors are better known for their music and playlists than others, but choosing the right workout is all about your mood and personal taste.
It's good to branch out and experiment with different music styles for your workouts, but it's also worth finding an instructor who really specializes in your preferred genre.
For hip hop, go with Alex Toussaint. For upbeat pop, Cody Rigsby is your guy. For classic rock and country, try Denis. 
And for something different every time, you'll absolutely love Hannah and Emma.
Before you go, check out:
Hope this helps!