Is Peloton just for women?
Not a chance!
No matter what your style, there's a workout and an instructor for you on the app.
For example, men (single guys, husbands, boyfriends, it's all good!) might be looking for something a little different on Peloton than female riders.
You might want a business-like, bootcamp style workout. Or maybe you're looking for a cheerleader to coach you into shape through encouragement and inspirational words.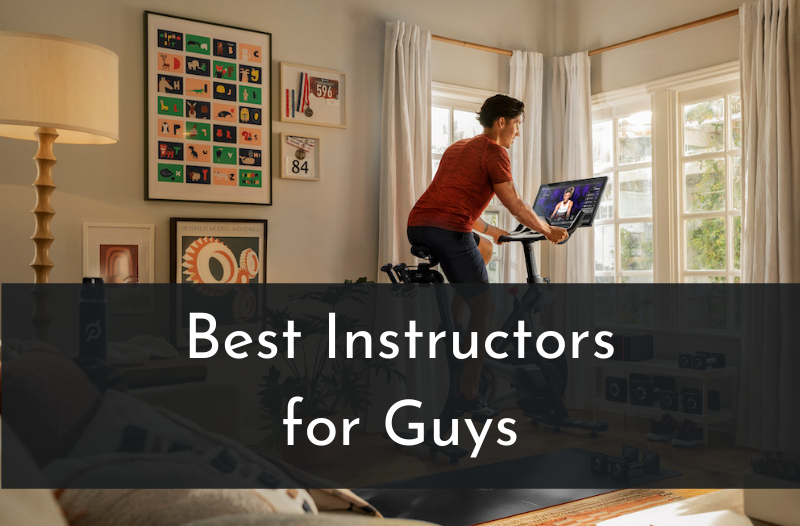 Here are 5 of the best Peloton instructors for husbands, boyfriends, and men in general:
Alex Toussaint
Kendall Toole
Denis Morton
Olivia Amato
Jess King
Let's take a look at each of them and what makes them a good fit for guys getting started on the Peloton.
---
Alex Toussaint
Teaches:
Style:
Tough rides
Drill sergeant vibes
Focus on gratitude
Alex Toussaint, a senior fitness instructor with Peloton, teaches primarily cycling — but you'll occasionally find him leading a strength class like arm toning or core.
He's tough and business-like, with a military background that injects a little bit of drill sergeant into his workouts.
Rumor has it Alex is a favorite of professional athletes who ride with Peloton — like Cam Newton, Patrick Mahomes, Rory McIlroy, and others.
A lot of guys like Alex because he'll push you hard during his Peloton spin classes — with a lot of enthusiasm and encouragement — but he'll kick your butt when he has to.
Tons of people claim they PR most frequently while taking Alex's classes.
(Alex is also one of the most motivating Peloton instructors — click to see the whole list!)
---
Kendall Toole
Teaches:
Style:
Extremely difficult classes
Heavy on motivation & encouragement
Rock and roll vibes
Kendall is another favorite of Peloton-ers because her classes are TOUGH.
She might not be the best fit for beginners, but when you're ready to really push your limit, guys will appreciate her brutal workouts.
(Even some advanced rider find them too hard.)
While the workouts are extremely challenging, Kendall is known as a great motivator. Her style is encouraging and warm, but firm.
Kendall hosts new cycling classes frequently and you'll find her rocking out to rock or metal playlists.
---
Denis Morton
Teaches:
Style:
Mellow
Dry sense of humor
Approachable workouts
Denis is a fan favorite because he's a lot more laid back than your typical Peloton instructor.
That's not to say his workouts are easy! But they tend to be approachable and his yoga background really comes through during class.
Expect his rides to be approachable for all levels while still challenging.
But people really like Denis' mellow personality and extremely dry sense of humor.
One rider on Reddit wrote that they liked taking rides with Denis when they felt like having a beer on the patio, but knew they should work out instead!
---
Olivia Amato
Teaches:
Cycling
Tread Running & Walking
Strength
Cardio
Style:
HIIT & Power Zone heavy
Sweats with you
All business
As a guy, Olivia is my personal favorite Peloton instructor — she's my go-to for floor and bike workouts.
Olivia is in insane shape, even for an instructor, and one of the things riders love about her is that she tends to really push through the whole workout with you.
She doesn't just sit there calling out cues — she'll get winded and sweat right along with you!
Her style is business-like, with just a few nuggets of motivation here and there. But her instructions are crystal clear.
Her workouts are tough, and you'll especially find her leading a lot of HIIT and Power Zone workouts, but most of her stuff is approachable enough for beginners.
---
Jess King
Teaches:
Cycling
Tread Running & Walking
Style:
Performative and dramatic
Inspiring
Playful
Jess King is one of the most popular Peloton instructors, bar none, and she's a great fit for men looking to get started on the bike or treadmill.
She's not necessarily the right fit for everyone, but if you're looking for an entertaining instructor to keep your mind off the tough workout, Jess is your girl.
She loves to dance, sing, tell jokes, share stories, and share her playful personality during her classes.
As far as the workouts, expect a wide range of classes from beginner-friendly to advanced challenges. She's not known as the most brutal Peloton instructor out there but she does lead plenty of difficult sessions.
---
Wrapping Up
If you're a man just getting started with Peloton, it's really important that you try out a bunch of different instructors.
The list above is a good starting point and chances are you'll love at least one of these teachers, but the truth is — there are no "instructors for men" or "instructors for women."
All of the coaches on Peloton can give you an incredible workout, and it's good to build up a roster of diverse teachers you can pick from depending on your mood.
A lot of men who do Peloton love Alex Toussaint for his combination of drill sergeant intensity and positivity, and I personally love Olivia Amato's relentless determination.
Try them all out and keep Peloton-ing!
Before you go, don't miss:
Hope this helps!