Peloton is most famous for its bike and incredible cycling workouts.
But the Peloton tread is gaining steam fast.
With on-demand classes just like the bike, the Tread and Tread+ let you pair killer running workouts with floor exercises for a one of a kind at-home workout.
If you're new to Peloton, or at least new to running workouts, choosing the right instructor can make all the difference.
So who are the best Peloton instructors for running?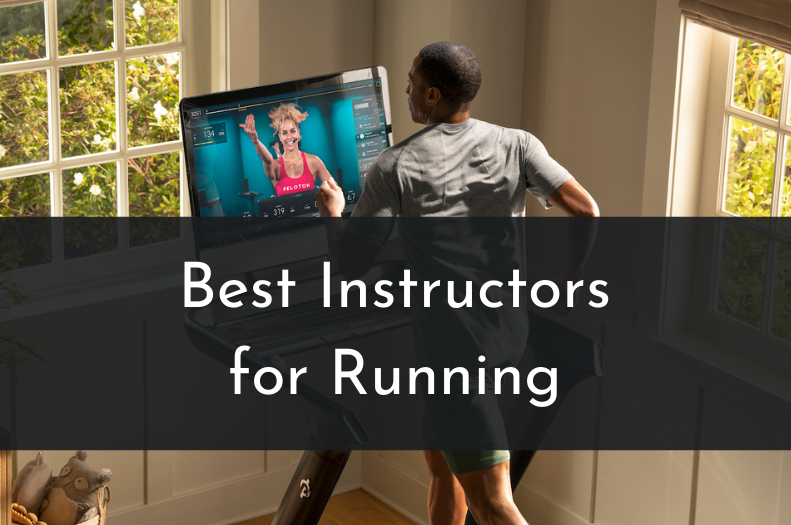 Some of the best Peloton instructors for running and tread workouts are:
Olivia Amato
Chase Tucker
Jess King 
Matt Wilpers 
Becs Gentry
Let's take a look at each of them, break down their running and coaching style, and help you figure out which instructor might be right for your first couple of runs.
---
Olivia Amato
Style:
Intense
No-nonsense
Accommodating
Olivia is one of my favorite all-around instructors and she's usually my go-to for bike and floor workouts.
Turns out, she's one of the best and most popular tread instructors on Peloton, too!
Her signature style is intense. Olivia workouts are known to be brutally hard, with little rest or forgiveness.
She's particularly big on interval, HIIT, and Power Zone training.
Olivia's runs are no different. Expect them to be some of the hardest around, and don't expect a lot of breaks while she waxes poetic or dishes out motivational stories — she's all business during her classes.
Peloton-ers love that Olivia's tread runs are great for outdoor runners too and can easily be modified.
---
Chase Tucker
Style
Motivational and inspiring
Strength-minded
Hip hop playlists
Chase Tucker is one of the most beloved running instructors on Peloton.
People gravitate toward his workouts because Chase is a natural motivator — he's super engaging and you'll likely find you PR frequently during his classes because you're so in the zone.
Chase is also one of Peloton's top strength coaches, so if you're looking to combine tread with floor work, he's your guy.
Try his Tread Bootcamp classes for a full-body running and strength workout that'll leave you drained — and stronger!
(Learn more about the results you can get from your Peloton.)
---
Jess King
Style:
Playful
Storyteller
EDM playlists
Jess King is an acquired taste — but she has a huge following as a cycling instructor on Peloton.
And now she's bringing her talents to the tread world.
People who love Jess love her because her workouts are flat out fun. She's playful and flirty. She loves to dance and sing during her classes.
She tells bizarre and hilarious stories about her life, with dollops of inspiration and motivation layered throughout.
Her running workouts are no different.
Don't expect her to be the most buttoned-up running coach when it comes to breath and form, but if you just want to get completely out of your head and become immersed in a run, she's your gal.
---
Matt Wilpers
Style:
Distance running background
Excellent coach on breath and form
Well programmed runs
If you're serious about your running training, you'll want to check out a few Matt Wilpers workouts.
He has a distance running background and is best referred to as a running coach on Peloton.
People love him because of his technical prowess. Expect spot-on forms on your running form and a heavy focus on breathwork during long runs.
You'll improve dramatically as a runner if you stick with his classes.
---
Becs Gentry
Style:
Distance running background
Detail oriented running coach
Incredible motivator
Great for outdoor runs
Becs Gentry comes up again and again when you ask people about their favorite tread instructors.
Becs, like Matt Wilpers, is an extremely accomplished distance runner — and is even preparing to attempt to qualify for the Olympics as of this writing!
So she clearly knows her stuff. Expect top notch run coaching from her during class, from breath to form — you'll improve dramatically in all facets of your speed and distance running working with her.
She's also known as a great motivator, with a lot of people gravitating toward her classes for her ability to push them into PR territory.
---
Wrapping Up
When you're running on the Peloton Tread or outside using the audio-guided classes, Peloton has a ton of amazing running instructors.
I didn't list them here, but Robin and Selena also come up frequently in this discussion and are well worth your time.
People tend to love Becs and Matt Wilpers for detailed running instruction and improvement.
Try Jess King for a fun and playful session, or Olivia for a brutal intervals workout.
Pick a Chase Tucker class for a great all around experience.
Try them all and find your own favorites!
Before you go, don't miss:
Hope this helps!