So… you're ready for a challenge, huh?
Maybe you've had your Peloton for a while, or maybe you're new to Peloton but already an accomplished spinner.
Either way, you're ready to take on some of the hardest and most challenging classes and instructors on the app.
The good news is… almost any instructor can run you ragged. But some specialize more in beginner and intermediate classes, while others seek to slay you each and every workout.
Let's take a look at some of the hardest trainers out there, specifically for cycling — though many of them run great treadmill and floor classes, as well.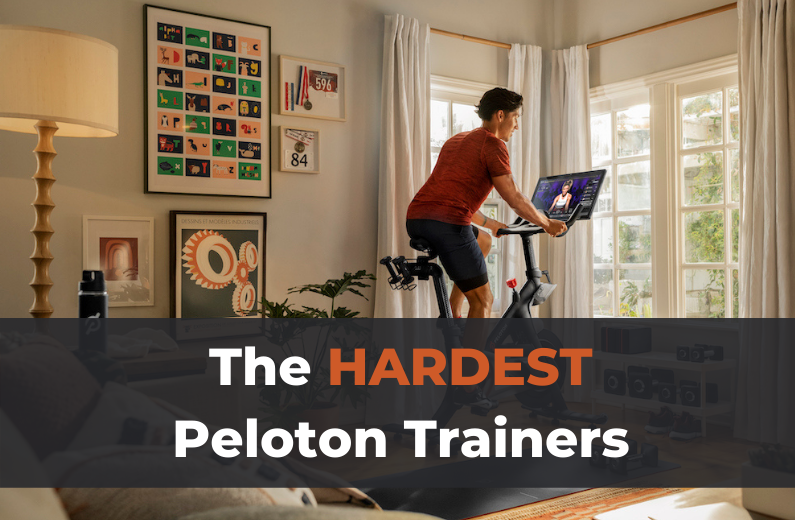 Here are some of the hardest and toughest Peloton instructors (in no particular order):
Ally Love
Robin Arzón
Olivia Amato
Kendall Toole
Tunde Oyeneyin
Alex Toussaint
| | | |
| --- | --- | --- |
| Instructor | Teaches | Style |
| Ally Love | Cycling, barre | High-energy, playful, HIIT & Tabata rides |
| Robin Arzón | Cycling, running, strength | Tough-as-nails motivator, has some good advance beginner rides |
| Olivia Amato | Cycling, running, strength | No nonsense, very little rest & recovery |
| Kendall Toole | Cycling, strength | Killer playlists, brutal hills & long rides |
| Tunde Oyeneyin | Cycling, strength | Powerful motivator, lots of HIIT & Tabata |
| Alex Toussaint | Cycling | Tough love; R&B, hip-hop, and club tracks |
Let's take a look at each of these trainers and what makes their classes so challenging.
---
Ally Love
Reddit user figandfennel recently took some basic Peloton data and came up with an average difficulty level for each instructor.
It's a pretty handy chart! Check it out here.
According to this user's research, Ally Love's average class clocks in at an 8.25, matching her reputation as one of the most brutal instructors on the app.
It's common to find Ally teaching HIIT & Hills rides and Tabata rides (Tabata is an especially difficult and unforgiving variation of HIIT) — and you won't find a ton of low impact or beginner rides on her list.
Difficulty in the low 7s is about as easy as Ally goes, with a lot of her top rides coming in at a staggering 8.7 or above!
---
Robin Arzón
With an average ride (according to unofficial Reddit data!) of around 8.21, you'll find plenty of classes with Robin in the 7 difficulty range.
She's a good fit for intermediates and advanced beginners.
But on selection occasions, she'll seek and destroy!
Look for Robin's HIIT rides and you'll find they pack a whallop, usually clocking in at 8.5 or above.
Regardless of the hard numbers, Robin repeatedly comes up when you ask Peloton-ers about the hardest instructors on the app — so watch out, her workouts might take you by surprise.
---
Olivia Amato
Olivia is famous for being one of the toughest instructors on the app, on the bike, tread, and floor alike.
Her workouts are unforgiving and action packed, with very little rest and recovery.
And she's right there with you the whole time, sweating and putting in the same work you are!
She's the highest-rated active instructor (as of this writing) on the unofficial Reddit list with an average class difficulty of 8.35.
You'll be really hard-pressed to find any classes with Olivia under an 8.0 in difficulty — and if you seek out her HIIT, Power Zone, or hills classes, well, you better be ready to really work.
---
Kendall Toole
Kendall is known for fun workouts and rockin' playlists, but don't let that fool you.
She's one of the hardest cycling instructors on Peloton.
According to average difficulty data, a typical Kendall class comes in around 8.28.
If you love HIIT, or HIIT & Hills rides, you'll love riding with Kendall. Expect these rides to be some of the hardest around, even when they're only 15 or 20 minutes.
It's not rare for a Kendall ride to be 8.5 in difficulty or above, and you'll rarely find her running beginner or low impact sessions.
---
Tunde Oyeneyin
Tunde has quickly developed a reputation as one of the fiercest Peloton instructors around.
Look for her HIIT and Tabata workouts for an absolutely brutal cycling session — these rides are usually 8.5 or higher in difficulty.
The average Tunde class according to informal data seems to be around 8.12, but she does a few more beginner rides than most of the instructors on this list — which brings the average down a smidge.
Any non-beginner or non-low impact Tunde ride is guaranteed to kick your butt.
---
Alex Toussaint
After originally publishing this article, I had a lot of people reach out to me, and they all said the same thing:
Where's Alex?!
Well, here he is!
He is undoubtedly one of the most difficult Peloton instructors and well-deserving of a spot on this list.
His style is tough love. He's hard on his riders and his rides are always challenging, but he's a great motivator who can get anyone to work hard.
The typical Alex ride is over 8.0 in difficulty, but he does offer a handful of beginner classes which brings his overall average down a little bit.
Look for his Club Bangers, New Tracks, and Ride to Greatness classes for a serious challenge.
---
Who are the hardest Peloton instructors for tread, strength, and more?
I originally wrote this article about the hardest cycling instructors and classes on the Peloton.
Since then, they've really expanded their catalog of classes! In fact, there's now a TON of tread/running/hiking classes along with rowing classes, bootcamps, and more.
If you're into running on the tread, the hardest instructors will definitely be Olivia Amato, Marcel Dinkins, and Robin Arzon. Any one of them is a great bet to totally kick your butt!
If you're into core and other strength classes, the hardest teachers will be Olivia (again!), Jess Sims, and Robin Arzon (again!).
A newer Peloton instructor to look out for is Camila Ramon — she offers really tough cycling and strength classes. So if you're looking to mix things up from some of your old favorite tough instructors, I highly recommend Camila's classes.
But again, ALL the instructors are great, and they all offer classes that run the gamut from easier to harder. You just have to find whose style you mesh with best and then dial in to the right classes for your fitness level and goals.
---
Wrapping Up
Every active Peloton instructor has plenty of difficult classes for advanced riders.
However, some tend to offer more low impact and beginner rides, and others seem to have a knack for higher intensity workouts.
The names above come up over and over again when you ask Peloton owners about the hardest instructors, and if you sort all Cycling workouts from Hardest to Easiest, these names appear at the top frequently!
Just make sure you're really ready before you take that 8.7 or 9+ Peloton class — they're no joke!
Pushing too hard before you're ready is a good way to get yourself injured.
For more, check out:
Hope this helps!