You couldn't hold off any longer — so you broke down and bought a Peloton.
And now, after the sizable investment, you're determined not to let your beautiful bike become a $2000 piece of decorative furniture.
What you need is some good Peloton motivation to keep you going.
After the initial excitement has worn off, what are the best ways to keep yourself motivated to workout on the Peloton? How do you prevent skipping workouts or getting bored and giving up?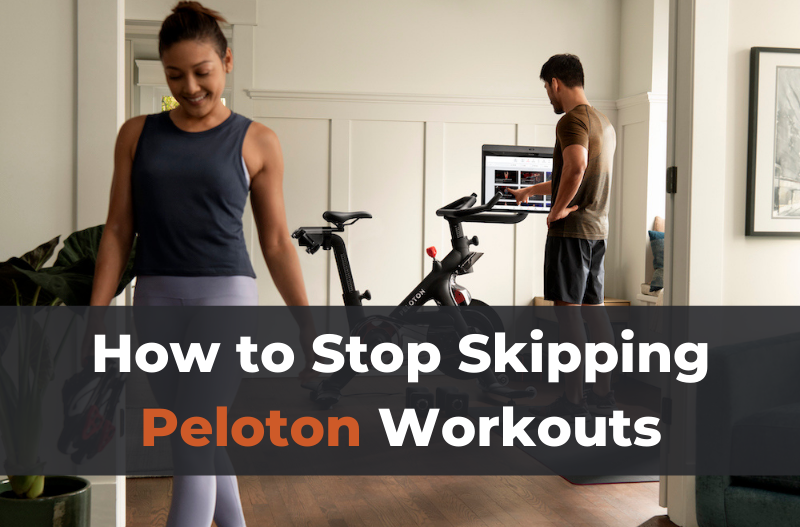 Here are a few ideas you can try to keep your Peloton motivation high:
Try a new instructor
Break your plateaus
Take easier rides
Take harder rides
Take funnier rides
Try some live rides
Don't ignore Peloton floor classes
Set good performance goals
Make some Peloton friends
Redesign your Peloton space
Get competitive
Track your progress
Treat yourself to new workout gear
Let's take a closer look at each of these tips and get you excited to hop back on the bike!
---
1. Try new instructors frequently
There are around 3 dozen different instructors on the Peloton app (if you include strength, yoga, and other floor classes).
That means there's something for everyone, whether you like silly, serious, low key, or drill sergeant vibes!
After your first Peloton ride, and a handful after that, you'll probably settle in with your favorite couple of instructors.
But to keep boredom at bay, I highly recommend you try new instructors regularly for a change of pace.
Try some of the best Peloton instructors for music and cool playlists, the best instructors for guys, or just pick someone random for a fresh style of workout.
---
2. Break plateaus with Power Zone training
Early on in your Peloton journey, you'll hit PRs (personal records) with frequency and ease.
But after a couple dozen rides, you'll find PRs much harder to come by and you may find yourself in a bit of a rut or plateau.
This can wreak havoc on your motivation to workout if left unchecked.
One way to defeat plateaus is to try Peloton's Power Zone rides — they're highly customized rides that challenge you in specific output zones to increase your performance.
Read more about Peloton Power Zone Training here.
---
3. Take some easier rides (or take a break)
If you've been pushing hard on the Peloton for a while, your body may need a break to recover.
When you're sore and struggling to hit new PRs, it can be a real challenge to make yourself workout on the bike.
There's no shame in taking a beginner ride, a recovery ride, or a low impact ride just to keep the legs moving without taxing your body so much.
And hey, sometimes you just need a couple of days completely off!
You'll come back stronger after a few days of leisurely walks and stretching.
---
4. Take some harder rides
On the other hand, if you're feeling a little bored with the Peloton, maybe like you're going through the motions, it might be time to kick things up a notch.
Try a ride that's harder than your usual workouts.
The shock to your system might humble you and inspire you to get back to work.
Check out the hardest Peloton instructors here for some ideas on how to get started.
---
5. Take some funnier rides
If you're not enjoying your Peloton workouts, you'll struggle to stick with the program long term.
Instead of your usual rides, try one of the funniest Peloton instructors to get a completely different experience.
The gold standard here is Cody Rigsby — you'll have so much fun laughing at his jokes and rants that you'll completely forget you're exercising.
---
6. Try a live ride
One big difference between Peloton and spin class is the lack of accountability on the home bike.
If you don't show up, who's going to know?
One way to get around this is to pick a live ride and commit to yourself that you're going to do it.
Of course, you can still skip it without consequence — but you won't be able to tell yourself you'll do it later.
If you do blow off the live class, it's not going to feel good.
Plus, the live classes are fun and have a unique energy to them that's sure to motivate you.
---
7. Don't ignore floor classes
If you're hooked on the Peloton bike, that's great.
But don't forget that the strength, yoga, and other floor classes on the app are some of the best in the business.
I love to hit a tough core workout on days I'm not cycling.
If you work in regular strength workouts along with your spinning, your performance will likely improve over the long term.
Plus, it's known to be fun and motivating when you introduce more variety into your workouts.
---
8. Set SMART goals
Checking exercise of your "To-Do" list can only keep you motivated for so long.
To take things to the next level, you need a good fitness goal to strive for.
SMART goals are best — that's Specific, Measurable, Achievable, Relevant, and Time Bound.
"Get in better shape" is not a SMART goals — there's no way to measure it and no urgency to achieve the end result.
"Achieve a 30 minute PR of 200 in the next 4 weeks" is a better goal — it's specific, customized to your previous performance, and inspires action to force you to get to work.
---
9. Make some Peloton friends
Having a workout parter or accountability buddy is one of the top ways to stay motivated to workout.
On the Peloton, you can replicate this digitally.
Reach out to your friends on social media to see if you know any other Peloton owners, then follow each other, compete, and try synced rides together.
If you don't have any IRL Peloton friends, join some Peloton communities to make some new ones and feel more connected.
---
10. Improve or redesign your Peloton space
We keep our Peloton in the garage, and to be honest, it's not always the greatest workout environment.
If you're struggling to stay motivated on the Peloton, consider improving or redesigning your Peloton room or space.
Try:
Hanging lights
Putting up motivational posters or pictures
Hiding clutter and debris
Getting a workout gear organizer
Re-orienting which direction your bike faces
Make your workout space as inviting as possible!
---
11. Get competitive
During any ride, you can push yourself against your previous PR and you can chase down whoever is ahead of you on the leaderboard.
But for an extra push, look out for Peloton head-to-head competitions where you can join a team and compete against a rival squad.
These competitions aren't always available, but it's a huge boost knowing your team is counting on you to show up and give your all.
---
12. Track your progress with photos
The Peloton can deliver some truly amazing results if you put in the effort.
But sometimes it can be hard to see the fruits of your labor.
As with any workout regimen, it helps to take regular photos of yourself as you make progress.
Whether you're looking for weight loss or trying to tone up those legs and abs, you won't always see the daily difference in the mirror.
Take photos every day and look back at where you started to feel some pride and motivation.
---
13. Buy some new workout or Peloton gear
You know what they say — look good to feel good!
Sure, riding the Peloton at home means you can work out in your pajamas if you want.
But if you need a boost, treat yourself to some new workout gear.
Get some high quality biking shorts, some new tank tops, or a fresh pair of shoes.
It'll inspire you to get back on the bike if you're in a rut, and if not, at least you'll look good!
---
Wrapping Up
The great thing about the Peloton is that it eliminates a lot of excuses people have for not working out.
There's no commute, no set schedule to stick to, and no reason not so who up.
But you still have to do the hard part yourself — that means showing up regularly and pushing hard.
Mixing up your workouts frequently, trying new instructors, and stoking your inner competitor can really help you stay motivated on the Peloton.
For more guides, check out:
Hope this helps!