If you've just joined the Peloton family…
(Okay, maybe it's more like a cult. But the good kind.)
… congratulations!
The Peloton really does live up to the hype — it saves you a ton of time, eliminates your old workout excuses, and can even save you money versus spin class in the long run.
But if you're a Peloton beginner, you have a lot to learn to have an awesome first ride.
Get your first Peloton ride off on the right foot with these crucial beginner tips from Peloton experts and enthusiasts (and a few of my own ideas as a real Peloton owner).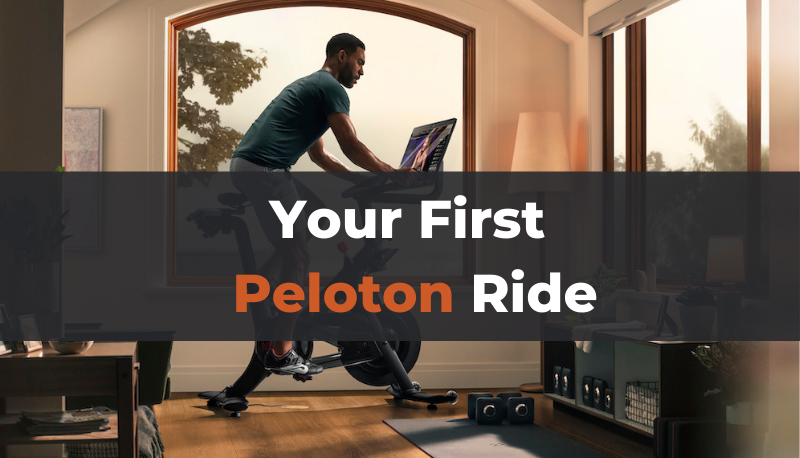 If you're in a hurry, here's a quick list of beginner tips for your first Peloton ride:
Put your Peloton on a good mat
Level the bike and let it settle into the mat
Buy padded bike shorts for your first rides
Leave your shoes clipped in to save time
Hydrate, eat a healthy snack & wait 1 hour
Use Power Zone training to set a performance baseline
Try an All For One ride to sample all the instructors
Start with a 15-20 minute ride
Learn the Peloton terminology
Take a song off to recovery during the ride
Hide the Peloton leaderboard
Have fun!
Stretch or cool down at the end
---
Basic Bike and Shoes Set Up, and Other Pre-Ride Tips
Your Peloton install crew should take care of most of the set up on day one, but there are a few things to keep in mind before you ride for the best experience possible.
1. Put your Peloton on a good mat
The delivery crew probably clued you in, but just in case…
It's not ideal to place your Peloton directly on a hardwood, carpet, or tile floor.
Some riders claim you don't need the mat, and that it's just there to soak up any sweat that falls off during your ride.
But a good mat under your Peloton bike will save your floor from scratches and impressions from the bike and from your cleats.
Peloton sells its own official mat, which works great, but you can get a much more budget friendly option on Amazon.
2. Get the bike leveled & let it settle
Again, your delivery crew will likely help you with this before they leave.
But prior to your first Peloton ride, make sure your bike is sitting level on the mat.
Lauren Levy O'Brien, a self-admitted Peloton enthusiast, says:
"It can be tricky to get your bike leveled so that it doesn't wobble
while you ride it.
"The best way to fix this is to lie with your face on the floor (yes really) so you can see which stabilizing knobs are flat on the ground and which have air space underneath."
She also recommends waiting a few days after setting up the bike, adding that it will naturally sink into the mat and level out.
Once it's mostly level, you can go ahead and do your first ride — but if it wobbles a bit, there's a good chance that will settle out over time.
3. Buy and wear padded bike shorts
If you're new to cycling or spin class, beware:
Your butt will hurt after your first couple of rides!
It's natural as you adjust to the seat.
One pro tip from Jennifer Hill, a Peloton rider of over 3 years, is to buy padded cycling shorts.
"Padded shorts (not a seat!) with no underwear is the way to go for
beginners, especially if you're not a cyclist," she says.
4. Leave your shoes clipped in the bike if you're having trouble
Clipping your shoes in and out of the bike can be really frustrating as a beginner.
There's truly nothing worse than getting all psyched up for a ride and then fighting with the cleats for a solid 10 minutes.
If you're having difficulty with the shoes, there are lots of adjustments you can make, but here's the easy pro tip:
"If you're feeling frustrated or you're in a rush to get a workout in, just leave your shoes clipped into the bike," says O'Brien.
"When you're done riding, undo the velcro, and pull out your feet."
5. Hydrate well & don't eat for about an hour before your workout
Peloton is a cycling workout, after all, and it's not that different than going to spin class.
When I interviewed cycling instructors about tips for your first spin class, they all told me to be mindful about eating before class.
A healthy meal or snack for energy before your ride is great, but give your stomach at least an hour to settle before an intense workout.
---
Choosing Your First Ride & Instructor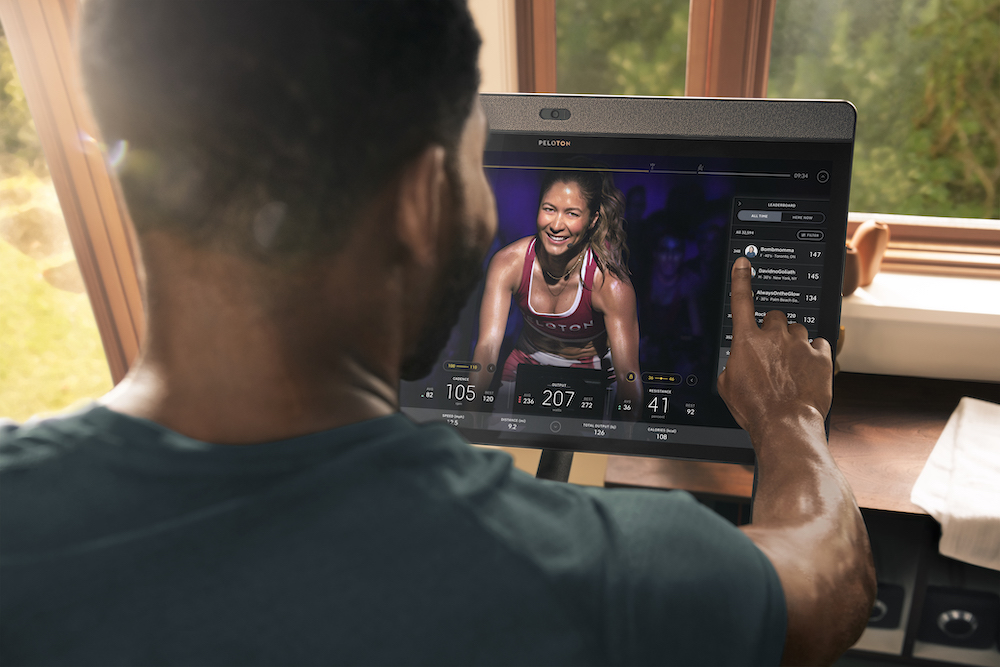 Alright, so the bike is set up and you're ready to go.
Now the fun part — choosing your first Peloton class!
There are a lot of options here so let's take a look at some tips that will help you make the decision.
6. Take a Discover Your Power Zones program
Personal trainer and cycling instructor Mandie Stachour says if you're serious about your training, you should invest some time in Peloton's power zone features.
Power Zone training on the Peloton starts with a test that measures your output and performance, and then guides you through specific training to increase those metrics.
It's a more structured and precise way to train and improve performance versus just doing different rides on your own.
Stachour says to look for Matt Wilpers programs here:
"I cannot recommend strongly enough that every new indoor cyclist take the Discover Your Power Zones program on the bike FIRST.
"Matt Wilpers' coaching is relevant for every level, but especially for newbies. His instructions set every rider up for success."
There's an instructor (or several) on Peloton for everyone.
You might end up finding one favorite you stick with all the time, or you might rotate through a few different ones depending on your mood.
7. Or try an All For One ride
It's overwhelming at first to sort through so many instructors, so my best advice is to try an All For One Ride.
These are special rides you can find on the app where all the Peloton instructors rotate in for a song or so.
It gives you a little flavor of all of them so you can see who you like.
After your first Peloton ride, try a bunch of different instructors to get a better feel for the ones you really love.
For more on this, check out the:
8. Start with a 15-20 minute class with music you like
If you're a total Peloton or spin class beginner, your first ride should be 15 or 20 minutes
30 and 45 minute rides are fantastic, but they're pretty long and challenging — even the easier ones!
You'll build up to them quickly, but start with shorter classes to get your sea legs under you.
(Just know that advanced 15 and 20 minute classes can be brutally hard — start with Beginner rides!)
9. Know the Peloton terminology
You'll pick it all up as you go, but here are a few terms you need to know when browsing classes:
Low impact – Little to no time standing or "out of the saddle," generally considered easier rides
Beginner – Low difficulty rides geared toward beginners
Advanced Beginner – These are a step up from Beginner rides and can actually be quite tough!
Arms – These rides include sections of arm training using the light Peloton weights
HIIT – High-intensity Interval Training rides feature short bursts of intense effort followed by quick recovery periods
Hills – Expect lots of climbs in these rides — meaning high resistance, low speed
Tabata – Tabata is a particular brand of HIIT with extremely short rest periods, known to be very intense
And during your first ride, here are a few more terms and Peloton lingo you need to know:
PR – Personal Record. Peloton will track your performance and you'll have a separate PR for each class length.
Saddle – The seat of the bike. In or out of the saddle refers to sitting and standing, respectively.
Resistance – How difficult it is to pedal on the bike. The red knob on the lower part of the bike controls the Resistance, and it shows up on the right side of your screen.
Cadence – How fast you're pedaling. Your cadence number shows up on the left side of the screen.
Output – A combination of Cadence and Resistance that approximates your total level of effort. Classes don't usually call for a specific output — rather, instructors cue cadence and resistance.
---
Tips for Crushing Your First Ride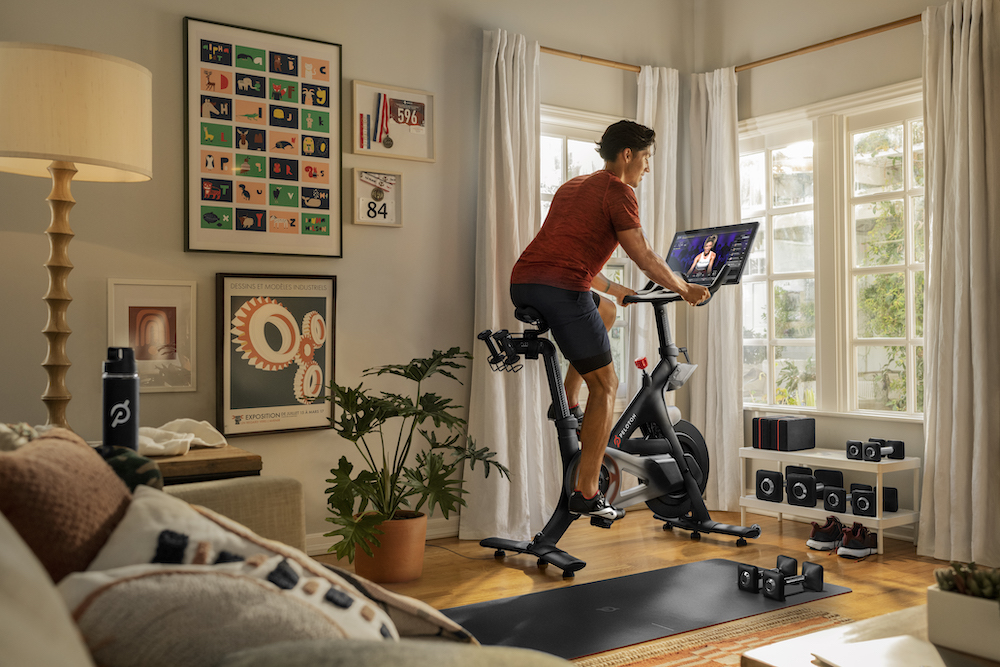 You've set up the bike.
You've chosen your first class.
Now let's get to work!
10. Take songs off
Don't go too hard too fast on the Peloton.
As a beginner, you'll hit PRs nearly every time you ride (though later on, they become harder to come by!).
If you're struggling during your first ride, you won't go to jail if you don't follow the instructors cued cadence or resistance.
Drop down the resistance to the 20-30 range and pedal it out for a song or so until you recover and feel ready to push again.
You can aim to beat your performance next time — but not if you injure yourself pushing too hard.
11. Turn off the leaderboard
If you're really competitive (and most of us are) you'll wind up staring at the leaderboard for a majority of the ride.
It can be a little disheartening when you see that you're in the bottom 10% of performance compared to the thousands of people who have taken the class.
Either way, or you'll end up pushing way too hard to climb the board!
Feel free to hide the leaderboard and just focus on your own ride, especially when you're just starting out.
12. Have fun
Peloton rides are a terrific workout, but the reason it has a cult-like following is because of how fun it is.
Pick a ride with your favorite style of music, or a fun nostalgic playlist. Try one of the funniest or most entertaining instructors on the app.
And just try to enjoy your workout without too much pressure to PR or burn a million calories.
There's always time to push harder next time.
13. Stretch or cool down at the end
Especially as a beginner, proper warm ups and cool downs are really important.
Every ride ends with about 1 minute of cooldown and a minute or two of stretching.
But for the best recovery, take a 5 minute cooldown ride from the recommendations screen after you ride.
Or at least make the time to properly stretch out before you get on with your day.
---
Wrapping Up
Your first Peloton ride is really exciting — it's like stepping into a whole new world.
Before you know it, you'll be addicted to your Peloton and you'll be obsessed with new PRs like the rest of us.
As a parting word of advice: Don't forget about Peloton's floor classes! Incorporating strength and core work into your cycling cardio can lead to amazing results.
And for more on this, don't miss:
Hope this helps!