Group fitness classes are a great way to change up your fitness routine and stay motivated to workout.
If you want to find a community of like-minded fitness enthusiasts, or just don't know where to start, attending a fitness studio is a great start.
But the problem is, there are so many to choose from!
If you're into high-intensity classes that utilize the rowing machine, you'll want to check out both Row House and Orangetheory.
But what's the difference between Row House vs Orangetheory, and which one is better for you?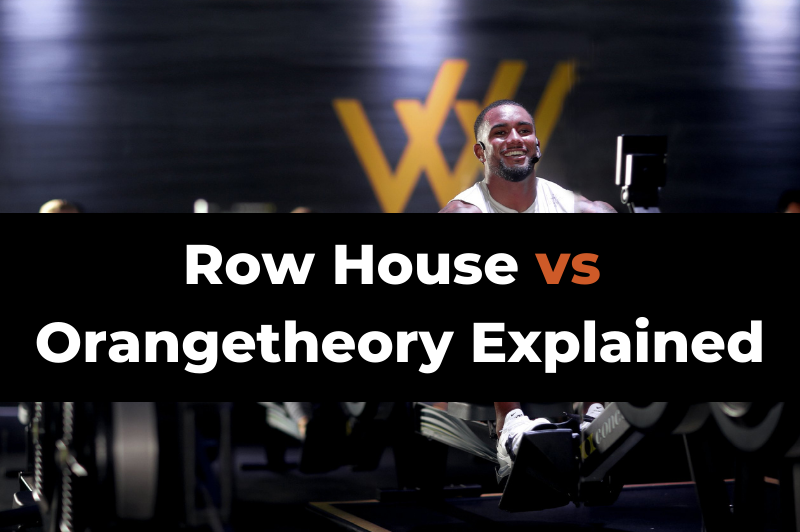 Both Orangetheory and Row House make heavy use of the rowing machine, and they'll both get you into great shape. The costs per class are even similar at both studios, depending on where you live.
The difference between Orangetheory and Row House comes down to variety of equipment. The weightlifting and treadmill work at Orangetheory makes it better for building athleticism and conditioning, but if you love the rowing machine and want to perfect your form to reap all its benefits, Row House is the better choice.
| | | |
| --- | --- | --- |
| | Row House | Orangetheory |
| Cost | Slightly more expensive | Slightly more affordable |
| Workout | All rowing, all the time! | Mix of rowing, strength & running |
| Vibes | Clean, modern, corporate | Clean, modern, corporate |
| Best For | Improving rowing form & performance over time | Beginners and general fitness |
Let's take a closer look at the workouts, costs, pros, cons, and more!
---
Row House vs Orangetheory Cost
Prices at fitness studios will vary based on your location and what membership type you choose.
However, these studios have similar membership prices, with classes costing between $25 and $30 at both clubs.
Fortunately, both studios offer a generous free trial that you can use to test out the group fitness classes.
You will learn a bit about how each studio operates and whether the workout is a good fit for your goals.
Row House makes an excellent effort to ensure that first-timers have a smooth first class.
Your instructor will help you set up the rowing machine and give you some tips before the class starts.
At Orangetheory, you will learn all of the unique tracking and stats they use to monitor your class progress.
This science-based approach to classes makes many people stay after the free trial.
Orangetheory Membership Costs
When signing up for a membership at Orangetheory, there are numerous options that you can choose depending on your schedule.
You may only be able to attend class once a week, making the four-class plan the ideal choice.
However, the more classes you have in your membership, the lower the average cost of the classes.
If you are a fitness enthusiast, you can't go wrong with their unlimited monthly class memberships.
Here is a complete selection of Orangetheory's membership options (these are average estimates and vary by location):
Basic Package (includes 4 classes) for $59 per month.
Elite Package (includes 8 classes) for $99 per month.
Premier Package (unlimited classes) for $159 per month.
Ten class package for $199
Twenty class package for $359
Thirty class package for $499
Orangetheory also offers a drop-in class rate for non-members, typically $28 per class.
I would recommend only using this on occasions when you are visiting another studio on vacation.
Row House Membership Costs
Row House has slightly more expensive membership options, with prices that vary greatly depending on location.
Here is a complete selection of Row House's average membership options:
Four Classes for $79 per month
Eight Classes for $129 per month
Unlimited Classes for $159 per month
Five-Class Package for $115
Ten-Class Package for $195
When signing up for a membership at Row House, you will need to sign a contract that auto-renews monthly.
If you don't want a monthly membership, you can purchase a package of classes.
However, these class packages expire after one month, so you will need to use them within a month.
It is an option for those who don't want to sign a fixed contract, but it comes with a higher price.
Additionally, Row House offers online fitness classes under their "GO" initiative.
If you have an indoor rowing machine, you can take these classes in the comfort of your home. Row House offers a free one-month trial of these classes.
Overall, Row House is likely to be the more expensive option depending on where you live — but for an unlimited membership at either Orangetheory or Row House, you'll usually pay about the same amount.
---
Facilities and Amenities
Walking into Row House and Orangetheory will look very different than your traditional big box gym.
At Row House, the entire class will be spent using an indoor rowing machine to elevate your heart rate.
When you walk inside the studio, you will see lines of super high-end rowing machines that you and your fellow members will use in class.
You will track your progress through their fitness app and monitor if you are making strides.
There will be hand weights and floor mats for the other portion of the class, along with the rowing machines.
Depending on the location, there may be showers in the bathrooms that you can use after class.
However, each studio will have a space to put your belongings in a locker to keep them safe during class.
Orangetheory has similar facilities as Row House, but they have more equipment at your disposal.
There are rowing machines, treadmills, and weights that you will use during class at Orangetheory.
As part of your workout, there will also be a heart-rate monitor that you will need to purchase for Orangetheory.
At Row House, the rowing machine will be tracking your progress and intensity during class.
---
The Workout
What matters most to members of these fitness studios is how effective the workouts will be in helping them achieve their goals.
At Orangetheory, you will have more diverse workouts that incorporate more exercises.
You'll start the class running on the treadmill or sitting on the rowing machine. After you have completed both treadmill and rowing machine work, you will move on to the weightlifting portion of the class.
These classes typically last 1-hour, and the goal is to burn as many calories as possible during that time.
Your instructor will push you to work your hardest, based on your own heart-rate and fitness level.
At the Row House, your main equipment is the indoor rowing machine with a screen to track your intensity.
The workout is high-intensity, similar to a spin class in some ways, and the music inside of the studio is motivating.
Row House offers these five class styles that you can attend throughout the week:
Signature: This is Row House's most popular class, incorporating low-impact rowing with intervals that follow the music. This signature class also includes floor exercises for a complete workout.
Power: The Power class is Row House's most high-intensity class, including HIIT-style circuits.
Full Row: If you only want to use rowing machines, this class is for you. The entirety of the class will be spent on the rowing machine, going through a series of intervals with differing intensities.
Restore: Incorporating a stretching routine into your rowing workout will help to restore your body's balance. This class is excellent for relieving aching muscles after intense workouts.
Foundation: Targeted for beginners, this class will teach you the basics of using a rowing machine. You will learn the importance of the rowing stroke and preventing injury while training.
Each of these class styles lasts about 45-minutes, and you will get an incredible workout each time.
Row House also offers express versions of their standard classes that are 30-minutes instead.
The express classes are more efficient and focus more on getting your heart rate up quickly in the class. This class style is the ideal choice for those in a rush in the morning before going to work.
For more, check out the results you can see from Orangetheory and rowing machine workouts.
Overall, you'll burn a ton of calories, improve your conditioning, and gain functional strength at both Row House and Orangetheory. OTF just uses more equipment and offers a more diverse workout, where Row House really challenges you to perfect your rowing form.
---
Community and Vibe
When you first walk inside an Orangetheory studio, it doesn't feel like your standard gym atmosphere.
The studio has a polished feeling that welcomes people who are typically intimidated by gym environments.
The front desk attendant will greet you with a friendly attitude and help you with any questions about being a member.
While the workouts are intense, Orangetheory stresses that it is not a competition against other members.
Your primary focus is your improvement and pushing yourself to be better. The vibe is very motivating in these classes, with the instructors doing an excellent job of encouraging you.
The vibe of Row House is very similar, with uplifting music lifting the mood of everyone in the room.
It is a unique feeling when all of the members in the class are in sync while using the rowing machines.
If you have ever been a member of a fitness studio, the community atmosphere is an excellent perk. The friends you make at your local club keep you coming back and help keep you accountable.
The vibe and community at Row House and Orangetheory are similar, however OTF is known to be extremely pushy when it comes to sales. Beware!
---
Wrapping Up
Whether you choose Row House or Orangetheory, you will get an excellent workout with a group of like-minded members.
These studios strive to deliver intense workouts for busy people in a short period.
If you are looking for a low-impact workout, becoming a Row House member is the better choice. The rowing machine has a ton of benefits and puts very little stress on your joints.
For those that want a more well-rounded workout, improving your strength and endurance–going to Orangtheory is the better choice. The extra dumbbell work and time spent on both the rower and treadmill can lead to a more functional form of athleticism.
Your best bet? Try a free session at both studios and see for yourself!
For more, check out:
Hope this helps!