There are more fitness studios and fun group fitness classes available than ever before.
That's great news! But it also makes your decision a lot tougher.
If you're looking to get in shape in a group setting, you've undoubtedly considered both Orangetheory and SPENGA — two wildly popular choices.
So what's the difference between SPENGA vs Orangetheory, and which one is right for you?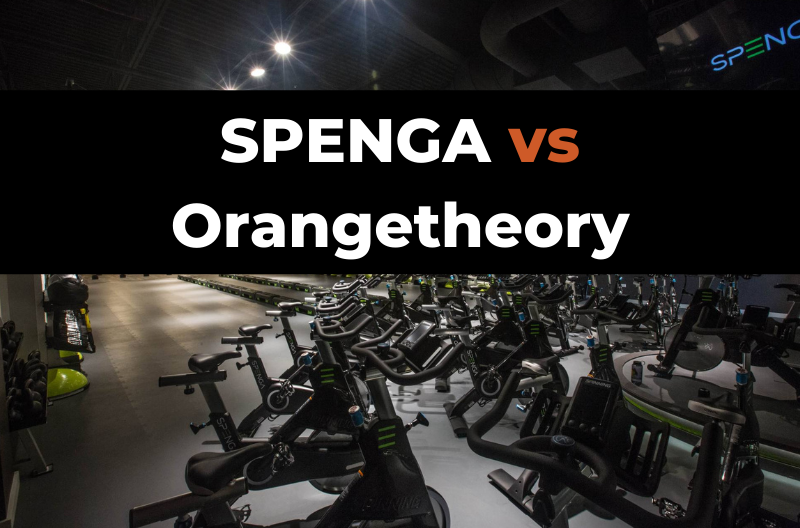 SPENGA and Orangetheory are comparable when it comes to costs and amenities. The big difference between the two comes down to the workout — Orangetheory is high-intensity cardio and conditioning with some strength work. SPENGA has a bigger emphasis on strength and weights, with added flexibility work through yoga at the end of each class.
SPENGA also offers childcare at selection locations (may be impacted by pandemic), which is a huge plus for parents.
These two studios are excellent choices for fitness enthusiasts, but the proper studio for you will depend on a few factors. Let's look at costs, pros, cons, results, and more from both.
---
SPENGA vs Orangetheory Cost
When looking at the monthly membership costs of these two studios, they are very similar.
Even better, they both offer generous free trials.
The trials require no commitment and allow you to try out the classes before agreeing to a membership. 
Both studios also offer a 30-day money-back guarantee if you aren't satisfied with the workouts. However, there are some requirements that you must meet to qualify for the money-back guarantee.
Orangetheory requires you to take 12-classes within the first 30 days of your membership to receive a refund, for example.
Let's look at an Orangetheory and a SPENGA studio, both located in Roswell, GA, for a fair comparison of prices. Remember that these prices will vary in different parts of the country.
Orangetheory Pricing
You'll have a few different options when you're looking to try or join Orangetheory.
At Orangetheory, the costs break down like this (based on Roswell, GA location)
The single class drop-in rate is $28 per class
Basic Package (includes four classes) for $59 per month.
Elite Package (includes eight classes) for $99 per month.
Premier Package (unlimited classes) for $159 per month.
Ten class package for $199
You receive a lot for your money when you sign-up for membership from Orangetheory.
The trainers are incredibly knowledgeable, and you are given access to all of the gym equipment in the studio. 
With your membership, you have access to a schedule of 10+ classes offered every day during the week.
Whether you want to workout before or after work, you can find a class time that suits your schedule. 
You will need to purchase a heart-rate monitor used during the class along with your membership.
While these monitors are optional, your instructor will highly recommend that you buy one or rent one before class. 
Renting a heart-rate monitor will cost between $5-$10 per class, or you can purchase the monitor at the store for $110.
These monitors will be a key part of the class, so you should have one. 
SPENGA Pricing
Spenga has a slightly higher membership cost than Orangetheory, but their contracts are more flexible.
You will not need to sign a contract for multiple months, and you can pause your membership at any time. 
There are only three membership options available at most Spenga fitness studios. Spenga also offers packages of classes that can be done at any time.
At SPENGA, the costs of membership (in Roswell, GA) will be:
Four classes for $79 per month
Eight classes for $129 per month
Unlimited classes for $169 per month
10 sessions for $250
20 sessions for $450
30 sessions for $600
The unlimited class options will be the best bang for your buck at SPENGA on a per-class basis for long-time members.
The single class drop-in costs will be the priciest, so it's best not to pay for individual classes as a studio member.
If you are new to SPENGA, their free trial class will give you plenty of experience to know if their workout style is right for you.
If you want to start slow, I recommend choosing the four classes for the first month. 
Additionally, since Spenga fitness studios are privately owned, you cannot visit other studios in your surrounding area with the same membership.
You will have to change memberships to go to another studio.
Overall, memberships and classes cost about the same at SPENGA vs Orangetheory, with SPENGA sessions costing maybe a few more dollars on average. Check your local studio for more accurate pricing.
---
Facilities and Amenities
The facilities at both of these studios have a polished appearance and give you a warm welcome.
Each of these studios makes sure their workout rooms are clean and have all the equipment you will need. 
At Orangetheory, each studio usually has the same layout built around their signature workout style, complete with distinct orange glow.
There is a line of treadmills that line one side of the room, with rowing machines lining up on the other side. 
In another section of the studio, there will be plyometric platforms and hand weights that you use during class.
The inside of the studios is very minimalistic, but it's all you need to get an excellent workout. 
When you enter a SPENGA studio, the inside will look more diverse than Orangetheory.
As part of their unique workouts, you will use a lot of different equipment throughout the workout. 
Some of the most common equipment you will see in a SPENGA studio: 
Spin bikes
TRX straps
Plyometric platforms
Dumbbells
Yoga mats
Medicine balls
And much more
SPENGA also offers a wide range of amenities that create the best workout experience possible for you.
There are locker rooms, changing rooms with complimentary toiletries, and restrooms in every studio. 
Depending on the location, there will also be snack bars and showers that you can use to freshen up before work.
At select SPENGA studios, there are kids rooms that can be a convenient way to workout while a studio employee watches your children — that's a gamechanger!
Orangtheory has more predictable amenities with showers in nearly every studio location.
At the fitness studio's front desk, you can also pick up some more workout gear, such as towels and workout attire. 
However, there are no kids rooms at Orangetheory or snack bars that you can use as a member.
---
The Workout
While the facilities and amenities are important, the workout will be the biggest deciding factor for a fitness studio.
Orangetheory and SPENGA have very different workouts, so learning which is right for you is crucial.
When you attend an Orangetheory class, you will burn as many calories as possible in a short period. Each Orangetheory class will be 1-hour long, consisting of time:
on the treadmill
on the rowing machine
and in the weight room. 
Throughout the class, you will focus on your heart-rate monitor and change the pace of your workout based on your heart rate.
Depending on the class section, your instructor will tell you to increase or decrease your heart rate. 
If there is one thing that you should know about Orangetheory workouts, they are very calculated.
Orangetheory takes pride in its science-based approach to workouts, and you will notice it as well in your performance and recovery.
At a SPENGA class, the workouts will be done differently, with the inclusion of flexibility training. Yoga is a big component of SPENGA, improving your flexibility while your muscles are nice and warm from the workout. 
Each class is made up of:
20 minutes of indoor spinning
20 minutes of strength training
20 minutes of yoga
SPENGA follows specific programming to ensure that members achieve a balanced workout routine. Unlike Orangetheory, the focus at SPENGA is more than burning calories during the workout. 
You will become more flexible and gain lean muscle from their intense strength training routines.
If you want to achieve noticeable results within months, most studios recommend attending classes three times per week. 
(Learn more about results from SPENGA and results from Orangetheory here.)
---
Community and Vibe
When a fitness studio has a strong community atmosphere, it makes working out easy.
You can look forward to seeing your fellow studio members and enjoying your 1-hour workout.
Fortunately, both studios have a great community and vibe that is welcoming to everyone. 
It doesn't matter if you haven't worked out in several years or are a fitness enthusiast — both studios make you feel welcome.
In SPENGA, the workouts are upbeat, with music playing throughout your training. 
You will be surrounded by members of all fitness levels, and it will be an encouraging atmosphere. If you haven't attended a group fitness class, joining for the first time can be intimidating. SPENGA makes it a little easier on beginners.
It's best if you show up to your first class 30-minutes early, giving you a chance to meet the instructors. 
Orangetheory has a similar vibe with the lively atmosphere of the music and the neon orange lighting.
It's a fun place to workout, and the members will make you feel a part of the group in no time. 
OTF staff are known to be really salesy, so watch out for that if you take a free trial class.
---
Wrapping Up
Orangetheory and SPENGA are both popular fitness studios that strive to give you an excellent workout within 1-hour — and they both succeed, wildly!
If you are looking for a workout that burns a ton of calories and helps you with functional athleticism, becoming an Orangetheory member is the better choice. 
However, for more of a focus on strength and muscle with extra flexibility work, SPENGA is the better choice.
In most other ways, these studios are pretty comparable. Try a free workout at both and see which one you like better!
For more studio comparisons, check out:
Hope this helps!