If I could go back and change on thing about my fitness journey, I would have started working out way sooner.
More than anything, I wish I would have taken advantage of my college's awesome gym. It was completely free, after all!
(If you don't count the thousands in student debt.)
If you're a student, staff member, alumni, or you're just thinking about attending the University of Central Florida in Orlando, don't make the same mistake I did.
Here's everything you need to know about the UCF gym and why you should take full advantage of it: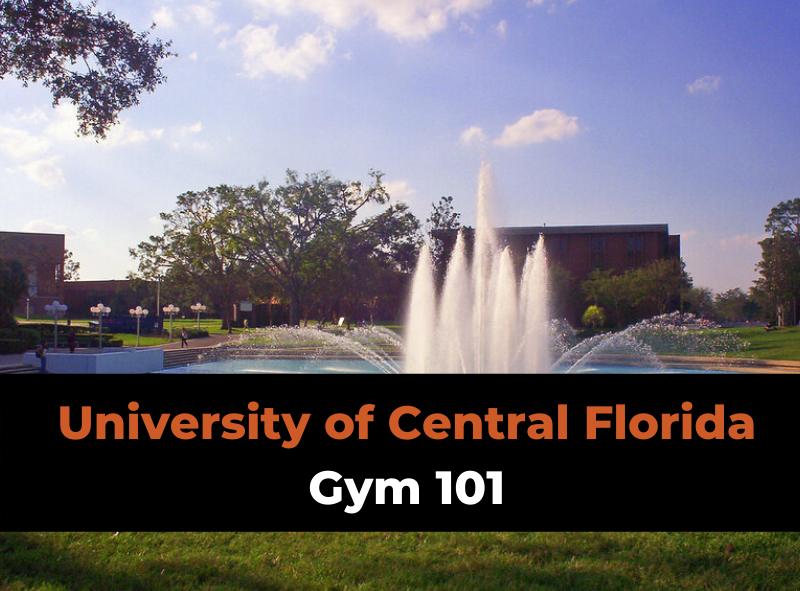 The gym at UCF (known as the RWC, or Recreation and Wellness Center) has a ton of amenities, comparable to high-end gyms that cost $50/month or more. It's completely free for active students, and faculty, alumni, and even members of the public can join for a reasonable monthly fee.
Let's take a look at all the equipment, amenities, perks, and what real students are saying about the UCF gym.
---
University of Central Florida Campus & Gym Explained
The University of Central Florida is located in Orlando. It's close to a big city, offering plenty of nightlife for all 66,000 students as of 2022.
While a number of great academic programs are offered at the school, another amenity every student should check out is the 149,000-square foot gym, known as the RWC, or Recreation and Wellness Center.
You'll find the RWC toward the southern edge of campus.
The facility offers everything you could possibly want to stay in shape from a track, multipurpose courts, a climbing wall, and plenty of additional fitness equipment.
However, the gym isn't the only way to work on your fitness.
The campus is also home to ample intramural sports fields where you can play alongside others to work up a sweat and win the big match.
Check out RWC park, not far from the Recreation and Wellness Center gym, for more outdoor fitness and rec options.
---
UCF Gym Amenities Explained
UCF has a large and impressive gym — in a lot of ways, it stacks up nicely against some of the higher-end commercial gyms like Life Time.
And since you're already paying for the amenities through tuition, it makes sense to use them as often as possible!
Here's what you'll find at the RWC:
Cardio Machines
There are many ways to work up a sweat at the UCF gym.
In fact, the facility dedicates 9,300 square feet to house 150 cardio pieces, including:
treadmills
ellipticals
stair steppers
arc trainers
rowing machines
upright bikes
and recumbent bikes.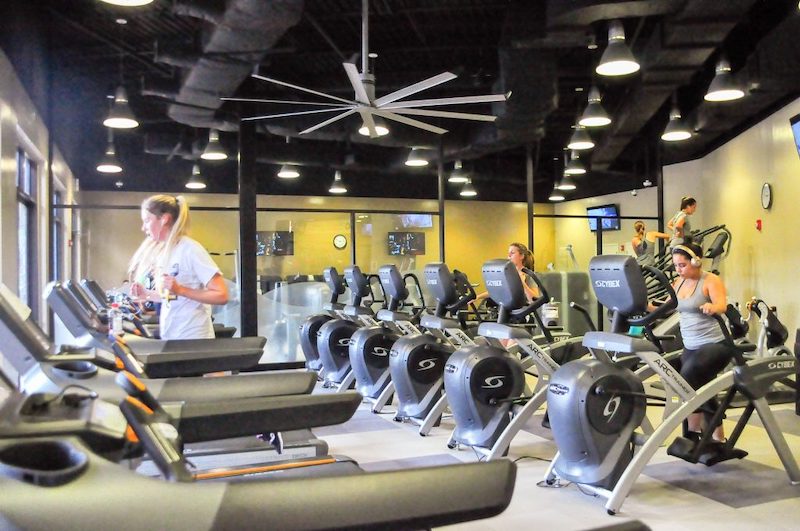 Weights & Strength Training
If you're looking to pack on muscle, never fear. The UCF gym has you covered, too.
In fact, there are two areas comprising nearly 14,000 square feet.
The first area predominantly consists of free weights (barbells, weight plates, squat racks, etc.) while the other one mostly has resistance machines.
Pools
You're in luck if you like swimming, aquatic workouts, or just lounging in the pool UCF has two pools open to all students.
The first is a leisure pool if you just want to soak for a bit. UCF's leisure pool is huge, and often hosts big campus events.
However, the other is a lap pool when you feel like a serious swimming workout.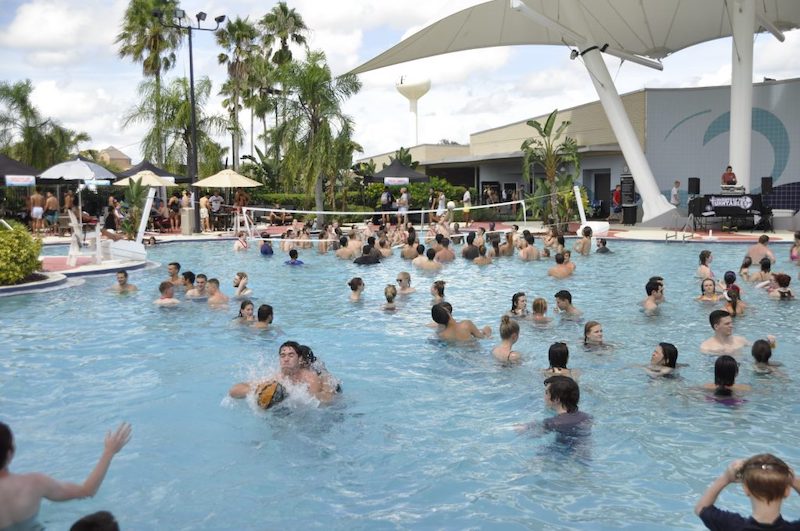 Sporting Courts
Students also have access to several sports courts when they feel like having some fun with their workouts.
There are three outdoor basketball courts that are lighted. That means you can even play after the sun goes down, provided it's before 9:00 p.m. when the courts close.
There's also six sand volleyball courts and nine tennis courts.
Climbing Wall
Within the main gym, you'll find a climbing tower standing at 41 feet in height.
It's also comprised of 20 routes based on difficulty level, so whether you're a beginner or an avid climber, there's something for everyone.
Indoor Track
In case all of the treadmills are filled up, there's a ⅛-mile track you can jog around inside the RWC.
Showers
The gym does have showers, so fortunately, you don't have to wait until you get back to your dorm room to get clean again.
Great news if you want to get in a quick workout before your next class!
Group Fitness Classes
The UCF gym offers many different classes to help you get in shape in a group setting.
The best part is that they're all free for students, so all you have to do is sign up online to reserve a spot.
From resistance training to mind/body workouts, classes are available every day of the week, so you should be able to make them work within your class schedule.
Personal Training
In case you don't know where to start at the gym, personal trainers are available to students.
Again, you just have to sign up for a session online to reserve a spot, and you'll receive guidance to help you get the most out of your time at the UCF gym.
---
Who Can Use the University of Central Florida Gym?
Naturally, the UCF gym is available for free for students to use.
This also gives students access to all of the additional amenities, like the pools and sporting courts.
Private lockers are also available free for students in the locker room.
Faculty and staff members of the University of Central Florida, along with members of the alumni association, can also use the gym, but they have to pay at a discounted rate — as little as $25/month. Otherwise, it can be as high as $40/month, depending on available promotions.
(That's about the average cost of a gym membership in most parts of the country, but the UCF gym has a lot more to offer than most mid-range big box clubs.)
For anyone else wanting to use the university's gym, you're going to have to be sponsored by a student.
The name of this student will be necessary to sign up for a pass, and from that point, you just have to pay $45/month.
That means not necessarily anyone can use the gym, as you need an in from someone currently attending the college, but if you do know someone, it can be a drastically reduced price than some of the other gyms around Orlando.
---
What Are Real Students Saying? (UCF Gym Reviews)
Every gym has its pros and cons, and the UCF gym is no different.
Here are some comments that have come from real reviewers to help you decide if the facility is worth checking out.
Pros
Lots of fabulous amenities
Subway and smoothie place available on site
Abundant classes, including kickboxing and dancing
The University of Central Florida gym is noteworthy for the abundance of amenities it offers.
There's a ton of stuff to do here, so even if you normally stick with one machine, you'll feel compelled to try out other things just because you have access to them.
Cons
Gets crowded
Minimal parking
Some older equipment
Despite the gym's massive size, a lot of reviews complain about how the facility gets crowded too quickly, particularly at the beginning of each semester.
It makes sense. 66,000 students attend UCF, and they all have a right to use the gym.
(Try going to the gym off peak hours when more students are off-campus.)
It also helps if you're not picky about what equipment you use, so if the treadmills are filled up, you can hop on a stationary bike.
---
Wrapping Up
The University of Central Florida is one of the best schools to go to in the state academically. It has many great programs ranging from public administration to video game design, and while you're there taking classes, a great gym awaits you.
You'll be hard-pressed to find any other gym in Orlando that has all of the same amenities as this establishment. Whether you're in the mood to swim, run, or shoot hoops, there's something for everyone.
Remember: if you're a student, you're paying for the amenities anyway through your tuition, so you might as well take advantage of the services.
For more college gym reviews, check out:
Hope this helps!