There are a lot of exciting things about going to college.
You're surrounded by like-minded people with tons of fun activities to do between classes and, ahem, after hours.
However, between the mediocre but plentiful dorm food and drinking (provided you're at least 21, of course), you don't want to let your health fall to the wayside.
Make sure you take advantage of that campus gym! There's no better time to start forming healthy habits that will last you a lifetime.
If you're a student, staff member, alumni, or you're thinking about attending Texas A&M University, here's everything you need to know about the Texas A&M gym: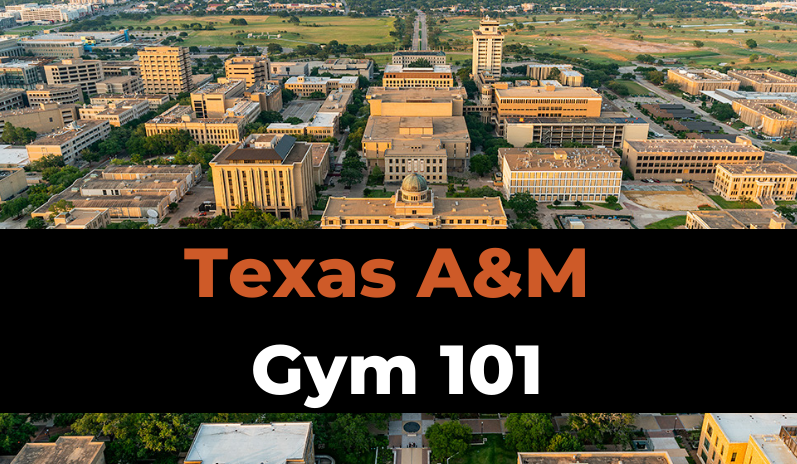 The Texas A&M rec center offers a ton of amenities, some of which you'd only find at elite gyms with memberships costing upwards of $100. You can run, lift weights, or play sports with your fellow classmates, all for free — and that's to say nothing of the climbing wall and state of the art pool!
If you're not an A&M student but happen to live in the area, you can join for a nominal fee. Faculty, alumni, and other staff can join for a discounted rate.
Let's take a closer look at the amenities, perks, and equipment you'll find at the Texas A&M gym.
---
Texas A&M University Campus & Gym Explained
Texas A&M resides in College Station, which as you can probably surmise is your typical college town.
From bars to museums, there's plenty to see and do for the 72,000 students enrolled at the university.
The main gym, called the Student Recreation Center, houses 400,000 square feet of fitness equipment and indoor playing courts, as well as other amenities like swimming pools.
You'll find the rec center between Kyle Field, Olsen Field, Reed Arena, and the West Campus Garage.
Plus, the university recently opened a second gym, called the Polo Road Rec Center, to better meet students' needs. That one is located right across the street from the Emerging Technologies Building and bring even more perks to the student body.
Of course, some people want to work out without being cooped up inside all day.
Fortunately, Texas A&M is littered with fields for the numerous intramural sports teams.
From soccer to dodgeball and even cricket, Texas A&M has no shortage of options if you want to put a team together.
---
Texas A&M Gym Amenities Explained
Texas doesn't mess around when it comes to sports, so it should come as no surprise that A&M has a massive gym area, far surpassing most big chains like 24 Hour Fitness or LA Fitness.
Here are just some of the amenities you'll be able to take advantage of.
Cardio Machines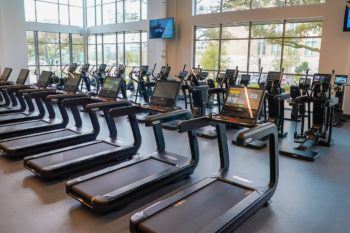 The main Texas A&M rec center boasts nearly 100 pieces of cardio equipment.
You'll find treadmills, ellipticals, climbers, bikes, and incline trainers from the top brands in the country, including:
FreeMotion
Woodway
Technogym
Weights & Strength Equipment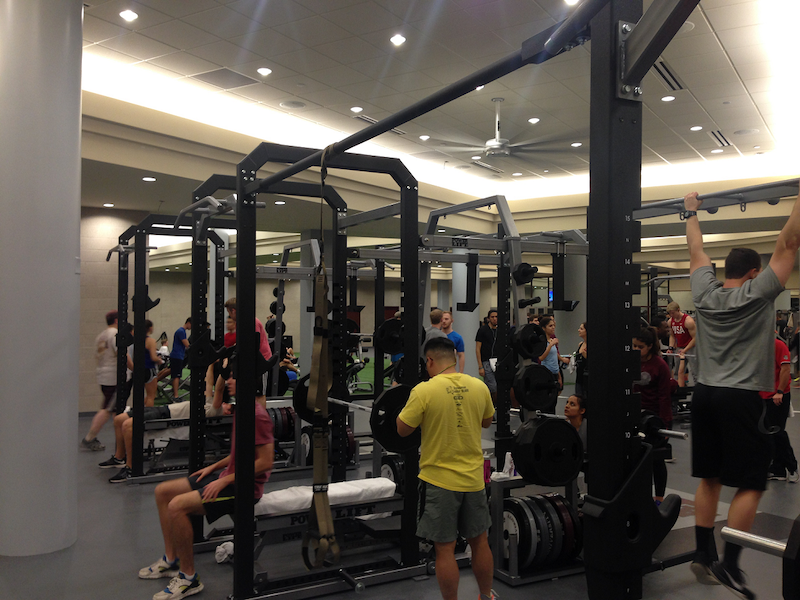 If you're looking to put some muscle on your frame, the Texas A&M gym is the place to do it.
The rec center dedicates 10,000 square feet to free weights.
It's also home to nine inlaid platforms for deadlifting, 26 customer power lift racks, 115 pairs of dumbbells, as well as an array of combo pulleys or cable machines, leg presses, and kettle bells.
That's insanely impressive!
Pools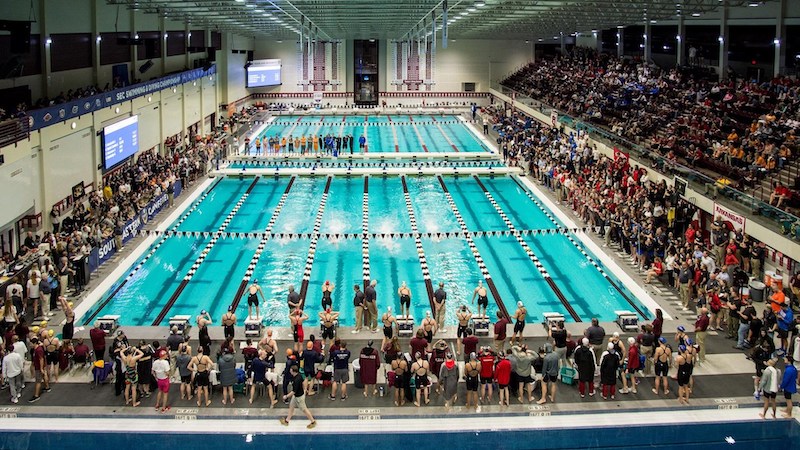 Naturally, there's a massive pool facility attached to the rec center, which is great if you're into swimming workouts or other forms of aquatic training.
Even if you're not, you can utilize this amenity to get certified in SCUBA, learn first aid, or just chill out.
Sporting Courts
The rec center at A&M houses 14 racquetball courts.
Then, if you head to the outdoor area, you'll encounter four sand volleyball courts, three basketball courts, and an outdoor pavilion complete with grills and picnic tables.
You can spend a whole day by the rec center without ever getting bored.
Climbing Wall
One of the coolest amenities at the rec center is the Indoor Climbing Facility, which consists of a bouldering wall and a climbing tower.
The latter stands at 44 feet high and has roughly 3,500 square feet of climbing area.
(Climbing is a surprising and fun way to get amazing fitness results.)
Indoor Track
You'll find the indoor walking and running track on the third floor of the rec center.
It spans a quarter of a mile, and there are areas you can stop off to stretch or use stability balls.
Showers
There are both men's and women's shower areas at the Texas A&M rec center gym.
On top of that, you'll find vanity areas and even hair dryers so that you can look your best before heading to class.
Group Classes
The Texas A&M gym is home to Group RecXercise classes.
You can find a schedule of classes offered online. When you find a class you like, you can sign up via the Rec Sports app.
Personal Training
To utilize personal training, you'll have to sign up for it at the Personal Training Suite.
This is a dedicated area to personal training so that clients don't have to wait in lines to use exercise equipment.
Everything you could need our of an efficient workout is at this suite, including dumbbells, suspension units, medicine balls, InclineTrainers, and more.
Food
After an intense workout, you need to replenish somehow.
Fortunately, you have options at Smoothie King, located directly in the rec center.
(Go for a protein-packed order for the best workout recovery!)
In addition to smoothies and other beverages, you can purchase an array of food, including burgers, sandwiches, salads, quesadillas, and so much more.
---
Who Can Use the Texas A&M Rec Center Gym?
As is the case with most college gyms, students can access all of the above and more for completely free.
Well, it's not technically free. You're charged a fee as part of your tuition, but there's nothing you have to pay on top of that!
If you're not a student, you can use the gym at A&M for a fee depending on your affiliation with the school.
For example, part-time staff, full-time staff, and recent graduates can still access the gym for a discounted fee. Similar rates can also apply to spouses and children of current students.
In the event you have no affiliation with the school, you'll have to pay a full membership fee to join.
For one semester, you can pay $275 to use the rec center.
You can save a little money by signing up for a two-semester plan, which costs $515, or a three-semester plan going for $725.
At this public rate, the Texas A&M gym is a little more expensive than a typical average big box gym, but the amenities and facilities are well, well worth the price.
---
What Are Real Students Saying? (A&M Gym Reviews)
The Texas A&M gym is nice, but how do you know if it's right for you?
It's hard to beat the price of free if you're a student, but it's good to get a lay of the land so you know what you're walking into.
And if you're paying to join, either as faculty or a member of the public, here's what you should consider before making the investment:
Pros
Incredible amenities
One of the best pools in the country
Tons of top-notch equipment
It's abundantly clear that the main draw of the Texas A&M gym is the sheer size of it.
It's huge with multiple stories containing everything from an indoor track to racquetball courts.
At most gyms, you're lucky to get a single basketball or racquetball court. Here, you have multiple.
Students also rave about the aquatic amenities here. There's no better place in the country to get in a swimming workout.
Considering all of the amenities you receive, it's like having a membership to a luxury gym like Equinox, so take advantage of it while you're still a student.
Cons
Can get crowded
Tough to get parking on some days
Broken lockers
For a rec center this big, you would assume you'd have plenty of space between you and your fellow exercisers.
However, you have to remember that tens of thousands of students attend Texas A&M, and many of them may want to use the gym at the same time as you.
It's good to go during off hours if you want to try to beat the crowds.
According to reviews, it tends to get busiest around 3 p.m., so if you can manage to go later or first thing in the morning, you should have your pick of machines.
---
Wrapping Up
Texas A&M is a university rooted in tradition. It's one of the best schools in the state of Texas, and there are a ton of good reasons why so many people are proud to call themselves Aggies.
In addition to top-notch academic programs, it has one of the best gyms around, especially if you like to mix up your regimen with different exercises.
You can try out all sorts of different exercises with an array of machines, weights, and sporting courts.
For students, it's great to try out while you're attending. You're paying for it through tuition anyway, so it's better to use the rec room than pay for a whole other gym membership.
As for anyone else, it depends on how you want to exercise. If you're content lifting weights and running on a treadmill once in a while, you can probably save money signing up elsewhere.
For more university gym breakdowns, check out:
Hope this helps!