College is an incredibly exciting time.
The decisions you make during those four years will follow you for the rest of your life.
That's why your college years are the absolute best time to establish healthy exercise habits.
One of the biggest reasons? The campus gym!
Gyms on most college campuses are huge, decked out with amenities, and are usually free for students — while open to faculty and alumni for discounted rates.
If you're a student, staff member, alumni, or you're thinking about attending Ohio State University, here's everything you need to know about the OSU gym.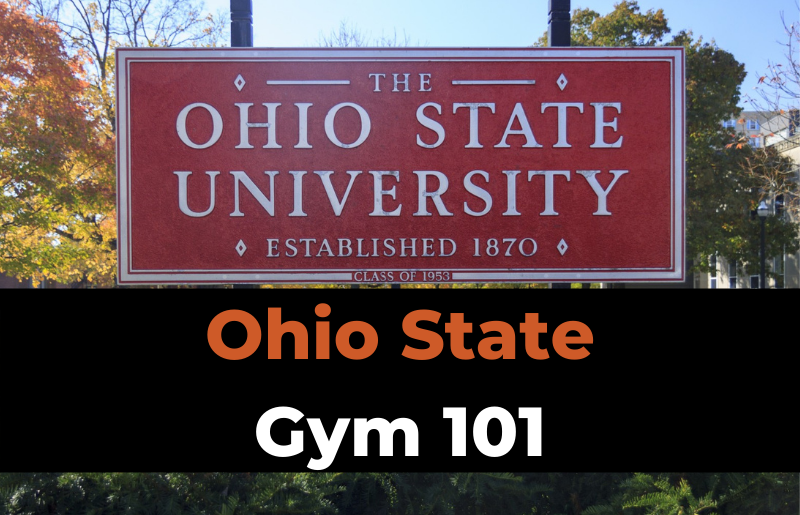 OSU has a great facility in the form of the Recreation and Physical Activity Center. If you're looking for something a little more low-key, there's also the Adventure Recreation Center, which houses the Outdoor Adventure Center. These gyms have an outstanding selection of equipment and amenities that rival $100/month+ commercial gyms — all free for students and available for a nominal cost for alumni and staff.
The downside to the Ohio State gym is that, with over 60,000 students, these facilities can get crowded so you'll have to choose your workout times carefully.
Let's take a look at all the equipment, amenities, perks, and what real students are saying about the OSU gym.
---
Ohio State University Campus & Gym Explained
Ohio State University has been an institution in Columbus for well over a century.
As of 2022, over 66,000 students make the campus their go-to destination, and to accommodate classes of that size, it's understandable the gym would need to offer pretty much everything to keep students happy!
The gym, called the Recreation and Physical Activity Center (RPAC) is a massive facility featuring everything from basketball courts to batting cages.
You'll find it sandwiched between The Oval and Lincoln Tower Park, and not far from Thompson Library.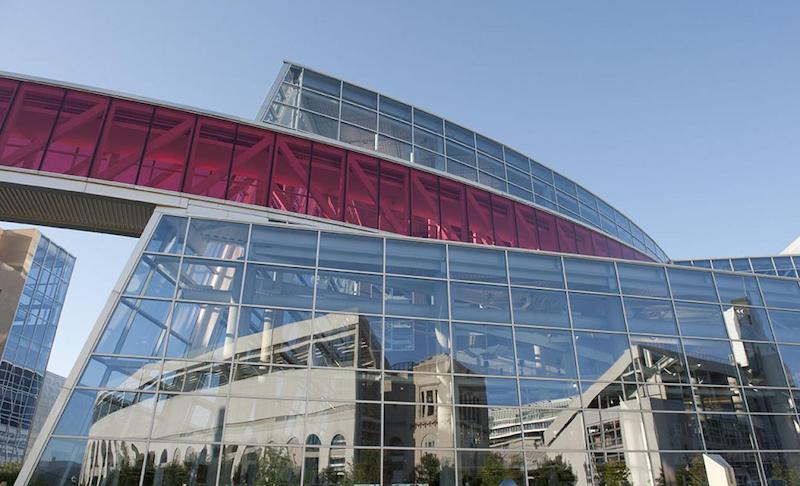 The ARC, Adventure Recreation Center, is a little further west, across the 315.
The RPAC gym houses 650,000 square feet of top-notch equipment and amenities, so don't skip it if you're touring campus
---
Ohio State Gym Amenities Explained
OSU has one of the most impressive gyms in the state, rivaling some of the top brands like Equinox.
So even if you're the most fitness-crazed muscle head around, there's no need to pay for another gym membership when the RPAC and the ARC are included in your tuition.
(Others affiliated with the university can join for a small fee, which we'll cover later.)
Here's what you'll find at the gyms:
Cardio Machines
As is the case with any good rec facility, you'll find a vast array of cardio equipment at both RPAC and ARC.
From treadmills to ellipticals, this building has it all — and in great quantity.
Weights & Strength Equipment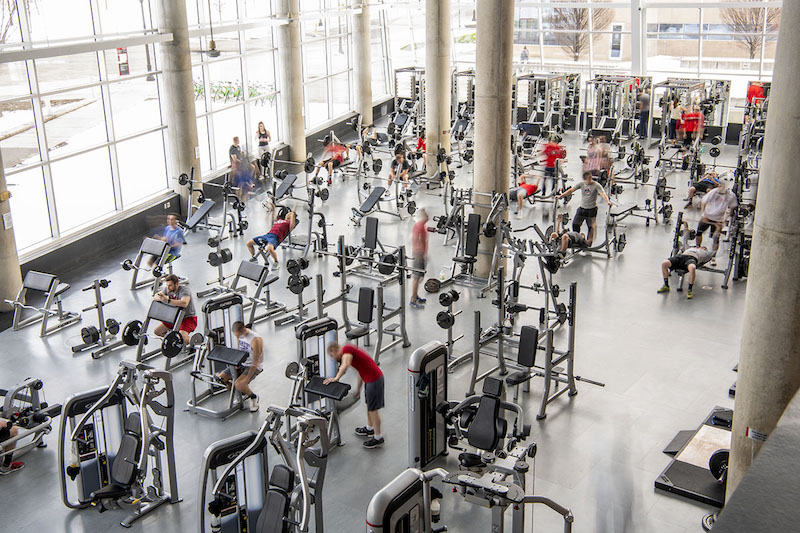 There's also an area filled with every piece of strength equipment you could possibly imagine.
From free weights to full power racks to resistance machines, OSU has everything you'll need for a full-body muscle-building workout.
Pools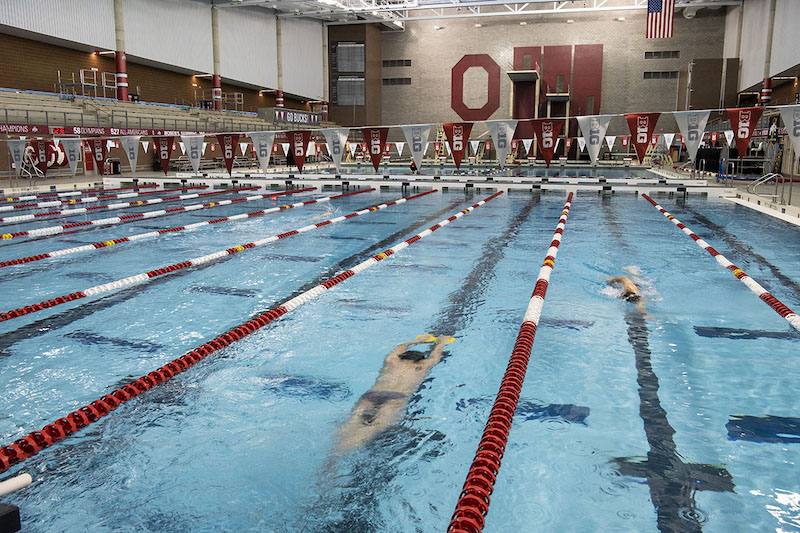 The RPAC Aquatic Center has everything you need to cool off and get in shape.
Not only are there recreational pools where you can swim at your leisure, but there's also a leisure spa and a sauna area to unwind after a hard day of midterms.
You'll have to stay up-to-date on the schedule to see when you can access open swimming and/or lap swimming.
The pool also hosts various intramural sports, group fitness lessons, as well as youth instructional programs, so it receives a decent amount of use.
Sporting Courts
Get some buddies together and go to town on the various courts featured throughout the OSU gym — most of which will be found at the ARC.
The facility boasts two indoor turf fields measuring 85 by 182 feet. It even comes complete with team benches, making it perfect for an array of matches, including:
Ultimate frisbee
Field hockey
Flag football
Cricket
Rigby
Lacrosse
Soccer
You'll also find four hardwood basketball courts, three of which can be transformed into volleyball courts.
And of course, the pièce de résistance is the four batting cages to work on your swing.
Climbing Wall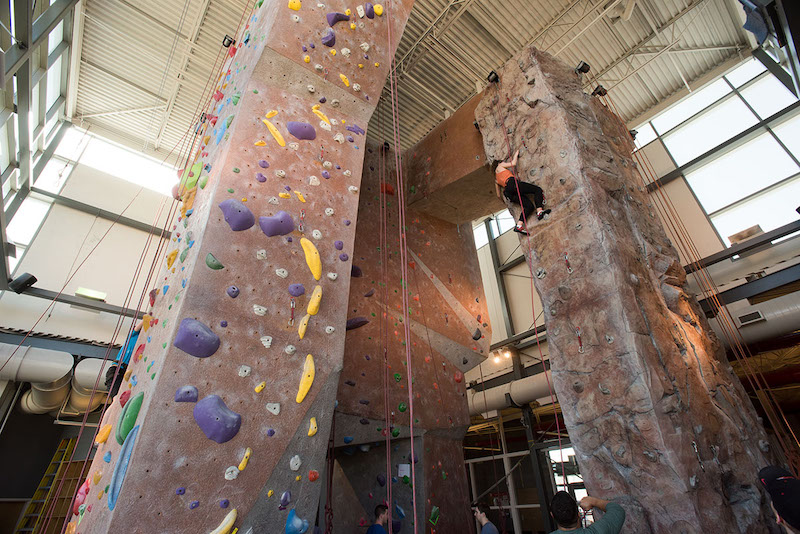 Anyone can sign up for a spin on the climbing wall.
It boasts over 4,000 square feet of climbing surfaces. You have access to a bouldering cave, overhangs, cracks, and finally, 25 lead routes.
Don't sleep on rock climbing as an excellent workout! It can build muscle and endurance like you wouldn't believe.
Showers
Private showers are available for all to use. You can freshen up after a hard workout so that you're good to go for your next class.
There are also day lockers to keep your stuff safe while you're on-site at the gym.
Group Classes
Group fitness classes are available to all students for free. All you have to do is sign up for a slot online to reserve a spot, and you're ready to get going.
Classes are offered in a litany of fields, from cardio to core strengthening to weightlifting.
To make sure you're good to go, check out your membership status online to ensure it's active.
This is a HUGE perk that you definitely want to take advantage of, especially if you're a fitness beginner or you're motivated by working out with friends.
These classes in the real world can easily cost $20+ per session.
Personal Training
There are numerous benefits to having a personal trainer work with you to attain your fitness goals.
You have someone holding you accountable to actually show up as well as give you tips on how you can be healthier outside of the gym.
To work with a personal trainer at Ohio State, you have to fill out a request form online to be put on a waitlist. It may take a while, but you'll be notified once you're matched with someone. From there, you receive one-on-one training
Be aware: personal training sessions cost extra beyond your tuition or gym fees.
For instance, a single 60-minute training session costs $40, or you can sign up for 10 60-minute sessions for $300.
It may be a little extra, but for those needing that little push, it can definitely be worth it.
---
Who Can Use the Ohio State Gym?
Ohio State students are allowed to use both the RPAC and ARC completely free.
It's part of your tuition payments, so technically, you're already paying for it.
You just don't need to put anything on top of that as long as you don't need personal training.
Alumni and faculty also qualify for memberships. Faculty will need to pay $164 per semester to access the gyms, while anyone who's a member of the Ohio State University Alumni Association can access the facility for $206 a semester.
Other pricing tiers are available for spouses and children of students.
Guest passes and short-term memberships are also available if you have someone visiting for a short amount of time who wants to use the RPAC.
You can ask about those at the front desk.
The OSU gym membership is still a great deal, even if you have to pay. Comparable gyms like Life Time and Equinox cost well over $100+ per month for similar amenities and equipment.
---
What Are Real Students Saying? (Ohio State Reviews)
Every gym has its pros and cons, and the OSU gym is no different.
Here are some comments that have come from real students and staff to help you decide if the facility is worth checking out.
Pros
Excellent amenities
Safe location
Friendly staff members
It's hard to come by any words of disdain for either the RPAC or ARC.
People love it, and one of the most intriguing perks we've yet to discuss is the fact ARC is located by the police station.
As such, you can be confident there won't be any shady characters lurking about if you go to the gym late at night.
On top of that, the amenities just can't be beat. Between the two, you have plenty of options for working up a sweat.
Cons
Crowded
Noisy
Some inconvenient set-ups
With 66,000 students attending Ohio State University, you better believe both gyms get crowded easily — even though it's huge and offers two locations.
You're best bet, apparently, will be to try to get their around 6:00 a.m. It'll be before everyone else has a chance to show up, so you can get in and out without having to fight the crowds.
Not everyone is a fan of the layouts at the OSU gym, with some equipment a little too close to the sporting courts for comfort.
---
Wrapping Up
You're a proud Buckeye (or on your way to becoming one!), so it's time to learn as much about the campus as possible.
Unlike a lot of college campuses, there are two places to work out at Ohio State.
Both the RPAC and the ARC house weights and cardio machines, along with tons of other amenities. You'll have to learn the ins and outs of each one if you want more specialized training. But it's clear there's something for everyone if you look hard enough.
You can work out by yourself or get your dormmates together to play some basketball or volleyball. Whether you choose to use the gym for fun or serious fitness, it's well worth a visit!
For more college gym reviews, check out:
Hope this helps!