To get the most out of the university experience, you need to do more than study and party.
The fees that you've paid to get your college education have also paid for some awesome recreational facilities, including rec center and workout spaces.
Students who make use of such services and incorporate regular exercise into their life have proven to be happier, more productive, better able to deal with the pressures of exams and generally able to get more out of their university years.
If you're a student, staff member, alumni, or you're thinking about attending Arizona State University, here's everything you need to know about the ASU gym.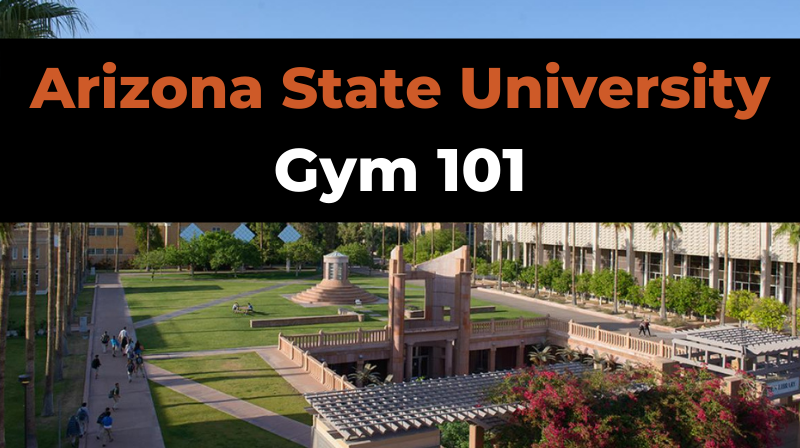 The gyms (or SDFCs) at each of ASU's four campuses are top notch, with an excellent selection of equipment, group classes, pools, and personalized training and nutrition guidance. The gym at Arizona State is free for full-time students and costs a meager amount per semester for staff, faculty, and alumni.
Let's take a look at all the equipment, amenities, perks, and what real students are saying about the Arizona State gym.
---
Arizona State University Campus & Gym Explained
Arizona State University is one of the largest public universities in the United States.
Founded in 1885, it is a public research university located in the Phoenix metropolitan area.
The enrollment is among the highest in the country with around 150,000 students.
Of these some 38,000 students exclusively take online classes. There are around 90,000 undergraduates and 20,000 post graduates each year.
The university facilities are spread across five campuses and four regional learning centers across the state of Arizona.
ASU offers more than 350 degree options from its 17 colleges of study. The athletic teams that represent ASU are called the Arizona State Sun Devils, with teams competing in 26 sports in the NCAA Division 1 Pac 12 Conference.
The gym facilities provided for students at ASU come under the umbrella of the Sun Devil Fitness Complex (SDFC).
It has locations embedded at four of its campuses, including:
Downtown Phoenix
Polytechnic Campus
Tempe Campus
West Campus
Each SDFC is open from 6am until 9pm on weekdays, while weekend hours vary between the facilities.
---
ASU Gym (SDFC Rec Center) Gym Amenities
There's so much to take advantage of as a student or faculty member at ASU, so here's just a taste of what you'll find at the Arizona State gym.
Cardio Machines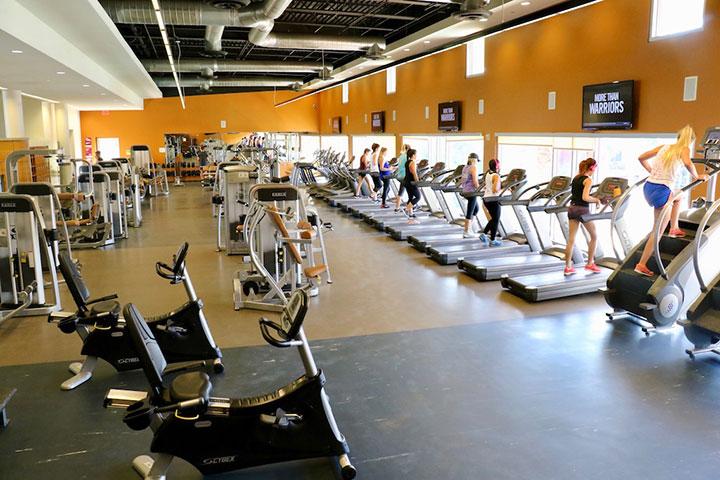 All four SDFC locations provide spacious cardio workout areas.
These rooms are loaded with all of the training gear that you would expect in a top tier gym, including treadmills, ellipticals, steppers, rowing machines and more.
Most machines have large HD screens so you can get a great interactive experience while you are working out.
Weights & Strength Equipment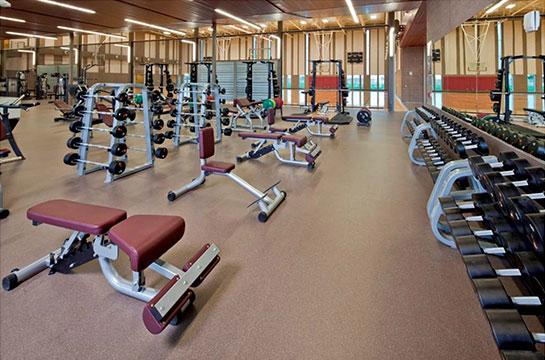 Expansive weight training floors allow for all levels of lifter with a full complement of free weights and machines.
There are plenty of racks available for compound exercises like squats, with some of the complexes housing the free weights on a separate floor to the machines.
Most reviewers seem to think that there is enough equipment to prevent having to wait around for gear.
Pools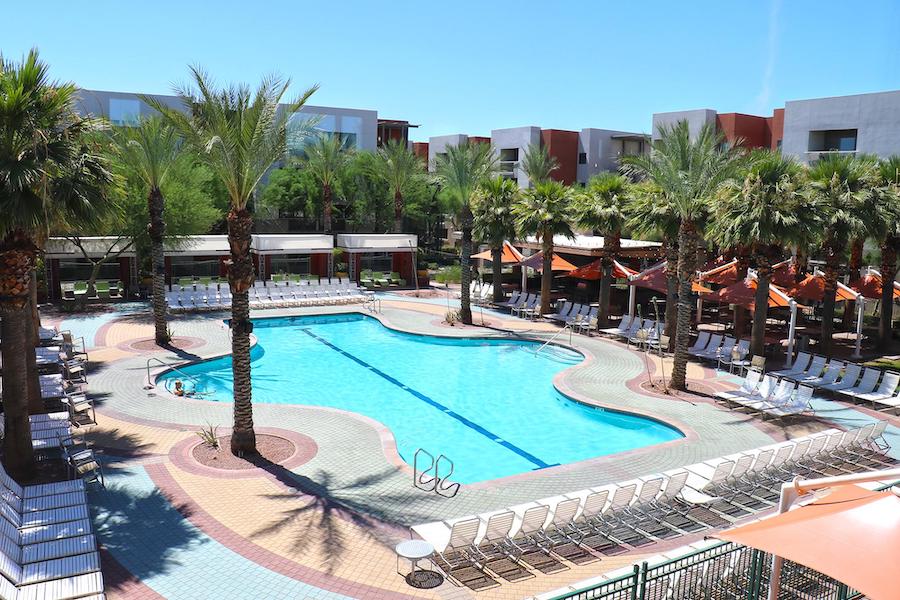 There are pools located at or close to all four SDFC locations.
Lap pools are available and regular events such as dive-in movies and water games are organized.
All pools are manned by lifeguards. Learn to swim and lifeguard training are also offered.
Swim lessons are not just for people who cannot swim. SFDC offers a range of courses designed to improve swimming skill and fitness going right up to triathlon swimming level.
Group swimming lessons are made up of 8 one hour classes held twice weekly for four weeks.
The cost for an 8 session course for an ASU student is $45.
Normally non-students can participate at a cost of $70 but due to the Covid situation, only currently enrolled students can participate in the swim programs until further notice.
Sporting Courts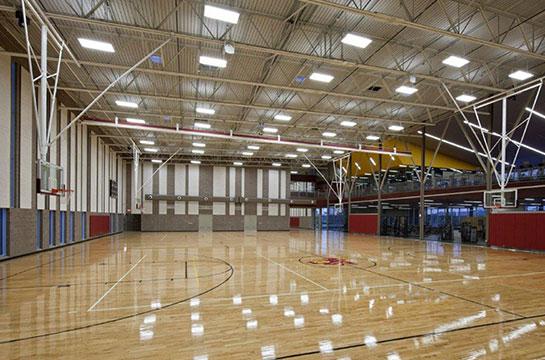 All four SDFC locations are well catered for in terms of sporting courts.
The recently revamped downtown location has no less than 5 basketball courts, along with squash, badminton volleyball and table-tennis.
Each location also provides a spacious outdoor recreation area with more basketball and volleyball courts. It also has cricket pitches.
Climbing Wall
Unlike some other big college gyms, Arizona State University does not have a rock climbing wall onsite. However they do have a rock climbing club.
The members meet at the nearby Phoenix Rock Gym, which is less than a mile off campus.
Indoor Track
The downtown SDFC location features an indoor running track.
Showers
All four SDFC centers feature spacious, clean and well serviced shower and changing room facilities.
Group Classes
The SDFC fitness class schedule has recently been revamped as Group Wellness.
In addition to the cardio, yoga, pilates and strength classes that you would expect, they also offer classes in such things as painting, gardening, meditation and relaxation.
Group Fitness classes are free for all full-time students.
Personal Training
SDFC offers full personal training services. You can either train with a personal trainer in a semi-private setting with up to 3 other people or as a one-on-one client.
With semi-private training you can train up to 4 times per week. This option allows you to take advantage of personal training for as low as $8 per session.
All personal training services include a complete fitness assessment, program design, free weight and cardio training.
Basic nutritional advice may be offered but the personal trainer is not qualified to provide in depth nutritional guidance.
SDFC also offers group training where you get to work with a personal trainer in a slightly larger group setting.
They also combine group fitness classes with personal training. It should be noted that group training services will be affected by the pandemic regulations in effect at the time.
Adaptive Recreation
SDFC provides inclusive recreational facilities, adaptive sports and cultural and educational resources through its Adaptive Recreation services.
Devils Adapt is a training program for adaptive athletes with the goal of improving strength and mobility as well as advancing the mental state and confidence of the individual.
This is a 9-week training program, where groups meet 3-4 times per week.
Instructional Programs
SDFC offers instructional classes and workshops to students in order to develop a new skill or become more proficient at an existing skill.
Classes range from martial arts to pilates, providing progressive instruction from certified instructors.
Fitness & Nutrition Assessments
When you enroll as a member of the SDFC you are eligible for a complete fitness assessment.
This will provide you with a thorough overview of your current fitness level, providing a baseline for tracking future progress.
The assessment will also form the basis of the fitness program that is created personally for you.
Nutritional assessments are also provided, making use of state-of-the-art software to help you to get on the ideal diet and meal plan for you.
The assessment that is generated for you will include a complete personalized meal plan, recipes, portion guide and shopping list.
Wellness Programs
Each semester the SDFC offers a variety of wellness programs in conjunction with other Arizona State University departments.
These include nutritional education, massage therapy, and mindfulness courses.
Team Challenge
The Team Challenge programs offered by SDFC involve activities that are designed to promote teamwork, leadership, trust and collaboration.
Each challenge program is custom built to meet the unique needs of the group or organization taking part.
The Team Challenge process includes briefing, debriefing, instruction on how to utilize tools, facilitate concepts of teamwork and trust and to work collaboratively and facilitate group interactions.
The Team Challenge Program is free to all students.
---
Who Can Use the ASU Gym? (Membership Exlained)
The SDFC is free for all currently registered students to use.
This includes group fitness classes. Students will have to present their student ID to gain access.
Other people affiliate with the university (like online students, faculty, alumni) can get memberships on a semester basis starting at around $100 per semester.
(Compared to the cost of joining a big box gym, this is an absolute steal!)
Students at ASU can also sponsor guests, who can purchase guest passes at the gym for $10/day or $40/week, as of this writing.
---
What Are Real Students Saying? (ASU Gym Reviews)
There are a large number of student reviews for the SDFC gyms across a number of social media platforms.
Overwhelmingly these reviews are positive, even glowing.
Students mention the attentiveness and service of the staff and the expansive range of facilities on offer. The only real negatives are that the gyms get crowded in peak times.
Pros
Lots of great facilities
Attentive staff
Wide range of free/included services
Cons
Some cleanliness issues
Campus security lacking
Overcrowding
A couple of reviewers mentioned cleanliness and hygiene issues in the women's changing rooms.
One mentioned that toe clippings were seen in a shower cubicle on two consecutive days indicating no overnight cleaning.
This contrasts with most comments of cleanliness so may have been a one-off.
Other issues mentioned were the virtual non-existence of campus security around the gyms at night time and overcrowding after 4pm.
(At a big campus like ASU, you might want to visit the gym off peak hours.)
---
Wrapping Up
The four SFDC gyms provided by Arizona State University generally get rave reviews by the students who use them the most.
They provide everything you need to get a complete workout regardless of your training goal or level of experience.
They also offer a wide range of skill enhancing classes designed to help students develop their skills and confidence in everything from karate to gardening.
If you are a student at Arizona State it would almost be a crime not to make use of the awesome facilities on offer at SFDC. Even if you're staff or alumni, you can't beat the deal you'll get to join the ASU gym.
For more guides, check out:
Hope this helps!