EOS Fitness is one of the most popular budget gym franchises, with memberships starting at $9.99 per month.
While you may think the membership prices will translate into an inferior experience, EOS Fitness offers a premium experience for its members.
Most gym locations offer group classes, personal training, large weight rooms, and cardio equipment for their members.
Some locations even have virtual reality and movie group fitness classes.
While these amenities are impressive, there are some necessary amenities needed for commuters.
If you plan on exercising before work in the morning, you likely want to know if EOS Fitness has showers as well.
So, does EOS Fitness have showers?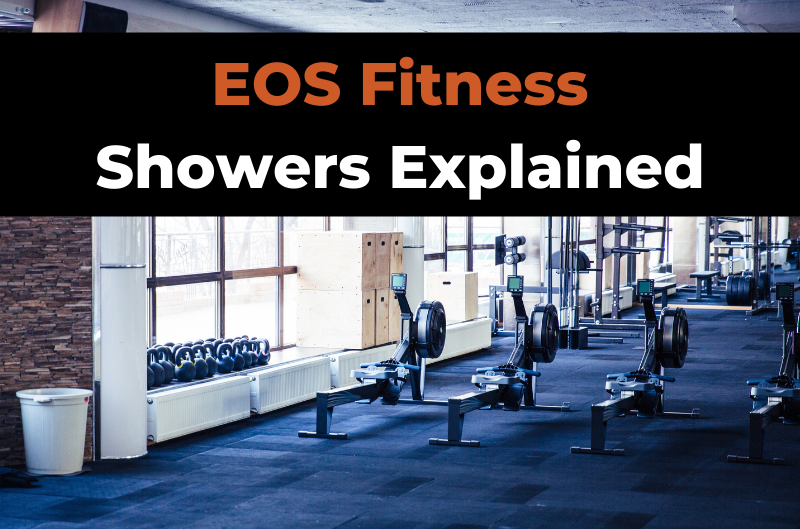 EOS Fitness offers showers and standard lockers for all its members. Additionally, you can find steam rooms, saunas, and towel dispensers available for select membership options. All members get full access to the showers and locker rooms, allowing you to freshen up before heading to your workplace in the morning.
If you want to know if EOS Fitness has the right amenities for you, keep reading further to learn more.
---
Does EOS Fitness Have Showers?
EOS Fitness offers showers at most of its locations. You can see if a location near you has showers using EOS Fitness's location search feature on their website.
If a specific gym amenity is non-negotiable as a member, you can search through their locations online and filter the results. Along with the showers, EOS Fitness also provides lockers for members to put their belongings in during their workout.
Having showers at the gym will provide convenience for members looking to break a sweat but have obligations afterward.
You won't have to worry about waiting for hours to take a shower after your workout.
Some people avoid working out due to the lack of showers in some gyms, requiring them to sit in sweaty clothes for the day. Fortunately, EOS Fitness has numerous showers, allowing you to shower even when it's busy in the morning.
By taking a quick shower after an intense workout, you can arrive to work freshly showered and not feel self-conscious during the workday. Not showering after a workout can also lead to sweat-related skin problems.
Not only will sweat aggravate skin conditions like acne, eczema, and psoriasis–you will also accumulate more bacteria on the skin. This bacteria can cause skin infections such as sweat rashes and fungal infections like ringworm.
So, if you want to smell fresh and have healthy skin, taking a quick shower is crucial. It only takes an additional five minutes to clean off the sweat from your skin and start your commute to work.
Showering right after your workout is also better for muscle recovery!
---
Does EOS Fitness Provide Soap or Shampoo?
Most EOS Fitness studios provide soap dispensers on the walls in their showers that you can use after your workout. However, the soap is very basic and can irritate those with sensitive skin or allergies.
You also do not have a separate dispenser for shampoo, requiring you to use the soap dispenser for your hair as well.
Gym shower soap dispensers can damage longer hair and dry your hair out from the harsh chemicals.
I would recommend bringing your own soap or shampoo in your gym bag to use after your workout. If you need additional cosmetic products like hair conditioner or deodorant, you must bring it yourself.
---
Does EOS Fitness Provide Towels For The Shower Area?
One of EOS Fitness's unique membership options is its towel services available at all locations. For an additional $10 a month, you can take out limitless towels from the dispensers each month.
You will find these box dispensers near the restrooms, usually with large white text that says "Limitless Clean Towels." When you are done with the towel, you will toss it back into the return bin to be cleaned.
Every towel is disinfected and cleaned using strict hygienic guidelines set by the gym franchise. However, these towels are marketed as workout towels and are not for the shower area. While these towels could work in a pinch, it's recommended you bring a towel.
The towels are small hand towels used to wipe off sweat during an intense workout. You will need to use multiple of these small workout towels if you want to dry yourself off after taking a shower.
(Learn more about how gyms clean equipment.)
---
Photos & Descriptions of EOS Fitness Showers
EOS Fitness provides a private and hygienic showering experience for its members. When you first walk into the locker room area, you will notice the clean tile flooring and wood-paneled lockers.
Most locations have similar tile designs, with a dark grey tile contrasted with dark brown wood lockers. The same is in the shower area, with the showers built from grey tiles on the walls and flooring.
The showers in EOS Fitness will be in a separate section away from the lockers and bathroom stalls. You will open the separate door and see a line of shower stalls with privacy curtains and barriers.
You will have a separate privacy stall, typically around 64"x 36", which includes a curtain at the front of the stall. The curtains are tall enough to provide complete privacy, allowing you to stay covered.
(Unfortunately, EOS does not provide photos of its showers online for privacy reasons.)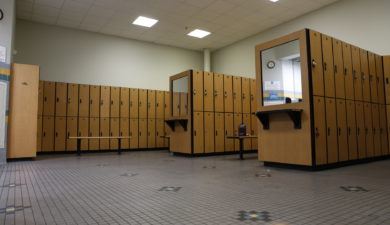 Many of the members have no complaints about the cleanliness of the showers, saying they are spotless. EOS Fitness regularly cleans the showers, and the locker rooms are well maintained throughout the day.
There will be no strange smells or uncleaned shower stalls that you must worry about during your time as a member. Once you are done with the shower, you can walk to the locker room and sit on the many available benches.
The locker rooms at most EOS Fitness locations are spacious, with a lot of bench seating for members. You can also use one of the dozens of lockers available inside, but be sure to bring a lock.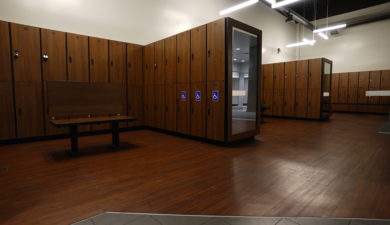 ---
Wrapping Up
While EOS Fitness is a budget-friendly gym franchise, it doesn't lack the amenities of certain pricier gyms.
All members have access to the clean and private showers, allowing them to clean up after an intense workout.
If you want to learn more about your gym location's showers, EOS Fitness provides free tours of the gym. You can see the facilities and understand the rules for showering at your local gym location.
For more, check out:
Hope this helps!