One of the benefits of attending a large university is that they usually have pretty good fitness and recreation facilities.
Those facilities are being paid for by your tuition fees so it makes sense to make use of them. Regularly working out is one of the best antidotes to the stresses that come with university life.
Even faculty and alumni can access the gym at most universities at a heavy discount compared to most big box gyms.
If you're a student, staff member, alumni, or you're thinking about attending the University of Illinois, here's everything you need to know about the UIUC gym.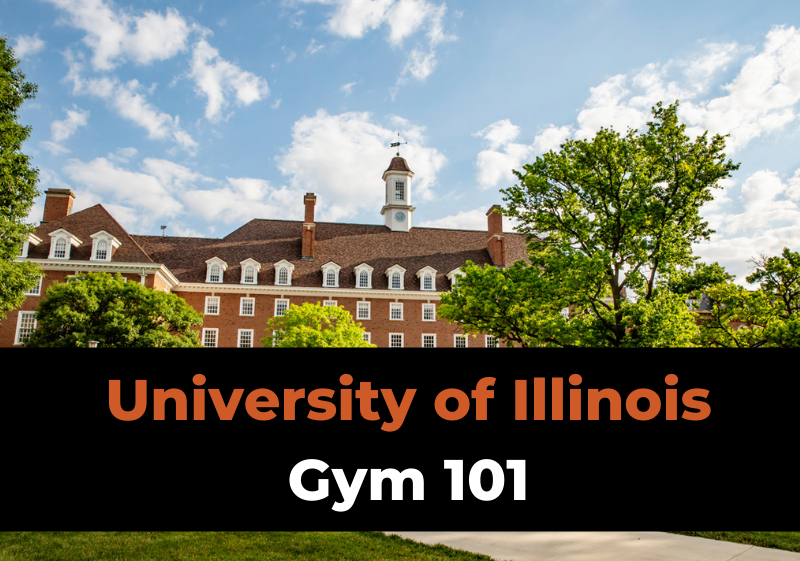 The University of Illinois Urbana-Champaign has one of the largest gym facilities in the country, with unparalleled equipment, plenty of group classes, personal training, an incredible climbing wall, and one of the best indoor tracks in the country. The only real downside is that the rec center can get extremely crowded and parking is a major issue for off-campus students.
Let's take a look at all the equipment, amenities, perks, and what real students are saying about the University of Illinois gym.
---
University of Illinois Campus & Gym Explained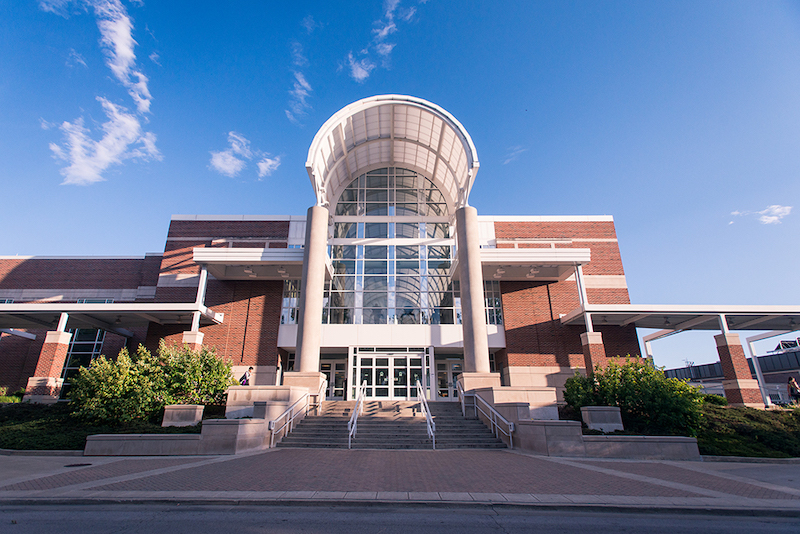 The University of Illinois Urbana-Champaign (UIUC) is a public land grant research university located in the twin cities of Urbana and Champaign, Illinois.
Founded in 1867, it has around 56,000 enrolled students, making it one of the largest universities in the country.
University of Illinois athletic teams compete in Division 1 of the NCAA and are members of the Big Ten Conference.
The University of Illinois has two recreation centers: The Activities and Recreation Center (ARC) and the Campus Recreation Center – East (CRCE). According to the University, the ARC is one of the largest on-campus recreation centers in the United States. The ARC is situated at 201 East Peabody.
The Total size of the ARC is 340,000 square feet, made up of 276,000 square feet of dry facilities and 64,000 square feet of wet facilities. There are actually four separate gymnasiums in the ARC:
Gymnasium #1 is located on the east end of the building on the first floor. It contains 5 basketball courts and 7 volleyball courts.
Gymnasium #2 is located in the center of the building on the first floor. It contains two basketball courts and day lockers.
Gymnasium #3 is located at the center of the building on the first floor. It also contains basketball courts, along with badminton courts.
Gymnasium #4 is located at the east side of the building on the lower level. It contains 3 basketball courts and day lockers.
There are also seven multi purpose rooms and one combat room spread throughout the facility. The lower level consists of mainly the weight training area, racquetball courts and squash courts.
In 2006 the ARC underwent a major renovation and expansion, which increased tuition fees by $77 per student.
---
UIUC Gym Amenities
So if you have a UIUC gym membership through enrollment or any other payment method, what do you get with your membership?
Cardio Machines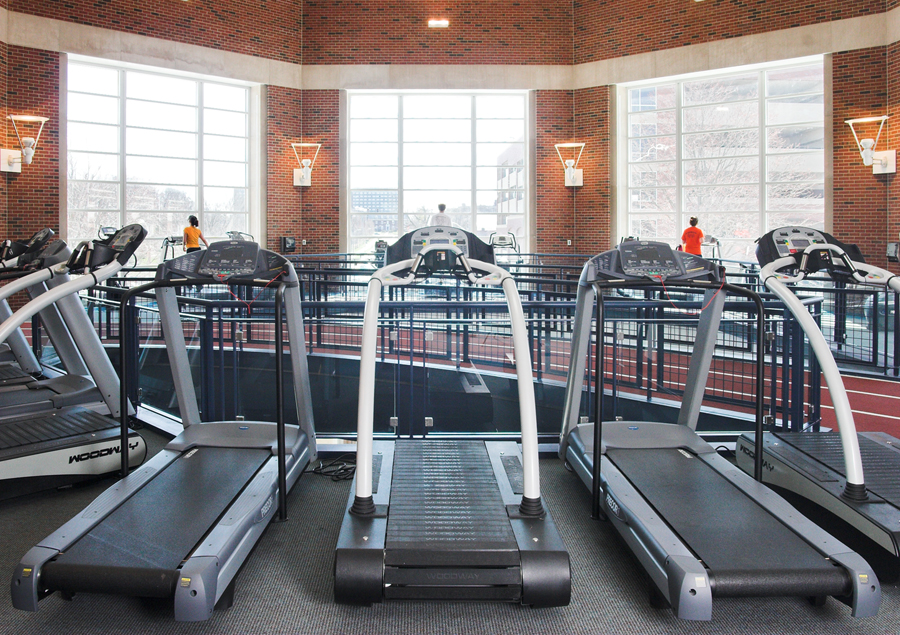 Some of the leading brands of cardio training equipment are represented in the large cardio training areas of the ARC.
These include Cyber Cardio arc trainers, recumbent and upright bikes, Life Fitness, cross trainers, treadmills and bikes, NuStep cross trainers, Precor Ellipticals and Technogym treadmills and steppers.
The CRCE Fitness Center also offers a good range of cardio training gear, with the same brands that you'll find in the ARC.
The CRC also has a dedicated stretching area equipped with Precor stretch trainers, and True Stretch flexibility units.
The CRCE workout area encompasses 10,000 square feet of space to house all of the strength training cardio equipment that it offers to members.
Weights & Strength Equipment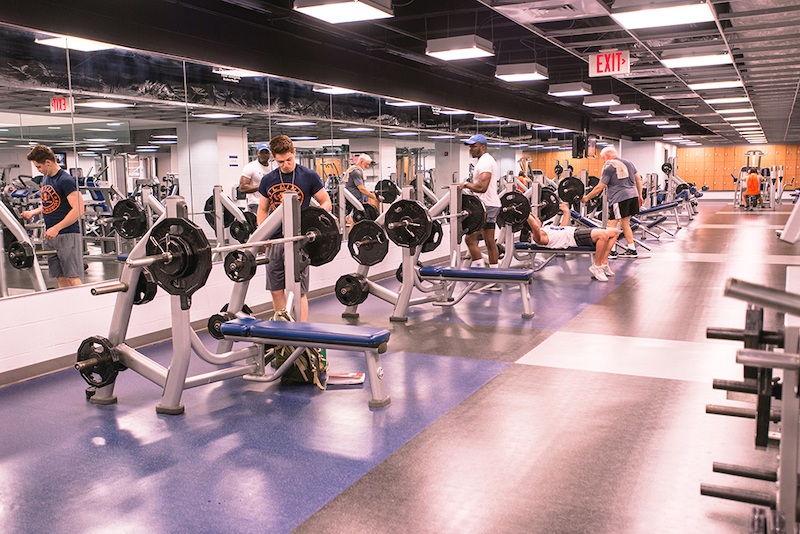 The lower level of the ARC features a huge range of strength training equipment, spread over a spacious area of workout space.
Brands of strength training equipment include Cybex, Hammer, Life Fitness, Keiiser, Powerlift and Forza.
There is also an extensive range of free weights, including Olympic barbells, dumbbells, kettlebells, benches, squat and power racks.
Located in the student wellness suite is a full complement of functional training gear, along with arc trainers, treadmills and rowing machines.
There are a total of 24.3 tons of weight plates. 9.5 tons of selectorized plates and 8.3 tons of barbells and dumbbells in the ARC strength training area.
The CRCE Fitness Center, while not as large as that at the ARC, is also well catered for in terms of strength training equipment.
In addition to all of the brands mentioned above, there is also a full complement of TRX training equipment, Hammer Strength bodyweight training machines, and other functional training gear.
Pool/Sauna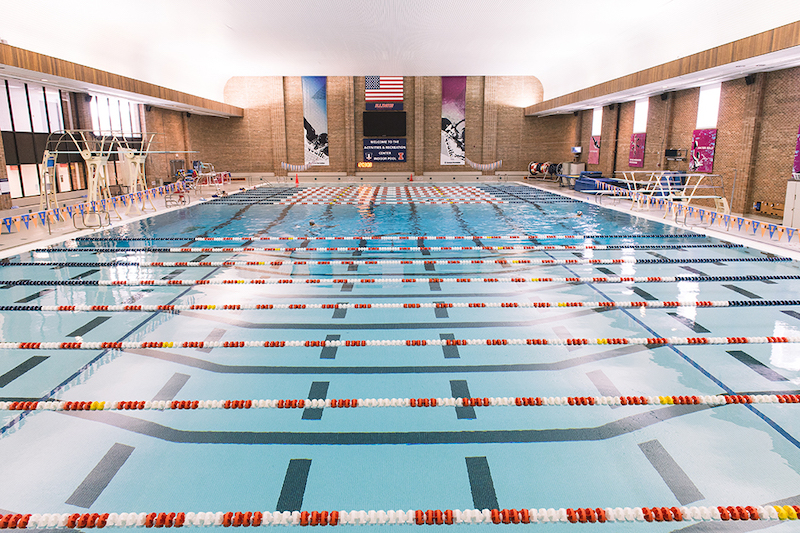 The ARC facility includes two 50m pools, one indoor and the other outdoor.
The indoor pool is 22,907 sq ft; 50M x 25yds, while the outdoor pool is 36,058 sq ft; 50M and has 4 lanes.
Both pools have a diving well and are manned by lifeguards. Lap swimming, club activities, varsity women's swimming/diving are carried out in the indoor pool.
There is an aquatic center at the CRCE. It includes a leisure pool, water slide and 12-person spa.
The temperature controlled leisure pool has depths from 3'6" to 4', and can be set up for volleyball and basketball.
It is ideal for water exercise, jogging and rehab/therapy.
Sporting Courts
Located throughout the rec center facilities are no less than a dozen racquetball courts and three squash courts.
The CRCE facility provides another 2 racquetball and one squash court as well as three basketball/volleyball courts.
Climbing Wall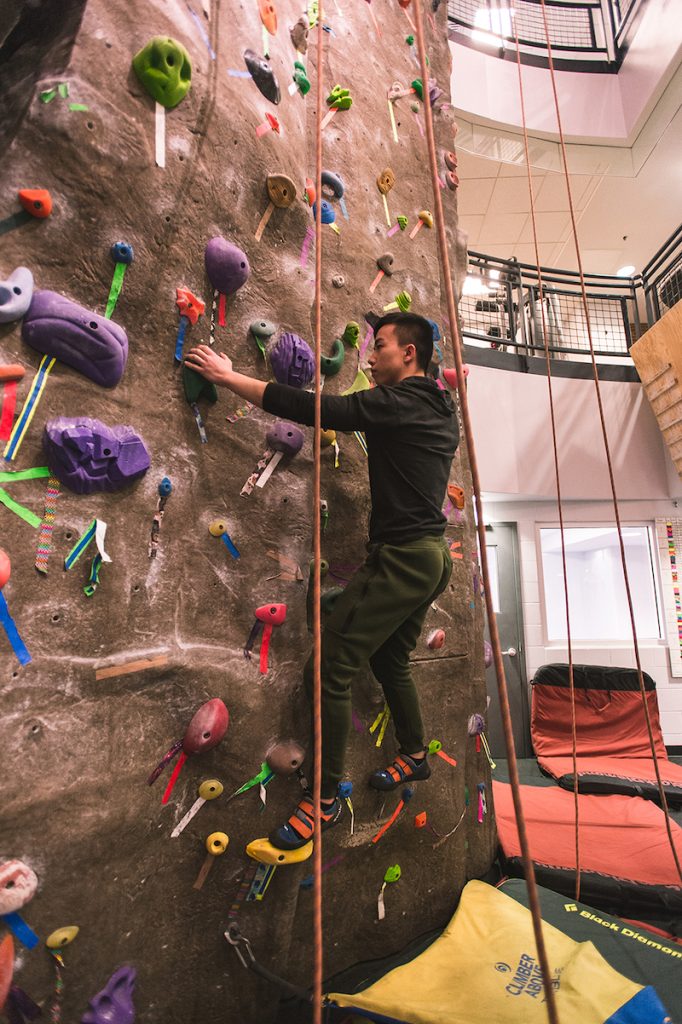 The ARC features a 35.5 foot tall climbing wall. It is designed for both beginners and advanced climbers, with the routes being regularly changed.
Bouldering, top rope and lead climbing services are offered. Guidance and training is provided by experienced staff members.
There is no climbing wall in the CRCE.
Indoor Track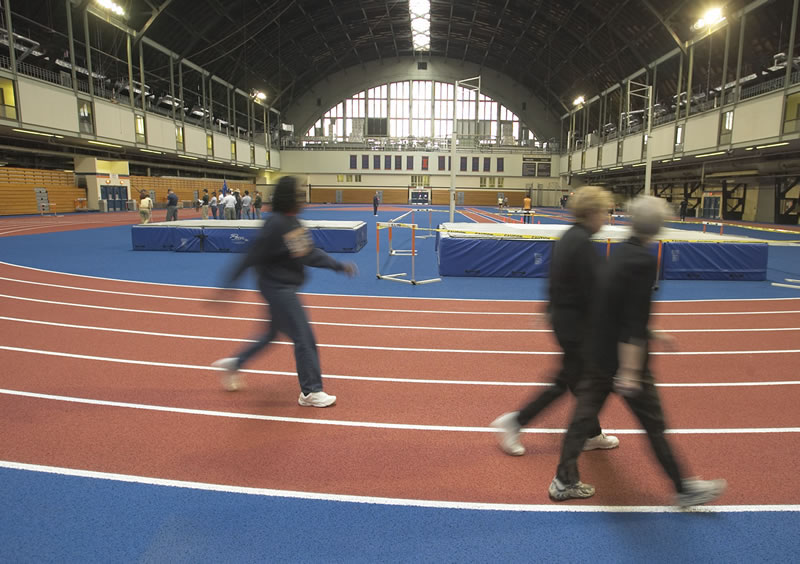 The University of Illinois has one of the best indoor tracks in the world.
Located in the Armory, in the very heart of the University complex, it features a 13mm thick, 200m Beynon Encapsulated Polyurethane track that features six lanes on the oval and eight lanes on the straight.
There are also state of the art field event facilities. In the field events, the long jump and triple jump have two jumping areas which allow simultaneous running of men's and women's events, while the shot/weight area features a concrete circle recessed into the floor.
Showers
Both rec centers provide men's and women's locker rooms, both of which are fitted with full shower and changing room facilities.
These are well maintained, and hygienic.
Group Classes
Campus Rec offers a full group fitness class schedule.
Class types include cardio, cycling, rhythmic/dance, high intensity, mind/body, strength, water, and Les Mills.
You need an active membership and to be a group fitness pass holder in order to sign up for a class.
Personal Training
Personal training services are available to all Rec center members. Training can be done one-on-one, with a partner or in a small group. The cost for one-on-one personal training is as follows:
Student: $25/hour
Member: $30/hour
If you sign up for more than 10 sessions, you'll get a small discount.
---
Who Can Use the UIUC Gym? (Membership Explained)
Students who are registered for 6 hours of more online or in-person study per week are able to use the rec center facilities free of charge outside of the student service fee, which is part of your tuition.
Students who are registered for fewer than 6 hours of classes per week will have to pay the service fee separately in order to gain access to Campus Recreation programs.
Students can sponsor spouses semester-by-semester with memberships at the student spouse rate. They can also sponsor one other individual semester-by-semester at the associate rate.
Students may also sponsor an adult-dependent semester-by-semester with memberships at the faculty/staff rate, and they can sponsor one other individual semester-by-semester at the associate rate.
Faculty and staff can join the gym for around $492/year as of this writing, while alumni will pay around $607 per year.
All members can add a spouse or family member for an additional fee.
---
What Are Real Students Saying? (University of Illinois Gym Reviews)
The best way to find out what a gym is like, without actually joining up, is to check out verified user reviews online. There you will get the unfiltered truth about both the facilities and the service.
When it comes to the University of Illinois, there are plenty of opinions, some good and some not so good.
Here is an overview about what students are saying about the rec center facilities at the University of Illinois.
Pros
Fantastic facilities
Engaging service
Great Climbing Wall
Nearly everyone raves about the incredible facilities on offer at the ARC, especially since recent upgrades have been completed.
The range of exercise and recreation offerings provided is outstanding and the look, design and facilities are second to none.
Unilek what you see for many gyms, most people also had positive things to say about the gym staff, especially those at the front desk.
Another common mention was the climbing wall, with its constant change of routes and engagement for all ability levels.
Cons
Gets crowded
Often has summer sports camps
Lack of parking facilities
There is no doubt about it, this is a big rec center. But when you have a university with more than 50,000 students things are bound to get crowded, especially at peak times.
If possible you should avoid going to the gym between 7:00 and 8:30 and 4:30 and 6:30 pm.
During the summer months, you will often find summer sports camps going on. That's not really a hassle, just expect to see plenty of teenagers running around. Lack of parking is an ongoing issue, similar to many large campuses.
---
Wrapping Up
If you are fortunate enough to have access to the Rec facilities at the University of Illinois, you'd be crazy not to take advantage of them.
You've got some of the best gym equipment and amenities in the country — and, if you're a student, it's not going to cost you anything.
So, go make the most of it!
For more guides, check out:
Hope this helps!