Gold's Gym is an iconic gym franchise that dates back to 1965, with its first location originating on Venice Beach.
While this gym franchise has a powerful image, it has maintained affordable gym memberships and amenities for all its members. 
In all Gold's Gym locations, you'll find a large selection of weight lifting and cardio equipment. However, some of the extra amenities at Gold's Gym will vary depending on franchise location. 
One of the most necessary amenities for many members is a large shower area. The showers will allow members to freshen up after an intense workout, making it essential for those commuting to work after going to Gold's Gym.
So, does Gold's Gym have showers?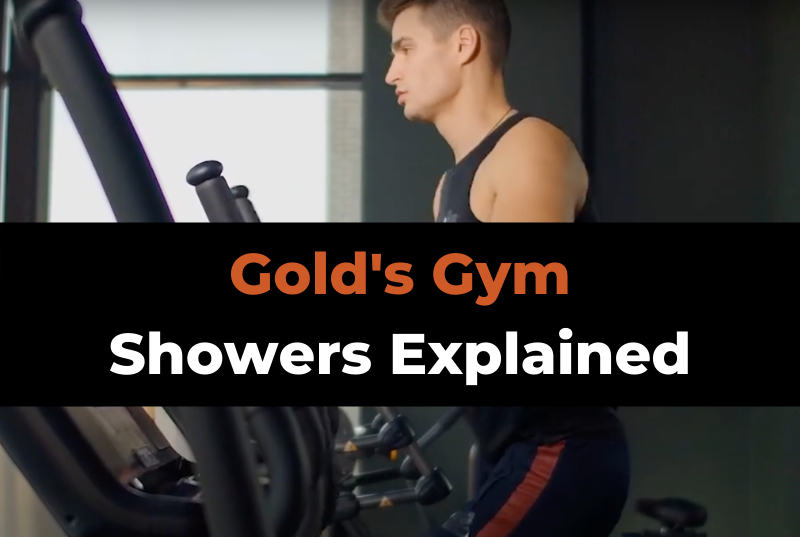 Gold's Gym does have private showers available for all members at all locations. Usually, the shower area will include free basic soaps, while towel service may cost extra at some locations. The showers at Gold's are clean, spacious, and usually use a basic curtain set-up for privacy.
Keep reading further to learn about the Gold's Gym showers, locker rooms, and other amenities for members.
---
Does Gold's Gym Have Showers?
Gold's Gym provides a convenient experience for all its members, with showers being a critical amenity for commuters. All Gold's Gym locations have a large locker room with private shower stalls. 
The lockers allow you to store your belongings during your workout, but you need to bring your own lock. These lockers are typically quite spacious, allowing you to fit a gym bag or small backpack inside.
If you need to commute somewhere after working out, having a shower is an essential amenity at a gym. With no shower at the gym, you will need to drive back home or wait for several hours before taking a shower.
Additionally, there are several benefits to showering after intense exercise, with some of the most important benefits being:
Reduced muscle soreness
Improved skin health
Stimulates the nervous system
While these benefits are great, the biggest reason people should take showers after working out is for hygienic reasons. When sweat sits on the skin, it can clog pores and aggravate existing skin conditions.
It only takes a quick shower to wash off all of the sweat and bacteria on the skin. Plus, you'll look and feel great as you get on with your day!
---
Does Gold's Gym Provide Soap or Shampoo?
While the amenities at Gold's Gym will differ depending on the location, many provide soap and shampoo in the showers. The soap is typically in a dispenser on the shower's wall that you can use. 
However, if you are sensitive to certain cosmetic ingredients, it's best to bring your own or ask your location for an ingredient list.
Many of the soaps used in gym showers are cheap and can irritate the skin, causing it to dry out. 
---
Does Gold's Gym Provide Towels for The Shower Area?
There are differing policies at Gold's Gyms across the United States, but most locations provide towels if you pay for towel service. Some select Gold's Gym locations provide complimentary towels for their members. 
In most cases, these towels are small white towels intended to wipe off sweat while exercising.
If you are taking a shower at Gold's Gym for the first time, I recommend bringing a towel yourself. 
(Definitely bring a towel if your Gold's Gym has a pool!)
---
Photos & Descriptions of Gold's Gym Shower
Most Gold's Gym locations have a similar design for the showers in the locker rooms. The showers will usually be located in a separate section near the stalls when walking into the locker room.
Several private showers will be separated by a solid wall that divides members and maintains privacy. Along with the divider walls is a shower curtain that is tall enough to cover you while showering.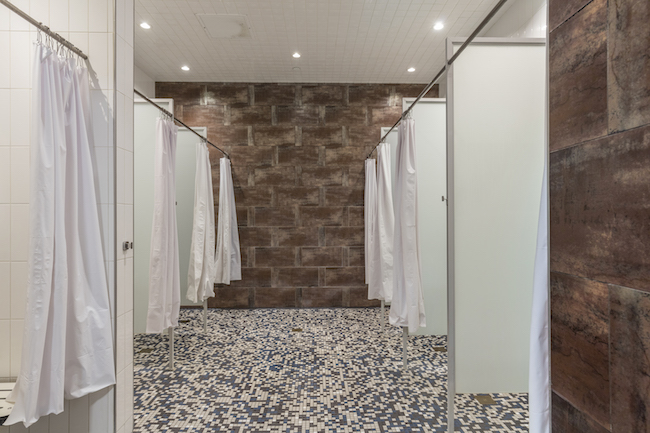 These showers are well-maintained, with most people reporting the showers being clean and without any unappealing odors.
Additionally, the showers often have a shower mat that increases the traction inside of the shower. 
Water can make tile very slippery, so these mats will allow your feet to grip onto the floor properly. Some locations also include shower chairs, which allow you to sit while taking a shower.
The shower stalls are average-sized, often 48"x36", and give you plenty of space. The appearance of the shower section will depend on the individual location, but it typically includes tan tiling and a Gold's Gym color scheme.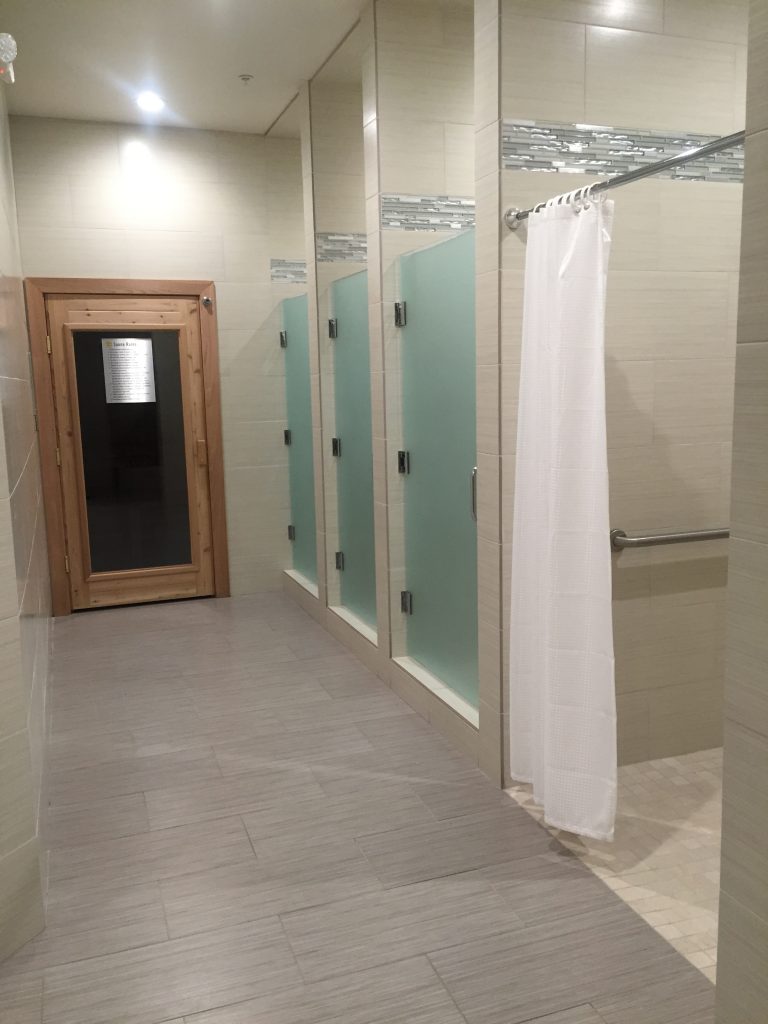 In select gyms, the shower section of the locker room will also have a sauna that members can use. Using the sauna has numerous benefits, such as:
Increased blood circulation
Aid in recovery after exercise
Improves heart health
The last feature in the Gold's Gym locker room is the spacious lockers. These wood-paneled lockers range in different sizes, from a small locker for a few items to a large locker for your wardrobe. 
Inside the locker rooms are also bench seats that you use while you get ready for your commute to work. Across from the locker rooms are the mirrors, with some locations having a hairdryer available.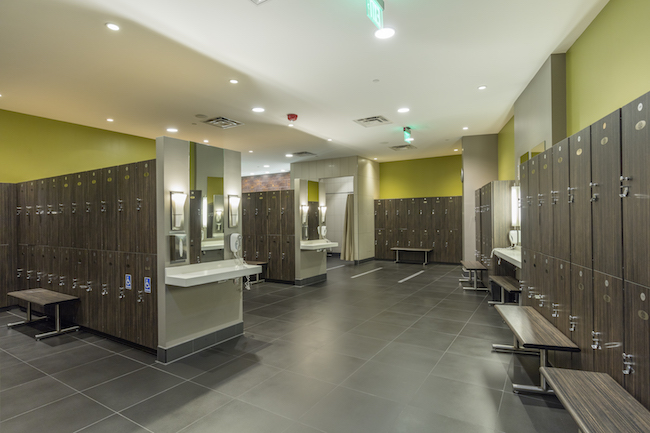 Take a tour or try a free trial at your local Gold's to get a better look at the locker room and shower area.
---
Wrapping Up
While Gold's Gym franchises differ greatly based on location, showers will always be available for gym members.
The showers are clean, spacious, and private so that you can feel comfortable. 
Showers are a crucial amenity for members commuting to work, and Gold's Gym offers plenty of shower stalls for the morning work rush. If you are curious about the showers at your local gym, you can ask for a free tour at your location.
You can see the cleanliness of the showers, learn the rules of the locker room, and view other key amenities. 
For more guides, check out:
Hope this helps!