The stereotypical university student drinks too much, parties too hard, and sleeps too little.
But smart students will remember to take care of their bodies and minds alike while on campus — especially when their school has an absolutely amazing gym.
And why not? Gym fees are almost always rolled into your tuition (and even staff can access these gyms for fairly cheap), so it'd be a huge mistake not to take advantage.
If you're a student, staff member, alumni, or you're thinking about attending Florida International University, here's everything you need to know about the FIU gym.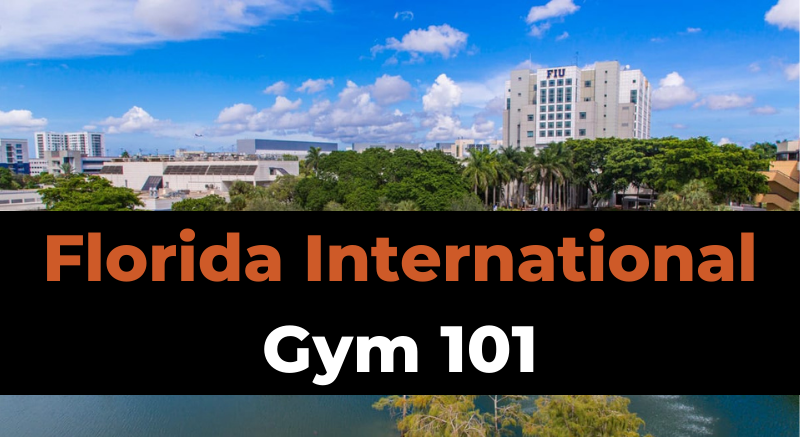 The Florida International University gym is one of the best facilities in all of Miami. Highlights include group fitness classes that rival top studios, and an award-winning indoor track for running and walking regardless of the weather. Members have very few complaints about the FIU gym outside of occasional confusion about operating hours and unenthused front desk staff.
Let's take a look at all the equipment, amenities, perks, and what real students are saying about the Florida International gym.
---
Florida International University Campus & Gym Explained
Florida International University is a public research university located in Miami, Florida.
While it provides Bachelors, Masters and Doctoral degrees, the emphasis is on research as a key part of the university's mission.
For more than 40 years FIU has been one of Florida's leading institutions. It has a student body of close to 54,000, making it among the top 10 universities in the United States.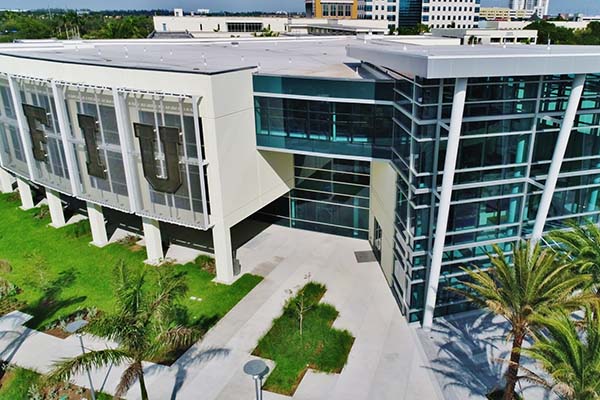 FIU has an alumni of more than 200,000.
Florida International University has 11 colleges and in excess of 40 centers, facilities, labs and institutes, In excess of 190 courses are offered including professional school programs.
There are two FIU campuses, Modesto A. Maidique Campus (MMC) and their Biscayne Bay Campus (BBC).
FIU's intercollegiate sport teams are dubbed the FIU Panthers. As a result, the Panther theme is prominent throughout the rec centers. The University has 17 varsity sports teams.
They have three main sports facilities that serve as home venues for Panther athletics. The football team plays at FIU Stadium, while the basketball teams play at FIU Arena and the men's baseball team plays at the FIU Baseball Stadium.
Florida International University operates recreation centers (Wellness and Recreation Centers, or RWCs) at both their Modesto A. Maidique Campus (MMC) and their Biscayne Bay Campus (BBC) campuses.
---
FIU Rec Center Gym Amenities
The two spacious wellness and recreation centers at FIU provide state of the art gym facilities, fitness classes, personal training and adventure excursions to help students get and stay in top physical shape.
Here's a taste of what you'll find:
Cardio Machines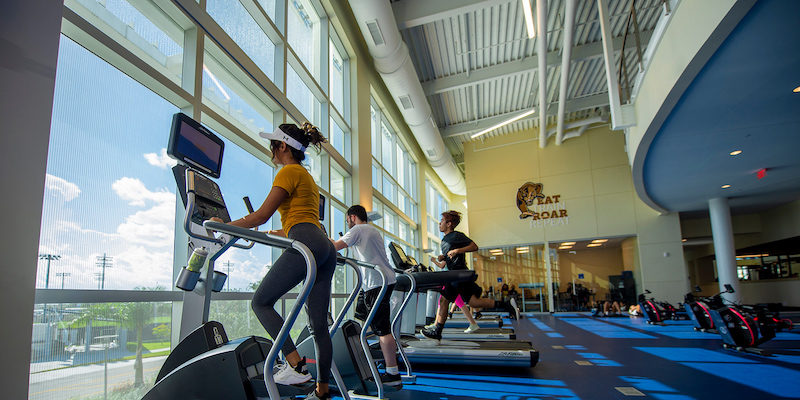 Both rec centers provide a full complement of cardio training gear.
The cardio area is housed on a mezzanine floor that overlooks the weights room.
You will find a range of treadmills, rowing machines, ellipticals and stair steppers.
Cardio machines are all interactive, allowing you to access online training apps, viewable on large HD screens.
Among the cardio brands represented are Life Fitness, Precor, TechnoGym and Cybex.
Weights & Strength Equipment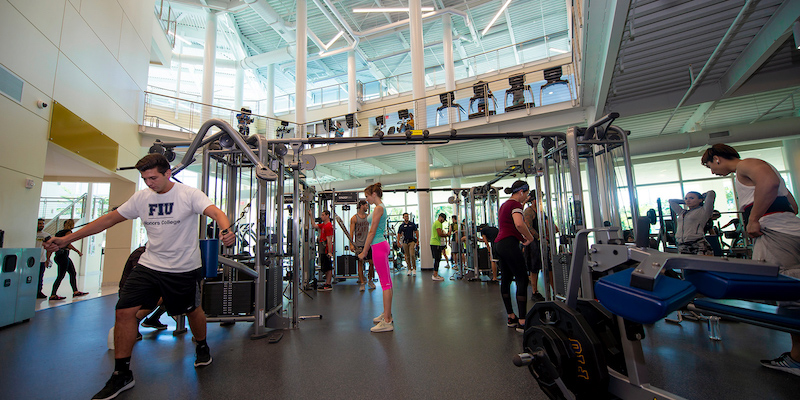 The weights rooms at the two rec centers feature a range of both free weights (barbells, dumbbells, kettlebells) and plate and pin loaded workout machines.
There are enough power racks, benches and space to move to ensure that the gym doesn't get crowded, even at peak times.
There are strength machines catering to both beginning and advanced users.
Pool/Sauna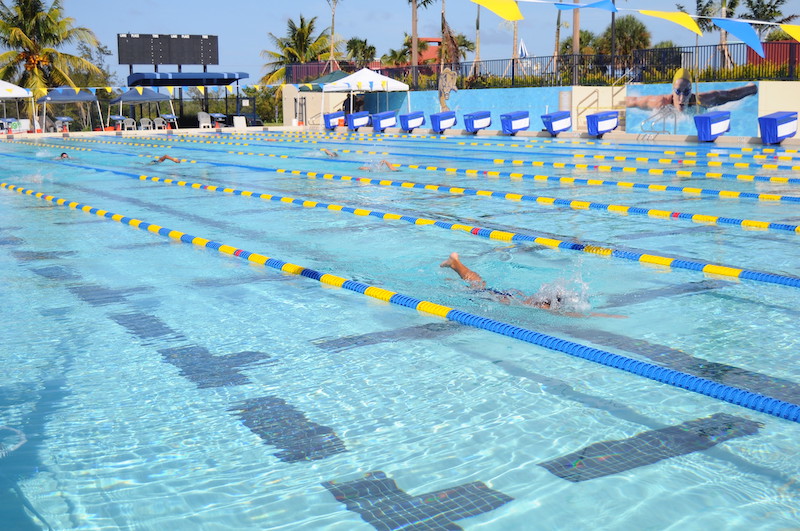 The MMC campus provides the Panther Pool Hall, which is a large pool complex that is manned by lifeguards.
It can be used for both recreational enjoyment and water aerobics workouts. The pool is open from 12pm to 7pm daily.
There are no sauna facilities in the FIU rec centers.
Sporting Courts
FIU provides basketball courts, tennis courts, and sand volleyball courts for student use.
Each rec center also provides two racquetball courts that are available for student use. These have to be booked for use.
In addition to the indoor courts, there are four outdoor basketball courts spread around the campus. There is also a Tennis Center across from the FIU Arena.
Climbing Wall
FIU does not have a rock climbing wall, unlike many college campus gyms.
However they do have a rock climbing club. The members meet three times per week at the nearby Xtreme Rock Climbing Center.
Indoor Track
The FIU Wellness and Rec Center features a 1-mile indoor running track.
The award winning design of the track features a radiused tilt up panel exterior wall system that includes expansive glass panels.
This allows natural light to penetrate through the entire indoor workout area.
Showers
Both Wellness and Rec centers feature spacious, clean and well serviced shower and changing room facilities.
Group Classes
Both campuses offer PantherFit Group Fitness classes.
Most classes are an hour in length and they run through the day and evening.
Students can access classes free of charge — they just need to register before the class is held.
Classes include yoga, spin cycling, Hard Bodies, Zumba, Pilates, Booty Sculpt and HIIT.
Personal Training
FIU offers students full personal training services.
All personal trainers have been certified by a National Commission for Certifying Agencies (NCCA) or a National Board of Fitness Examiners (NBFE) affiliate.
Student costs for personal training are about 10% lower than non-student WRC members.
Sessions start at around $30 for students, but you can get a better deal by purchasing them in bulk.
Personal trainers are able to give basic nutritional advice. For an in-depth nutritional consultation, however, students can make an appointment with a Nutrition Counselor through the Healthy Living Program.
Virtual personal training is also available online, allowing students to workout at home. The rates for online training are the same as in in-person training. You do not have to be a WRC member to access virtual personal training.
Adventure Rec Center
FIU has an adventure recreation center which is dedicated to offering adventure based experiential education opportunities to promote personal growth, leadership development, and respect for the great outdoors.
Activities include archery and kayaking.
Virtual WRC
The Virtual WRC provides remote fitness options to train at home or anywhere else that you may be.
The services on offer include weekly live classes, on-demand fitness classes and an extensive library of fitness and health related tutorials.
FIU PantherFit TV is also available to all members.
Athletic Training
Athletic Training Services are offered at the Wellness and Recreation Center at MMC.
It provides free and low-cost athletic training services to students and recreation members with muscle injuries and other sports related conditions.
After an initial evaluation, the athletic trainer will prescribe a customized treatment and rehab plan for the student.
Certified athletic trainers are also on site at all FIU intramural games and competitions to provide emergency and immediate care for any injuries resulting from sports participation.
---
Who Can Use the FIU Gym? (Membership Explained)
The FIU Wellness and Recreation centers can be used free of charge by all FIU students upon presentation of their valid student ID.
Faculty and staff can also become members for around $300/year depending on level of access and payment method.
(That's a pretty fantastic deal compared to the average cost of a gym membership.)
FIU alumni can also join the rec centers and can test-drive the gyms with a 1-week free trial if they never got around to using them as a student!
---
What Are Real Students Saying? (FIU Gym Reviews)
Quite a few students have gone online to express their views about the rec center facilities at FIU.
As with all services, there are some who love it and others who have the opposite view.
Here's an overview of the main points that were made by these actual users
Pros
Lots of great facilities & equipment
Awesome classes
Childcare
Nearly all reviewers spoke about the wide range of equipment that is available for members to use. There seem to be enough duplicates of popularly used machines that you don't have to stand around waiting for gear to free up.
The group fitness classes are also a hit with most people, with both the quality of the instructors and the range of classes getting big props.
The availability of childcare services was appreciated by a number of reviewers, even though you do have to pay a small fee to benefit from this service. It's not common to see this at a university gym, so bravo!
Cons
Unengaging front desk staff
Confusion over opening hours
COVID money hassles
The biggest complaint, and a bit of a common theme, was the lack of enthusiasm and engagement of the front desk staff. The general consensus was that they appeared uninterested and preoccupied.
There was also some confusion about when the gym is actually open, with posted hours on social media and even the outside door not matching up.
A final complaint was that some members had fees withdrawn during the lockdown period when they were unable to attend the gym.
---
Wrapping Up
The gym at the Florida International University is one of the best equipped workout facilities you will find in Miami.
The sports courts, facilities and revolutionary indoor track are second to none.
If you are a student at FIU you are already paying for this awesome gym through your tuition fees, so why wouldn't you make use of it?
If you work at FIU, you can access one of the best gyms in the entire state for an extremely nominal fee, so don't hesitate to sign up!
For more guides, check out:
Hope this helps!