Georgia State University is a world-class institution with a lot to offer.
Tons of great academic programs. Fantastic intramural teams and extracurriculars to enjoy. A hard-to-beat location right in the heart of Atlanta.
Being a student at GSU (or faculty and staff) can be exhausting, which is why it's so important take care of your mind and body while you're on campus.
Good thing Georgia State has a state of the art gym!
If you're a student, staff member, alumni, or you're thinking about attending Georgia State University, here's everything you need to know about the GSU gym.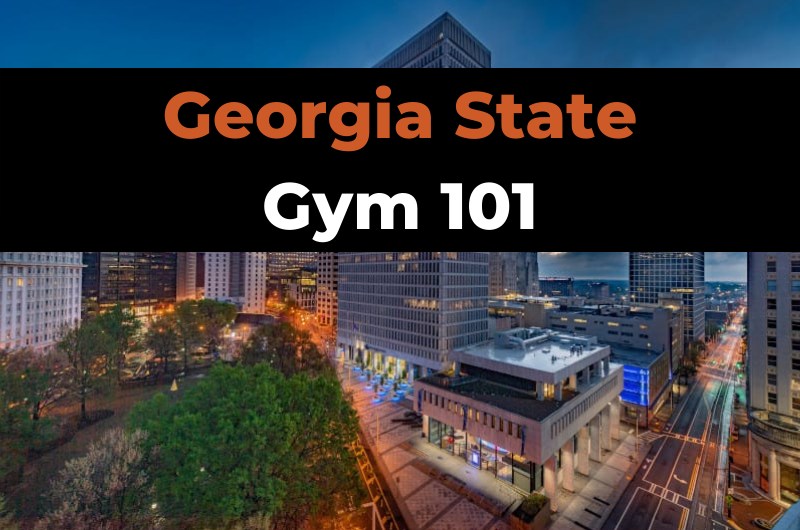 The Student Recreation Center at GSU has everything you look for in a high-end gym. The amenities include the basics like cardio equipment and a great selection of strength equipment, but you'll also find extra like a pool, climbing wall, and tons of sporting courts. It's completely free to current students, and even faculty and staff can join for a nominal fee.
Let's take a look at all of the equipment and perks you'll get when you become a regular at the GSU Student Recreation Center.
---
Georgia State University Campus & Gym Explained
Located in Atlanta, Georgia State U is a premier education institution. With roughly 52,000 students enrolled, it's not just a go-to destination for kids local to the area: students from all over the country recognize the impact the university has and travel to the state to study here.
Georgia State U actually boasts several gymnasiums, as the college has seven locations found throughout the Atlanta area.
However, the primary facility, and the one we'll be looking at for this article, is found on the main campus in Atlanta.
The Student Recreation Center is located at 101 Piedmont Ave. It opened in 2001, and in 2002, it received the distinction of being an Outstanding Sports Facility by the National Intramural and Recreational Sports Association.
In 2012, the facility became Green Globes certified for its commitment to sustainable development and utilizing green technologies.
(Learn more about gyms and their impact on the environment here.)
It's not merely an acceptable facility for students. It's arguably one of the best gyms you can find in the area.
---
GSU Gym & Rec Center Amenities Explained
The GSU gym is impressive in more ways than one.
Suffice to say, if you're a student, there's really no need to buy a membership to 24 Hour Fitness or any comparable gyms.
Plus, you're technically paying for the gym through your tuition, if you're a student at GSU. There's no point in paying for two separate gym memberships, but you might be wondering if the Student Recreation Center has everything you need to get a great workout.
Don't worry; it has everything you're looking for and more.
Cardio Machines

GSU is so confident you'll love its gym, it made a whole video selling the facility.
As you can see from the clip, there's a rather expansive cardio area filled with plenty of treadmills, ellipticals, and bikes.
Weights & Strength Equipment
There are both machines and free weights you can utilize, the latter of which is found on the lower level.
You'll find plenty of barbells, heavy dumbbells, and power racks for even the most grueling strength workouts.
Pool

The lower level of the Student Recreation Center also houses the aquatic center, where you'll find a lap pool.
Perfect for swimming to get in excellent shape.
Sauna
The aquatic center is also where you'll find the sauna, where you can unwind after an intense regimen.
These sessions are great for post workout recovery and coming back stronger next time!
Sporting Courts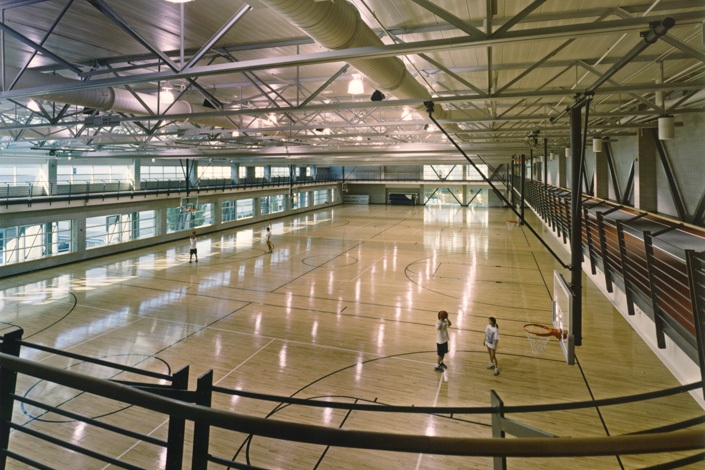 There's no shortage of options if you and some friends want to play together at the GSU gym. On the second floor of the building, you'll find the main gymnasium area, which is home to four courts that can be used for either basketball or volleyball.
On the third floor, you get an omni gym where the floor is lined for any of the following:
Basketball
Volleyball
Indoor soccer
Arena flag football
Fencing
Badminton
Climbing Wall
The lower level of the Student Recreation Center has a 35-foot climbing wall for you to scale at your leisure.
(Climbing is another surprisingly great way to get in shape.)
Indoor Track

A ⅛-mile running track is located on the third floor if you don't quite feel like running on a treadmill…
… or if the brutal Atlanta heat is keeping you indoors!
Showers
You better believe there are showers here, so you can get in a quick workout between classes and freshen up before you have to sit next to someone for 90 minutes.
Group Classes
Plenty of fitness classes are offered at the GSU gym. You just have to go online to see what's offered and when. You'll also register online to reserve a spot.
In fact, many of the GSU locations found throughout the state offer group classes, so when you search online, make sure you have the location you're nearest selected.
You don't want to sign up for a class that's taking place across town.
An array of classes are available from dance to cycling. And keep an eye out for special sessions that offer something a little off the beaten path.
Personal Training
To take advantage of personal training, students will have to purchase a separate pass. This provides you with the initial fitness assessment where you go over what you want to achieve, and you can buy a pre-selected number of sessions after that.
For current students, the initial fitness assessment costs $35 while every 45-minute training session after that costs $10.
Game Room
That right; the recreation center even has a game room with all kinds of fun toys to play with.
There's foosball, billiards, and air hockey, to name a few. Plus, there are video game consoles if you feel like having a tournament with your friends (you have to provide the game disc, though).
---
Who Can Use the GSU Gym? (Membership Explained)
In order to use the GSU gym, you have to be a member.
Current students are automatically enrolled with memberships, so you're all good there.
Faculty, staff, and alumni of GSU are able to purchase a membership at the service counter in the lobby. You'll get a much better deal as faculty/staff here vs joining a regular big box gym.
Additionally, spouses and children of current students are also able to buy memberships.
If you don't fall into one of those categories, then unfortunately, you're out of luck. The GSU gym is not open to the general public.
However, if you have someone visiting for a short period of time and they want to use the gym, you can purchase a $5 guest pass. This gives them access to all of the facilities for the day you buy the pass.
---
What Are Real Students Saying? (GSU Gym Reviews)
Whether you're a student trying to figure out if the gym is right for you or an alumni figuring out where you should head next, it pays to read reviews first.
After all, while the GSU gym is nice, it's not perfect, as evidenced by a slew of reviews online.
Here's what real members have to say:
Pros
Friendly staff
Ample amenities
Great sporting courts
The Student Recreation Center is a great place to cut loose and break a sweat after a hard day of studying.
One of the biggest perks that comes up repeatedly on Yelp and Google is the fact that the students who work here are top-notch. They know what they're doing, and when issues arise, they handle them swiftly.
The gym also gets high marks for the climbing wall, pool, and sporting courts, which compare well to what you'd find at a luxury gym.
Cons
Like most college gyms, the Student Recreation Center tends to get busy during peak hours.
Despite the gyms massive size, it struggles to keep up with GSU's large student body. Fortunately, this can be managed if you can get to the gym first thing in the morning or later in the day when there aren't as many students walking about.
There are also reviews about how the showers aren't exactly the cleanest around. However, this might have changed in the time since the reviews were posted. All gyms have their off days, right?
---
Wrapping Up
The Georgia State U Student Recreation Center has everything you could possibly need out of a gym.
From basketball courts to weights, you can find everything here you could find at a standard chain gym like Life Time Fitness or Equinox.
What other gym in Atlanta also has an area where you can play video games with your buddies? Or what about a sauna so that you can go somewhere to destress after midterms?
You pay for access to the Student Recreation Center whether you use it or not, so it'd be for the best to at least hit it up a few times.
For more college reviews, check out:
Hope this helped!