If you love group fitness training, F45 and Orangetheory are some of the best studios around.
They are incredibly popular, and new studios are popping up at a rapid pace. Utilizing various forms of exercise, you can get an incredible workout that will help you reach your fitness goals.
However, there are differences between the two studios you should know before joining.
So what's the difference between F45 vs Orangetheory, and which one might be right for you?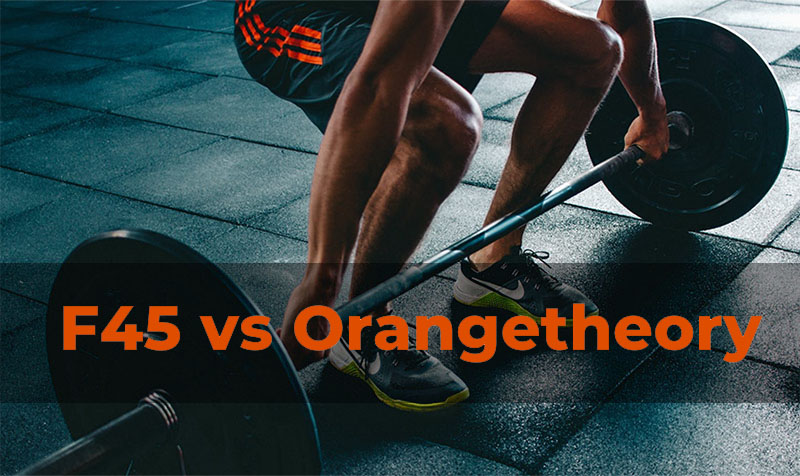 Orangetheory follows a similar formula for each of their classes, using a combination of rowing machines, treadmills, and weights for a calorie-crushing workout. F45 focuses on functional fitness routines using equipment like kettlebells or sandbags, and varies its workouts more often.
Orangetheory is more corporate and consistent from location to location, which makes Orangetheory better than F45 if you're just getting started as a beginner. If you're a little more advanced and want to kick your fitness up a notch, you'll love F45 and you'll find it a better fit for your goals.
| | | |
| --- | --- | --- |
| | Orangetheory | F45 |
| Cost | More affordable | More expensive |
| Workout | Run, row & lift | Circuits that vary every time |
| Vibe | Corporate & consistent | Raw & strong community |
| Best for | Beginners | Advanced |
Each of these options makes a great fit, but it depends greatly on your goals. So, in this article, let's take a look at some of the pros, cons, and differences between Orangetheory vs F45.
---
Cost
At specialized gyms like Orangetheory or F45, you pay a lot more than your standard gym membership fee.
However, you get a ton of value for your money at studios like these.
You'll never have a bad or ineffective workout here — every class is well-designed and led by a world-class instructor.
(The only thing that won't be included with your membership will be the heart rate monitors that are optional for attending classes.
You can rent these heart rate monitors on a per-class basis for around $5-$10 or purchase them for around $110. )
When you first decide to workout at either studio, they will offer you a chance to take a free introductory class.
This free class will allow you to test out the workouts and facilities, and then you can ultimately decide if you want to continue with the studio.
After you have made up your mind, the average costs of attending these studios will be:
Orangetheory costs:
The single class drop-in rate is $28 per class
Basic Package (includes four classes) for $59 per month.
Elite Package (includes eight classes) for $99 per month.
Premier Package (unlimited classes) for $159 per month.
Ten class package for $199
F45 Training costs:
Single class drop-in rate is $27 per class
Eight classes for $149 per month
Unlimited classes for $199 per month
Unlimited classes for three months for $537 ($179 per month)
Unlimited classes for six months for $1,014 ($169 per month)
Listed above are the average costs for these studios, but they can be more or less depending on your area.
Studios in large cities like Chicago or New York will have the most expensive membership fees.
For long-time members, the prepaid unlimited class options will be the best deal at both studios.
The single class drop-in costs, past the introductory, class will be the priciest.
If you are a new member, you should start slowly and choose the eight or four class plans for the first months.
After being a member for several months, you'll know if you need to up your membership — or try a different studio.
As you can tell, these studios aren't the most inexpensive option for fitness enthusiasts. You can join a decent gym for an entire month for the price of around 1-2 classes at these studios!
But the value is great if you need the accountability and instruction.
Overall, Orangetheory is the more economical and budget-friendly (just a fancy way of saying cheaper!) choice vs F45 Training.
---
Facilities and Amenities
When you step foot into both of these facilities, you will feel welcomed and inspired to workout.
At Orangetheory, the facilities are spotless, and the workout equipment such as the treadmills or rowing machines are state-of-the-art.
When attending the group classes, the spots are limited so each member who is in the class will get their own equipment.
However, you should bring your own towel and water bottle, because you will sweat a lot.
At Orangetheory, your workouts will be split between the cardio room and the weight rooms throughout your class.
While these studios are smaller than most corporate gyms, you have everything you need for an incredible workout.
When you visit an F45 training studio, you will quickly notice the difference between these two gyms.
The facilities at F45 are more geared for functional training, with an atmosphere that matches.
Most F45 gyms have weighted sleds, sandbags, medicine balls, and stationary bikes. The workouts will consistently be different each time, and they keep things interesting with the variety of equipment.
One of the significant differences between F45 and Orangetheory is that many F45 studios will have outdoor classes.
These outdoor workouts have a boot camp atmosphere that will give you fresh air during your workout.
---
The Workout
Now, for the most critical part of your choice—the workouts.
Working out at Orangetheory will be significantly different from working out at an F45 studio.
Both of the fitness studios have different goals for their members.
At Orangetheory, the goal is to improve your cardiovascular endurance and to burn as many calories as possible.
When attending a F45 workout, the goal is to build a functional body with well-rounded workouts.
Orangetheory Workouts
Orangetheory follows a similar routine for every workout they put their members through. You will go through three phases of the workout using:
Weights
Treadmills
Rowing machines
While it isn't mandatory, Orangetheory classes will focus on using heart rate monitors.
Your instructors will recommend you purchase one or rent one each class.
Throughout the class, you will be increasing or decreasing your heart rate to hit target zones, according to the instructor.
The workouts at Orangetheory are highly calculated, with equipment like the treadmills set to match your individual limits.
In total, the workout will be 1-hour long, and you will get fantastic results if you stick with it.
Because of Orangetheory's design, these classes are for people of all fitness backgrounds, from beginner to veteran. You can push yourself to your own limits, and the workout efficiency won't be affected.
---
F45 Workouts
At an F45 class, the workouts aren't as consistent, and they won't follow the same outline as Orangetheory.
During the workout, you will typically be stationed with other members while you do different exercises.
One group might be doing ab exercises while another is doing barbell curls.
You will all switch after several minutes, completing what's called a training "circuit" — for a total workout time of 45 minutes.
These circuits keep things fresh, and you will be trying new things each and every class.
However, things can seem more unorganized at an F45 class than at an Orangetheory one.
There will be multiple different groups doing different movements, giving the instructors limited time to teach exercise forms to individuals.
(F45 Training also makes use of an optional heart rate monitor, called the Lionheart, to target specific intensity zones.)
F45 classes are great if you are experienced and looking for a well-rounded and unique workout each time — but might not be the best choice for a total beginner.
Overall, the Orangetheory workout has a heavier emphasis on cardio and calorie burning (though you'll do some work with weights, too) while F45's bootcamp circuits offer a different focus each time for a well-balanced fitness approach.
---
The Community & Vibe
When you workout at any Orangetheory across the country, they will typically have the same corporate and polished feeling.
The front desk attendant will greet you to sign in and answer any questions you may have about the studio.
The rooms will usually be lit by orange or red lights, giving you an intense and focused environment.
In the background, you will have energetic music motivating you throughout the workout.
Orangetheory attracts people of all backgrounds and fitness levels. You will connect with beginners but may also see people very experienced in fitness.
The community is very encouraging for beginners and is often seen as a better alternative to F45 or Crossfit.
One downside to working out at Orangetheory?
Their marketing team will call you ENDLESSLY to try to get you to join and commit to a membership.
At F45 Training, you will still find people of all backgrounds, but it leans more towards the experienced exerciser.
Focusing on functional training, the members will do explosive movements that can be tough for beginners to master.
Different from Orangetheory, the environment of an F45 studio has a more CrossFit-inspired facility that looks rugged.
There are pull-up bars on the walls, different weights on the floors, and stationary bikes.
For many beginners, it can be intimidating when you start working out at an F45 studio.
However, once you start attending more classes, you'll love the down-to-business atmosphere. Plus, the instructors are experienced and encouraging.
You can tell that they love their jobs, and they want to push you to reach your potential.
Outside of the studio, F45 will also offer boot camp-style workouts that focus on calisthenics movements.
These types of workouts offer a good change of pace and give you an overall great workout.
Both Orangetheory and F45 have a great vibe and community, but expect Orangetheory to feel a little more polished, corporate, and unfortunately, salesy.
---
Wrapping Up
For the hardcore fitness enthusiast, you will feel right at home attending an F45 group fitness class.
These classes are a lot of fun but can also be very challenging for even the most experienced gym-goer.
At Orangetheory, you will be following a standard routine with an intensity personally tailored to your fitness level.
The treadmills will move at a comfortable speed, the rowing machines will have ideal resistance, and you can go at your own pace.
If you are looking for a polished fitness facility with a familiar routine, Orangetheory is the better choice. Orangetheory is also probably the better choice for a total beginner looking for a challenge.
If you want to workout doing functional training at a more rugged facility with boot camp-style workouts, F45 studios are a great choice.
Better yet — take a free introductory class at both studios and decide for yourself!
Before you go, check out:
Hope this helps!