You're never too young to take the initiative toward better health.
Childhood obesity is a serious issue, so it's paramount for kids to develop healthy habits early on to set themselves up for later success.
P.E. and after-school programs may not be enough!
Luckily, gyms can be a great resource.
Group classes can make working out fun, and some gyms even have basketball courts or racquetball to get members moving without having to commit to a workout.
The only problem is that many gyms out there have restrictions on how old you can be to use the facilities.
Which national big box gyms allow kids under 18 to enter and use the equipment? And do any gyms allow 14 and 15-year-olds?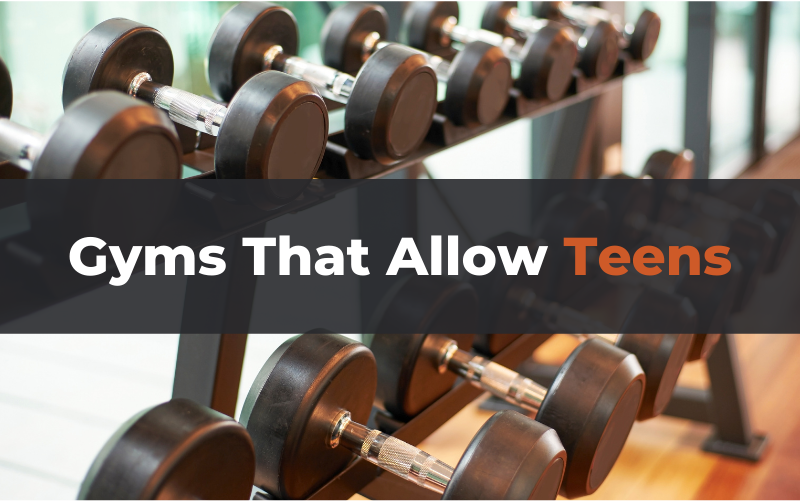 For the most part, you have to be at least 18 years old to go to the gym, but some are willing to make exceptions under certain conditions.
If you want your kids to go to the gym (or you're a teen yourself looking to work out more), then here are your best options.
YMCA
Planet Fitness
24 Hour Fitness
Gold's Gym
Crunch Fitness
Equinox
The best gyms for teens to workout without adult supervision are YMCA and Planet Fitness. You may have to go through an orientation and/or have a parent or guardian sign a waiver, but most locations have policies available for teenagers to attend unsupervised.
Even at the gyms above, you usually have to be at least 12 years old to go under certain conditions.
It's vital to check with each individual gym to see exactly what its terms and conditions are. Some may have different rules than others and policies almost always vary by location.
---
1. YMCA
The YMCA is one of the most family-friendly gyms around.
They have many programs specifically designed for preteens and teenagers from camps to college preparation courses.
Naturally, minors can also utilize the gym facilities at the Y.
These locations have cardio gear, weights, and often a pool.
You just have to be a minimum of 14 years old and have gone through an orientation. This will allow you to work out at the Y without an adult present.
YMCA monthly prices tend to vary pretty significantly from one location to the next, but you'll typically find them in the range of $30 to $70 a month.
Fortunately, teens get a bit of a discount.
Regardless of the gym nearest you, the youth discount tends to be between $10 and $20 cheaper per month. 
Many of these gyms even have youth leagues. It often comes with less pressure than competing with a school, so it can be a good, fun way to get your kid involved in team activities.
See my full YMCA gym review and breakdown here.
---
2. Planet Fitness
Planet Fitness is among the most affordable options out there with memberships starting at $10/month.
You'll find all of the basic equipment you need to work up a sweat, and it's one of the easier gyms for teens to get into.
In order for teens between the ages 13 and 17 to utilize the facilities, they have to bring a legal guardian with them for their first appearance.
The guardian has to sign a waiver to allow the teen to exercise without supervision from that point forward.
As long as the membership remains in good standing, the teen can work out any time.
Planet Fitness gyms are open 24 hours a day, and teens can use it whenever it's most convenient for them.
Plus, teens should keep an eye out for special promotions.
For the summer of 2019, Planet Fitness hosted the Teen Summer Challenge, allowing teens to work out completely free of charge for the season.
It's unclear if they'll bring it back in the future, but if they do, then it would be a great option for teens looking to get in shape.
See my full Planet Fitness review and breakdown here.
---
3. 24 Hour Fitness
24 Hour Fitness is a really solid mid-range gym with a lot of attractive amenities.
A membership for adults generally costs in the range of $30 to $50 a month. There are some additional fees you'll have to watch out for when you first sign up.
The exact amenities vary, but you may be able to find a pool, basketball court, racquetball court, and turf zone at one near you.
This is one gym where minors require parental supervision any time they want to exercise.
With any 24 Hour Fitness membership, you can add family members for an additional monthly cost. This includes children between the ages of 12 to 17.
If parents and teens want to hit the gym together, 24 Hour Fitness is a great choice and one of the top mid-range gyms around.
See my full 24 Hour Fitness review and breakdown here.
---
4. Gold's Gym
Gold's Gym is about in the same price tier as 24 Hour Fitness where you can expect to spend in the area of $30/month for a membership.
With that fee, you get access to everything you'd expect from awesome weight lifting equipment to cardio machines and group classes, and some locations even have pools and boxing areas.
Make sure to ask your local gym about their family membership add-ons.
Parents should be able to add kids as young as 13 to their plan, allowing them to use everything under the roof.
At most locations, the adult parent or guardian will need to accompany teens to the gym at Gold's.
See my full Gold's Gym review and breakdown here.
---
5. Crunch Fitness
A base-level membership for Crunch Fitness starts at $19.95/month, but if you want access to more deluxe amenities, like group classes and tanning beds, then you may need to spent up to $29.95/month.
The higher level memberships also allow you to go to more locations, over 300 in the entire country, as opposed to just the one of your choosing.
You're also going to need those higher memberships if you want to bring other family members, including minors, to the gym with you.
Individuals as young as 13 can visit Crunch Fitness provided they have a guardian who is at least 21 years of age or older with them.
See my full Crunch review and breakdown here.
---
6. Equinox
Equinox is one of the most deluxe gym chains around.
With memberships usually costing about $200/month, you know you're getting access to some of the best equipment and amenities around.
You've likely never seen a gym pool like one at Equinox before, but that doesn't mean Equinox is strictly adults-only.
You should call ahead of time to check your local Equinox's policy, but many allow kids as young as 14 to work out as long as there's an adult with them.
Then again, considering the price, you may find it's best to look elsewhere, especially if you have to purchase multiple memberships.
See my full Equinox review and breakdown here.
---
Is it good for teenagers to go to the gym? What are the benefits?
A gym membership has tons of benefits for a 14, 15, 16-year-old, or really any teenager!
There's obviously the main benefit of physical health. Building strength and lean muscle while keeping body fat in check, along with strong cardiovascular help, is important for any body. Especially a developing one.
But there's also the fact that routinely going to the gym, setting goals, and exercising discipline develops extraordinary confidence in young people.
The healthy habits formed in the gym often carry over to improved performance in school, athletics, and even a well-rounded social life.
Parents should definitely consider bringing their teens to the gym with them. Just soaking up the environment and learning the basics can have a huge payoff!
---
Wrapping Up
If your teen is looking to get in better shape, there are plenty of options out there.
For my money, YMCA is the best bet for families as kids under the age of 18 get a little bit of a discount and still have access to a ton of great amenities.
Teenagers 14 and over at the Y can go through an orientation (at most locations) to be able to attend and work out unsupervised.
Planet Fitness is another solid option where teenagers may be able to attend unsupervised after a parent signs a waiver.
Everywhere else, teens looking to work out may need a parent or guardian present each and every time.
For more gym guides, check out the following.
Hope this helps!