Looking for a place to work that's cheap, clean, well equipped and friendly in Texas, Nevada, or North Carolina?
Fitness Connection may provide just what you're looking for.
Many of their gyms used to be Gold's, so you know the equipment and other facilities are top notch.
But if you're on the fence, let's discuss:
Is Fitness Connection worth it? Here's a full review.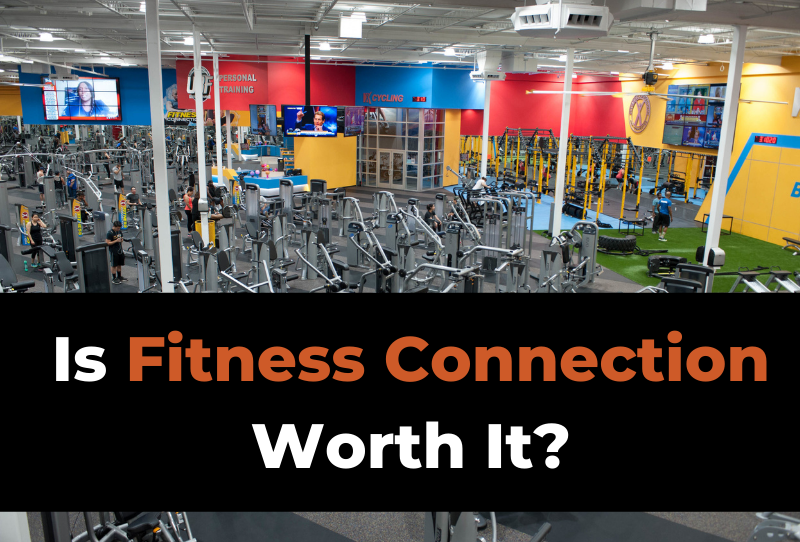 Fitness Connection is undoubtedly one of the most impressive gyms, on paper, in terms of overall value. For just $10 per month to start, you'll get access to equipment and amenities usually only available at clubs that cost 3x as much. The only downside is that Fitness Connection is only available in a handful of states — but growing rapidly!
Let's take a closer look at the pros, cons, amenities, equipment, costs, and more.
---
What is Fitness Connection?
Fitness Connection is a chain of gyms that operates in the states of Texas, Nevada and North Carolina.
They have a total of 31 gyms in Texas, one in Nevada and ten in North Carolina according to the official website.
A number of these facilities used to be Gold's Gyms and were rebranded between 2015-2018. 
The Fitness Connection was officially launched in 2011. It is rapidly expanding and is one of the fastest growing gym chains in the United States.
This is a family oriented heath and fitness club that offers a number of family friendly activities.
The biggest attraction is the low price, starting at just $10 per month!
But if you've ever tried to join a gym, you know there can be lots of hidden fees that come along with your membership.
So let's take a closer look…
---
How much does Fitness Connection cost?
There are two membership options at Fitness Connection.
For access to a single location, the cost breaks down like this:
Initiation Fee (varies by location) – $0-100
Monthly Fee – $10
You can also purchase an all access membership which provides entry to any of the clubs within the Fitness Connection franchise.
In that case you will pay $20 per month.
These prices include access to a range of fitness classes and basketball courts and pools. You also have access to nutritionists to offer support.
That makes the price at this gym extremely competitive with any other budget fitness center in the United States. 
(It's on par with Planet Fitness, budget-wise, but offers far better amenities, which we'll get to.)
To make things even more competitive, Fitness Connection gyms frequently run special promotions where the initiation fee is reduced substantially or, at times, even waived completely.
At the time of this writing, they are running a Black Friday special with a $10 initiation fee. 
Besides, initiation fees are one of the best things you can negotiate when joining a gym.
(For more on gym memberships, read about whether they'll check your credit or ask for your Social Security Number.)
---
Fitness Connection Equipment, Features & Amenities
Alright, so you've put pen to paper and officially become a member at Fitness Connection.
(Although, most locations do not require a contract. Hooray!)
Let's take a look at what to expect when you walk through the door.
Equipment
Every Fitness Connection gym provides a spacious gym floor with lots of strength training equipment, free weights, and cardio gear.
You'll find multiple deadlift platforms and squat/power racks, which is an extremely impressive find at a gym this affordable.
There's a private workout floor with the same state of the art equipment that you'll find in the main strength training area.
In addition, each gym features a women's only workout area that features a variety of cardio and weight training equipment.
Functional training is well catered to at Fitness Connection, with a complete rig that features:
Olympic bars
bumper plates
heavy bags
and more.
There's also a turf training area equipped with sleds, plyo boxes and battle ropes. 
All in all, the equipment selection here is fantastic compared to other budget gyms.
Group Fitness Classes
Fitness Connection gyms provide a full complement of group classes spread throughout the day to suit those who want to train before work, during the day, and in the evening.
The group fitness training studio features an instructor stage, studio lighting, and surround sound to create a completely immersive high octane training environment. 
Group fitness classes include:
kickboxing
yoga
Pilates
hip hop dancing
muscle conditioning
and more.
They also offer Bootcamp classes and have a separate spin cycle studio.
All included with your membership!
Again, an extremely impressive selection given the low monthly price.
Pool/Sauna
Some, but not all, Fitness Connection gyms provide swimming pools.
However, each facility does feature a wood paneled sauna that is heated with rocks. 
Check your local club to see what they have to offer.
Childcare
Fitness Connection gyms operate a kid's club that is staffed by knowledgeable and trained Kids Club staff.
The Kids Cub features a mini movie theater, homework station and tablet stations. 
Best of all, many locations do not charge an extra fee for child care services, making Fitness Connection a fantastic choice for parents.
Other Amenities
Every Fitness Connection has a FitFlix theater with a large screen, surround sound and a host of cardio equipment, such as treadmills, ellipticals and stationary bikes, allowing you to shed calories as you watch a movie. 
Every location also features full sized basketball courts with several hoops. There are also multiple indoor racquetball courts at select locations.
You'll also find fully equipped, spacious and clean locker rooms, rest rooms and lounge areas at every Fitness Connection gym.
---
What real people are saying (reviews, pros & cons)
We've poured through hundreds of real member reviews of Fitness Connection and picked out some common themes you should be aware of.
Like any business the results are a mixed bag and your experience will largely depend on what location you join and the management/staff there.
Let's take a look.
Pros
Regularly cleaned and sanitized
Plenty of equipment, even during peak times
Great kid's club
Very sharp price point
On paper, there's very little to complain about at Fitness Connection.
For just $10-20/month plus annual fees, you get access to top notch equipment, group classes, and even childcare! Fitness Connection members love the value they get out of their affordable monthly membership.
Plus, most locations seem to be well cared for, with working equipment that's sanitized regularly. Locker rooms are cleaned regularly and overall, people feel safe and comfortable working out here.
Cons
Some gyms seem very nit picky about COVID rules 
Some negative staff interactions
Difficulty with cancellation
These are the same complaints you get at every gym these days.
Front desk staff and management are really hit or miss at most chains outside of luxury gyms, so a few members have had bad experiences.
Tour your local Fitness Connection and meet the staff before you join, for sure.
Cancelling your gym membership is a hassle almost everywhere, and members note that Fitness Connection is no exception.
---
Alternatives to Fitness Connection
There are a number of budget gym chains that are direct competitors to Fitness Connection.
Here are three that offer the closest value for money and overall experience:
Planet Fitness is famous for being ultra-affordable and easy to find. There's one on almost every block! That makes it a great alternative if you don't live close enough to a Fitness Connection.
Planet Fitness doesn't have as much strength training equipment, but to many people, that's a good thing. It's a beginner-friendly space where you won't find many meatheads.
Crunch Fitness and Snap are both great convenience gyms with solid equipment, cheap monthly prices, and basic amenities.
(If the women's only section at FC interests you, you may also want to check out Curves.)
However, Fitness Connection is probably the best overall value for the money of the bunch.
---
Wrapping Up
Fitness Connection offers a whole lot for not very much.
In fact, of all the gyms we've reviewed, this one impresses more than any other in terms of value for money.
For a weekly cost of just $2.50 for a single location access you get access to every kind of fitness and training stimulus you could ask for, plus extra like saunas and childcare.
Make it 5 bucks a week and you're able to go to any of their locations at your convenience.
That's an incredible deal. So is Fitness Connection worth it? You bet!
For more gym reviews, check out:
Hope this helps!