Since 1992, Curves gyms have been providing a fitness space exclusively for female members.
They provide a supportive all-inclusive environment for women of all shapes and sizes.
However, while Curves is well-known for giving women a safe and supportive place to workout — is it actually any good? Does it get results?
And most importantly, is Curves gym worth it?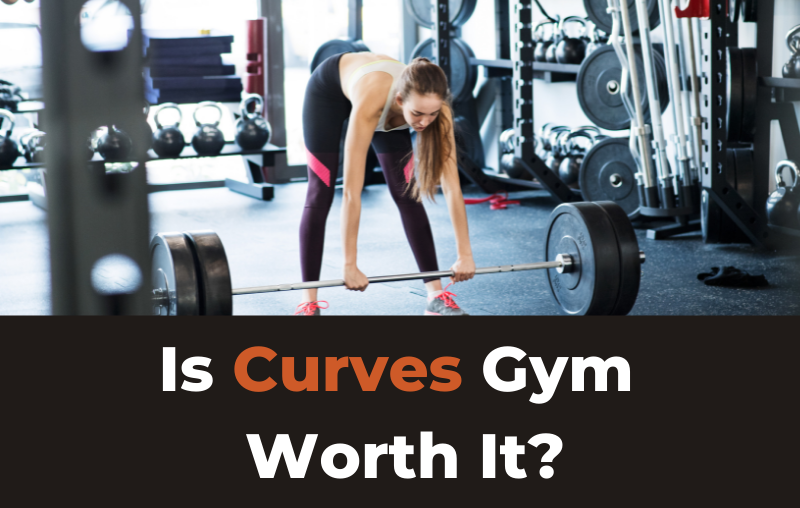 Curves is a great option for women who are total beginners to fitness and need a safe space to get their bearings. The workouts are easy to follow and the instructors are top notch. You'll likely see good weight loss and basic fitness results your first few months with Curves.
However, many women outgrow Curves quickly and find they need more challenging workouts, custom routines, or more freedom to use other equipment. If that's the case, you'll want to look into a good mid-range gym with amenities like childcare, free weights, and more.
Let's take a closer look at the pros and cons of Curves.
---
What is Curves?
Curves International is a women's fitness gym franchise that has been operating since 1992.
It is variously known as Curves Fitness, Curves for Women and simply Curves.
They have around 400 franchises around the world, making Curves the largest women's fitness franchise in the entire world.
However, Curves is not a regular big box gym with equipment that you use on your own.
The Curves model is built around circuit training workouts.
Women move through a series of stations, alternating between a hydraulic machine resistance exercise and a cardio or calisthenics exercise designed to burn off calories.
Sessions are led by an instructor and last for 30 minutes, during which time the women do exercises for all major muscle groups in the body.
Curves instructors also provide weight loss and dietary guidance for women.
They even sell a range of nutritional supplements, including protein shakes and omega-3 fatty acid capsules.
Curves International has its headquarters in Waco, Texas.
---
How much does Curves cost?
Curves franchises may vary slightly in their fees.
A basic monthly membership at most centers is around $69 to $99 per month depending on location.
There is also a joining fee of $149.95.
Your membership gets you unlimited access to classes throughout the month, one-on-one sessions with a coach, use of the app, and more.
Every gym will run periodic special offers so it will pay to check your country's website and find your nearest location to see what specials are coming up.
Depending on the location, you may also be offered a 7-day complimentary pass.
Curves also offers a free 7-day on demand free trial, where you can try their workouts online.
Curves gyms have a minimum 6-month contract.
When you sign up for 12 months, you can use your pass at any Curves location.
This pricing makes Curves a bit more expensive than the average gym membership, which is somewhere around $30-50 per month with a smaller start-up fee.
However, you get a lot more bang for your buck at Curves than at most other gyms.
---
Curves Equipment, Features & Amenities
Curves follow a fitness model which is based on a circuit program.
On this program you alternate between a resistance exercise and a cardio move as you work your way around the circuit.
Each station lasts for 30 seconds and you should be able to work through the circuit about one and a half times in a 30 minute workout session.
Equipment
Most of the equipment used in Curves gyms is machine based.
The specific machines that are available will vary between locations. However, the following stations are standard in all facilities:
Leg Press
Chest Press
Lat Pulldown
Leg Extension
Leg Curl
Tricep Pressdown
Bicep Curl
Shoulder Press
Hip Abductor
These machines use hydraulic resistance.
This feels very different from the resistance you get when using free weights or plate loaded machines.
With hydraulics you are not working against gravity. Instead, your resistance is in the form of fluid and a piston.
There is no negative resistance, so you do not benefit from eccentric training.
With the circuit system, there is little opportunity to progressively increase your resistance between workouts.
You also cannot benefit from the traditional set and rep system to work muscle groups.
As a result, the resistance part of the workout is designed more to complement fat loss than muscle gain.
Group Fitness Classes
Curves gyms offer an extensive range of fitness classes.
These include Body Basics, Cardio, Zumba, Boxing, and Balance classes.
They cover all fitness and intensity levels. Boxing classes combine cardio, strength and coordination and balance training using traditional boxing moves.
Pool/Sauna
Curves gyms do not provide pool or sauna facilities for their members.
Childcare
There are no childcare facilities on offer at Curves.
This is a bit of a disappointment as you'd think that childcare would be a no brainer, especially for moms during the day.
Other Amenities
The only amenities on offer at Curves are changing rooms and bathrooms.
There are no showers at Curves fitness centers.
This is quite a rarity in the gym business and not very good in terms of member friendliness.
If you're planning to go to work after your workout, you're going to have to go home first to have a shower and freshen up!
---
What real people are saying (reviews, pros & cons)
There are hundreds of customer reviews on Curves gyms online.
As you'd expect they include many people who are very enthusiastic about Curves as well as those who hate the gym.
Because Curves is a franchise business, the level of customer service that they offer can fluctuate.
A large percentage of reviewers, however, were pleased with the level of attention they received from the instructors and desk staff.
Here are the key common features that stood out in the many reviews that I checked over …
Pros
Attentive instructors
Easy to follow workout system
Good results in terms of weight loss
It is great to see a gym that generally gets good grades for instructor engagement.
Lack of engagement from instructors is one of my pet peeves as I've been in too many gyms where the instructors spend their time on their phones while everyone around them is butchering their exercise form.
That's not the case at Curves.
Of course, there are also a number of negative comments about Curves online.
Here are the key points that were mentioned …
Cons
Not enough workout variety
Unhygienic
No workout progression
Curves uses a cookie cutter workout plan.
Everyone does the same workout, moving from one exercise to the next every 30 seconds.
That does not allow for differentiation or for increasing the resistance as you get fitter and stronger.
The speed of movement from one exercise to the next also does not allow time to clean equipment between users, which is an essential requirement these days.
The general consensus of the reviews is that Curves is set up well for women who are new to exercise and intent on losing weight.
More serious female weightlifters and athletes, however, will be disappointed with the workout system offered at Curves.
---
Alternatives to Curves
There has been a rise of women only gyms in the United States over the last decade.
The most popular alternatives to Curves are:
There are few women's only gyms and fitness studios available nationally, however, so you'll have to check your local area and take a few tours to find the best options.
If you're not a total beginner and you're ready to join a gym and work out on your own, but you still want a safe and comfortable environment, check out the YMCA.
The Y is known as a family-friendly joint with great childcare and friendly members — you won't have to deal with too many annoying gym bros here.
---
Wrapping Up
Curves Fitness is the largest women only fitness franchise in the world.
However, it's not like your typical gym.
Rather than allowing free rein to work out at your own leisure, they provide controlled circuit sessions under the watchful guidance of an instructor.
These are ideal for ladies who need a lot of structure and are trying to lose weight — especially total beginners who need help getting started.
If you're looking to take the next step in your fitness journey (or you need childcare and other amenities), Curves probably won't be worth it for you.
For more options, check out:
Hope this helps!