You may be getting ready to head to the gym for the first time in years. That's fantastic!
However, it can also bring a lot of anxiety.
Will you know how to use all of the exercise equipment? Will everyone else stare at you while you're working out?
And most importantly, will you be dressed appropriately?
Yes, believe it or not, most gyms have dress codes. Here's what you need to know about them.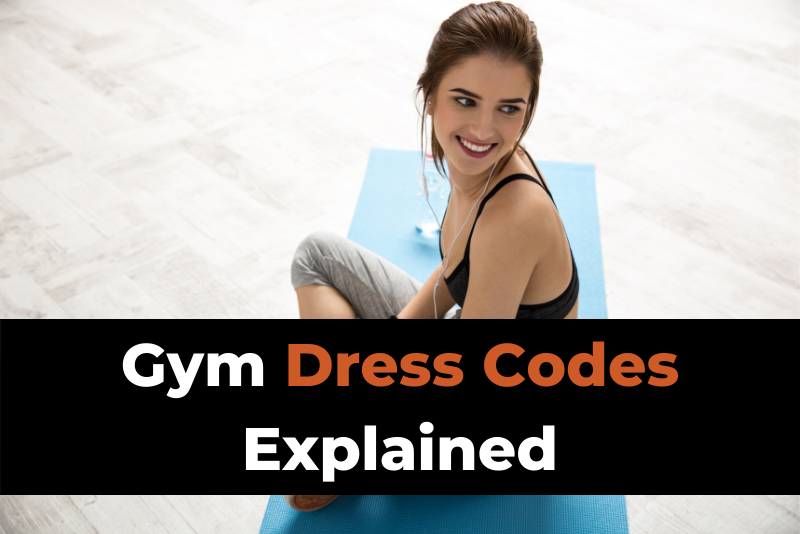 The dress code at most gyms is simple, but exact policies vary depending on where you go. In general, wear a proper shirt (not a sports bra or an open-sided stringer tank top) and closed-toed shoes, and you'll fit in everywhere.
Some gyms have specific policies regarding visibly dirty clothes, vulgar prints, and more. The best thing to do is check with your local club.
Let's take a closer look at some gym dress code best practices, examples from real gyms, and more!
---
Do gyms have dress codes?
All gyms have dress codes of some kind.
It's merely a matter of figuring out how strict your particular gym is.
When in doubt, contact your gym and inquire. An associate can answer your questions and point you in the right direction.
The truth is, gyms don't always play fair about when, how, and for whom they enforce the dress code.
And, unfortunately, most dress code policies will be unfairly targeted at women.
Your best bet to stay out of trouble is to play it safe.
In general, here are some standard dress code etiquette guidelines to follow the next time you go to the gym.
Wear closed-toe shoes
Gyms may not specifically tell you to wear closed-toe gym shoes.
However, it's for the best if you do, especially if you plan on lifting weights.
A shoe at least adds a layer of protection in the event you accidentally drop a weight on your foot.
Additionally, there's less of a chance of injury from a flip-flop getting caught in a machine than a regular shoe.
Wear a shirt
Some gyms don't mind if you merely have a sports bra on.
Others will require a full shirt.
It's best to play it on the safe side and always have a shirt just in case.
Unfortunately, this is one of the areas where some gyms give special treatment to certain members. You may find some folks around you can get away with wearing a sports bra to the gym while others get asked to cover up or leave.
For men, be careful with stringer tank tops or anything that might expose your nipples.
Dress modestly
The best rule of thumb is to dress as though you're going to work out in front of your mom.
You wouldn't want her to accidentally see something pop out!
Most types of gym shorts and gym pants will be fine, but be careful about workout bottoms that resemble underwear — extremely short and tight. These could get you in trouble with the front desk.
Dress for comfort and performance over looks and you'll usually do fine.
---
Dress codes at big box gyms (Examples)
If you plan on hitting up an independent gym, you'll have to contact them on your own to figure out what you can and can't wear.
However, the big box gyms often make that information clear on their websites.
Below are the dress codes at some of the most popular big box gyms.
Other gyms will likely have similar rules, but again, it's best to contact them if you're unsure of what to wear.
Planet Fitness
Planet Fitness doesn't want people wearing anything overly offensive, revealing, or intimidating.
(No sports bras for women or overly open stringers for men.)
They also have strict guidelines on wearing clothing that's too tight or too loose. Too tight, they'll say, is immodest and a distraction for other members. Too lose could be a hazard around the machines.
Some of the clothing you can't wear at a Planet Fitness include:
Jeans
Pants with significant grommets
Soiled or mud-caked clothing
Sandals or open-toed shoes
YMCA
YMCA gyms just want their members to wear proper workout attire.
That means any clothing suitable for a family environment.
Shirts are required at all times. You're also required to wear closed-toe shoes.
YMCA also asks its guests to avoid overly strong perfumes and colognes. Generally, you just want to be mindful of the fact that other people deserve to use the gym comfortably.
Equinox
Equinox is among the most elite gyms in the country. As such, these gyms expect a lot more out of their members than others.
For starters, athletic shoes and attire are required everywhere in the gym. The only place you're allowed to go barefoot is the locker room or any outdoor space.
Some Equinox locations have pools, so you can obviously take your shoes off there.
University gyms
College campuses often have gyms available for both students and the general public.
Universities want their students to feel safe and comfortable, so you should expect all of the standard dress code rules to apply.
At most big box gyms like LA Fitness, Anytime Fitness, Crunch, Life Time, and more, you can expect more of the same.
Wear a proper shirt and closed-toed shoes and, most of the time, you won't get any trouble from the gym staff.
---
Wrapping Up
Dress codes at the gym aren't complicated. Most workout shirts; pants, shorts, or sweats; and shoes are just fine.
However, there are a few danger areas you'll have to watch out for.
Specifically, if you like working out in a sports bra, find out if your club allows this. And for men, if you really like showing off in a stringer, make sure it's not going to expose your nipples.
Otherwise, wear proper closed-toed shoes, avoid shirts with vulgar sayings or prints, and stay away from super tight, revealing shorts.
If you like working out shirtless or in more revealing outfits, that's your prerogative! You just might have to work out at home or some place with a more relaxed dress code.
For more, check out:
Hope this helps!